Which B-School is Right for You? Discover Top MBA Programs
The collection of resources on this page will help you research the world's top business schools and their full-time MBA programs. Find out what they're looking for in applicants and gather the information you need to submit great MBA applications.
In the program guides below, we cover everything you need to know about the top 25+ elite business schools.
These school-specific resources are designed to be used actively during the process of writing your MBA applications, not just read once and put aside. Using the pages consistently will save hours compared to browsing business school websites directly or running endless Google searches for class profiles, employment reports, essay questions, club listings, and more.
---
Top US MBA Programs
Jump to European Programs
MBA rankings come and go, but Harvard Business School is recognized as the long-term #1 business school in the world.
Stanford is famous for its ties to Silicon Valley, venture capital investing, and tech startups. But the MBA program at Stanford is much broader than this, teaching students an interdisciplinary, interpersonal curriculum.
More on Stanford GSB:
Wharton's MBA program is good in almost every area. Yes, finance, but also entrepreneurship, technology (don't forget their San Francisco campus!), social impact, and more.
---
Kellogg's MBA program is rightly famous for its team-based approach and the location in Evanston, which combines access to Chicago with a relaxed college town setting.
The Booth MBA program is known for its academic and analytical rigor, and the fact that its flexible curriculum has only a single strictly required course, with students customizing everything else.
More on Chicago Booth:
Columbia Business School is about access to New York City and its resources, like executives who come to campus as guest lecturers, entrepreneurs in residence, or to hire in-semester interns.
---
At MIT Sloan, the MBA program is strong in technology — in all senses of the word. Tech at MIT doesn't just mean Google, Facebook and Amazon, but also physical product design for consumers and industry.
The Tuck MBA bring together a small number of students for an intense bonding experience in its Hanover, NH location, creating a fanatically loyal alumni group that donates to the school at 2-3x the average, and pulls out all of the stops to help other Tuckies.
Berkeley's Haas School of Business is on the forefront of diversity, both through its connection to the very progressive host university, UC Berkeley, and through its own initiatives, like appointing a Chief Diversity, Equity and Inclusion Officer. Its Bay Area location allows excellent placement within the tech industry.
---
Yale SOM seeks to educate "leaders for business and society," with a special focus on training future managers about the impact of their decisions on society at large. MBA students at the SOM also have access to the full resources of Yale University.
The MBA program at UVA Darden, sometimes known affectionately as "the bootcamp," puts students through a highly rigorous case method program (which makes the students very appealing to employers with a similar style, including banks and consulting firms).
Fuqua focuses on admitting MBA students who have a high "decency quotient", considering not just their professional achievements, but also whether they treat their colleagues, friends, classmates and others with respect.
---
The Ross MBA program is a part of the much larger University of Michigan, whose huge alumni footprint creates opportunities to network with people in almost any company or location, anywhere. "Go Blue, Go Anywhere!"
UT Austin's McCombs School of Business is the "Harvard Business School of Texas," and rather well respected outside the state, too. The Austin location provides great access to the city's booming tech and VC scene.
Johnson's host university, Cornell, has a fantastic reputation as part of the Ivy League, and getting your MBA at Cornell Johnson will allow you to experience Ithaca's liberal New York state, college-town vibe to the fullest.
---
UCLA Anderson is the leading business school in Los Angeles, and it has excellent placement in the LA offices of McKinsey, BCG, and Bain, as well as top investment banks.
One of NYU Stern's highlights is beyond doubt its downtown location in New York City — it even outshines Columbia in this regard. A major benefit of the NYC location for the Stern School of Business is its strong relationship with industries in the luxury retail sector.
Tepper's host institution, Carnegie Mellon University, is one of the leading universities in the country for computer science and related fields such as automation, robotics, and artificial intelligence. If you're interested in this space, Tepper's program can provide you with the technical and analytical skills needed to succeed.
---
The real estate program in Kenan-Flagler Business School at the University of North Carolina is truly top-notch. If you're interested in real estate programs, you owe it to yourself to look into what UNC Kenan-Flagler has to offer in this regard. They currently place 12% of their students in real estate, the highest rate of any major MBA program.
Emory University's Goizueta Business School not only has a reputation for its MBA program, but also for its undergraduate business program, which has an excellent placement record with about 20% of undergraduates going into consulting and 27% into finance. The strength of the graduate and undergraduate programs combined will broaden your network and improve visibility with employers.
A top factor when considering University of Southern California's Marshall School of Business is the large network that comes along with its host institution. You will find great support through the USC alumni as part of what students lovingly call their "Trojan family". This strong network is especially present in LA, and can be a useful tool while job searching.
---
Georgetown University's McDonough MBA program takes global experience to another level due to its prime location in Washington DC. Not only will you be among a culturally diverse population, you will also gain exposure to other cultures through the program's strong ties with the diplomatic community.
Indiana University's Kelley School of Business makes it a priority that you get the best return on investment on your MBA. To ensure that you make the most out of the program, Kelley's admissions staff will give you the guidance you need even before you arrive on campus.
The University of Washington, Foster School of Business has the highest percentage of tech placement of any MBA program–it places a whopping 44% of its graduates into the technology industry! This high rate is driven by recruiting into large companies like Amazon and Microsoft's Seattle offices.
---
One of the top features of the Rice Jones MBA is that its location in Houston makes it ideal for those of you interested in the energy industry. In Houston, you will find companies in both the traditional oil and gas sector, as well as the renewable energy sector. The city is also home to 20 Fortune 500 headquarters.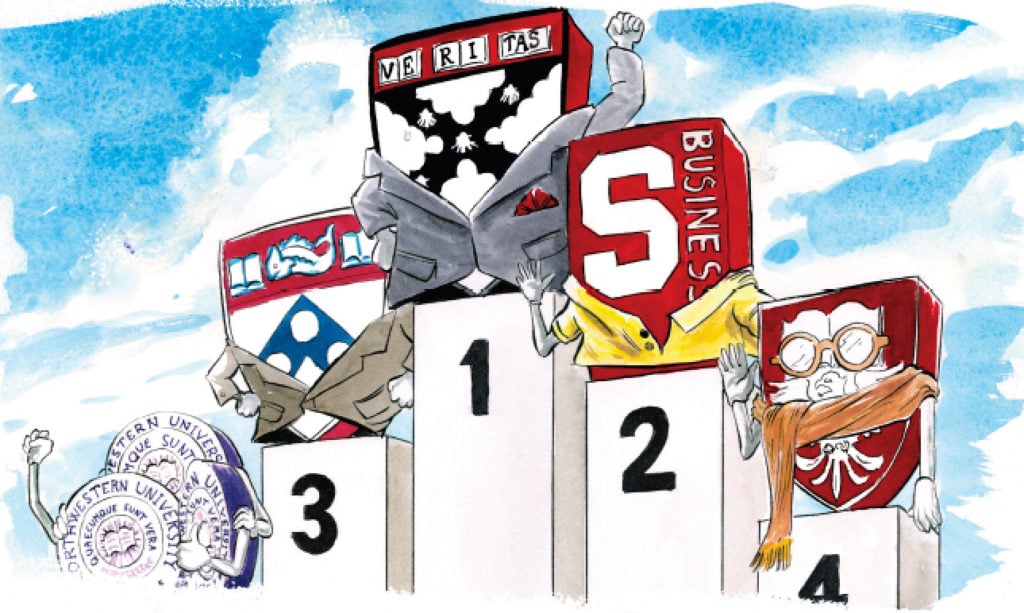 ---
Top European MBA Programs
INSEAD's MBA program, delivered through campuses in France and Singapore, gives students a truly international experience. You need to speak two languages to matriculate, and three to graduate!
London Business School offers the premiere 2-year MBA program in the UK and Europe, making it a great choice for career changers who benefit from a summer internship and therefore prefer a 2-year program to a 1-year program. LBS programs like LondonCAP give students access to the best of London.
Based in Barcelona, IESE's 2-year MBA program offers a truly balanced experience that can prepare students for any major career field: consulting, finance, general management, entrepreneurship, technology, and more. Their pragmatic approach to admissions focuses on finding students who will achieve career success using IESE's resources.
---