If you want to know how to get into a top MBA program, or even how to get into Harvard Business School, there's not a short, simple answer.

It's a bit like the old joke, "How do I get to Carnegie Hall?" // "Practice, practice, practice." To get into a top business school, you have to be a great candidate.

But we can tell you a few basic facts about getting into a top business school right away:

Acceptance rates at top MBAs are very low.
The value of the degree is incredibly high.
In most cases, you can quickly gauge whether your profile is competitive.
The MBA admissions process is holistic; there are no black-and-white rules.
So, although we can't give you a simple formula for getting into a top MBA program, we CAN explain the application process and the actions you can take at each stage to maximize your odds of acceptance.

Want the quick summary of MBA admissions criteria? Watch our short video:
What Admissions Committees at Top Business Schools Really Want
---
In the rest of this document, we cover not only the written application and interview process, but also the steps you can take to build your MBA profile in the years before you apply, and the unofficial parts of the process that can be surprisingly important, like networking with schools.
This page is aimed at people who already know that they want to get an MBA and are seeking to maximize their chances. If you're still wondering about whether an MBA is worth it, that's a separate topic.
The MBA application process is broken down into a few different phases:

Prepare yourself to work hard! One does not simply walk into Harvard Business School.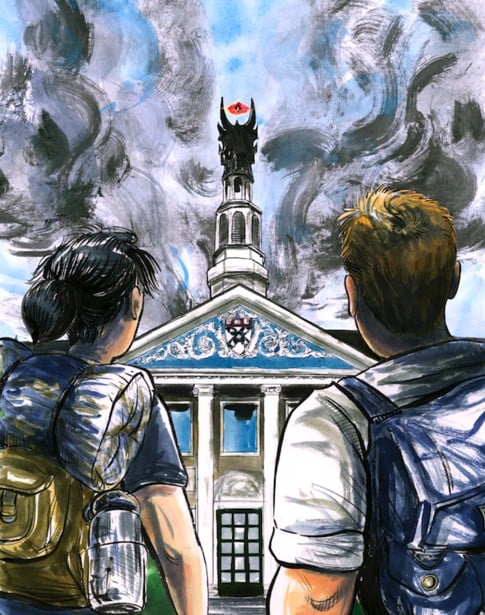 When to Apply to MBA Programs
Submitting your MBA application at the right time can help you to win acceptance, and submitting your application at the wrong time can lead to rejection.
If you don't already know the typical deadlines for MBA applications, you can begin by reviewing the application deadlines for top US and EU MBA programs. These remain similar from year to year.

You can find the right time to apply by answering a few questions.
(If you're currently completing your undergraduate degree and looking for early information, check out our MBA Admissions Guide for College Students.)
Deferred Admission to MBA Programs for College Seniors
If you plan ahead, you can apply as a college senior, receive your acceptance at that point, and enroll after gaining additional work experience. We go into detail on this topic in our article, Deferred Admission: The Ultimate Opportunity for Pre-MBA College Students.

Several programs are open to seniors at any college:

Yale's Silver Scholars Program is open to students at all colleges, but offers a unique format where college seniors enroll immediately in the first year of the MBA program, complete a one-year internship, and then return for the final year of the MBA program.

Because they'll be evaluating you based on your college experience, it makes sense to apply for deferred admission if you think you have a strong profile between your grades, internships, post-college job offer, GMAT score, and your volunteering and leadership activities.

Only a small percentage of the MBA class is admitted through deferred admission programs. Most MBA applicants apply later, after graduating college and gaining several years of work experience, which brings us to the next question.
How Many Years of Pre-MBA Work Experience Should You Have Before Applying?
MBA programs want to know that you have enough experience to:

Contribute meaningfully to classroom discussions
Appeal to post-MBA employers, who often favor candidates with longer pre-MBA experience
Have enough leadership experiences to benefit from the leadership training during an MBA.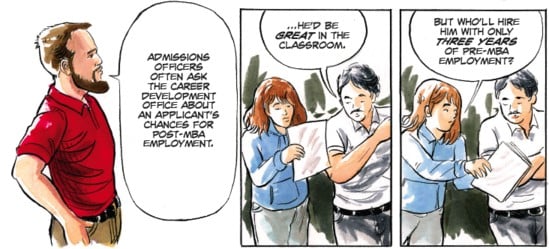 At most programs, having four or five years of experience at the point you enroll will fulfill these requirements nicely. If you're targeting European programs, you might apply a year later than this, and if you're sponsored by your employer with a guaranteed return offer, you might apply a year earlier.

Older applicants with longer work experience can still win admission, but there has to be a good answer to the question "Why is this the right moment for you to pursue an MBA?". If you've become so successful that an MBA would add nothing to your career, or if you've been stuck in a rut for years without any promotions, it can be tough to win admission.
Round 1 vs. Round 2 vs. Round 3 MBA Applications
Want the short answer? If you are ready to submit your best application in Round 1, you should apply then.

Round 2 should be considered if you need to improve your profile in meaningful ways (e.g. better GMAT, campus visits, better research on your career goals). Round 1 is preferred to Round 2 if all other things are equal, but a well-prepared applicant in Round 2 will beat a poorly prepared applicant in Round 1 every time. However, over-represented applicants have to be careful about postponing to a later round.

Round 3 (by which we mean the final round — actually Round 4 or Round 5 at some schools) is tricky, and only certain applicants are likely to win admission in this round.

If you want to know all of the details, see Round 1 vs. Round 2 vs. Round 3.

Columbia Business School's J-Term and One-Year MBA Programs
Some programs have multiple entry dates. For example, Columbia Business School has a Fall Entry for the standard two-year MBA program (which includes a summer internship), and January Entry for the accelerated J-Term program in which you graduate in 16 months with no summer internship.

If you're a career switcher, you need a summer internship in order to maximize the chances of securing a full-time job in your target industry. You should therefore apply only for fall entry at two-year programs. But if you're sponsored by your employer with a guaranteed return offer, or you're joining your family business, you may have reasons to apply for a one-year program.
The Ultimate
MBA Admissions Checklist
Our free, comprehensive checklist covers everything you need to shop for an MBA admissions consultant.
Our free, comprehensive checklist covers everything you need to shop for an MBA admissions consultant.
✓ Compare pricing across 35+ MBA admissions consulting firms
✓ Learn why "success rates" are not to be trusted
✓ Find the right service model for your needs
✓ Prep for your consultation calls
✓ Compare pricing across 35+ MBA admissions consulting firms
✓ Learn why "success rates"
are not to be trusted
✓ Find the right service model
for your needs
✓ Prep for your consultation calls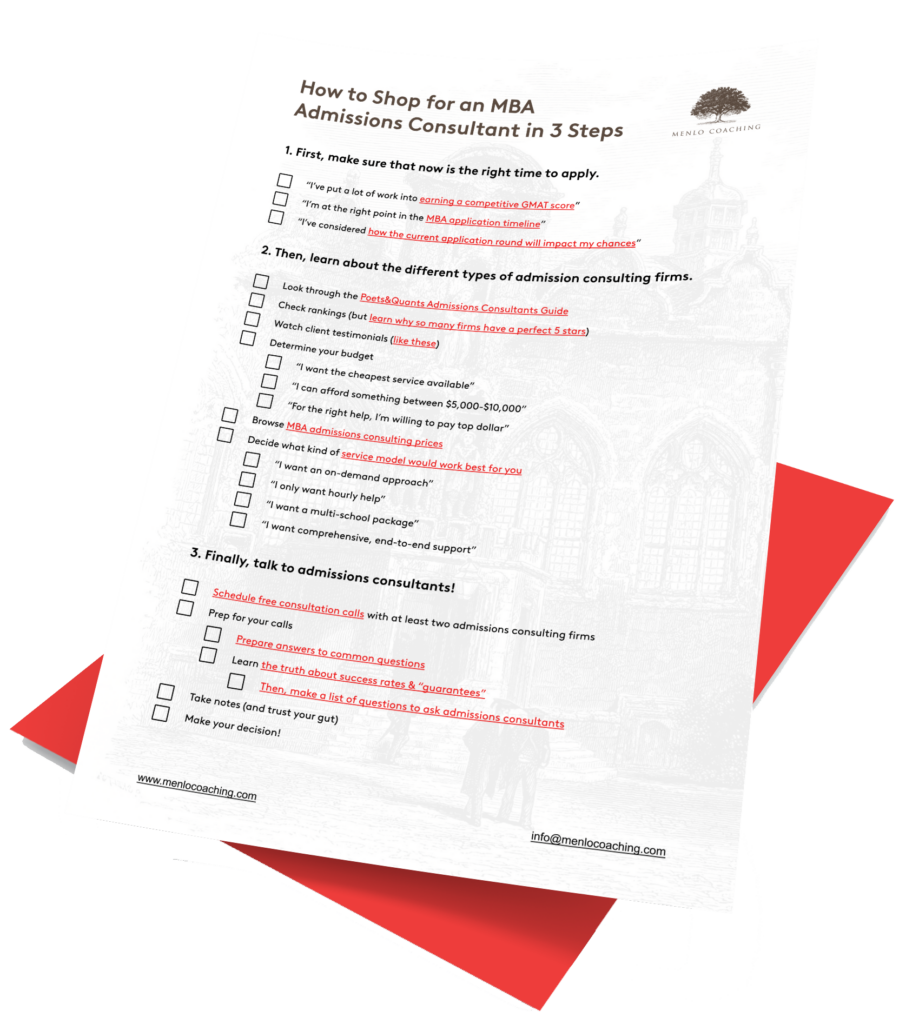 Early Preparation for MBA Applications
Once you know that you want to pursue an MBA, you can get an edge by preparing early. It's no secret that MBA programs prefer to admit students who have a great academic and professional background, extracurriculars like athletics and volunteering, and relationships with the school's students and alumni, but developing these parts of your profile takes time.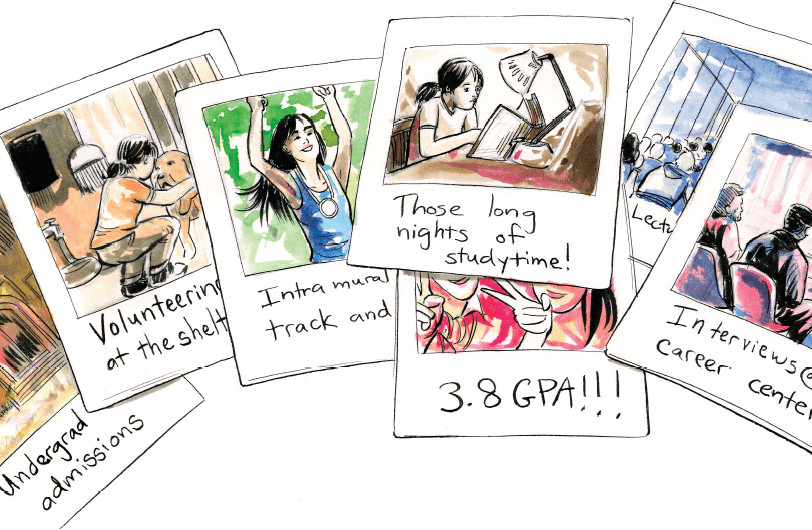 Building Your MBA Profile
If you're a year or more from making your MBA applications, you have time to not only think about how to present yourself, but to develop and improve your MBA profile. Which is a great advantage!

In our Early Birds program, we guide applicants as young as college freshmen in building their MBA profile and maximizing the advantages you can get from preparing early. This often includes:

Helping you select the right extracurricular activities
Planning your first career moves
Cultivating relationships with potential recommenders
Preparing for the GMAT and GRE
Networking with MBA programs through MBA fairs, info sessions, and campus visits
If you didn't get an early start, and you want to apply this year, don't despair. Even if you have a few weak spots, we've succeeded with applicants who had low grades, unemployment or thin extracurricular activities. But there are no shortcuts, and you can't expect to make your weaknesses disappear with an optional essay. If you have a weakness and don't have time to address it by building your profile, it means that you need to work even harder on the other parts of the application process described here.
MBA Campus Visits & School Networking
The first reason to visit MBA programs sounds simple: make sure you actually want to attend your target programs!

Consider the enormous cost of an MBA program. Between the tuition, living costs, the extras (you do want to join a few clubs and an international trek, right?), and the lost income, it can exceed $500,000. For those of you in lucrative pre-MBA careers like software engineering at FAANG companies or private equity, this can be even higher.

Do you really want to spend this much money and two years of your life to attend a school you never even visited?


You may have hoped that the process of selecting schools would be easy! Even if you're willing to decide based only on rankings, which we think you shouldn't, you should know that schools care a lot about fit — and they won't admit you if they don't see a good fit.

One of the little secrets of MBA programs is that some students drop out after the first year, and other students stay enrolled but struggle with academics, recruiting, or socializing with classmates. This is exactly the opposite of what the school wants to happen.

The school is trying to build a community! They want you to make friends with your classmates, achieve career success, and, later, promote the program to other potential students you meet. They'd love to see you stay engaged by donating money, giving guest lectures, recruiting the school's graduates, and more.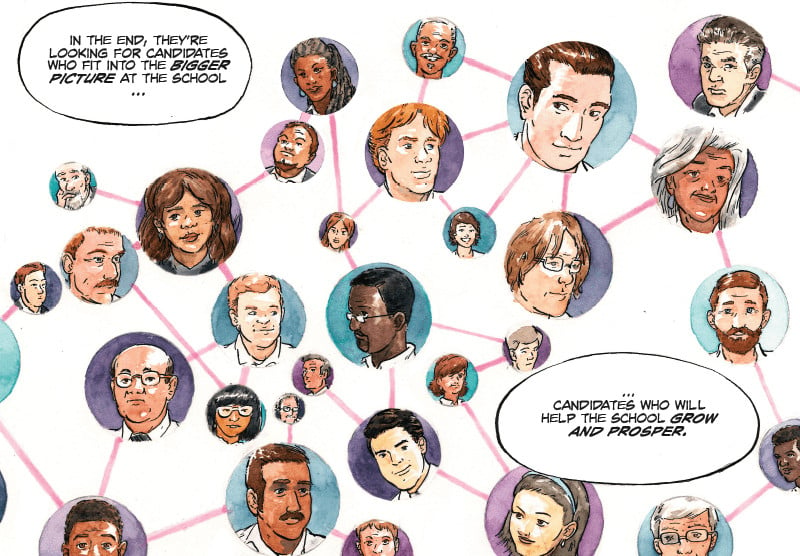 The school knows that admitting candidates who are a good fit makes all of this happen.

But how can you demonstrate fit with an MBA program when top MBA programs are similar in so many ways?

They all teach finance, accounting and economics. They all offer training in leadership and communications, international exchange opportunities, and chances to work on real projects brought in to the classroom by major companies.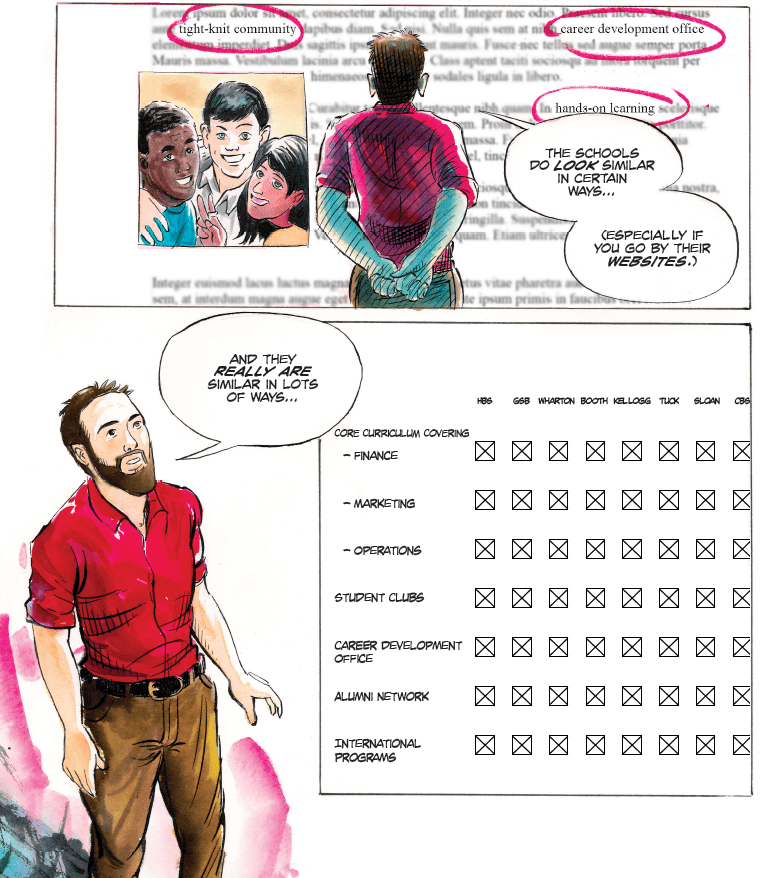 Despite these superficial similarities, applicants who actually visit MBA programs come back with clear ideas about how the programs differ, how they could contribute to those programs, and why one might be a better fit than another.

If you can make campus visits, you should. And if you really can't… we've shared our advice about a few other ways to network effectively with business schools.

And if you don't do your research about your target schools? Don't blame us when this happens! 🙂

The MBA Application & Requirements
Once you've built your profile, met the schools, and decided where and when you want to apply, it's time to think about the actual application, which, unsurprisingly, is a major part of getting into an MBA program. The formal requirements for applying to MBA programs are simple. A typical MBA application includes:

A standardized test score, such as the GMAT, GRE, or, for applicants to executive MBA programs, the Executive Assessment.
Your college transcripts, showing all courses taken and grades received
Two professional recommendations
One or more essays, which can include personal, professional, and school-related topics
A one-page resume
An application form listing your work experience and extracurricular activities
For some schools, a video essay
After you've submitted your written application, you may be invited to interview. A few schools allow you to interview without waiting for an invitation first.

Finally, you will be given a decision — accepted, denied, or waitlisted.

We'll come back to the big question — "What are my odds of admission?" — after we describe the process first.
GMAT and GRE for MBA Admissions
Your standardized test scores are important for MBA admissions for several reasons.

First, the school wants to make sure you can handle the coursework. This is not an especially demanding standard, and if you look back a decade or two, top MBA programs regularly admitted applicants with GMAT scores below 700. The bar is higher today, but you don't need an incredible GMAT score to prove that you can handle microeconomics.

Second, schools are managing their rankings in publications like US News, Businessweek, and the Financial Times. Some publications use the average scores on standardized tests as part of the formula — the higher, the better.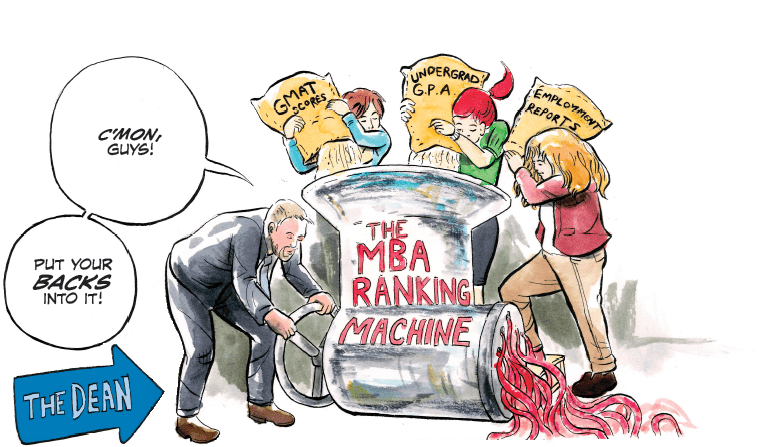 Does it strike you as unfair that schools base part of their admissions process on ranking considerations?

As Bruce DelMonico, Assistant Dean of Admissions at the Yale SOM told me, "We care about rankings because the people we care about care about them." He's talking about YOU.

Because, if you're honest, would you attend a school that has great professors and a close-knit community, but a low ranking? No! You know that a school's brand and reputation is part of its value, which is why you want to attend the best program you can. So you can hardly blame the schools when they consider this factor, too.

The exact score you'll need depends on your target schools and your background, and we help our clients to find the sweet spot where they maximize the advantages they can get from their test scores without turning GMAT study into a hobby. For more about this, see Is Your GMAT Score Good Enough?
When considering the GMAT vs GRE, we always recommend that you start with the GMAT, since it is tailored to MBA programs and used for rankings.
And if you're looking for a GMAT tutor, we've got you covered! Check out our latest offerings, including group GMAT prep courses as well as GMAT tutoring.
More on the GMAT and MBA Applications:
Our GMAT Prep Services:
The MBA Resume
Preparing your resume for MBA applications is quite different than getting it ready for job interviews. This document is usually the first thing that the admissions committee picks up in order to get acquainted with you and the application you are submitting. Therefore, it is well worth the time and effort to develop your resume specifically for business school. For more on this, see Your MBA Resume Is More Important Than You Think.
MBA Application Essays
Not a great writer? Do you hate the idea of sitting in front of a blank page and writing the first drafts of your MBA essays?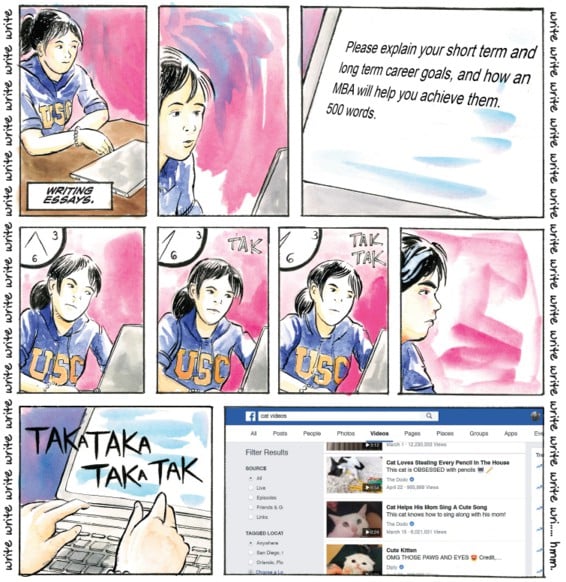 You can relax, because you don't have to be a great writer to create good MBA admissions essays. Although it is important to write clearly, and to make your points within the space allotted by the schools, the real hard part of the MBA application essays is the thinking that goes into them.

The vast majority of MBA application essays deal with a predictable set of topics:

Who you are as a person, i.e., your personal story
Your post-MBA career goals, and how the MBA will help you to achieve them
How you will contribute to the program and your classmates
What you've learned from the successes and failures in your career
You can find many tips, tricks and other guidance online about what you should write in your MBA application essays. But take this advice with a grain of salt. Would it make any sense if you could win admission to a degree worth millions of dollars by following a template you found for free on the Internet?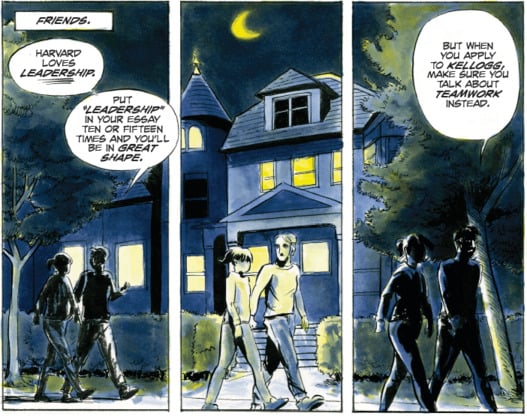 Great essays cannot be reduced to any simple formula. Depending on who you are, the key to success may be contained in your personal background, your professional career, your extracurriculars, or even in your family history.

Want to know more about essays? We cover behavioral essays (e.g. leadership or team & personal failures), personal essays, and general tips about writing for an admissions committee reader at Simplifying MBA Admissions Essays. Understanding the principles behind writing great essays makes the process easier. You don't have to be a great writer — we promise.

Video Essays / Video Questions
In recent years, MBA programs including Yale SOM, INSEAD, MIT Sloan, Kellogg, UT Austin McCombs and Cornell Johnson have included videos as part of their application process.

In some cases, you shoot the video as many times as you wish and upload a finished video when you're ready. For example, this was one of the MIT Sloan video prompts:

Please introduce yourself to your future classmates via a brief video statement. Videos should be a single take (no editing) lasting no more than one minute and consisting of you speaking directly to the camera.

The other type of video is the dreaded impromptu video. You log on to the school's application portal, click the big green button, and then have to answer questions on the spot! These questions can vary dramatically:

Some ask about your career goals and how the school will help.
Others are abstract, big picture questions. Yale SOM's questions in a previous year included ones like "An education without art is incomplete. Agree or disagree?"
Schools know that impromptu videos are stressful and you aren't expected to give a "perfect" answer. But, they do want to see that you can think on your feet, like you would do in a classroom discussion, and that you've thought about basic questions like why the school might be a good fit for you.
MBA Admissions Interviews
Congratulations! By the time you've gotten to the selective interview stage, you probably have a 50% or better chance to get into your target MBA program. If you are well-prepared for the interview, your chances are probably even higher.

What kinds of questions do they ask you in an MBA admissions interview? Well, it depends.

Harvard Business School
In this 30-minute interview format, the interviewer will thoroughly examine your background and force you to dig deep in explaining your job and your industry, the reasons why you made the major decisions in your educational and professional career, and sometimes a few totally unexpected curveball questions. Which, if you think about it, is actually pretty close to what you'd do in a case discussion in an HBS classroom — share experiences from your background in response to novel and unexpected questions from your classmates or the professor.

Wharton
For years, Wharton has used the Team Based Discussion as a way to be sure they admit students who are ready to collaborate with their learning teams, cohorts, and clusters. In these interviews, you'll be placed in a group of five or six Wharton applicants and will have 35 minutes to discuss a specific task, usually related to how you would improve some aspect of the MBA program at Wharton.

MIT Sloan
The school has a "behavioral" philosophy, which could be summarized as "Your recent previous achievements are the best predictor of your future success." So, in the MIT Sloan's behavioral interview, you can expect them to ask a series of probing questions about your successes, failures, challenges, and other aspects of your professional history.

And more!
Each school has its nuances, but interviews at many top programs will consist of a mix of questions about your background, your goals, your fit with the MBA program, a few questions about the successes or failures in your professional career, and a chance for you to ask your interviewer — who may be a student, alum, or admissions officer — a few questions of your own.
For more advice, check out our articles:
MBA Reapplications
After the interview, you receive your decision. And if you've been declined, you may be thinking about whether to reapply in the following year. We discuss this in full detail in a separate article about winning MBA admission as a reapplicant.

If this is not your first time applying for an MBA, we have good news and bad news for you. The good news is that as a group, re-applicants to MBA programs are quite successful. Many applicants win admission on the second (or even third) time around. The bad news is that there's a lot of hard work involved. Re-applicants succeed precisely because they put in the work to improve their profile. The gold standard is a higher GMAT score or a promotion at work, but in some cases, it is possible to succeed as a re-applicant even if your job and test score remain the same.

Re-applicant #1
One of our successful re-applicants had made a mistake in describing her career goals. She stated a goal to become a management consultant specialized in FinTech. This sounds fancy, but…

Many FinTech companies are VC-backed startups, and VC-backed startups don't have the budget to hire management consulting firms.
Almost all post-MBA consultants begin their careers as generalists.
So, this career goals statement actually revealed that she hadn't done enough research about consulting careers. In the re-application, she stated a goal to become a management consulting generalist, talked about how she would prepare for case interviews, and mentioned the Forté Foundation networking events at which she'd connected with many current consultants. She received an offer even without any change to the hard factors in her profile.

Re-applicant #2
Another one of our successful re-applicants worked on improving his fundamentals. He raised his GMAT score, visited campus to connect with the admissions officers (which he hadn't done the first time around), and found a new recommender who could address a potential weakness.

Because he worked in a highly technical area of finance, and his previous recommenders both wrote about his strong financial competence, there was no clear sign that he'd be outgoing and sociable with his classmates. Thus, he picked a new recommender who described his enthusiastic participation in his firm's culture-building activities.

Every re-application is different, and if you're thinking about making a re-application, please contact us, including your previous applications. We'll give you the candid feedback that you aren't going to get directly from the school, and help you assess what to do next.
Predicting Your Odds of Admission to a Top MBA Program
Let's get the easy part out of the way: there are a number of mistakes you can make on an MBA application that are bad enough to immediately reduce your chances to zero.


The tricky thing is that every top MBA program receives a far larger number of well-qualified applicants than they have places in the class. Although you might hope that the MBA admissions committee was planning to divide the applications into the "good" and the "bad" ones, and then admit all of the "good" ones, it's just not true.

Robert Joss, Dean Emeritus of the Stanford GSB, famously remarked that he could double the size of the incoming class without even touching its quality. And at HBS, Poets&Quants runs an article every year listing some of the amazing candidates who have been declined by HBS (2018, 2017, 2016). Top business schools are in the position of choosing between many outstanding candidates.


Compare the situation to judging for diving or gymnastics at the Olympics — a 9.99 score may win the gold medal, with 9.96 receiving nothing. And, like the Olympics, the winners go on to achieve amazing success in their career. A gold medalist receives millions of dollars of endorsements, and an admitted student to a top business school can expect a multi-million dollar career with a prestigious company. But if you don't win a gold medal or admission to a top MBA? Better start training for the next cycle…

If you want a 100% accurate answer to your original question — "What are my odds of acceptance at a top program?" — the only way to know for sure is to apply. But there are other ways to make a reasonable estimate.

Do It Yourself
If all you need is a quick-and-dirty estimate about how you stack up at a given school, compare yourself to the school's averages on the basic factors: GMAT, GPA, and the prestige of your undergraduate institution and your employer. If you're in an over-represented category of applicants, assume that the school might hold you to a slightly higher standard. It's just a matter of supply and demand. If you're around or above the averages, you could probably be a good candidate, and if you're significantly below the averages, admission is less likely unless you have outstanding achievements in other areas.
Use an MBA Admissions Calculator
A number of companies offer services where you can fill in details like your GMAT, GPA, years of work experience and region where you reside, and get an estimate of your chances at different MBA programs. For example, the MBA admissions calculator offered by MBA Admissions Advisors was developed by two HBS grads, and will give you an instant report. Of course, no calculator can give you a perfectly accurate prediction, but a calculator can be a place to start if you have no idea where you stand, and it will also help you to see the full list of factors that might influence the decision.
Listen to an Admissions Director
In an interview with us, Pascal Michels–former IESE admissions director, turned Menlo Coaching senior consultant–tells us exactly what the MBA admissions committee wants. He speaks in a totally honest and direct manner, and the message is uplifting — schools want to admit applicants who will succeed. Officially, Pascal can speak only for himself. But take it from us that other admissions professionals are thinking exactly what he is saying.
Ask Menlo Coaching!
The next best thing to actually applying to MBA programs is to use our Human-Powered MBA Admissions Calculator. By giving us a resume, a list of target schools, some information about your career goals, and any other factors that you consider relevant to your MBA applications, we can analyze your background and give you an educated opinion about where you're likely to be accepted.
This isn't perfect, since there's some element of chance — for example, every year, we have clients who are accepted at HBS but declined at Wharton. But we're pretty good at handicapping and know the factors that might make you much more likely to be admitted at one school than at another similarly ranked school.
We can also provide you customized, personal advice about how to improve your odds.
MBA Admissions Consulting
Once you know your chances, you want to improve them, right? Which brings us to the next question.

Should You Hire an MBA Admissions Consultant?
We see the MBA as one of the most important turning points in your career, because top MBA programs offer you access to the best jobs and give you the soft skills and the network to advance to higher positions after that.

If you can say "yes" to a few questions:
Do you believe that the MBA admissions process is competitive at top schools, with many well-qualified applicants being rejected each year?
Do you believe that there is a huge financial benefit to getting into a top MBA, both in terms of your immediate post-MBA compensation and in terms of your long-term career trajectory?
Do you want to maximize your chances for merit-based scholarships? Most of these are awarded based on the quality of your core application, with better applications attracting larger scholarships.
Then hiring an MBA admissions consultant is a good decision for you. The hard payoff of hiring an MBA admissions consultant is that you win admission to a better program than you could have on your own, or that you get a larger scholarship than you would have on your own. In some cases, consulting means the difference between getting an offer and being declined across the board.

But there are a few exceptions to this.
Who Shouldn't Hire an MBA Admissions Consultant?
We recommend against using admissions consulting in a few cases:

You're applying to low-ranked MBA programs with high acceptance rates and your stats compare favorably with the school's averages. You'll probably get into your target program even without professional help.
Although you understand the financial benefit of the service, you still cannot afford to pay the cost today to secure the post-graduation benefits. In this case, you have to do the best you can with free resources, and we hope this guide will help you.
You have unrealistic expectations about what admissions consulting can do for you. MBA admissions consulting can substantially improve your odds, but it is not magic. To be admitted, good essays are not enough. Your profile must provide evidence that you are capable of business and academic success.
Can't I Do It Myself?
"My friend got into HBS and she didn't use a consultant!"

Yes, it's true. Do-it-yourself applicants are admitted to top schools every year. But rational applicants know that admissions is a game of probabilities, and seek to maximize their odds of acceptance. Just because you could go it alone doesn't mean you should.

We sometimes compare the process of applying to top MBA programs to defending yourself in a court of law. The stakes are high, and although you can appeal (re-apply), it is basically a one-shot process. You have several options:

You can go to the library and check out a book about the law, and then defend yourself in court. Your cost: $0. Good luck with the verdict!

Your friend Joey knows a lawyer who will take your case on for cheap. Real cheap. If your budget is limited, this option might tempt you for a moment.

Finally, you could hire professional counsel. Your case will be prepared with care by experts who have handled many similar cases and know the psychology of a typical jury (admissions committee). It will be expensive, but you know that you'll have your best chance of success.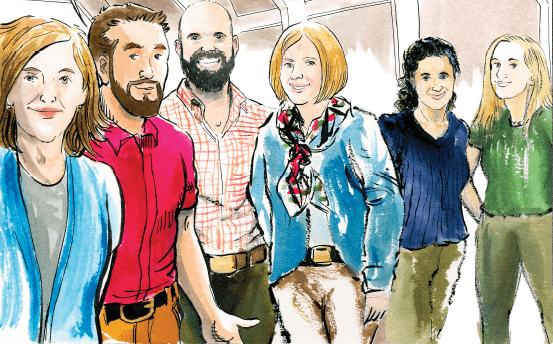 If defending yourself in court, most of you would pick this final option — as one of our clients told us, "If you care enough about something, you hire a professional."

It's not that you couldn't learn the details of the admissions process. But is this really the best use of your time? At Menlo Coaching, our team has spent years evaluating thousands of MBA applications, visiting MBA programs, speaking to students and alumni, and researching typical pre- and post-MBA career paths. We also have a database of thousands of applications and their results, which just isn't available anywhere publicly.

If you do all of this work to become an expert, you might find that your colleagues are coming to you for MBA admissions advice. The next thing you know, you're in the admissions consulting business yourself. If this is your real goal, check out our careers page! But I'm betting that this is not your goal.

Wouldn't your limited time be better spent on advancing your career and building your MBA profile? We've heard that you might be busy…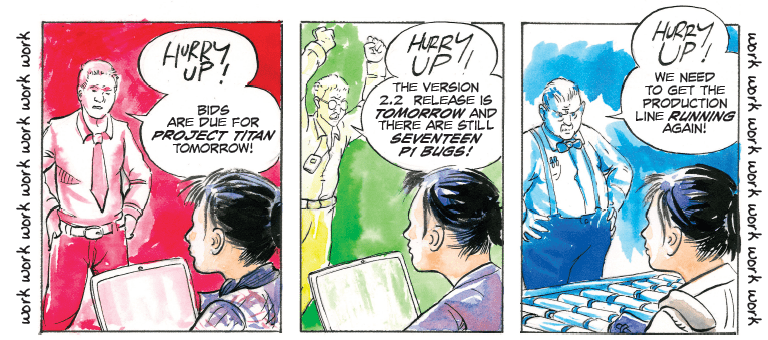 Even if you have the time to undertake this research, you'll be competing against applicants who get a huge head start on you by using admissions consultants and can jump in directly to building their profile and writing great applications, starting out hundreds of hours ahead of the applicants who go it alone.
And which person can truly take an outside view on their own strengths and weaknesses? Even at Menlo Coaching, we hire coaches for ourselves — in communications, curriculum design and business strategy — because we know that objective feedback helps us to better serve you.
Additionally, a lot of the free resources out there are general and geared towards traditional applicants; if you have a complex background and are considered a nontraditional MBA candidate, a consultant's guidance can help portray your story and your background in a way the admissions committee will understand.
When we work with you, we will give you brutally honest MBA admissions advice. Our goal is not to get you to sign up for our service with false praise about the strength of your profile, but to help you create a realistic, practical MBA plan that will enhance your career.

This analysis has covered just the cold, hard benefits of scholarships and admissions offers. Beyond that, admissions consultants can make the process less stressful, and set you up for success during the MBA and your career.

Because… who else puts a premium on the ability to express yourself clearly in writing and in interviews, and wants to hear a clear story of why you'd be a great fit in a particular job?

That's right: EMPLOYERS! Our former clients have often told us that the skills we helped them build in thinking, writing, networking and communicating proved invaluable when it came to the internship and full-time recruiting.

Which helps you to achieve the true, ultimate goal of our service: getting a great post-MBA job. If we've convinced you about the benefits of hiring an MBA admissions consultant, you're probably ready to learn how to find the best MBA admissions consultant.
Conclusion
Getting into a top MBA program can have a tremendous impact on your career. You will build new hard and soft skills, make friends with a group of incredibly successful young professionals, gain access to the school's alumni network, receive a credential that is recognized worldwide, and be given opportunities to recruit for the most exciting roles at leading employers in tech, finance, consulting, and other fields.

Not only can the MBA help you to get a great job NOW, it can help you become the kind of leader who can advance to larger and larger positions and your career advances.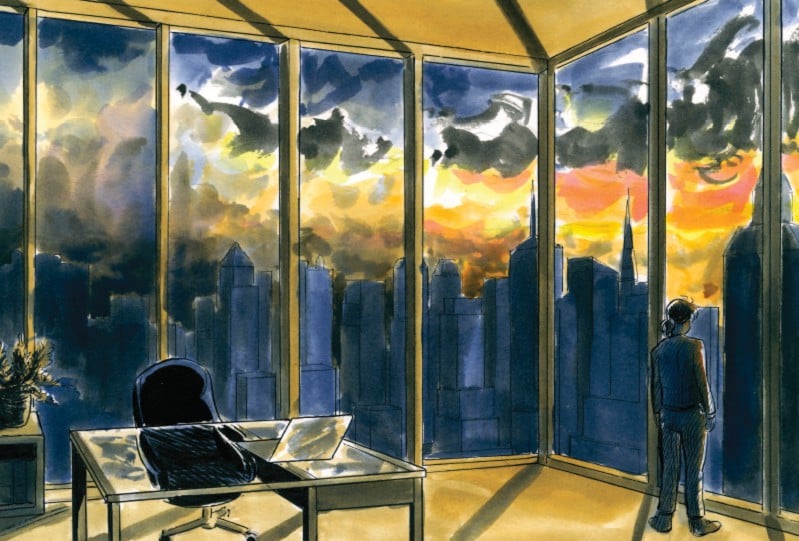 Ready to Start Your Journey Toward MBA Acceptance?
If you're the kind of applicant who wants to do everything you can to maximize your odds of acceptance, leaving nothing to chance, we might be a good fit.
Want to hear from a few of our former clients? Menlo Coaching Video Testimonials & Case Studies