A Comprehensive Guide to the Yale SOM MBA Program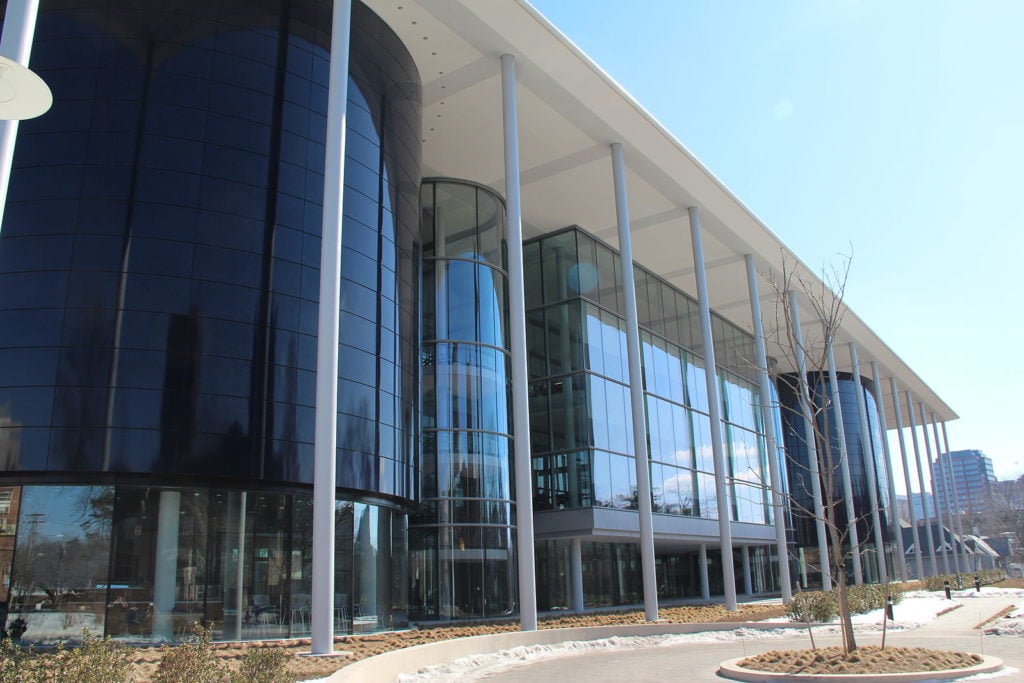 Yale School of Management is defined by two principles:
1. It strives to be the MBA program that is most tightly integrated with its host university.
Many Yale SOM students pursue dual degrees. When I visited Yale SOM, my student host pursued a joint degree between her MBA and her Master's in Environmental Management from the Yale School of Forestry, and planned to use the combination of those degrees to help Google design data centers with a smaller environmental footprint.
If you are interested in a joint degree, or even if you simply want to pursue a few electives in schools outside of the School of Management, Yale is a great fit.
2. Its mission is to educate leaders for business and society.
Yale School of Management has shown its commitment to positive social impact through numerous initiatives, including a loan forgiveness program for students who enter the non-profit industry, and its 2019 decision to launch Master's degrees for public school educators — free of tuition! — through the new Broad Center. You can also see the impact of this philosophy on Yale SOM's employment report, in which salaries are slightly lower than its peer schools, not because Yale SOM graduates cannot win offers with high salaries, but because a slightly larger proportion choose to go into non-profit roles with lower compensation.
Outside these principles, Yale University's incredible international brand makes it a powerful school for international applicants. If you plan to work in a location or an industry that doesn't live and die by MBA rankings, the average employer or business partner may hear "Yale" and simply recognize that as one of the best universities in the world.
Finally, Yale's location near NYC makes it a versatile school for recruiting into any major industry, including tech, finance, and consulting.
Yale SOM MBA Class Profile
Class Size
339
Acceptance Rate
Does not disclose
GMAT Median
720
GPA Median
3.64
Average Age
Does not disclose
Avg. Years Work Experience
5.1
Diversity Women
40
Diversity Intl.
50
Pre-MBA Industries
Financial Services: 24%
Consulting: 18%
Technology: 12%
Government: 11%
Non-Profit: 9%
Healthcare: 6%
Consumer Packaged Goods: 5%
Manufacturing: 5%
Media / Entertainment: 3%
Energy: 2%
Other: 2%
Real Estate: 2%
Retail: 1%
Transportation / Logistics: 1%
Hospitality: 1%
Undergraduate Majors
STEM: 35%
Humanities & Social Sciences: 25%
Business: 22%
Economics: 18%
The data above is from 2023 and represents the Yale SOM class of 2025.
See the full report: Yale SOM MBA Class Profile
Student Experiences
Yale SOM MBA Employment Report & Careers
Salary Median
$190,110.00
Offers Upon Graduation
Does not disclose
Offers At 3 Mos.
96.1
Post-MBA Industries
Consulting Services: 46%
Finance: 21.7%
Investment Banking: 9.9%
Investment Management: 4.6%
Diversified Financial Services: 3%
Venture Capital: 2.3%
Private Equity: 1.9%
Technology: 7.6%
Retail: 6.5%
E-commerce: 6.1%
Retail: 0.4%
Consumer Packaged Goods: 4.9%
Healthcare/Pharmaceuticals: 3.8%
Real Estate: 2.3%
Nonprofit: 1.9%
Energy: 1.5%
Manufacturing: 0.8%
Government: 0.8%
Transportation: 0.8%
Media/Entertainment: 0.8%
Hospitality: 0.4%
Human Capital/Organizational
Development/Executive Search: 0.4%
Post-MBA Locations
United States: 100%
Mid-Atlantic: 11%
Midwest: 5.9%
Northeast: 54.4%
South: 3.4%
Southwest: 3.8%
West: 21.5%
Post-MBA Companies

Does not disclose

Career Development Resources
Yale SOM MBA Career Paths
The data above is from 2022 and represents the career statistics of the Yale SOM class of 2022.
See the full report: Yale SOM 2022-2023 MBA Employment Report
Yale SOM MBA Academic Programs
Want to hear Yale SOM's Director of Admissions, Bruce DelMonico, tell about unique aspects of the Yale SOM program, like raw cases, the "slingshot" career prep program, and more? Watch our interview with Bruce at Yale SOM Overview with Bruce DelMonico.
MBA Curriculum
The Yale SOM MBA curriculum spans across four semesters over two years. Students generally take core courses in their first year and electives in their second year. Yale School of Management offers two series of courses as part of their core MBA curriculum: the Orientation to Management course series, which consists of classes like Introduction to Negotiation and Basics of Economics, and the Organizational Perspective course series, which includes classes such as Power and Society and the Global Macroeconomy. Students take elective courses during the second year of their MBA. These electives can be taken at any of Yale's schools and programs. Some of the elective courses available at Yale's SOM are Competitive Strategy, Corporate Finance, Policy Modelling, and Central Banking.
See the full offering of courses: Yale SOM MBA Course Catalog
Majors
Yale SOM's MBA does not offer majors; however, you can select electives in the program based on your academic and career interests.
Experiential Learning Programs
Students at Yale SOM host several conferences during the year in various fields such as Private Equity and Philanthropy. Yale also offers courses like Operations Engine that apply a learning-by-doing method of instruction. In this class, you may be asked to solve problems in a practical, hands-on way. Moreover, at Yale, you will also be exposed to the raw case method, in which classes can resemble real-world situations. We discuss the raw case method in more detail in the "What makes Yale SOM unique" section later on.
Research Centers
The Yale SOM is home to seven research centers, including the International Center for Finance, Program on Social Enterprise, and the Center for Business and the Environment.
MBA International Study Programs
As part of their MBA, students must fulfil a global studies requirement. One of the ways in which this requirement can be met is by taking one of the many Global Network courses, which are offered virtually through one of the national or international member schools within the network. Additionally, you may elect to take an intensive course abroad at one of the 30 schools within the global network. Students at Yale SOM may also choose to spend a semester or quarter at a foreign institution through an exchange program.
Video Resources on Yale SOM Academics
Yale SOM MBA Application
The latest application requirements set by the Yale MBA admissions office are described below.
Essays
Here are the prompts for Yale's 2023-2024 application:
Personal Essay
Choose one of the following prompts (500 words maximum):
Describe the biggest commitment you have ever made. Why is this commitment meaningful to you and what actions have you taken to support it?
Describe the community that has been most meaningful to you. What is the most valuable thing you have gained from being a part of this community and what is the most important thing you have contributed to this community?
Describe the most significant challenge you have faced. How have you confronted this challenge and how has it shaped you as a person?
Career Goals Essay
Briefly describe your career interests and how you arrived at them. What have you already done to pursue these interests? What do you need to do going forward? (text box, 150 words maximum)
Optional Essays
If any aspect of your application requires additional explanation, you can address it in the Optional Information section below. Please note, you should use the specific prompts provided in the Work Experience section to address gaps in work experience or choice of recommender. The Optional Information section is truly optional – if no aspect of your application requires further explanation, you should leave this section blank. (upload file, 200 words maximum)
If you would like to elaborate on any of your responses within this section, or any other aspect of your background, we encourage you to do so here. (text box, 250 words maximum)
Read more: 2023-2024 MBA Essays: Tips for Yale SOM
Video Resources on Yale SOM Admissions
Yale SOM MBA Admissions Interviews
Yale SOM's admissions interviews are carried out by members of the Admissions Committee. The interviews are typically very structured, 30-minute sessions, and the questions are reportedly consistent for all candidates. Prospective students are invited to campus for a day of events in the meantime.
Yale SOM Useful Links
What Makes Yale SOM Unique?
Raw Case Approach: In the subsequent years, the SOM Case Research and Development Team (CRDT) has contributed nearly two hundred pieces of material to the SOM curriculum on a wide variety of topics and from numerous global locales. CRDT has also pioneered a new type of case study, the "raw" case, that better reflects the new curriculum—and actual management practice.
Organizational Perspectives: A core part of the Yale curriculum, these courses look at how organizations really work. Perspectives covered are:
Competitor
Customer
Investor
Power and Politics
Sourcing and Managing Funds
State and Society
Employee
Innovator
Operations Engine
The Global Macroeconomy
The Executive
Integration with Yale University: Yale SOM puts more effort than any other MBA program into maintaining a connection with its host university.
*All data retrieved from the Yale SOM MBA Program webpages, unless otherwise stated.