Emory Goizueta MBA Program – What to Know as an Applicant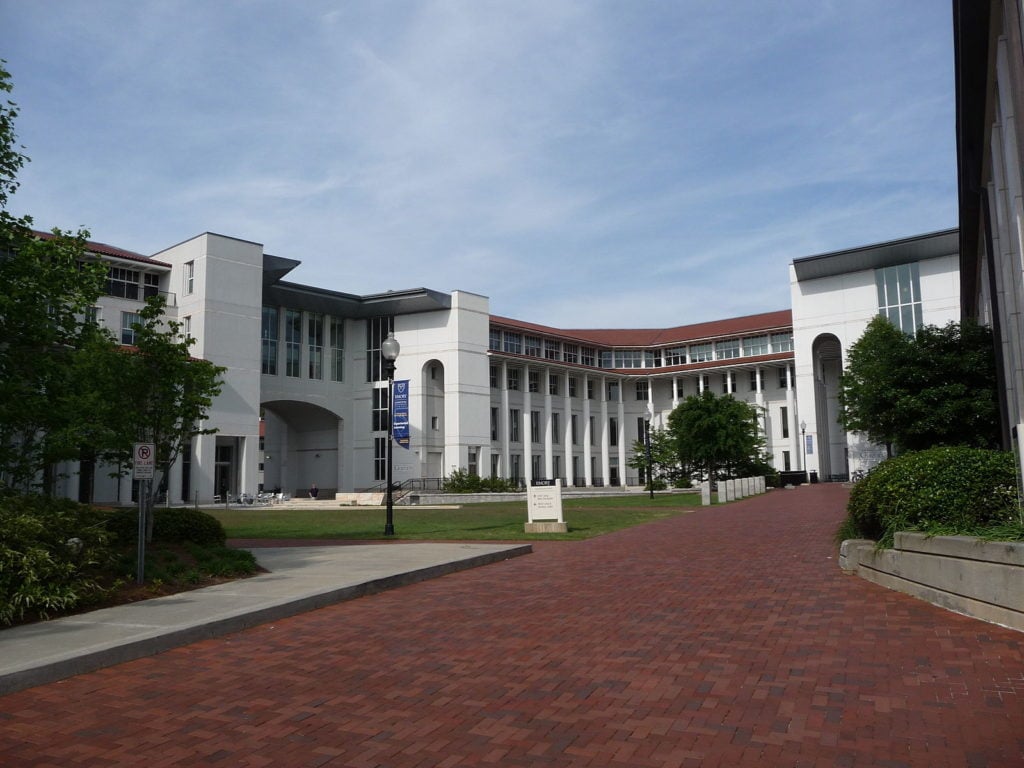 Emory University's Goizueta Business School not only has a reputation for its MBA program, but also for its undergraduate business program, which has an excellent placement record with about 20% of undergraduates going into consulting and 27% into finance. The strength of the graduate and undergraduate programs combined will broaden your network and improve visibility with employers.
Another factor to consider for Goizueta Business School is the small program size of about 170 students and the low 5:1 student to faculty ratio. The small ratios and class sizes will come in handy in your career development journey, as you are much more likely to receive individual attention and assistance throughout the job search process.
Nearly 50% of Goizueta MBA graduates go into consulting. The program also has an impressive 97% of its students receiving job offers within three months of graduation. Because of its location in Atlanta, GA, the business school has excellent job placement across the US Southeast region.
Emory Goizueta MBA Class Profile
| | |
| --- | --- |
| Class Size | 113 |
| Acceptance Rate | 31 |
| GMAT Average | 700 |
| GPA Average | 3.38 |
| Average Age | Does not disclose |
| Avg. Years Work Experience | 5.7 |
| Diversity Women | 33 |
| Diversity Intl. | 50 |
| Pre-MBA Industries | Does not disclose |
| Undergraduate Majors | Does not disclose |
The data above is from 2022 and represents the Emory Goizueta class of 2024.
See the full report: Emory Goizueta MBA Class Profile
Read how Emory's class of 2024 exemplifies the school's commitment to diversity.
Student Experiences
Emory Goizueta MBA Employment Report & Careers
Salary Average
$134,700.00
Offers Upon Graduation
Does not disclose
Offers At 3 Mos.
99
Post-MBA Industries
Consulting: 37%
Financial Services: 23%
Technology: 20%
Other (Real Estate and Industrial Goods): 7%
Consumer Packaged Goods: 6%
Transportation & Logistic Services: 5%
Pharma/Biotech/Healthcare: 2%
Post-MBA Locations
United States: 96%
Mid-Atlantic: 5%
Midwest: 4%
Northeast: 15%
South: 54%
Southwest: 3%
West: 15%
Non-US: 4%
Post-MBA Companies

Does not disclose

Career Development Resources
The data above is from 2021 and represents the career statistics of the Emory Goizueta class of 2021.*
See the full report: Emory Goizueta MBA Employment Report
Emory Goizueta MBA Academic Programs
MBA Curriculum
Emory Goizueta's MBA curriculum is spread out across the fall and spring semesters of the two years of the program. Students take elective courses in three out of the four semesters. The program's core curriculum consists of 11 classes. These classes cover topics in Economics, Leading Organizations and Strategy, Financial Reporting and Analysis, and Marketing Management. Goizueta Business School offers a selection of 90 elective courses for students to choose from. These courses span across a wide range of subjects, including Social Enterprise, Technology Management, Leadership, General Marketing, and Alternative Investments.
See the full offering of courses: Goizueta MBA Course Catalog
Majors
While Emory Goizueta does not have official majors as part of its degree, students can elect to pursue one of 20 concentrations offered in the program. Management Consulting, Strategy Consulting, Real Estate, and Global Management are some of the available concentrations that students can choose from.
Experiential Learning Programs
Through the Goizueta IMPACT program, students put their problem-solving skills to use by working on practical problems. The impact core classes during the first semester of the program ensure that foundational business skills are in place for the spring semester, where students work in project teams on practical problems. The semester is capped off by the Goizueta IMPACT Showcase Day contest, during which students present their recommendations and compete for the grand prize.
Research Centers
The Alternative Investments Center at Emory Goizueta provides resources on the various aspects of alternative investments for global institutional investors. This center is complemented by the Marketing Analytics Center, which focuses on using data to make better, more informed business decisions.
MBA International Study Programs
One of the global opportunities offered by Emory Goizueta is the option to participate in a faculty-led travel module that allows students to gain in-depth knowledge of a business topic in an international setting. Students can also choose to complete an internship, project or exchange abroad during the two years of their MBA.
Video Resources on Emory Goizueta Academics
Emory Goizueta MBA Application
Pete began his career in advertising and was eager to get into a great MBA program as a way to make a career transition into investment banking, and was able to win not only admission but scholarships at several top MBA programs.
Hear how he navigated the MBA application process and ultimately won a spot in the Emory MBA Class of 2021.
The latest application requirements set by the Emory Goizueta MBA admissions office are described below.
Essays
Here are the prompts for Emory Goizueta's 2022-2023 application:
Career Goals

Post-MBA Career Goals: Define your short-term post-MBA career goals. How are your professional strengths, past experience, and personal attributes aligned with these goals? (upload file, 300 words)

Leadership

Leadership in Business: The business school is named for Roberto C. Goizueta, a former Chairman and CEO of the Coca-Cola Company who led the organization for 16 years, extending its global reach, quadrupling consumption, building brand responsibility, creating unprecedented shareholder wealth, and demonstrating a commitment to values and positive impact on society. Roberto Goizueta's core values guide us in educating principled leaders to have a positive influence on business and society. Provide a specific example of your leadership and explain what you learned about yourself through the experience. (upload file, 300 words)

Why Goizueta?

Why Goizueta?: What are you looking to gain from the Goizueta MBA program and how do you see yourself contributing to the Goizueta community? (upload file, 200 words)

Video Essay

Video Essay. Telling your story in the written essays is an important part of the application process, but we also want to hear you tell some of your story. The video essay lets every candidate talk to the MBA Admissions Committee and we enjoy getting to know you through the "cocktail" questions.
Letters of Recommendation
The 2022-2023 Emory Goizueta recommender questions were as follows:
Recommendation Letter — If there is any additional information you'd like to share, you may provide it in the textbox or by uploading a letter below. Thank you for taking the time to recommend this applicant to a Goizueta program. (PDF)
Applicant's interpersonal skills — How would you describe the applicant's interpersonal skills and the impression they make in meetings, presentations, or other interactions? Is the applicant effective when working in a team? (Text box, 150 words)
Area(s) for improvement/response to constructive feedback — In what area(s) does the applicant need improvement? Describe the applicant's awareness of these areas and response to constructive feedback. (Text box, 150 words)
Applicant's most exceptional area — In what area is the applicant most exceptional? (Text box, 150 words)
Applicant characteristics/attributes — What characteristics or attributes best describe the applicant? (Text box, 150 words)
Peer comparison reference group — Please indicate to which group you are comparing this candidate (e.g., co-worker, MBA graduate, etc.) (Short answer, 100 words)
Video Resources on Emory Goizueta Admissions
Emory Goizueta MBA Admissions Interviews
Emory Goizueta offers the option of an open-interview, which is conducted in the time leading up to the Round 1 application deadline. After that, interviews are by invitation only. Each interview is conducted by a member of the admissions committee or a select group of alumni. Questions that are part of the Emory Goizueta interview are typically those related to your work experience, post-MBA career goals, and how you see yourself contributing to the Goizueta community. Interviews are conducted either on-campus or virtually.
Emory Goizueta Useful Links
What Makes Emory Goizueta Unique?
Small class size. Only about 170 students make up the Goizueta MBA class, and therefore, there is a low 5:1 student to faculty ratio.
Strong employment report. 97% of its graduates received offers within three months of graduation. Moreover, the salaries for the school's MBA graduates are continually rising, and the average is currently at $149,000.
High placement into consulting. 49% percent of graduates from the two-year full time MBA program were placed in consulting positions in 2019.
*All data retrieved from the Emory Goizueta MBA Program webpages, unless otherwise stated.
Related Articles