Wharton MBA Employment Report: Updated for 2022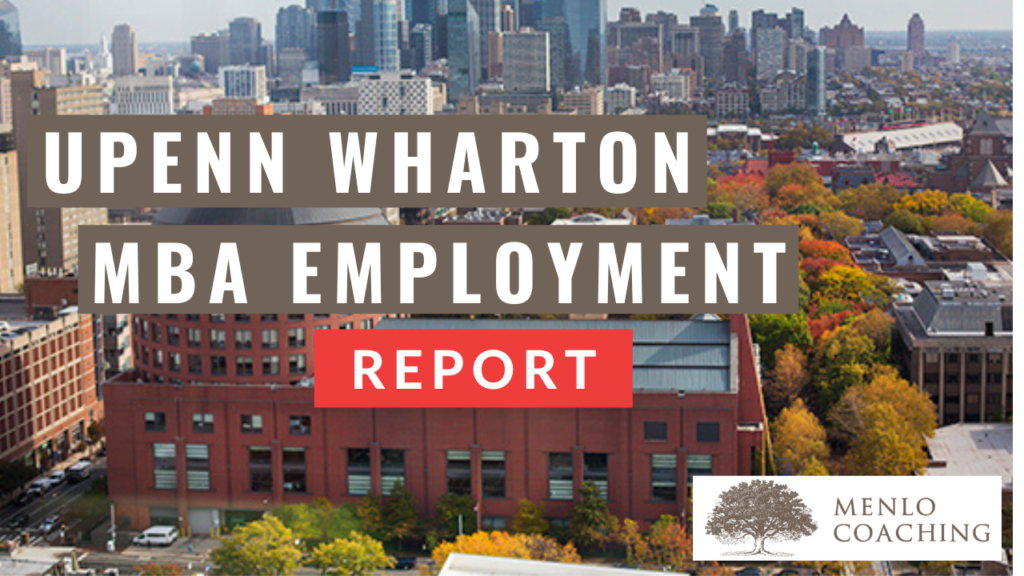 The Wharton School of the University of Pennsylvania is a prestigious business school located in Philadelphia, with an impressive history of its MBA graduates securing job offers at graduation.
If you are wondering whether Wharton's MBA program is the right move for your career, you are in the right place. This article will explore the most important employment data on Wharton, including top industries, job locations, post-MBA employers, and median salaries.
In this article, we will be reporting MBA employment statistics for Wharton's full-time MBA class of 2021, including a combination of the Wharton School's employment reporting and our own analysis on the employment data of graduates with a Wharton MBA.
Wharton MBA Employment Report and Careers
Salary Median
$185,000.00
Offers Upon Graduation
Does not disclose
Offers At 3 Mos.
99
Post-MBA Industries
Financial Services: 35.1%
Investment Banking/Brokerage: 12.9%
Private Equity/Buyouts/Other: 11.1%
Investment Management: 3.7%
Venture Capital: 3.4%
Insurance & Diversified Services: 2.1%
Hedge Funds/Other Investments: 1.9%

Consulting: 27.2%
Technology: 18.6%
Healthcare: 5.3%
Retail: 2.5%
Real Estate: 2.1%
Media, Entertainment & Sports: 1.6%
Consumer Products: 1.4%
Manufacturing: 1.4%
Social Impact: 1.2%
FinTech: 1.2%
Energy: 0.9%
Legal & Professional Services: 0.9%
Future Mobility: 0.5%
Travel & Hospitality: 0%
Post-MBA Locations
United States 92.4%
Mid-Atlantic: 9.9%
Midwest: 2.5%
Northeast: 47.5%
South: 3.5%
Southwest: 3.4%
West: 25.6%
Non-US: 7.6%
Asia: 4.4%
Europe: 1.4%
Canada: 1.2%
Other: 0.6%
Post-MBA Companies
Career Development Resources
The data above is from 2021 and represents the career statistics for the Wharton MBA class of 2021.*
See the full MBA employment report: Wharton MBA Employment Report
In 2021, within three months of graduation, an impressive 99% of Wharton MBA graduates looking for work received a job offer, with 96.8% accepting the job offer. The schools had a record high median salary of $155,000 followed with a solid bonus of $30,000.
According to the Wharton employment report, financial services careers have generally attracted the most Wharton MBAs, with 35.1% of the Class of 2021 working in that field. Graduates also went to consulting jobs, which accounted for 27.2% of all jobs. To round out the top five industries, 18.6% of the class picked technology job placements, 5.3% accepted healthcare jobs, and 2.5% accepted retail jobs.
Over 92.4% of graduates chose to work in the United States. 47.5% of graduates found jobs in the Northeast. According to Wharton's MBA employment statistics, the West was the most popular with 25.6% of MBA graduates heading westward. 9.9% of MBAs chose to work in the Mid-Atlantic region, 3.5% in the South, 3.4% in the Southwest, and 2.5% in the Midwest.
UPenn Wharton Career Services
Wharton's MBA Career Management team is committed to connecting students with a diverse range of employers, from Fortune 500 companies to start-ups. Wharton MBAs are in high demand because they add immediate and long-term value to corporations, nonprofits, and governments around the world. The Wharton MBA Career Management team is a huge asset to the Wharton MBA student and has assisted over 650 companies in making job offers to Wharton students. MBA Career Management assists students in leveraging and building on previous professional accomplishments, as well as providing personalised support on the path to internship and full-time success. Wharton MBA students seeking employment will also have access to the school's MBA career management websites.
The Wharton Career Management Center offers the following extremely valuable MBA career services:
Career Advising – Students collaborate closely with career advisors who specialise in more than 30 industry pathways. Wharton career advisors guide its students through the job search process, which includes writing resumes and cover letters, developing a job search strategy, networking, interview preparation, and negotiating.
Recruiting Tools – Wharton's analytics-driven learning and recruitment platforms provide an unrivalled suite of on-demand career content, an extensive library of interactive data tools, sector-specific "action plans," job postings, and more.
Employer Connections – Relationship Managers at Wharton work with employers to host networking events, post jobs, and schedule interviews. Through industry clubs and conferences, career treks, and alumni connections, students can interact with employers both on and off campus.
Second-Year Career Fellows – Students may meet with professionally trained second-year Career Fellows for a first-year resume review, mock interview, or networking meeting in their industry of choice, in addition to career advisors.
Lifelong Career Support as Alumni – Wharton's Lifelong Learning programs and Wharton Global Forums offer a wealth of career education resources and networking opportunities to all Wharton alumni throughout their careers.