The Berkeley Haas MBA Program – The Only Guide You'll Need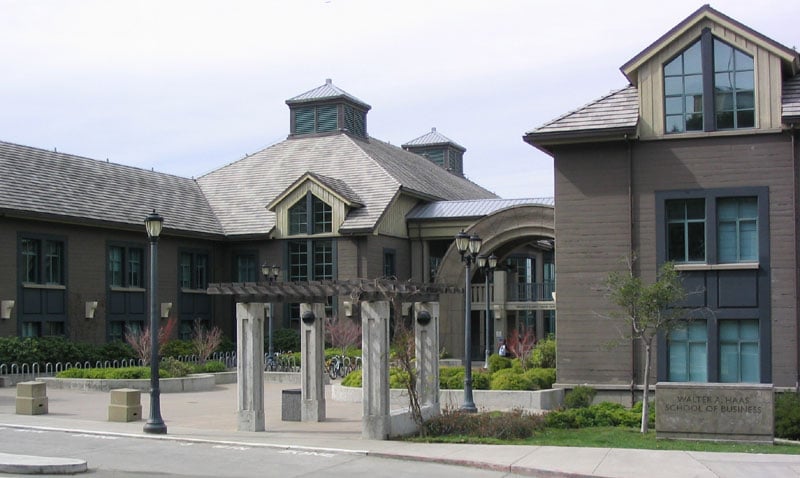 The Haas program is built around its four defining principles:
Question the Status Quo
Confidence Without Attitude
Students Always
Beyond Yourself
Your fit with these cultural principles will be a huge factor in whether you receive an admissions offer at Haas.
As you would expect from its integration within the University of California, Berkeley, whose reputation precedes it, Haas is a progressive school with progressive values. Admissions essays have invited applicants to discuss the hardships faced in their lives, and the Haas MBA program was one of the first to appoint a Chief Diversity, Equity and Inclusion Officer, and release a Diversity, Equity and Inclusion Action Plan. Haas is more willing than its peer schools to consider unusual applicants who may lack a few traditional qualifications, but show sound reasoning for pursuing an MBA and have an inspiring story of what they've done in their lives.
The Berkeley location of Haas makes it easy to network with tech companies across the San Francisco Bay Area, and the school has excellent placement in the tech industry; it has placed more than 30% of its students into the tech industry in recent years.
If the Haas Defining Principles resonate with you, if you want a school that makes exceptional efforts to recruit a diverse class of students, or if you want to work in the SF Bay Area tech industry after graduation, Haas should be on your list.
For fast facts on getting into the Haas MBA program see, Your Chances at Haas: Acceptance Rate & Other Factors.
Berkeley Haas MBA Class Profile
Class Size
247
Acceptance Rate
Does not disclose
GMAT Average
729
GMAT Median
730
GPA Average
3.64
Average Age
Does not disclose
Avg. Years Work Experience
5.6
Diversity Women
46
Diversity Intl.
41
Pre-MBA Industries
Consulting: 23%
Financial Services: 18%
Other: 15%
High Technology/ Electronics: 13%
Health/Pharma/BioTech: 9%
Not-for-Profit: 6%
Energy: 5%
Consumer Products/ Retail: 4%
Real Estate: 4%
Military: 3%
Undergraduate Majors
Engineering: 23%
Economics: 15%
Social Sciences: 15%
Business/Commerce: 13%
Other: 11%
Finance: 6%
Natural Sciences: 5%
Arts/Humanities: 4%
Math/Physical Sciences: 4%
Computer Science: 3%
The data above is from 2022 and represents the Berkeley Haas MBA class of 2024.
See the full report: Berkeley Haas MBA Class Profile
Student Experiences
Haas offers a unique business school experience to its MBA students due to its progressive politics and valuable location near the San Francisco Bay area. Check out our candid interview Alex, a recent Haas (2019) graduate who talks about being a student at UC Berkeley, her Haas classmates, and the support she received from the Haas career center.
Video Resources: Student Life at Haas School of Business
Berkeley Haas MBA Employment Report & Careers
Salary Average
$186,249.00
Offers Upon Graduation
82.5
Offers At 3 Mos.
93.8
Post-MBA Industries
Consulting: 28.2%
Technology/Telecom: 32.9%
Financial Services: 13.7%
CPG/Retail: 6.3%
Health/Biotech/Pharma: 5.1%
Transportation/Logistics: 3.1%
Real Estate: 2.4%
Energy/Utilities: 2%
Manufacturing: 2%
Public Sector/Non-Profit: 1.6%
Other: 2.7%
Post-MBA Locations
United States: 96%
Mid-Atlantic:1.2%
Midwest: 2.4%
Northeast: 7.1%
South: 0.8%
Southwest: 4.3%
West: 80.2%
Non-US: 4%
Post-MBA Companies

Does not dislcose

Career Development Resources
Berkeley Haas Career Support
The data above is from 2022 and represents the career statistics for the Berkeley Haas class of 2022.
See the full report: Berkeley Haas 2022-2023 MBA Employment Report
Berkeley Haas MBA Academic Programs
MBA Curriculum
The Haas MBA curriculum is distributed across four semesters in two years, where each semester is divided into two parts. Students take an average of eight classes per semester, and an average of four classes within each semester division. The Haas core curriculum consists of 12 core courses that students are required to take over the first year of their MBA. Some of these required courses include Macroeconomics, Ethics, and Strategic Leadership. Each of the required courses are taught in seven-week intervals. The majority of Haas's curriculum is comprised of electives. An average of 65 electives are offered each semester in topics such as Leadership and Communication, Real Estate Development, SQL Programming, and International Finance.
See the full offering of courses: Berkeley Haas MBA Course Catalog
Majors
Although Haas does not require students to declare official majors, you can choose one of several academic concentrations during their MBA. The following areas of emphasis are offered by Haas.
Finance
Marketing
Strategy/Consulting
Corporate Social Responsibility
Energy and Clean Technology
Entrepreneurship
Global Management
Health Management
Social Sector Leadership
Real Estate
Technology
Experiential Learning Programs
Haas offers 20 Applied Innovation courses that focus on how the theories learned in the classroom can be used to solve real-world problems. These courses cover a wide range of topics, including People Development and Social Sector Solutions. Students are required to complete at least one Applied Innovation course as part of their MBA.
Research Centers
While pursuing your Haas MBA, you will have access to multiple research centers and institutions. The Institute for Business Innovation and the Institute for Business and Social Impact each host a variety of programs such as Berkeley Haas Entrepreneurship and the Center for Responsible Business. In addition, the Institute for Clean Energy brings together those who are interested in the relationship between the marketplace and energy research.
Students also have access to three of Haas's research centers: the Berkeley Center for Economics and Politics, the Center for Financial Reporting and Management, and the Fisher Center for Real Estate and Urban Economics.
MBA International Study Programs
Haas provides students with the option of participating in an exchange program during the fall semester of their second year. Students may also add a global component to their coursework by taking the International Business Development course. Moreover, Haas offers the opportunity to experience how business is conducted in developing and emerging economies through the Global Network for Advanced Management programs.
Video Resources on Berkeley Haas Academics
Berkeley Haas MBA Application
The latest application requirements set by the Berkeley Haas MBA admissions office are described below.
Essays
Here are the prompts for Haas's 2022-2023 application:
"Alive"

What makes you feel alive when you are doing it, and why? (text box, 300 words maximum)

Leadership What kind of leader do you aspire to be and why? (text box, 300 words max)
Career Goals (Short-term)

Briefly describe your immediate post-MBA career goals (text box, 150 words maximum)

Diversity

One of our goals at Berkeley Haas is to develop leaders who value diversity and to create an inclusive environment in which people from different ethnicities, genders, lived experiences, and national origins feel welcomed and supported.

Can you please describe any experience or exposure you have in the area of diversity, equity, and inclusion, whether through community organizations, personal, or in the workplace? (text box, 150 words)
Read more: 2022-2023 MBA Essays: Tips for UC Berkeley Haas
Letters of Recommendation
The 2022-2023 Berkeley Haas recommender questions were as follows:
Optional — Is there anything else we should know? (Text box)
Interaction with the applicant — Please provide a brief description of your interaction with the applicant and, if applicable, the applicant's role in your organization. (Text box)
Constructive feedback and the applicant's response — Describe the most important piece of constructive feedback you have given the applicant. Please detail the circumstances and the applicant's response. (Text box)
Compare to other well-qualified individuals — How does the applicant's performance compare to that of other well-qualified individuals in similar roles? Please provide specific examples. (E.g. what are the applicant's principal strengths?) (Text box)
Applicant's Haas value reflection — In the Berkeley MBA program, we develop leaders who embody our distinctive culture's four key principles one of which is "confidence without attitude" or "confidence with humility". Please comment on how the applicant reflects this Berkeley Haas value. (Text box)
Video Resources on Berkeley Haas Admissions
Berkeley Haas MBA Admissions Interviews
Admissions interviews are by invitation only and are conducted both by trained students on campus, and by alumni off-campus.
Berkeley Haas Useful Links
What Makes Berkeley Haas Unique?
Four Defining Leadership Principles:
Question the Status Quo: "We lead by championing bold ideas, taking intelligent risks, and accepting sensible failures. This means speaking our minds even when it challenges convention."
Confidence Without Attitude: "We make decisions based on evidence and analysis, giving us the confidence to act without arrogance. We lead through trust and collaboration."
Students Always: "We are a community designed for curiosity and lifelong pursuit of personal and intellectual growth. This is not a place for those who feel they have learned all they need to learn."
Beyond Yourself: "We shape our world by leading ethically and responsibly. As stewards of our enterprises, we take the longer view in our decisions and actions. This often means putting larger interests above our own."
UC Berkeley's progressive ideas:
In 2019, Haas appointed a Chief Diversity Officer. "The Chief Diversity, Equity and Inclusion Officer will supervise the Director of Inclusion and Diversity who is primarily focused on student climate and programming, and will lead a DEI team including a Director of Diversity Admissions."
Haas also asks applicants to write an essay explaining the hardships they faced growing up, showing that Haas realizes that opportunity is not equally distributed.
Related Articles
*All data retrieved from the Berkeley Haas MBA Program webpages, unless otherwise stated.