UVA Darden's MBA Employment Report and Careers: Updated for 2023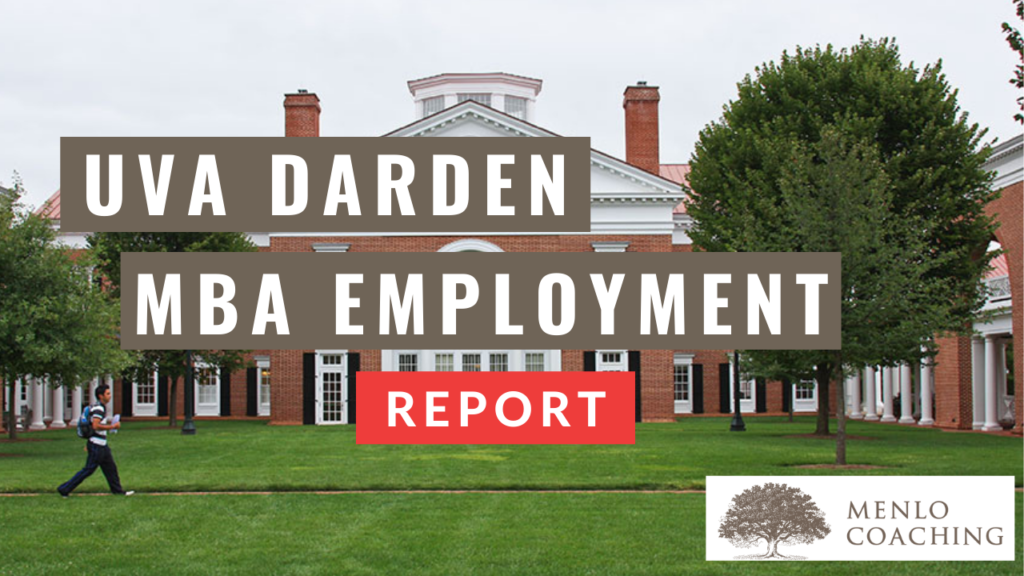 If you're looking for a rigorous curriculum that keeps you busy, a small, close-knit community of like-minded people, and an abundance of international education opportunities, then you should check out the Darden Graduate School of Business at University of Virginia. With 94% of students receiving job offers upon graduation, there is no shortage of opportunities for you in UVA Darden's MBA program.
The Darden MBA program specializes in a case method teaching approach, and the Princeton Review and Bloomberg have rated the teaching quality at UVA Darden very highly. This intense curriculum is referred to by both current and former students as a "bootcamp." Graduates have been successfully placed in management consulting and investment banking for their hard-earned intense work ethic. Another highlight of the school is the Darden Worldwide Scholarship Program: funding provided for every full-time MBA student to participate in an international business experience.
Business schools publish data on their graduates every year, and in this article you will find that information along with our own analysis. You'll find some of the world's leading firms in the data below, including placements at Amazon, Wayfair, Capital One, and Microsoft. On this page, we'll explore the most important employment data on UVA Darden's MBA program, including top industries, job locations, and compensation trends.
UVA Darden MBA Employment Report and Careers
Salary Average
$180,421.00
Offers Upon Graduation
92
Offers At 3 Mos.
97
Post-MBA Industries
Consulting: 32.1%
Financial Services: 25.7%
Technology: 18.9%
Health care (including products and services): 6.1%
Consumer packaged goods: 4.7%
Manufacturing: 3.7%
Real estate: 2%
Retail: 1.7%
Transportation/Logistics services: 1.4%
Media/Entertainment: 1.0%
Energy: 0.7%
Nonprofit/Education: 0.3%
Other: 1.7%
Post-MBA Locations
United States: 98.1%
Mid-Atlantic: 20.9%
Midwest: 11.1%
Northeast: 28.7%
South: 11.1%
Southwest: 8.1%
West: 18.2%
Non-US: 1.9%
Post-MBA Companies
Career Development Resources
UVA Darden Career Support
The data above is from 2021 and represents the career statistics for the UVA Darden class of 2021.*
See the full report: UVA Darden MBA Employment Report
The school set a record in 2021, with 91% of graduates employed. By three months after graduation, 97% of the Class of 2021 had received a full-time offer, which was higher than any top-25 school the previous year.

In 2021, Darden's average pay increased by 3.6% to $144,933. Darden MBAs' average base salary have increased by over $22,000 in the last five years followed with a competitive bonus of $35,488.

McKinsey & Company and Boston Consulting Group are the top two employers, with consulting accounting for nearly one-third (32.1%) of all accepted positions. Microsoft and Amazon are the next two employers on the list, accounting for the majority of the 18.9% of the class who went to work in technology. Meanwhile, financial services accounts for 25.7% of post-MBA graduates planning to work in private equity or venture capital. Healthcare accounts for 6.1% of all hiring, with Bayer, Cigna, Johnson & Johnson, and Pfizer among the top employers.

Darden MBAs are widely dispersed, working at 141 companies in 73 cities across six countries and 28 states. In the United States, Darden graduates began their post-MBA careers in the Northeast (28.7%), Mid-Atlantic (20.9%), West (18.2%), Midwest (11.1%), South (11.1%), and Southwest (8.1% ).
UVA Darden Career Center
The Career Center at UVA Darden helps students achieve their goals of becoming purpose-driven leaders by providing tailored career searches, assistance, and resources. Darden's Career Center provides one-on-one professional career coaching, career management skill development, and superior job support, ensuring that a student personal purpose is translated into professional reward.