2022-2023 MBA Essays: Tips for Rice Jones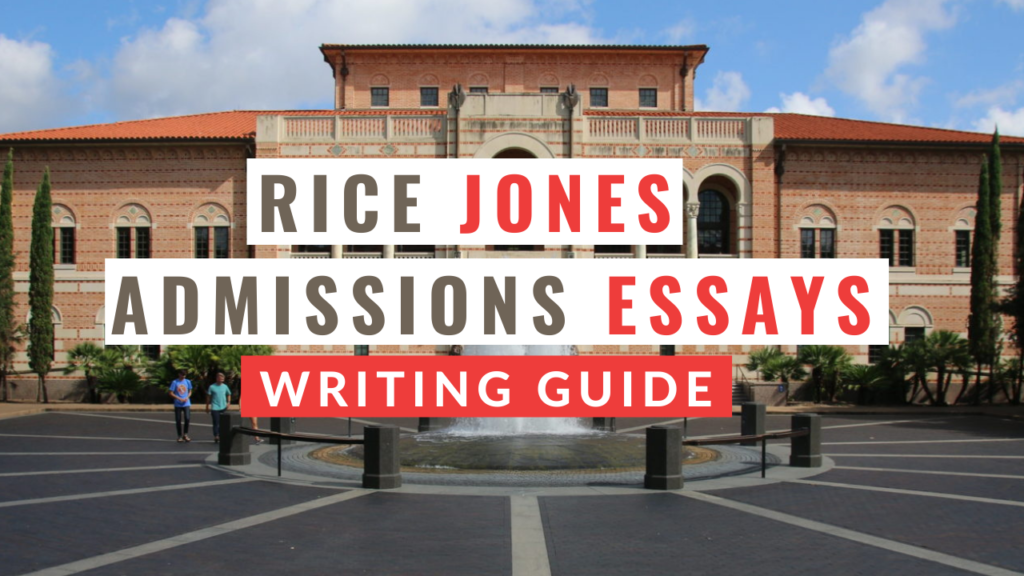 This year's MBA application prompts are out, which means it's time to start brainstorming what your topics will be. Wondering where to start, what to write? No worries, we have all the tips you need to get a nice start on writing quality essays for Rice Jones.
In this program, students are encouraged "to take risks and make mistakes." They are looking for students who are moved to create. Through the story you relate in your essay, the admissions council is looking to see if you reflect the same values that the school does. Rice is looking for students who are looking to develop their emotional intelligence and eager to use rigorous analysis. The best way to represent that you possess those qualities is through the type of essay you choose to write.
It's crucial to pick the right experience to discuss in your essay, and the different types of prompts help narrow that down for you. Keep reading for a closer look at the different types of essays, and how best to utilize them in order to write a stand-out essay for Rice Jones School of Business.
The Personal Statement Essay
Like we touched on earlier, schools are looking for the right fit for their campus community, just as you are searching for the school that aligns best with your goals. In the personal essay, this is your chance to show Rice Jones the values that drive you both as a person and as a student. These values tell the admissions council what you prioritize, the moral code you live by, and, most importantly, who you are as a person.
Rice Jones is looking for applicants who want to contribute to a larger purpose. The program is dedicated to students completing their own research and analysis in order to make decisions. They encourage intelligent risks.
In these essays, you can talk about almost anything; typically, applicants will write about relationships in their lives, or times when there was a hardship they had to overcome. Be warned, though: there are some topics to avoid, and we have outlined a few things to watch out for in this article.
Select A Prompt Please choose one of the prompts below. You can submit a written essay (500 word limit) or a video (3 minute limit). Prompt #1: What movie, song, or book has most influenced your life and the way you view the world? Why? Prompt #2: A picture is worth a thousand words. Choose a picture from your life that you value and tell us the story of that picture – but only in 500 words or less. Feel free to share the photo! Prompt #3: Houston is one of the most diverse cities in the United States, and food is a large part of these cultures. If you had to design a 3-course menu to prepare for your future MBA core team, what would be on the menu that showcases more about who you are? (500 words OR upload video, 3 minute limit)
The Career Goals Essay
You're not the only one hoping you'll have a job after you've graduated with your MBA. Admissions committees are looking for students who are motivated and clear in their intentions so that when they get a job post-grad, they'll be more willing to speak positively of their experience in the program. And, of course, in the hopes that their alumni will earn enough money to become a donor to the school one day.
There are three aspects to the career goals essay:
What you want your future profession to look like.
Why an MBA is necessary to advance your career.
Particularly, why a degree from Rice Jones will be most beneficial to you and your job plan.
Your aspirations need to be convincing, ambitious, and realistic. Rice Jones is looking for applicants who have meaningful goals grounded in their past experiences, and it's important that you relate that notion in your essay, however it applies to your experience in life.
Career Goals The Rice Business experience is designed to inspire our students to become future business leaders. How did your path, from both a professional and a personal perspective, guide you to where you are today, and how will Rice Business fit into where you would like to go next? (text box, 500 words OR upload video, 3 minute time limit)
The Behavioral Essay
To make it simple: the behavioral essay is meant to show the team at Rice Jones that you have developed some sort of leadership skills, what your values are as a leader, and how you are going to most benefit from their development programs.
The admissions committee is looking for applicants that are self-reflective. Whether it's through a setback you've experienced, or how you dealt with situations that have gone awry, the school is looking for students who are resilient and able to learn from their mistakes.
Do not overexaggerate (or underexaggerate!) the situations you decide to write about. Be honest about what happened; Rice is looking for genuine people to join their campus community, and they are less likely to admit an applicant who has overinflated their prior experiences.
Last but not least, make sure to describe what you learned and how you implemented this in a subsequent situation. This is an expected element of the behavioral essay, even if it's not directly written in the prompt. The school is looking for applicants who will act with humility, and have confidence without attitude. Prompts that deal with these topics can be daunting, especially when they require you to write about a weakness you have or a failure you've experienced.
COVID/BLM Essay Few in history have experienced a global event that has reached all corners of the world. During the impact of recent global activities, we have all been affected in different ways and have had to operate with ambiguity. What was the biggest lesson you learned during this moment in history and how will you carry this lesson forward as a future leader when having to make decisions with incomplete information? (text box, 500 words)
Conclusion
Writing strong, coherent, genuine stories is an essential part of your MBA application. These essays are meant to help you stand out among many other applicants, so it is worth your time to do the work and write about situations unique to your life and that you truly learned from. Visit our process page to understand how Menlo Coaching can help you with your MBA essays for Rice.