CMU Tepper MBA Essays: Tips for the 2022 Admissions Cycle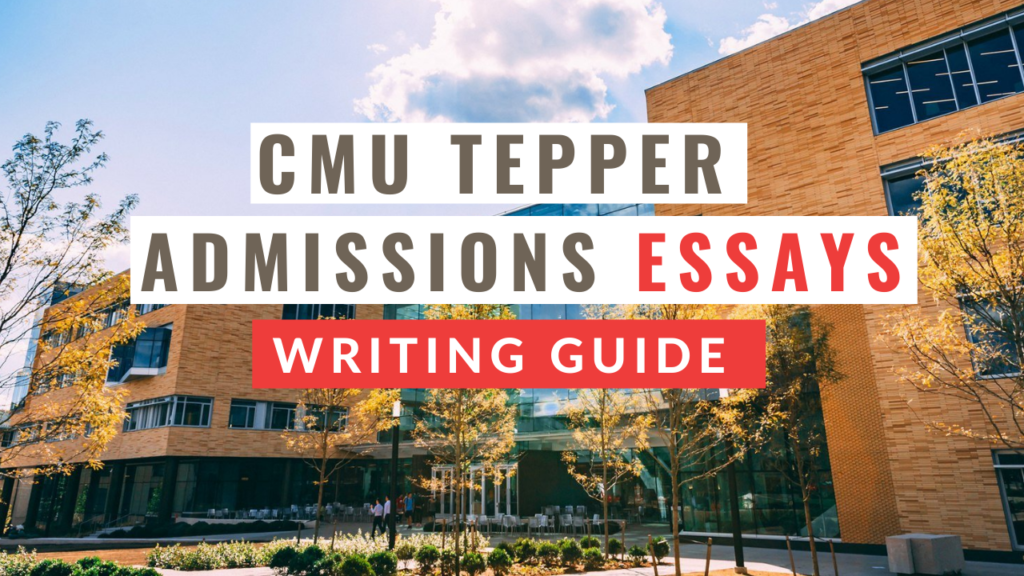 If you are looking for guidance on how to write successful MBA essays for CMU Tepper, you are in the right place. The Tepper MBA application can be difficult and time-consuming, but with these tips and tricks, you can be more confident about one of the biggest parts of your application: the MBA essays. This article will cover how to compose Tepper MBA essays that will fit the criteria for admissions and hopefully earn you a place in Tepper's graduating class of 2024.
Carnegie Mellon University Tepper School of Business is a prestigious MBA progarm with renowned faculty and a focus on academic success. Tepper wants to admit students who are intelligent, determined, and prepared to undertake a rigorous curriculum. Further, Tepper has a long affiliation with computer science and related fields such as automation, robotics, and artificial intelligence. Applicants should pay attention to the specific requirements and expectations set out by Tepper's admissions committee when writing Tepper MBA essays. Through these MBA essays, applicants have a chance to demonstrate their skills, accomplishments, and personal interests.
Tepper's Career Goals Essay
The Tepper career goals essay provides applicants with a place to let the Tepper admissions committee know how the MBA program you want to attend will help you achieve your professional goals. This Tepper MBA essay is a great place to explain why Tepper is truly the best fit for you.
It is vital for Tepper applicants to have a solid plan for their post-MBA career aspirations. First and foremost, this is because Tepper wants its graduates to succeed. However, there are a few selfish motivations for the career goals essay, including the fact that Tepper wants to have an impressive employment report and produce graduates who will become donors someday. Further, the Tepper admissions committee wants to ensure that applicants have a career plan that plays on their past experiences and thus ensures success. They also want applicants with the foresight to develop an alternate career plan in case their first choice does not work out.
Other things to keep in mind for this essay is the necessity to have a career goal that is both ambitious and practical. Applicants should have meaningful goals that fit with what is offered at Tepper's MBA program. Along this vein, networking is extremely important when preparing to write your career goals essay. The more you know about the program and how it can help you achieve your personal goals, the better.
Career Goals (Short-term)

Post-MBA Goals. What is your professional goal immediately following graduation from Tepper? (text box, 150 words)

Plan B Goals

Post-MBA Goals. What other role would you consider? In other words, what is your Plan B? (text box, 150 words)
Tepper's Behavioral Essay
Tepper's behavioral essay involves demonstrating how you have overcome adversity in real-life situations. This Tepper MBA essay gives you a space to rethink your individual journey towards becoming a collaborative, supportive and inclusive community member. Tepper's MBA admissions committee wants assurance that you are self-reflective and able to identify a moment in which you have overcome some type of adversity.
In the Tepper behavioral essay, it is important to be truthful and sincere and to tell your personal story in a compelling manner. You should include as much detail as possible for this type of Tepper MBA essay, discussing your role in an adversarial situation. You should reflect on what this situation taught you and how you might have changed after this experience. Tepper is looking for MBA candidates who can contemplate how they overcame adversity.
In this Tepper MBA essay, you might want to reflect on what you have learned about yourself through experiencing adversary.
Overcoming Adversity The Tepper community is dynamic and unique. Each community member's individual journey has shaped them into classmates who are collaborative, supportive and inclusive. Describe how you have overcome adversity during your journey. What did you learn about yourself and how has that shaped who you are? (upload file, maximum 350-500 words.)

Conclusion
Applicants to CMU Tepper should pay close attention to the specific expectations for each type of Tepper MBA essay. Although it may be tempting to look up sample essays and draw from these formats, it is most important to let your personal background guide the construction of your Tepper MBA essays. Menlo Coaching can help you throughout your MBA essay writing process, offering one-on-one coaching and exclusive materials.