The Duke Fuqua MBA Program – An Overview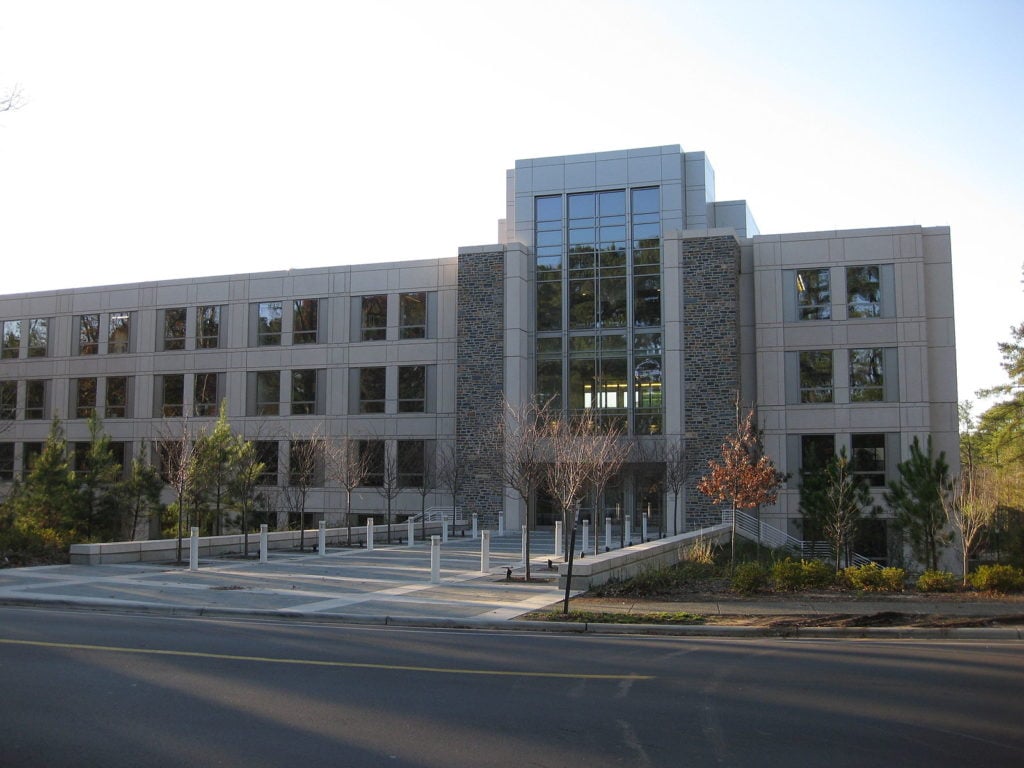 When evaluating MBA applicants, Duke Fuqua's MBA program talks about the "decency quotient," by which they mean that they want to recruit students who are decent human beings, not just selfish, profit-maximizing machines. Fuqua's intense focus on recruiting students with the right personal qualities means that they often lag behind peer schools in the GMAT– not because they don't see a lot of applicants with high GMAT scores, but because they stick to their principles of admitting only the students who fit their MBA program's culture.
This selection process makes sure that students fit in with Team Fuqua, and have a genuine interest in helping others to achieve their full potential. It also supports Duke Fuqua's outreach to post-MBA employers, who share Fuqua's desire to recruit people who are not only intelligent but caring.
Fuqua's location near the Research Triangle puts it next to many interesting companies, including IBM, Credit Suisse, Cisco, Bayer, Dupont, and others. This proximity to innovation has also driven Fuqua to be a pioneer in offering STEM-certified programs, like their MSTeM program (Management Science and Technology Management), which was one of the first US MBA programs to be STEM-certified.
Duke Fuqua MBA Class Profile
Class Size
385
Acceptance Rate
Does not disclose
GMAT Average
715
GMAT Minimum
670
GMAT Maximum
760
GPA Average
3.5
GPA Minimum
3.1
GPA Maximum
3.89
Average Age
29
Avg. Years Work Experience
6.1
Diversity Women
45
Diversity Intl.
47
Pre-MBA Industries
Financial Services: 18%
Technology: 15%
Consulting: 12%
Government: 11%
Health: 8%
Non-profit / Education: 6%
Consumer Goods: 5%
Energy / Chemical / Utilities: 5%
Manufacturing: 5%
Other: 15%
Undergraduate Majors
Engineering / Natural Sciences: 37%
Business & Accounting: 30%
Liberal Arts: 15%
Economics: 12%
Other: 6%
The data above is from 2023 and represents the Duke Fuqua class of 2025.
See the full report: Duke Fuqua MBA Class Profile
Student Experiences
Duke Fuqua MBA Employment Report & Careers
Salary Median
$190,055.00
Offers Upon Graduation
92
Offers At 3 Mos.
98
Post-MBA Industries
Consulting: 36%
Technology: 23%
Financial services: 16%
Health care: 11%
Consumer packaged goods: 4%
Post-MBA Locations
United States: 100%
Mid-Atlantic: 9%
Midwest: 6%
Northeast: 29%
South: 17%
Southwest: 14%
West: 25%
Post-MBA Companies

Boston Consulting Group: 42

Deloitte: 22

Amazon: 18

McKinsey: 16

Bain & Company: 12

Google: 11

Microsoft: 11

Dell: 9

Accenture: 10

Bank of America: 10

Cisco: 5

EY-Parthenon: 4

Apple: 4

DaVita: 4

The Kraft-Heinz Co.: 4

PwC: 3

ZS Associates: 3

Barclays: 3

Citi: 3

Morgan Stanley: 3

Wells Fargo: 3

Johnson & Johnson: 3

Career Development Resources
The data above is from 2022 and represents the career statistics for the Duke Fuqua class of 2022.
See the full report: Duke Fuqua 2022-2023 MBA Employment Report
And to find out what employment resources Duke offers to international students, check out our article: Opportunities for International MBA Students at Fuqua.
Duke Fuqua MBA Academic Programs
MBA Curriculum
Duke Fuqua's MBA curriculum is distributed over a period of 22 months. The MBA begins with a month-long orientation that covers three courses. After that, each academic year is comprised of four six week-long terms. Students complete 14 core courses during their time at Fuqua, three of which take place during the summer orientation month. The remaining 11 courses are taken over the first year of the program. At Fuqua, you will begin taking electives in the second half of your first year. The program offers a selection of over 100 electives, including classes in Strategy, Decision Sciences, and Health Sector Management.
See the full offering of courses: Duke Fuqua MBA Course Catalog
Majors
Although Fuqua does not offer majors, students are free to pursue a concentration or certificate. Fuqua students can choose from one or more of 12 concentrations.
Decision Sciences
Energy and Environment
Energy Finance
Entrepreneurship and Innovation
Finance
Financial Analysis / Accounting
FinTech
Leadership and Ethics
Management
Marketing
Operations Management
Social Entrepreneurship
Strategy
Fuqua also offers certificates in Finance and Health Sector Management. In addition, for students who would like to refine their analytical skillset, Fuqua has established the Management Science and Technology Management track that focuses on providing students with the tools needed to improve their analytical decision-making abilities.
Experiential Learning Programs
Fuqua's experiential program provides three distinct ways in which students can gain hands-on experience while in the program. Students interested in gaining practical consulting experience can do so via the Fuqua Client Consulting Practicum (FCCP). Those interested in undertaking new commercial or social ventures in the future can prepare themselves by participating in the Program for Entrepreneurs. Moreover, through Fuqua on Board, students are matched with a local non-profit organization to serve on their boards as a non-voting member.
Research Centers
Duke's Fuqua hosts five research centers that cover a range of subjects across a variety of sectors: the Center for the Advancement of Social Entrepreneurship, the Center for Entrepreneurship and Innovation, the Fuqua Center for Leadership and Ethics, the Center for Energy, Development, and the Global Environment, and Health Sector Management.
MBA International Study Programs
As part of their international study program, Fuqua partners with a number of business schools across the globe, where students can complete a semester or a short-term program abroad. Students can also learn about other cultures by taking one of the language courses offered at Fuqua.
Video Resources on Duke Fuqua Academics
Duke Fuqua MBA Application
Jason passed through some very unusual pre-MBA jobs—such as working for a mom and pop tax preparation company—and then heading for a Duke MBA at the Fuqua School of Business with a scholarship as a step towards a management consulting job.
Hear how he navigated the MBA application process and ultimately won a spot in the Fuqua MBA Class of 2022.
About Fuqua MBA Application from our interview with Admissions Director, Shari Hubert:
The latest application requirements set by the Duke MBA admissions office are described below.
Essays
Here are the prompts for Fuqua's 2023-2024 application:
Personal Essay
The 'Team Fuqua' spirit and community is one of the things that sets the MBA experience apart, and it is a concept that extends beyond the student body to include faculty, staff, and administration. Please share with us "25 Random Things" about you. The Admissions Committee wants to get to know YOU – beyond the professional and academic achievements listed in your resume and transcript. Share with us important life experiences, your hobbies, achievements, fun facts, or anything that helps us understand what makes you who you are. (upload file, 750 words)
Career Goals Essay
What are your post-MBA career goals? Share with us your first choice career plan and your alternate plan. (text box, 100 words)
Campus Contribution Essay
Fuqua prides itself on cultivating a culture of engagement. Our students enjoy a wide range of student-led organizations that provide opportunities for leadership development and personal fulfillment, as well as an outlet for contributing to society. Our student-led government, clubs, centers, and events are an integral part of the student culture and to the development of leaders. Based on your understanding of the Fuqua culture, what are 3 ways you expect to contribute at Fuqua? (upload file, 500 words)
Optional Essays
If you feel there are circumstances of which the admissions committee should be aware, please explain them here (e.g. unexplained gaps in work, choice of recommenders, inconsistent or questionable academic performance). Note that you should NOT upload additional essays nor additional recommendations in this area. The Optional Information section is intended to provide the admissions committee with insight into your circumstances only. (upload file, 500 words)
Optional Background Information. Do you have other lived experiences that you would like to share with the Admissions Committee that may give us insight into your opportunities, challenges, and/or achievements? If so, please share 200 words or less explaining how those experiences might affect your contributions to Fuqua. (text box, 200 words maximum)
Reapplicant Essay
It is not uncommon for it to take more than one try to achieve a goal. Please share with us the self-reflection process you underwent after last year's application and how you have grown as a result. How did it shape your commitment to Fuqua and inspire your decision to reapply? (upload file, 500 words maximum).
Read more: Duke Fuqua MBA Essays: Tips for the 2023-2024 Admissions Cycle
Video Resources on Duke Fuqua Admissions
Duke Fuqua MBA Admissions Interviews
The Fuqua MBA interview is 30-45 minutes long and carried out by one of three people: An admissions staff member, an alumnus/a, or an admissions fellow (a second-year MBA student). Former interviewees report that the interview is more about seeing if you are a good "fit", rather than elaborating on your resume and work experience. MBA candidates can interview during the "Open Interview Period" or by invitation in each application round.
For more on this, see our Duke Fuqua MBA Interview Guide.
Duke Fuqua Useful Links
What Makes Duke Fuqua Unique?
Team Fuqua: "Team Fuqua" is their word for the special camaraderie between students and the practices that maintain it. "It is a way of working. It's the instinct to draw out strengths in others to move a team forward toward a common goal."
Program Location: Durham: "Today, Durham is a global economic player driven by knowledge-based enterprises—including everything from software and information technology to film and TV production."

The Research Triangle Park (RTP) provides several opportunities to work with innovative local companies.
MSTEM Program: This program not only teaches business analytics, but also allows international students to qualify for a STEM extension to the OPT period attached to their student Visa. (It is similar to MSDS program at Darden)
Decency Quotient, "DQ": One of the three measures Fuqua Dean Bill Boulding believes make a great leader, along with Intelligence, "IQ" and Emotional Intelligence, "EQ". DQ implies "that you not only have empathy for others, but genuinely care about them and will act in the interest of helping them."
*All data retrieved from the Duke Fuqua MBA Program webpages, unless otherwise stated.