Dartmouth Tuck MBA Essays: Tips for the 2022 Admissions Cycle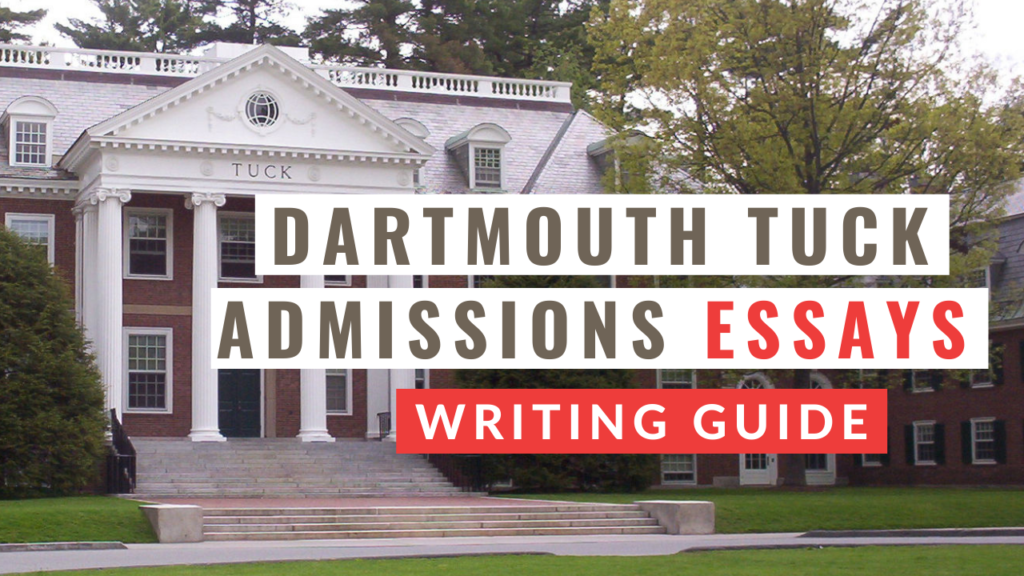 The 2022-2023 Tuck MBA essays have yet to be released, but that's no reason not to start preparing! Most MBA programs will highly value the personal statement in your application. So don't slack on it! Writing a unique essay that captures your individuality while responding to the prompt is a challenging task, but here at Menlo Coaching, we have a comprehensive guide to perfect it.
Tuck is looking for students with a well-rounded background and lots of experience that can be translated into a succinct and compelling statement. One of the essential tips for an impactful essay is asking yourself why you chose to highlight a particular experience. Did it show significant professional development? Did it show how you overcame a personal struggle? Connecting your essay to the prompt, especially how it shows why you are pursuing an MBA, will make your essay stand out. No matter what the essay prompt is, these tips are broadly applicable. With that being said, the three different types of essays you will see on the Tuck MBA application are personal, career goals, and school participation. Let's have a look at last year's essay prompts.
The Personal Statement Essay
Personal essays encompass your moral character, passions in and out of work, and the relationships you have fostered with friends and mentors. This essay type is where you can show the MBA program who you are as an individual and the intrapersonal impacts you have made on people around you. Tuck is looking to recruit students who show compassion and enthusiasm in the office and with the people in their lives. They value collaboration, open-mindedness, global immersion, and selflessness in their students. Make sure to emphasize where you have shown empathy in your life while explaining how you will contribute positively to the on-campus experience. One of the biggest mistakes students make when writing a personal essay is focusing too much on their professional expertise.
This essay is where you can move away from talking about your work and speak about who you are outside of your job. Tailoring which attributes you write about to each program is important. It shows you've done your research and are a genuinely kind person in your real life. The personal Tuck MBA essay prompt is: Tuck students are encouraging, collaborative, and empathetic, even when it is not convenient or easy. Describe a meaningful experience in which you exemplified one or more of these attributes.
The Career Goals Essay
The career goals essay is the space to emphasize your post-MBA plans. MBA programs want to accept students who have concrete, achievable career plans and a roadmap to success. MBA programs want a glowing post-grad report that proves they produce successful graduates with many job prospects (and who will donate money in the future)! Tuck also wants students to promote their program to friends, co-workers, and prospective applicants. The Tuck MBA career goals essay combines your hard statistics (ex: GMAT score) with your interpersonal skills (ex: recommendations) to formulate the case for getting an MBA. Make sure to state your achievable short-term and long-term goals explicitly.
Explain why an MBA would help you achieve these goals and how Tuck is essential to your plan. Connecting the positive attributes from your personal essay to your career goals essay is critical to forming a well-rounded application. Tuck students usually enter the financial service, consulting, and non-profit industries, so emphasize your findings in the essay to show you're genuinely interested.
Career Goals (Short-term)

Share your short term goals. * (text box, 50 words)

Career Goals (Long-term)

Share your long term goals. * (text box, 50 words)

Career Goals

Tuck students can articulate how the distinctive Tuck MBA will advance their aspirations. Why are you pursuing an MBA and why Tuck? * (text box, 300 words)
The Behavioral Essay
Behavioral essays involve demonstrating how you have used your leadership skills in real-life situations. Tuck's version of the MBA gives you the space to identify a meaningful experience you have had that demonstrates your collaborative nature. Tuck's admissions committee wants assurance that you are self-reflective and able to identify a moment in which you have been a leader.
In the Tuck behavioral essay, it is important to be truthful and sincere and to tell your personal story in a compelling manner. You should include as much detail as possible for this type of essay, discussing your role in a situation that required a strong leader. You should reflect on what this situation taught you and how your leadership style might have changed after this experience. Tuck is looking for MBA candidates who can contemplate how they used leadership skills to solve a problem.
In this essay, you might want to reflect on your role on teams in your previous work experience. Further, rather than solely focusing on your leadership successes, it would also be beneficial to identify some failures and explain how you have learned from these less positive experiences.
Meaningful experience

Tuck students are encouraging, collaborative, and empathetic, even when it is not convenient or easy. Describe a meaningful experience in which you exemplified one or more of these attributes. * (text box, 300 words)
Conclusion
Overall, honesty and growth are the most important parts of a successful MBA application essay. In addition, applying the lessons you learned shows improvement in your interpersonal and professional skills, making you a more attractive candidate for MBA programs. At Menlo Coaching, we are prepared to help you take the next step and perfect your essays. Visit our process page to understand how Menlo Coaching can help you!