Applying to McCombs' MBA Program? Here are the Basics.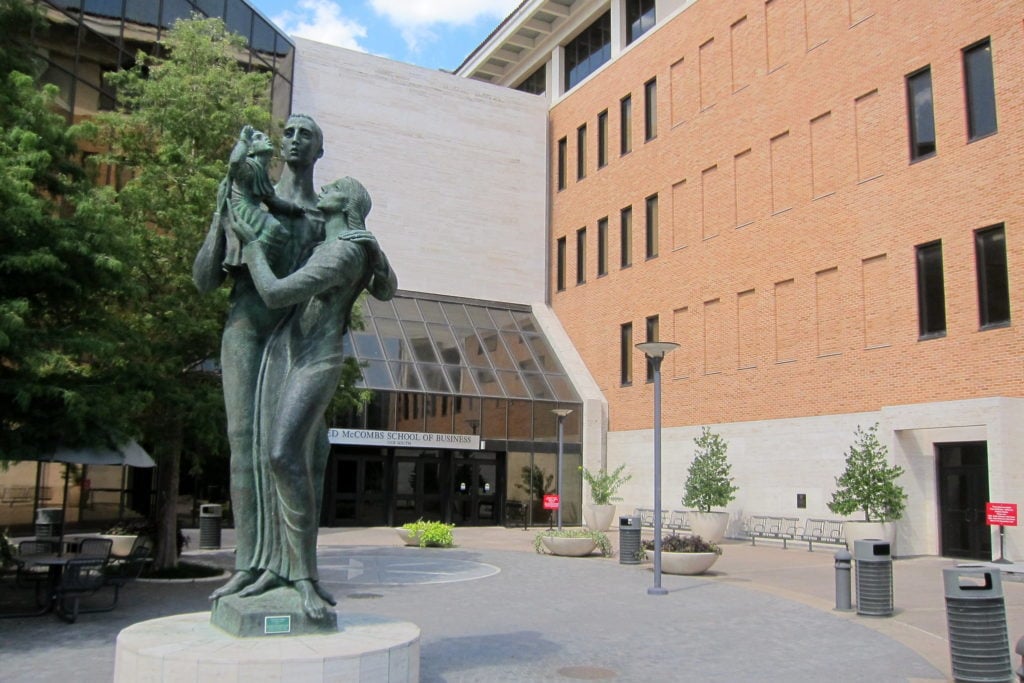 UT Austin, McCombs' host institution, is often referred to as the "Harvard of Texas". Although McCombs has a strong reputation in Texas, many of its graduates go on to work in other locations after the MBA, including 17% on the West Coast. UT Austin also has a large alumni network, and their pride in being associated with the school is exemplified by their "Hook 'em Horns" greetings and gestures.
McCombs is also a great program for those of you interested in the tech and venture capital industries. The school's Fellows Program places students at companies in various sectors, but the venture capital sector truly stands out. This program gives you the unique opportunity to gain hands-on experience with local venture capital firms.
Another factor to take into account is McCombs' location in the city of Austin. Not only is the city affordable, its large venture capital and tech presence is easily accessible from campus. McCombs also has great connections to Houston and its traditional oil and gas and renewable energy markets.
UT Austin McCombs MBA Class Profile
Class Size
241
Acceptance Rate
Does not disclose
GMAT Average
704
GPA Average
3.46
Average Age
29
Avg. Years Work Experience
5.9
Diversity Women
35
Diversity Intl.
26
Pre-MBA Industries
Does not disclose
Undergraduate Majors
Business / Economics: 35%
STEM: 32%
Humanities: 13%
Other Majors: 20%

The data above is from 2023 and represents the McCombs MBA class of 2025.
See the full report: UT Austin McCombs MBA Class Profile
Student Experiences
UT Austin McCombs MBA Employment Report & Careers
In addition to the information below, learn more about the McCombs MBA Employment Outcomes and Career Center from our interview with the Admissions Director.
Salary Average
$158,007.00
Offers Upon Graduation
85
Offers At 3 Mos.
94
Post-MBA Industries
Consulting: 22.7%
Technology: 34.1%
Financial Services: 16.6%
Consumer Products: 5.7%
Energy/Utilities: 5.7%
Travel/Transportation: 3.8%
Retail: 3.3%
Healthcare: 2.8%
Real Estate: 2.8%
Other: 2.4%
Post-MBA Locations
United States: 96.7%
Mid-Atlantic: 2.4%
Midwest: 6.6%
Northeast: 5.2%
South: 3.3%
Southwest: 65.9%
West: 13.3%
Non-US: 3.3%
Post-MBA Companies

Does not disclose

Career Development Resources
The data above is from 2021 and represents the career statistics of the McCombs MBA class of 2021.*
See the full report: UT Austin McCombs MBA Employment Report

UT Austin McCombs MBA Academic Programs
MBA Curriculum
The UT Austin McCombs MBA curriculum extends over the fall and spring semesters of year one and year two. The second year of the program consists only of elective courses. Students take classes from the core curriculum during the first year of the program, and a majority of these classes are concentrated in the fall semester. Some of the foundational courses cover topics in subject areas like Financial Accounting, Microeconomics, Statistics, and Strategic Management. You will begin taking electives during the spring semester of the first year of the MBA. The 100+ elective course offerings include classes in subject areas such as Marketing, Information, Risk, and Operations Management, and Business, Government, and Society.
See the full offering of courses: McCombs MBA Course Catalog
Majors
In lieu of majors, UT Austin McCombs offers its students a range of concentrations to pursue as part of their degree. The following concentrations are available in the MBA.
Accounting
Business, Government and Society
Finance
Interdisciplinary
Management
Marketing
Operations and Analytics
Experiential Learning Programs
The experiential learning curriculum at McCombs has a strong emphasis on social innovation and impact. Students can get involved in one of the several groups on campus, such as the CleanTech group and the MBA Impact Investing Networking and Training group. McCombs also offers the opportunity for you to gain hands-on industry experience through their Fellows Program, which covers a wide range of sectors such as Marketing and Operations. In addition, the program offers students the opportunity to participate in coaching, seminars and events, and micro-consulting projects.
Research Centers
At McCombs, students can take advantage of the diverse range of the 19 research centers that are part of the business school, including the Center for Leadership and Ethics, the Center for Risk Management and Insurance, the Financial Education and Research Center, the Real Estate Center, and the Healthcare Innovation Initiative.
MBA International Study Programs
There are four major components to the McCombs international study program. Students can choose to complete a course focused on a foreign country, which also includes a one to two-week tour, or students can opt for a Global Connections Study Tour, an international trip in July before the MBA program begins through the McCombs Adventure Program. McCombs also offers double-degree programs with seven international top business schools. Additionally, students can go on an exchange abroad for an entire semester or a shorter period of time.
Video Resources on UT Austin McCombs Academics
UT Austin McCombs MBA Application
We interviewed Rodrigo Malta, the admissions director at McCombs, about what they seek in MBA candidates. Learn more at A Look Inside McCombs MBA Admissions (with Video Essay Tips!).
The latest application requirements set by the McCombs MBA admissions office are described below.
Essays
Here are the prompts for McCombs's 2023-2024 application:
Personal Statement Essay
Please write an application cover letter summarizing your aspirations, qualifications, and personal and professional experiences that make you a strong candidate for the Texas Full-Time MBA program. (Limit: 500 words)
Career Goals
Picture yourself at graduation. Describe how you spent your time as a Texas McCombs MBA to achieve your personal and professional goals. (upload file, 500 words).
Optional Statement
Please explain any gaps in work experience, choice of recommender, and/or academic performance issues that may help the admission committee in reviewing your application. (Limit: 250 words)
Read more: 2023-2024 MBA Essays: Tips for UT Austin McCombs
Video Resources on UT Austin McCombs Admissions
UT Austin McCombs MBA Admissions Interviews
MBA Candidates are invited to interview at McCombs on a rolling basis. The McCombs MBA interviews are conducted by either student interviewers, alumni volunteer interviewers, or admissions officers. Former interviewees report that the conversation during the interview was fairly informal and comfortable; yet, although the school itself admits that their style is less intense than other business schools, a set McCombs interview tips encourages that it's still important to be well prepared and put your best self forward.
UT Austin McCombs Useful Links
What Makes UT Austin McCombs Unique?
The Texas Triangle: UT Austin benefits from being in a state that is growing, and has strong economic activity. More than the stereotypical oil and gas industries, Texas has a strong tech, real estate, and consulting sector—all headquartered in Houston, Austin, and Dallas. Learn more from our interview with Admissions director Rodrigo Malta about UT Austin's connections to Austin, Houston, and Dallas.

Venture Fellows: This unique McCombs fellowship program gives the relatively rare chance to get involved directly with venture capital and private equity firms. Breaking into these industries for the first time is very hard, and Venture Fellows can give selected McCombs MBA students a chance to do so. The program is comprised of an internship and weekly meetings with guest speakers from the VC or PE community.
The "Harvard of Texas": The UT Austin McCombs School of Business has a wonderful reputation and network in the Lone Star State. MBA Grads successfully find career opportunities throughout Texas within all top industries like tech, consulting, and investment banking. However, job placement is not confined by the Texas border; McCombs sends many graduates outside of Texas, too!

*All data retrieved from the UT Austin McCombs MBA Program webpages, unless otherwise stated.