The Georgetown McDonough MBA Program: An Overview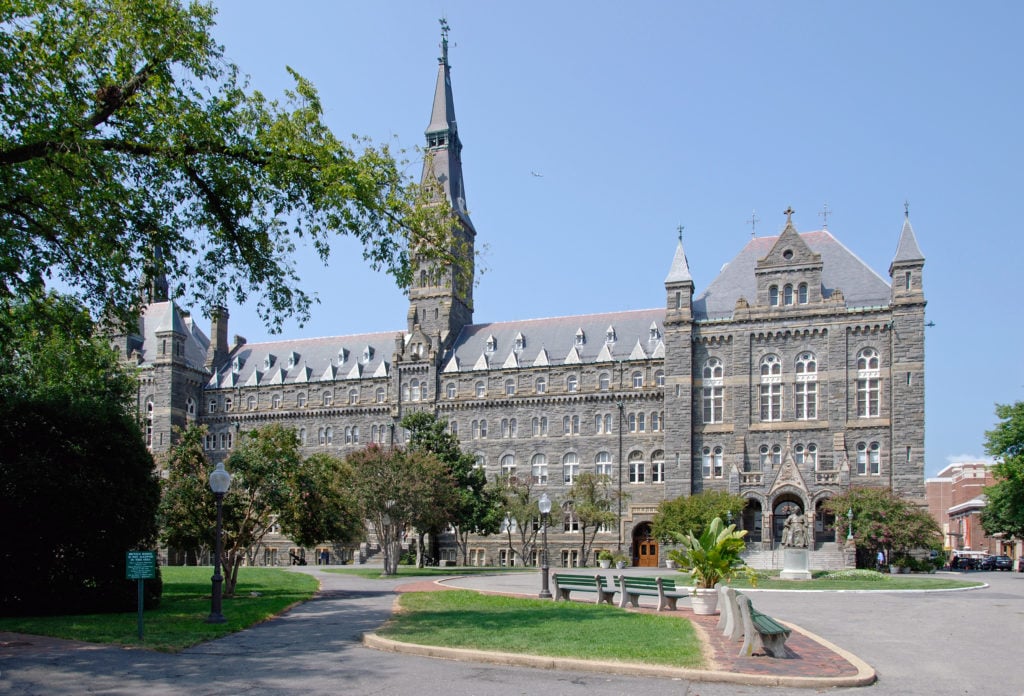 Georgetown University's McDonough MBA program takes global experience to another level due to its prime location in Washington DC. Not only will you be among a culturally diverse population, you will also gain exposure to other cultures through the program's strong ties with the diplomatic community. Through Georgetown's Embassy Series, internationally-oriented events often take place at one of the many Embassies in the city.
One of the other perks of attending Georgetown is that you will get to enjoy its beautiful campus during the two years of the program. We often hear people rave about the majestic sight of Healy Hall as they first set foot on campus. The campus on the hilltop also overlooks the Potomac River, and you can enjoy the view at the school's library in one of the few rooms reserved specially for graduate students.
Georgetown McDonough MBA Class Profile
Class Size
249
Acceptance Rate
51
GMAT Average
697
GPA Average
3.29
Average Age
29
Avg. Years Work Experience
5.7
Diversity Women
34
Diversity Intl.
42
Pre-MBA Industries
Financial Services: 20.1%
Consulting: 10.4%
Technology & New Media: 8%
Government: 4.8%
Construction: 4.4%
Healthcare: 4%
Undergraduate Majors
Business: 31.7%
Engineering: 19.7%
Economics: 16.9%
Humanities: 13.7%
Social Science: 6.8%
Government & International Studies: 4.8%
The data above is from 2022 and represents the Georgetown McDonough class of 2024.
See the full report: Georgetown McDonough MBA Class Profile
Student Experiences
Georgetown McDonough MBA Employment Report & Careers
Salary Average
$160,180.00
Offers Upon Graduation
Does not disclose
Offers At 3 Mos.
95
Post-MBA Industries
Financial Services: 32%
Consulting: 26%
Technology: 17%
Consumer Goods: 7%
Social Impact/Nonprofit: 6%
Real Estate: 5%
Healthcare: 4%
Manufacturing/Transportation/Energy: 2%
Government: 1%
Hospitality: 1%
Post-MBA Locations
United States: 96%
Mid-Atlantic: 42%
Midwest: 5%
Northeast: 30%
South: 4%
Southwest: 5%
West: 10%
Non-US: 4%
Post-MBA Companies

Does not disclose

Career Development Resources
The data above is from 2021 and represents the career statistics of the Georgetown McDonough class of 2021.*
See the full report: Georgetown McDonough MBA Employment Report
Georgetown McDonough MBA Academic Programs
MBA Curriculum
Georgetown McDonough's curriculum is distributed over the fall and spring semesters of years one and two of the MBA. Before beginning their first fall semester, students complete an opening term, where they take three courses: Leading Teams for Performance and Impact, Structure of Global Industries, and Accounting Fundamentals. Students are required to take 16 courses as part of the core curriculum, including classes in Managerial Statistics, Firm Analysis and Strategy, Analytical Problem Solving, and Ethical Leadership. At Georgetown, the elective curriculum provides students with over 70 course offerings to choose from. Some of these classes cover topics in Negotiations, Applied Data Visualization, Corporate Social Responsibility, Strategic Pricing, and Game Theory.
See a list of course offerings: Georgetown MBA Courses
Majors
Georgetown McDonough's MBA program does not require its students to declare a major or concentration; however, students may decide to pursue an academic area to help them shape their selection of elective coursework. Georgetown offers a total of six fields that students may choose to explore.
Accounting
Finance
Marketing
Management
Operations and Information Management
Strategy, Economics, Ethics, and Public Policy
Experiential Learning Programs
Through Georgetown McDonough's experiential learning program, students can choose from several ways to gain practical experience during their MBA. For instance, students can underwrite real estate investments as part of the Real Estate Clinic. Additionally, students can complete an apprenticeship at a Venture Capital or Private Equity Firm through the Venture Fellows Program.
Research Centers
Georgetown's McDonough School of Business hosts nine research centers and initiatives, including the Center for Business and Public Policy, the Women's Leadership Institute, and the Global Business Initiative.
MBA International Study Programs
Georgetown McDonough's MBA has a deep emphasis on the global component of the program. The school maintains a strong relationship with the embassies in DC, and regularly hosts events in collaboration through the Embassy Series. Students also have the opportunity to consult for a global company abroad as part of the Global Business Experience's International Consulting Projects.
Video Resources on Georgetown McDonough Academics
Georgetown McDonough MBA Application
The latest application requirements set by the Georgetown McDonough MBA admissions office are described below.
Essays
Here are the prompts for Georgetown McDonough's 2022-2023 application:
Leadership

Essay Option 1 – Principled Leadership.

Georgetown McDonough places a strong emphasis on principled leadership, providing both curricular and co-curricular opportunities to strengthen your leadership skills. Describe a time when you've led a team in a professional environment to implement a new idea or process. What leadership characteristics did you utilize? What could you have done to be more effective? And most importantly, what skills will you be able to bring to the teams you lead at McDonough? (upload file, 300-350 words)

"Greater Good"

Essay Option 2 – Hoyas Helping Hoyas.

Georgetown McDonough embodies the ethos that people and organizations can and should contribute to the greater good. The admissions committee would like to better understand how you've demonstrated these values during uniquely challenging times. Describe a time where you've put the needs of others ahead of your own, or ahead of the bottom line. We look forward to learning more about the challenge you faced, what unique characteristics you brought to that scenario, and what you learned from it. (upload file, 300-350 words)

Diversity Essay

Essay Option 3 – Contribute to GU (Diversity, Personal Background, and Contributions).

As Georgetown is a diverse, global community, we encourage you to upload a brief statement to help the Admissions Committee understand the contribution your personal background would make to our community. As appropriate, you may wish to address any obstacles or challenges you have overcome; any educational, familial, cultural, economic, and social experiences that have helped to shape your educational and professional goals; or how your background (e.g., first generation student, resident outside the U.S.) or activities (e.g., community service and leadership) will contribute to the Georgetown community. (upload file, 300-350 words)

Video Essay

Video Essay Prompt: Building a cohort of diverse and unique individuals is important to the admissions team. We want you to bring your whole self to Georgetown McDonough. Throughout the application, we've learned about what you would add as a professional and leader. Just as important is learning about your interests outside of work. In one minute, please describe a hobby, passion, or what you do for fun in your free time – and why.

Reapplicant Essay

How have you strengthened your candidacy since your last application and why do you feel that you are better-positioned this year to begin the MBA Program? We are particularly interested in hearing about how you have grown professionally and personally. (upload file, 300-350 words or appx 1 pg double spaced or less)
Read more: 2022-2023 MBA Essays: Tips for Georgetown McDonough
Letters of Recommendation
The 2022-2023 Georgetown McDonough recommender questions were as follows:
Optional — Is there anything else we should know? (Optional) (text box, 350 characters) (Text box, 350 characters)
Constructive feedback / applicant's response — Describe the most important piece of constructive feedback you have given the applicant. Please detail the circumstances and the applicant's response. (Text box, 1500 characters)
Performance / examples — How does the applicant's performance compare to that of other well-qualified individuals in similar roles? Please provide specific examples. (E.g. what are the applicant's principal strengths?) (Text box, 1500 characters)
Interaction with the applicant — Please provide a brief description of your interaction with the applicant and, if applicable, the applicant's role in your organization. (Text box, 350 characters)
Comment on your ratings — Is there anything about your ratings on which you would like to comment? (Optional) (Short answer, 50 words)
No programs selected.
Video Resources on Georgetown McDonough Admissions
Georgetown McDonough MBA Admissions Interviews
Georgetown McDonough's MBA interviews are offered by invitation only. Former interviewees report that the interviewers only have access to the applicant's resumes, and not the entire application package. They also report that several of the questions asked in the interview are behavioral questions or those related to your career goals.
Georgetown McDonough Useful Links
What Makes Georgetown McDonough Unique?
Only-in-DC Experiences: When at Georgetown, "global" takes on a whole new meaning with the city's and the university's relationships with the embassies. Moreover, students have access to DC's lively and growing entrepreneurial hub.
Venture Fellows Program: Through the Georgetown Entrepreneurship Initiative, this program offers students a year-long opportunity at a local Venture Capital firm in place of a summer internship.
Global Business Experience (GBE): Each MBA student is required to complete a Global Business Experience, where students spend months consulting an international company. During the spring semester, one week of this experience is completed abroad.
*All data retrieved from the Georgetown McDonough MBA Program webpages, unless otherwise stated.