Introducing:
The Menlo Coaching Applications Platform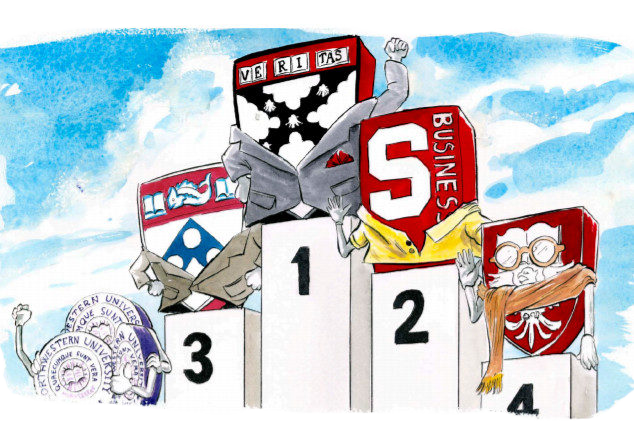 A DIY Approach to MBA Admissions:
Forge Your Own Path to Success
The Menlo Coaching Applications Platform developed out of a very simple fact: in an industry where every client needs to overcome the MBA admissions learning curve to write successful applications, consultants tend to spend a lot of time repeating information.
At Menlo Coaching, where we limit the number of clients per consultant to allow for the highest possible service, the work to bring clients past the learning curve is counterproductive.
We realized that it would be better for our clients and our consultants if we created high-quality educational content for the client to consume on their own.
Our hypothesis was simple: if clients could absorb the "MBA application best practices" independently, time spent on live calls could be devoted to the much more valuable coaching aspect that comes with the relationship.
So we got our consultants in front of a camera and started recording.
As the positive feedback from clients came pouring in—and as we saw their applications began to improve rapidly — we knew we were on to something.
So we hired a professional videographer and got to work.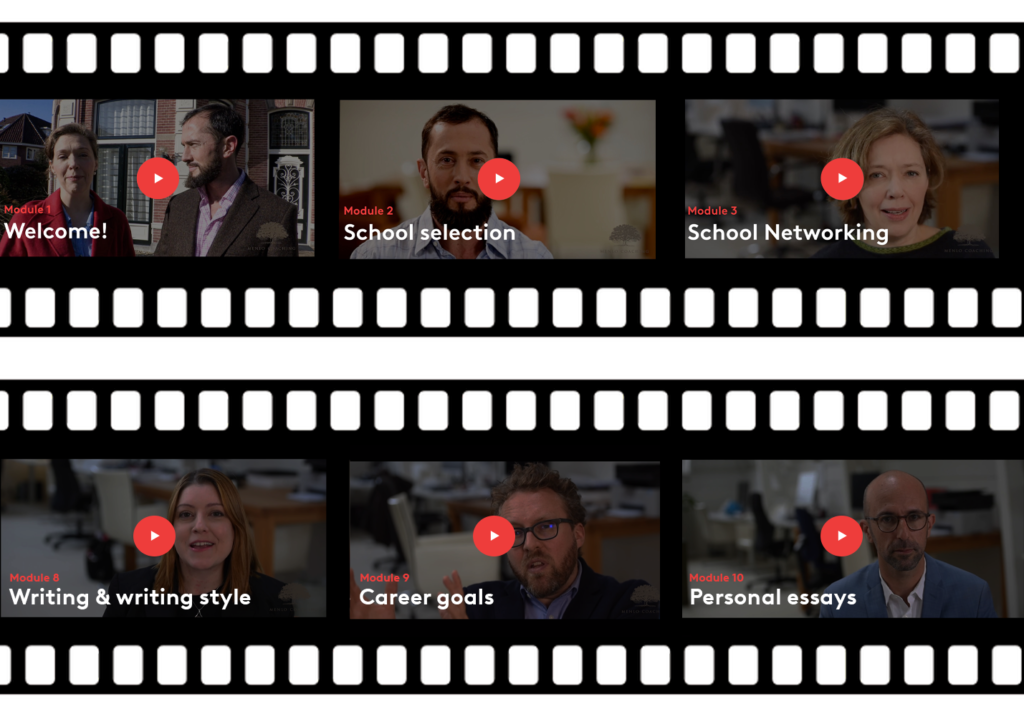 We walked away with an entire library of video content covering every stage of the MBA application process, professionally produced and edited, and constantly updated to account for new developments in the admissions game.
Then, we broke down the videos into 15 modules, paced and planned for efficient working sessions in manageable increments, or to accommodate the realities of applying to an MBA while working a demanding, full-time job. And we rounded out every module with handouts and detailed instructions on application to-do items, converting our full video library into an actionable MBA curriculum.
Overview, Complete 15 Modules
Our Course
Module 1: Welcome!
What's Covered


The MBA Application Timeline
How to use the platform

Module 2: School Selection

Safe, target, and reach schools
Handicapping: Hard factors & Soft factors
Your odds at HBS/ Stanford

Module 3: School Networking

Why Network?
Networking Methods
Finding the right program (campus fit)

Module 4: GMAT
Module 5: Admissions Basics

What the Adcom really Wants
MBA Brands & Rankings
The Cohort System
MBA Application Misinformation
The Personal side / Your profile

Module 6: Your Application Package

Application Package Overview
Writing Your Best MBA resume
Navigating the Application Form

Module 7: Recommenders

How to Select your recommenders
Briefing your recommenders
Finding Influencers

Module 8: Writing & Writing Style

Writing Style for MBA Applications
Develop a Writing Routine

Module 9: Career Goals

Understanding Career Goal Basics with Case studies & Mistakes to Avoid
On-camus and Off-campus recruiting
Researching MBA Program offerings
Writing Your Career Goal Essays

Module 10: Personal Essays

Personal Essays: Overview & Common Mistakes
Turning HBS into Stanford A
The Importance of Story

Module 11: Behavioral Essays

Writing your Behavioral essays
Contributing to the school community

Module 12: Communications Training

Reframing the interview
Courageous storytelling
Vocal Warm Ups

Module 13: Video Essays

Impromptu vs. Prepared video essays
Example before and after videos from successful applicants

Module 14: Interviews

Interview basics: How to Prepare
Your Interview Toolkit
The HBS interview
How to answer "Walk me through your resume"

Module 15: After You Submit

Offer and Scholarship Negotiation
We felt good about this—it was going to save our clients so much time and help them feel confident in their progress.
But we needed a way to package all this great content—we didn't want to send out a plain playlist link, and we weren't interested in producing one of those massive documents that other firms use to "organize" the application process.
This is when it all came together: we took an industry-leading project management platform—Basecamp—and plugged in our curriculum. We added action items as to-dos and got deadline and version tracking functionality; we synced our database of MBA programs and got up-to-date feeds for essay prompts and deadlines; we added resource folders and lists of modules, and we linked them to a customized progress tracking dashboard that we built in-house to organize the entire MBA workflow.
In short, we created the Menlo Coaching Applications Platform: a portal and organized repository for the entire application process.
So what does the Platform mean on a practical basis?
It means you'll have 24/7 access to vital MBA knowledge, whenever and wherever you need it.
It means you won't have to second guess your work on a single application item, or wonder whether you're framing yourself correctly for the admissions committees—you'll know how something needs to be done and you'll know exactly how to do it.
And it means the process of writing your applications will be more streamlined and efficient than it could ever be on your own: watch the videos, read the handouts, follow the instructions, and check-off your to-dos knowing that you've made real progress every time.
But how can an online tool deliver the same results as a traditional admissions consultant?
It's a reasonable question, and to address it, let's make one thing clear: the Platform does not replace the value that one of our dedicated MBA admissions consultants can give you.
As an admissions consulting firm, we know as well as you do that it would be disingenuous to claim our Platform "eliminates the need for consulting."
It's no secret that we believe our full-service, unlimited approach is the most effective way to maximize your chances of admission.
Yet we also recognize that full-service consulting is not for everyone: some applicants might not prioritize the kind of dedicated attention you receive with a full-time consultant, or they might not be willing to spend so much money on external help.
Nonetheless, we believe that all applicants should have access to high-quality guidance in preparing their applications, even if it's not coming with a traditional consulting package.
That's why, for the right kind of applicant, the Menlo Coaching Applications Platform provides an alternative path.
If you're already a driven, motivated applicant, there is no need to spend thousands.
For self-motivated applicants, the Platform strikes a perfect balance between guided support and the freedom to work at your own pace, on your own terms, and in your own words.
The Platform is ideal if:
You are an independent thinker who likes to dictate your own approach
You don't have the budget or interest in consulting services
You have a demanding job and need admissions help that operates on your schedule
You want practical advice, not hand-holding
You're ready to dive right in—no consult calls, no evaluations, no delays
You work hard and you can motivate yourself
You need help organizing your thoughts but want to set your own pace
The Platform works so well for applicants like you because it reproduces the content knowledge our admissions consultants possess but leaves you in charge to act on that knowledge.
We'll give you the foundation you need to build your application, the tools to streamline the process, and the confidence of knowing that, ultimately, you are in control of your MBA journey.