2022-2023 MBA Essays: Tips for Georgetown McDonough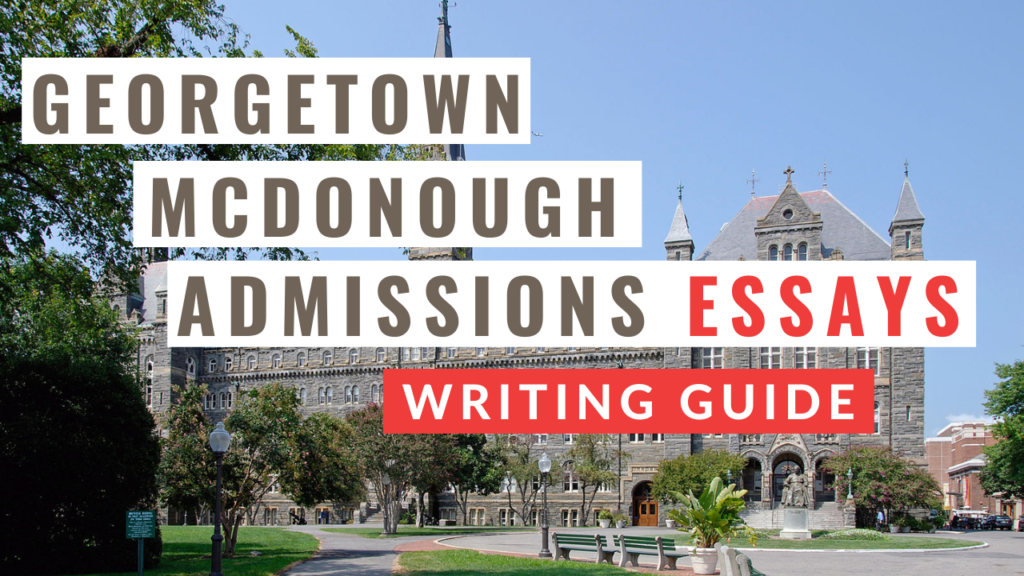 This year's MBA application prompts aren't out yet, but it's always a good idea to start brainstorming what your topics will be. Wondering where to start, what to write? No worries, we have all the tips you need to get a head start on writing a quality essay for the McDonough School of Business.
The golden opportunity of this school is its location in Washington D.C., the pinnacle of access to the government and policy making. Opportunities here include trips to off-campus sites along industry lines and policy briefings hosted by research centers on Capitol Hill. Through the story you relate in your essay, the admissions council is looking to see if you reflect the same values that the school does. MSB is looking for students who are global, innovative, and committed to learning. The best way to represent that you possess those qualities is through the type of essay you choose to write.
It's crucial to pick the right experience to discuss in your essay, and the different types of prompts help narrow that down for you. Keep reading for a closer look at the different types of essays, and how best to utilize them in order to write a stand-out essay for McDonough School of Business.
The Personal Statement Essay
Like we touched on earlier, schools are looking for the right fit for their campus community, just as you are searching for the school that aligns best with your goals. In the personal essay, this is your chance to show MSB the values that drive you both as a person and as a student. These values tell the admissions council what you prioritize, the moral code you live by, and, most importantly, who you are as a person. Let's have a look at the essay prompts for the 2021-2022 admission cycle.
In these essays, you can talk about almost anything; typically, applicants will write about relationships in their lives, or times when there was a hardship they had to overcome. Be warned, though: there are some topics to avoid, and we have outlined a few things to watch out for in this article.
Diversity Essay

Essay Option 3 – Contribute to GU (Diversity, Personal Background, and Contributions).

As Georgetown is a diverse, global community, we encourage you to upload a brief statement to help the Admissions Committee understand the contribution your personal background would make to our community. As appropriate, you may wish to address any obstacles or challenges you have overcome; any educational, familial, cultural, economic, and social experiences that have helped to shape your educational and professional goals; or how your background (e.g., first generation student, resident outside the U.S.) or activities (e.g., community service and leadership) will contribute to the Georgetown community. (upload file, 300-350 words)

Video Essay

Video Essay Prompt: Building a cohort of diverse and unique individuals is important to the admissions team. We want you to bring your whole self to Georgetown McDonough. Throughout the application, we've learned about what you would add as a professional and leader. Just as important is learning about your interests outside of work. In one minute, please describe a hobby, passion, or what you do for fun in your free time – and why.

Reapplicant Essay

How have you strengthened your candidacy since your last application and why do you feel that you are better-positioned this year to begin the MBA Program? We are particularly interested in hearing about how you have grown professionally and personally. (upload file, 300-350 words or appx 1 pg double spaced or less)
The Behavioral Essay
To make it simple: the behavioral essay is meant to show MSB that you have developed some sort of leadership skills, what your values are as a leader, and how you are going to most benefit from their development programs. They want students who strive to be leaders. With the school's convenient location in D.C., there are endless opportunities to either join or create a space in which you can lead. Bonus points if this leadership continues after graduation!
Before we get there, though, the admissions committee is looking for applicants that are self-reflective. Whether it's through a setback you've experienced, or how you dealt with situations that have gone awry, the school is looking for students who are resilient and able to learn from their mistakes.
Do not overexaggerate (or underexaggerate!) the situations you decide to write about. Be honest about what happened; McDonough is looking for genuine people to join their campus community, and they are less likely to admit an applicant who has overinflated their prior experiences.
Last but not least, make sure to describe what you learned and how you implemented this in a subsequent situation. This is an expected element of the behavioral essay, even if it's not directly written in the prompt. Prompts that deal with these topics can be daunting, especially when they require you to write about a weakness you have or a failure you've experienced.
Leadership

Essay Option 1 – Principled Leadership.

Georgetown McDonough places a strong emphasis on principled leadership, providing both curricular and co-curricular opportunities to strengthen your leadership skills. Describe a time when you've led a team in a professional environment to implement a new idea or process. What leadership characteristics did you utilize? What could you have done to be more effective? And most importantly, what skills will you be able to bring to the teams you lead at McDonough? (upload file, 300-350 words)

"Greater Good"

Essay Option 2 – Hoyas Helping Hoyas.

Georgetown McDonough embodies the ethos that people and organizations can and should contribute to the greater good. The admissions committee would like to better understand how you've demonstrated these values during uniquely challenging times. Describe a time where you've put the needs of others ahead of your own, or ahead of the bottom line. We look forward to learning more about the challenge you faced, what unique characteristics you brought to that scenario, and what you learned from it. (upload file, 300-350 words)
Conclusion
Writing strong, coherent, genuine stories is an essential part of your MBA application. These essays are meant to help you stand out among many other applicants, so it is worth your time to do the work and write about situations unique to your life and that you truly learned from. Visit our process page to understand how Menlo Coaching can help you with your MBA essays for McDonough School of Business.