Get to Know the Cornell Johnson MBA Program: A Total Guide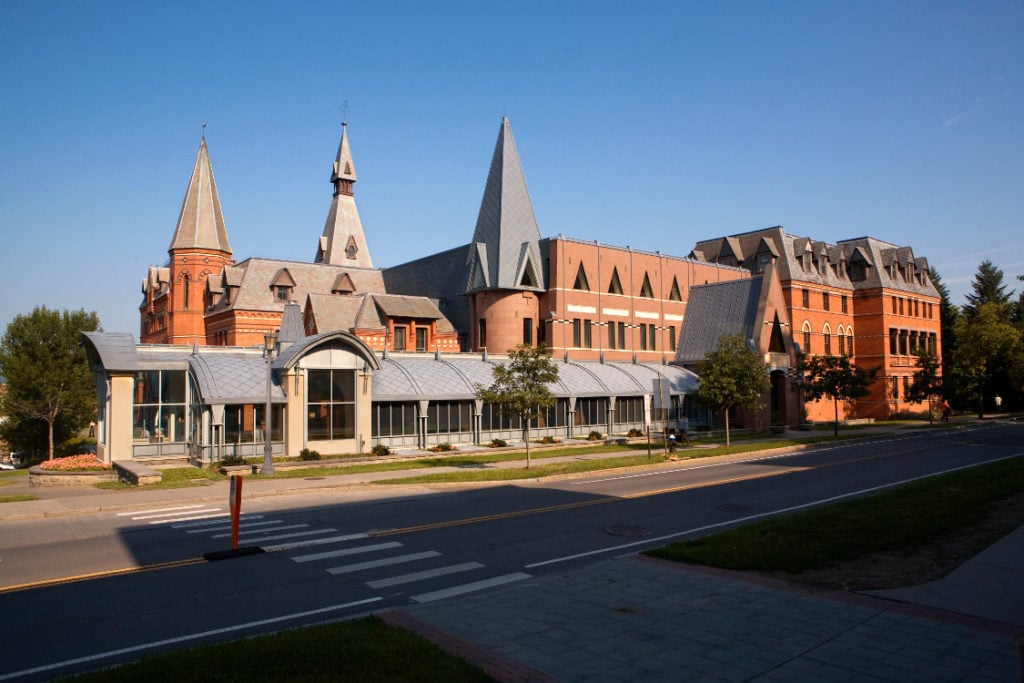 Getting your MBA at Cornell Johnson will allow you to experience Ithaca's liberal New York state, college-town vibe to the fullest. With a smaller class size of fewer than 300 students, the program places a strong emphasis on community and teamwork. But if you're more inclined towards the city-life, Johnson also provides the option to take classes at their tech-focused Manhattan campus.
Johnson's host university, Cornell, has a fantastic reputation as part of the Ivy League. Cornell has excellent relationships with prestigious employers such as top consulting, investment banking, and tech firms, where a large number of alumni are present. The strong networking opportunities are definitely something to consider when deciding if Johnson is a good fit for you.
If you're looking for an MBA program where you can choose to specialize heavily, Johnson is a good bet! Unlike some programs with a longer, fixed curriculum, at Johnson you can dive into classes that are specific to your interests early on. By the second semester of the program, you can choose to participate in Johnson's immersion program that covers eight functional business areas. The immersion program takes experiential learning seriously, and you will find yourself rolling up your sleeves, and getting straight into site visits and live cases.
Cornell Johnson MBA Class Profile
| | |
| --- | --- |
| Acceptance Rate | 40% |
| Class Size | 292 |
| GMAT Median | 700 |
| GPA Median | Does not disclose |
| Average Age | 28 |
| Avg. Years Work Experience | 5.0 years |
| Diversity Women | 31% |
| Diversity Intl. | 34% |
| Pre-MBA Industries | Does not disclose |
| Undergraduate Majors | Does not disclose |
The data above is from 2020 and represents the Cornell Johnson Two-Year MBA Class of 2022.*
See the full report: Cornell Johnson MBA Class Profile
Student Experiences
Cornell Johnson MBA Employment Report & Careers
Salary Average
$175,158.00
Offers Upon Graduation
Does not disclose
Offers At 3 Mos.
93%
Post-MBA Industries
Financial Services: 34%
Consulting: 30%
Technology: 16%
Consumer Products: 10%
Healthcare*: 3%
Energy/Utilities: 1%
Entertainment/Media: 1%
Law or Legal: 1%
Manufacturing: 1%
Non-Profit/Other**: 1%
Real Estate: 1%
Retail: 1%
Post-MBA Locations
United States: 97%
Mid-Atlantic: 5%
Midwest: 11%
Northeast: 50%
South: 7%
Southwest: 9%
West: 15%
Non-US: 3%
Post-MBA Companies
Career Development Resources
Note:
a) Healthcare* includes: Medical Services and Pharmaceuticals
b) Non-Profit/Other** includes: Entertainment/Media, Hospitality/Tourism, Retail, and Transportation/Logistics

The data above is from 2020 and represents the career statistics of the Cornell Johnson Two-Year MBA Class of 2020.*
See the full report: Cornell Johnson MBA Employment Report
Cornell Johnson MBA Academic Programs
MBA Curriculum
Cornell Johnson's MBA curriculum spans across four semesters over two years. In the first year of the program, students primarily take core courses and participate in a mandatory team case competition. The second year of the program focuses on building leadership skills, while allowing students to take electives in areas that interest them. During the first year, students take nine required courses as part of the core curriculum. These classes cover topics such as Critical and Strategic Thinking, Data Modeling and Analytics, and Managerial Finance. You will begin taking elective courses during the second semester of your MBA. These courses fall within a diverse range of subjects, including Emerging Markets, Leadership and Ethics, and Sustainable Global Enterprise.
See the full offering of courses: Cornell Johnson MBA Course Catalog
Majors
Academic majors are not a requirement at Cornell Johnson; however, students may optionally decide to structure their course selection around one or more areas of focus. Johnson offers 12 areas of focus to choose from.
Asset Management / Investment Research
Brand Management
Consulting and Strategy
Corporate Finance
Data Modeling and Analytics
Emerging Markets
Entrepreneurship and Innovation
Investment Banking
Leadership and Ethics
Private Equity and Venture Capital
Sustainable Global Enterprise
Technology Product Management
Experiential Learning Programs
As part of Johnson's experiential learning program, students must complete one of eight immersion courses. These offerings are spread out over a wide variety of subject areas such as Digital Technology and Strategic Operations.
Research Centers
Students can make use of Cornell Johnson's four research centers and institutes to support their MBA education: The Parker Center for Investment Research, the Center for Sustainable Global Enterprise, the Emerging Markets Institute, and the Smith Family Business Initiative.
MBA International Study Programs
In addition to the international study trips and exchange programs, Johnson offers a variety of classes on international business. A number of these courses are affiliated with Johnson's Center for Sustainable Global Enterprise and the Emerging Markets Institute.
Video Resources on Cornell Johnson Academics
Cornell Johnson MBA Application
The latest application requirements set by the Cornell Johnson admissions office are described below.
Essays
Here are the prompts for Cornell Johnson's 2021-2022 application:
Career Goals

Goals Statement Prompt:

A statement of your goals will begin a conversation that will last throughout the admissions process and guide your steps during the MBA program and experience. To the best of your understanding today, please share your short and long term goals by completing the following sentences and answering the enclosed short answer question (350 words maximum):


1. Immediately post-MBA, my goal is to work as a(n) [Role] at [Company] within [Industry].


2. In 5–10 years post-MBA, my goal is to work as a(n) [Role] at [Company] within [Industry].


3. How has your experience prepared and encouraged you to pursue these goals? (text box, 350 words)


Impact Essay

Impact Essay. At Cornell, our students and alumni share a desire to positively impact the organizations and communities they serve. How do you intend to make an impact during the next several years of your education and/or career? (text box, 350 words)

Reapplicant Essay

Optional Essay (Required for Re-Applicants). If you are reapplying for admission, please use this essay to indicate how you have strengthened your application and candidacy since the last time you applied for admission. Please also review our Admissions Policy for additional information about re-applying. (text box, 350 words)

College Extracurriculars

Collegiate Activities and Employment.

List your extracurricular activities while in college in order of importance to you. You may include details about your positions and the time commitment, honors or awards received, and dates of participation. The list may also include part-time and summer employment held while in college. Please list your employer, job title, responsibilities, hours per week, and the dates for each position. (text box, 250 words)

Current Extracurriculars

Post-Collegiate Activities.

List community activities (clubs, church, civic, etc.) and professional associations you contributed to since graduation from college. Please include the organization name, your role, hours dedicated, elected offices held, and dates of participation. (text box, 250 words)

Hobbies

Hobbies and Activities.

Please list any hobbies or activities that hold special significance for you. (text box, 250 words)
Letters of Recommendation
The 2021-2022 Cornell Johnson recommender questions are as follows:
Performance comparison — How does the applicant's performance compare to that of other well-qualified individuals in similar roles? Please provide specific examples. (E.g. what are the applicant's principal strengths?) (Text box, 500 words)
Constructive feedback and the applicant's response — Describe the most important piece of constructive feedback you have given the applicant. Please detail the circumstances and the applicant's response. (Text box, 500 words)
Recommendation letter — Please upload recommendation letter (upload file)You may answer all of these questions by uploading a letter of recommendation. (PDF)
Interaction with the applicant — Please provide a brief description of your interaction with the applicant and, if applicable, the applicant's role in your organization. (Text box, 50 words)
Optional — Is there anything else we should know? (Text box)
Ratings comment — (Optional) Is there anything about your ratings on which you would like to comment? (Short answer)
Video Resources on Cornell Johnson Admissions
Cornell Johnson MBA Admissions Interviews
Interviews for admission to Cornell Johnson are conducted primarily through Skype or in-person at the Ithaca campus. Occasionally, you may have the option to complete the interview in your city. Candidates are encouraged to schedule their interviews within 7 days of notification. The admissions interviews are conducted either by trained second year MBA students, who are part of the Johnson Admissions Group, or by professional MBA and Admissions staff. Johnson does not offer interviews conducted by program alumni.
It is good to note that Cornell Johnson hosts Group MBA interview days. These interviews are also by invitation-only, and they include the Johnson Leadership Exploration and Assessment Day and Johnson Women in Business events.
Cornell Johnson Useful Links
What Makes Cornell Johnson Unique?
The intangible assets of Johnson's host university, Cornell, really stand out: the university's reputation as part of the Ivy League, its alumni network, and its strong relationship with prestigious employers truly adds value to the MBA degree.
Cornell Johnson Tech MBA: This program is catered towards students with a background in tech looking to gain a firm grounding in business fundamentals and pursue a career in product management or entrepreneurship. The majority of the classes in this program are based at Cornell's NYC campus.
*All data retrieved from the Cornell Johnson MBA Program webpages, unless otherwise stated.