2022-2023 MBA Essays: Tips for Columbia University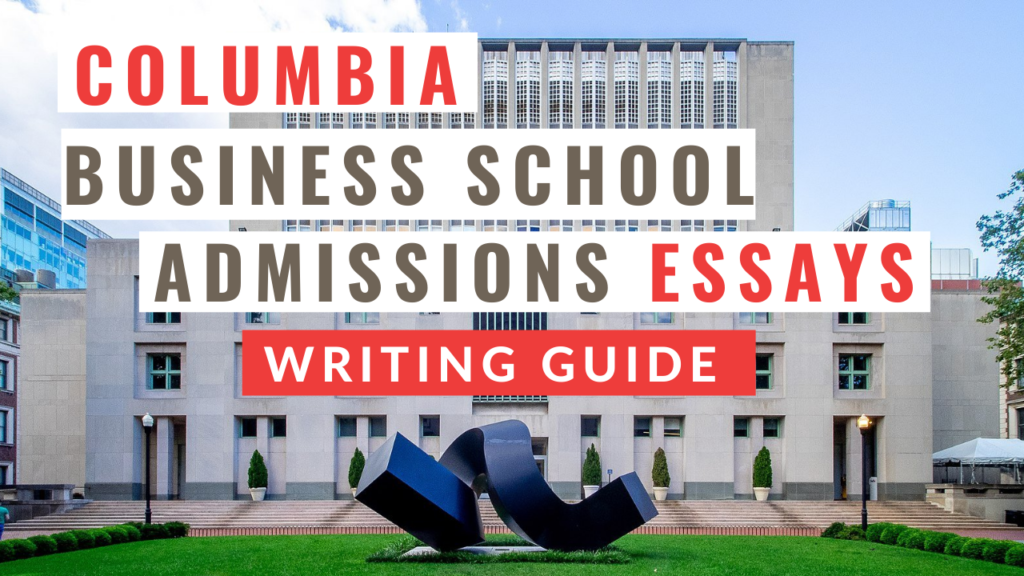 This year's MBA application prompts are out, which means it's time to start brainstorming what your topics will be. Wondering where to start, what to write? No worries, we have all the tips you need to get a nice start on writing a quality essay for Columbia Business School.
Conveniently located in New York City, CBS is committed to creating a learning sphere influenced by the current global business environment, which helps develop the students' skill to create an opportunity in any situation. Through the story you relate in your essay, the admissions council is looking to see if you reflect the same values that the school does. CBS is looking for students who are inspiring leaders, entrepreneurial, and dedicated to creating an intellectual community. The best way to represent that you possess those qualities is through the type of essay you choose to write.
It's crucial to pick the right experience to discuss in your essay, and the different types of prompts help narrow that down for you. Keep reading for a closer look at the different types of essays, and how best to utilize them in order to write a stand-out essay for Columbia Business School.
The Personal Statement Essay
Like we touched on earlier, schools are looking for the right fit for their campus community, just as you are searching for the school that aligns best with your goals. In the personal essay, this is your chance to show CBS the values that drive you both as a person and as a student. These values tell the admissions council what you prioritize, the moral code you live by, and, most importantly, who you are as a person.
Columbia Business School is looking for applicants who are willing to work hard and possess innovative ideas. With near-constant access to the top industry leaders, students are able to gain crucial experience that catalyzes pathbreaking knowledge.
In these essays, you can talk about almost anything; typically, applicants will write about relationships in their lives, or times when there was a hardship they had to overcome. Be warned, though: there are some topics to avoid, and we have outlined a few things to watch out for in this article.
The Career Goals Essay
You're not the only one hoping you'll have a job after you've graduated with your MBA. Admissions committees are looking for students who are motivated and clear in their intentions so that when they get a job post-grad, they'll be more willing to speak positively of their experience in the program. And, of course, in the hopes that their alumni will earn enough money to become a donor to the school one day.
There are three aspects to the career goals essay:
What you want your future profession to look like.
Why an MBA is necessary to advance your career.
Particularly, why a degree from CBS will be most beneficial to you and your job plan.
Your aspirations need to be convincing, ambitious, and realistic. Columbia Business School is looking for applicants who have meaningful goals grounded in their past experiences, and it's important that you relate that notion in your essay, however it applies to your experience in life.
Career Goals

Through your resume and recommendation, we have a clear sense of your professional path to date. What are your career goals over the next three to five years and what is your long-term dream job? (upload file, 500 words)

Columbia Fit

Why do you feel Columbia Business School is a good fit for you academically, culturally, and professionally? (upload file, 300 words)
The School Participation Essay
Now, here's where all that practice stuffing extra-curriculars into your resume comes in handy. CBS is looking for applicants who are going to get involved on campus. Being an active participant in campus culture is essential to the experience of Columbia's business program, and this university is looking for students who will not only enrich their own lives, but that of the school as well. Many of the programs on campus rely on students to run them, which is your golden ticket in.
When writing this kind of essay, it's important to keep in mind what your specific interests are – which clubs do you want to join, which conferences do you wish to attend? Figuring out where you most want to be involved and writing how you will thus benefit the school in that position is the key to writing a strong participation essay. Spend some time researching and thinking through your options before diving into the writing process.
Conclusion
Writing strong, coherent, genuine stories is an essential part of your MBA application. These essays are meant to help you stand out among many other applicants, so it is worth your time to do the work and write about situations unique to your life and that you truly learned from. Visit our process page to understand how Menlo Coaching can help you with your MBA essays for Columbia Business School.