Wharton MBA Essays 2023-2024: Writing Your "Give & Take" Story

If you are reading this article, you probably already understand the absolute necessity of presenting a compelling case for your candidacy in the prompt for your MBA essay. If you are pursuing a University of Pennsylvania Wharton MBA, this is a great opportunity to think about what you can give back to the business school community. As part of your 2023 MBA application to Wharton, you'll have to answer a couple of questions that go something like this:
What do you hope to gain professionally from the Wharton MBA? (500 words max)
Taking into consideration your background – personal, professional, and/or academic – how do you plan to make specific, meaningful contributions to the Wharton community? (400 words max)
These two current Wharton essay prompts are deeply interlinked and must be tackled together. Below, we'll give one perspective on how to think about these essays during the MBA admissions process, using some wisdom of one of the Wharton School of Business' luminary professors.
Adam Grant on Givers and Takers
Adam Grant is a professor of organizational psychology at the Wharton School of Business and the author of a number of bestselling books. One of those books, 2013's Give and Take: A Revolutionary Approach to Success, deals with the phenomenon of what Adam Grant labels "givers" and "takers." In a nutshell, a giver is someone who approaches interactions hoping to contribute something to someone else; a taker is someone who has the opposite approach: every interaction is a chance to get something from someone else. Additionally, Grant identifies a third category which he calls "matchers:" people who balance give and take, living by a sort of de facto quid pro quo.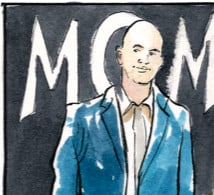 In brief, his conclusions are as follows: givers account for both the most and least productive people in a work environment. Some givers end up trying too hard to please clients and co-workers and end up either burning out or falling behind. But other givers are able to contribute to the work environment in small, vital ways over time, e.g. providing helpful feedback or making an introduction between two people who could benefit from knowing one another.
Agreeable and Disagreeable People
Grant also goes on to create a second axis of interaction: agreeable and disagreeable people. This makes a two-by-two matrix where you have disagreeable and agreeable givers as well as disagreeable and agreeable takers. Grant insists that the most dangerous kind of individual in any work environment is the agreeable taker, who gives nothing in return, but is so friendly and pleasant about it that they often go unnoticed. He also makes an important point about the need for disagreeable givers, those individuals who may not have the most tact or personal skills but who, nevertheless, are interested in contributing to their community. He gives the example of the gruff but concerned employee whose feedback is harsh but valuable.
You can get a more complete understanding of Adam Grant's ideas about givers, takers, and matchers by watching his famous TED Talk on the subject.
Grant's ultimate argument is that creating a work environment where givers don't burn out and where people are not afraid to ask for help, lets the giver mindset be more pervasive, which is to the advantage and success of everyone involved. So, with that understanding, let's return to the essays you'll have to write for the Wharton MBA program.
Wharton MBA Essay 1: Takers
If you review the language of the first Wharton MBA essay, you'll find that it is centered around Grant's concept of taking:
"What do you hope to gain professionally from the Wharton MBA?"
While this may be a more benign form of taking (after all, no one pursues an education without the hope that it will benefit them), it is important to remember that it still presents something of a trap for those applicants who address it in a purely selfish way.
What do you want to gain from attending Wharton?
At its core, Essay 1 requires you to have a firm understanding of your career goals. You should be familiar with what you want to accomplish and also be able to specifically refer to the ways in which Wharton will help you achieve it. Listing a bunch of classes is a terrible way to approach this as it does not give the admissions committee sufficient insight into your understanding of the school. Anyone can look up a list of courses, and many institutions will have parallel classes that might fulfill your goals just as easily.
Therein lies the taker trap: The first Wharton essay is really about understanding Wharton in such a way that your applied knowledge flatters and enhances the admissions committee's understanding of what it has to offer. What you are doing–to paraphrase Grant–is allowing Wharton to be a giver in such a way that they don't burn out. You are matching your career goals to what the Wharton MBA has to offer. You are letting them be an agreeable giver whose strengths are being recognized and rewarded.
Wharton Essay 2: Givers
You knew this was coming! If Essay 1 is a prompt that asks you to consider your status as taker, then Essay 2 must be one that encourages you to think of yourself as a giver. If you look at the language of the second prompt, this is made clear:
"Taking into consideration your background – personal, professional, and/or academic – how do you plan to make specific, meaningful contributions to the Wharton community?"
Those "specific, meaningful contributions" are what you can give to Wharton. And let's be clear, you need to be able to give back to your MBA program. Part of an AdCom's consideration in reviewing candidates is looking at those who can provide great ROI by becoming important members of the alumni network or building innovative clubs.
It is important to consider the perspective of the school, the community, and the other students when discussing your contribution. Your contribution might be in joining or creating on campus clubs. It might be something about your background that contributes positively to your study group or a team-oriented project. Part of being a giver, however, means understanding what the school wants to receive. This requires a decent amount of research into Wharton student life and the existing campus centers. You don't want to suggest creating an existing club or organizing a conference that they just had. That kind of misstep will not just fail to mark you as a candidate with something to contribute, it will also mark you as a taker: someone so concerned with what they are getting out of the bargain that they can't be bothered to figure out what Wharton actually needs.
What will you give back to the school?
So what should you actually propose to give? It is important to pay attention to skills you possess that are in high demand for the MBA program. Without bragging about that skill, you can demonstrate your value as an MBA student while also reinforcing that you want to put your abilities at the disposal of the program that will undoubtedly be giving you a leg up. Similarly, you may want to propose some kind of collaborative effort that brings together two or more clubs, or involves a number of different available resources. Provided that the proposal is something that makes sense for you to put out there, this can be a great way to show Wharton that you are interested in working with others and that you want to enrich their already rich experience.
One way to brainstorm about what you have to give to Wharton–and more broadly, the University of Pennsylvania–is to think about the help you received in putting together the application for the Wharton MBA program in the first place. What individuals or clubs were instrumental in giving you a hand? What did they offer and what did you learn from them? How might you pass on something similar to the students, organizations, and general community of Wharton Business School?
In the end, realigning your mindset to that of a giver is a valuable part of writing a Wharton essay that both reinforces what you have to offer the institution and also, subtly, shows your familiarity with its star professor and the philosophy behind the institution.