Benefits of Executive MBA: Career Advancement, Salary, and More
Executive MBA (EMBA) programs have become increasingly popular among experienced professionals looking to advance their careers.
Designed specifically for executives, EMBA programs offer a unique combination of theoretical and practical knowledge that can help individuals stand out in their field. But for some professionals, the question still remains: Is an EMBA worth it?
In this article, we'll look at the benefits of an Executive MBA degree.
What Makes a Good Executive MBA Candidate?
If you have 10-15 years of work experience and have decided on an MBA to fill in knowledge gaps and develop the skill set to propel your career to the next level, you could potentially be a perfect candidate for an EMBA.
Typical career aspirations for EMBA applicants include:
progressing into higher positions with greater oversight
making a lateral move to a more influential firm within your industry
starting your own business, or taking over the family business
Other factors that determine whether an EMBA is a good fit for your profile include your previous work experience and career goals.
How Can Executive MBA Programs Help with Career Advancement?
An Executive MBA program is a popular choice among established business professionals for good reason.
Alongside the education provided by Executive MBA programs, most EMBA students develop better analytic thinking and stronger leadership and problem solving skills, all while experiencing new challenges and learning to make educated decisions in the business world.
The combination of an EMBA education with leadership training, career support, and a robust and powerful professional network means that EMBA graduates have everything they need to climb the corporate ladder.
Post-EMBA Career Opportunities
The value of an EMBA lies in opening paths for you that you may not have had access to otherwise.
Whether this means moving into new roles or management positions or starting your own business, an Executive MBA provides you with the tools you need to succeed and the networking opportunities necessary to make your mark in the corporate world.
Choosing the Executive MBA program that best suits your goals and background can be a difficult choice, but we've compiled all the information to start your research in our guide to the Best Executive MBA Programs.
Post-EMBA Salary
Naturally, many EMBA applicants are happy to discover that post-EMBA salaries tend to be considerably higher than pre-EMBA salaries.
How will an EMBA improve my salary?
For one, all reputable Executive MBA programs will increase your bargaining power when it comes to salary and promotion.
Further, the purpose of an EMBA education is to develop the areas in which an already strong candidate feels weakest. EMBA students develop their people management, project management, problem solving, and communication skills while honing their abilities in strategy, finance, marketing, and operations.
This, combined with a freshly expanded network of peers and alumni, often makes an EMBA graduate an effective leader and an asset to their company, which can lead to significant salary increases.
Although the most recent available data on salary increases published by business schools comes from 2020, it is indicative of a wider trend of a post-EMBA salary boost.
Executive MBA Salary Increase
| Executive MBA Programs | Pre-EMBA Salary 2020 | Post-EMBA Salary 2020 | Percentage Change (%) |
| --- | --- | --- | --- |
| Northwestern Kellogg Executive MBA | $174,218 | $228,659 | 31.25% |
| Columbia Business School Executive MBA* | $152,500 | $209,000 | 37.05% |
| Michigan Ross Executive MBA | $209,878 | $260,189 | 23.97% |
| NYU Stern Executive MBA | $150,854 | $204,750 | 35.73% |
| UC Berkeley Haas Executive MBA | $154,729 | $217,296 | 40.44% |
| Duke Fuqua Executive MBA* | $165,341 | $175,910 | 6.39% |
| UCLA Anderson Executive MBA | $149,068 | $189,623 | 27.21% |
| Cornell Johnson Executive MBA* | $138,136 | $203,514 | 47.33% |
| Emory Goizueta Executive MBA | $108,289 | $154,760 | 42.91% |
| Georgetown McDonough Executive MBA | $144,107 | $178,393 | 23.79% |
| UT Austin McCombs Executive MBA | $135,576 | $183,856 | 35.61% |
| Yale SOM Executive MBA | $133,717 | $170,979 | 27.87% |
Note:
a) Source: Pre-EMBA Salary and Post-EMBA Salary 2020 – The Economist
b) *Cornell Johnson Executive MBA indicates the Cornell Executive MBA Metro NY Program Salary 2020
c) *Columbia Business School Executive MBA indicates the Columbia Executive MBA-New York Program Salary 2020
d) *Duke Fuqua Executive MBA indicates the Duke MBA—Weekend Executive Program Salary 2020
What Personal Development Opportunities does an Executive MBA Program Offer?
The structure of EMBA programs is mostly focused on developing the relevant skills to help you deal with complexity and uncertain situations, but also effective communication, people management, and decision making.
During an EMBA program, students will also have the opportunity to develop a broader perspective on international business from a diverse peer group and develop different leadership styles through group projects. Exposure to different industries and business practices also helps Executive MBA students to view challenges with a more flexible mindset.
As EMBA programs typically take place on a part-time basis, EMBA students remain at their jobs throughout the duration of the program. This gives them the opportunity to apply the lessons they learn at business school in real time and experience their efficacy in practice.
How can an Executive MBA Program improve my network?
Even though the EMBA experience is considered less immersive than that of a full-time MBA program, Executive MBA programs still offer abundant opportunities for expanding your network.
In most Executive MBA programs, cohorts are organized in smaller groups that work together through the course of the degree, which promotes stronger bonds between students.
As most EMBA programs take pride in their global outlook and foster an extensive alumni network, you can expect to meet industry experts with connections all over the world, especially in programs that are split between different campuses.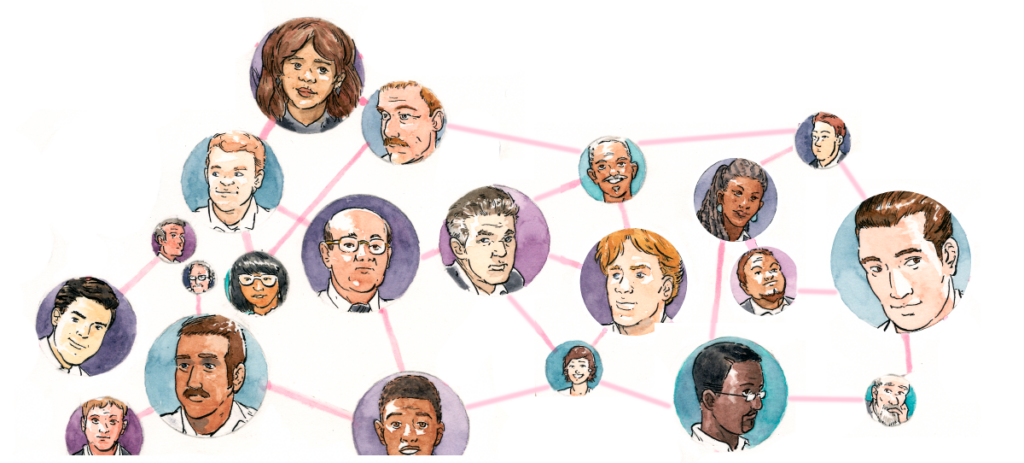 International Executive MBA Programs
For candidates interested in learning practical skills in international business, some EMBA programs put global business at the forefront of their programs, both through curriculum and format.
EMBAs that take place internationally include the Wharton EMBA, the London Business School EMBA, and TRIUM EMBA programs.
Why is a Strong Network Important Post-EMBA?
The old adage, "It's not about what you know; it's about who you know" rings particularly true in the world of business.
A strong network can provide support, open doors, and enhance your professional growth and success by:
introducing you to new job opportunities and helping you find the right fit for your skills and experience
providing advice, mentorship, and guidance on professional development and career advancement
facilitating valuable connections to potential clients, business partners, and industry experts
relating valuable insights and up-to-date information about trends and developments in your industry
EMBA cohorts are very diverse, so you will have the opportunity to meet professionals from diverse industries, cultures, and backgrounds.
On its own, this is an enlightening way to expand your understanding of the world and your peers, but it also allows you to strengthen your connections in the areas most relevant to your career.
Are There Any Intangible Gains to Expect from an EMBA?
An EMBA program exposes you to diverse perspectives, ideas, and approaches, leading to a broader and more inclusive worldview.
It can help you gain a deeper understanding of yourself, your strengths and weaknesses, and your leadership style, leading to personal growth alongside your professional development.
Additionally, the rigor of an EMBA program and the knowledge gained can have an incalculable psychological effect, boosting your confidence in your professional and personal abilities.
Executive MBAs are also globally recognized and valued by firms for the development of their graduates' business skills, providing the credibility you might need to get an advantage pursuing senior leadership positions.
Hear it from our EMBA admit, the oldest in Wharton's History:
So, is an EMBA Program Worth It?
If you are a professional with an established career looking to progress further, the benefits of an Executive MBA program are undeniable.
An Executive MBA benefits working professionals looking to advance their careers by helping students to develop the skills they need to succeed, expand their network, and negotiate salary increases.
However, these programs require dedication and a significant time commitment, which can be difficult to manage.
Whether you are in Investment Banking, Private Equity, Management Consulting, or Family Business, an EMBA could be the right choice for you, but a potential EMBA student will have to weigh up the toll of an advanced degree on their personal life as well as their career.
Speaking with an admissions consultant can help you better understand whether an EMBA program is worth it for you.