PE MBA: The Private Equity Career Path
If you're in private equity or venture capital, you've probably thought about obtaining an MBA. Maybe you're interested in more senior private equity jobs or more prestigious venture capital firms, and you want to expand your network and advance your career prospects. Perhaps you've heard all about the private equity recruiting opportunities available at business schools.
You've probably also realized that, just as private equity firms highly value the MBA, most top MBA programs highly value PE applicants.
But don't count on your private equity experience alone to win admission—there are steps you should take (and mistakes you should avoid) to increase your chances of receiving an offer.
In this article, we're going to discuss why business school is so valuable for those working in private equity and venture capital, your chances of getting into the best business schools as a PE applicant, and common mistakes PE applicants make when writing their applications.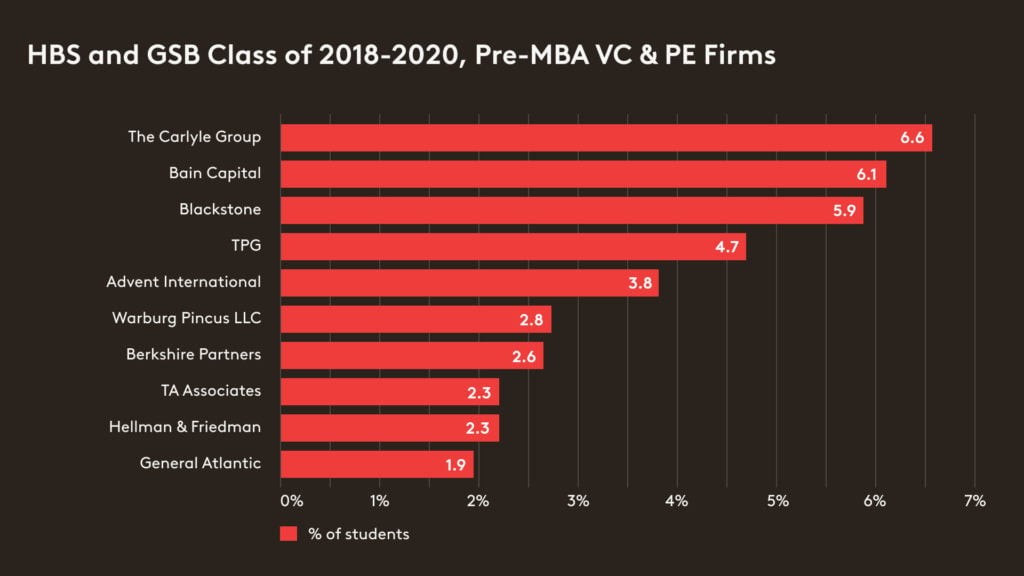 Why Attending Business School Will Pay Off as a Private Equity Applicant
There are two main ways an MBA will pay off if you're working at a top private equity firm.
First, there's the basic fact that without a degree from a respected MBA program, advancing from an associate to vice president is difficult (if not impossible). But with an MBA degree in hand, your prospects will improve significantly, and your new, higher salary will quickly make up for any income that you lost during your time in business school.
Second, the MBA will help you to earn more long after your initial promotion, providing the tools necessary for success in your new private equity investor role and beyond.
That is, when you move up the leadership chain at a private equity firm, your role shifts from analytical to interpersonal: private equity investors will be asked to source deals from your personal network, meet management teams, convince customers about the success of your firm, search and approve new CEOs or CFOs, and build rapport with teams.
All these tasks require the kind of network, business acumen, and soft skills that are hallmarks of the MBA. This is where your MBA education can help to increase the financial performance of your firm—and thus your own earning potential throughout your career in private equity.
Remember: the value of attending business school and earning the MBA will continue to increase as you succeed in your post-MBA career.
The Pros and Cons of Getting an MBA as a Private Equity Professional—and Your Chances of Acceptance
How Does a Private Equity Applicant Win Admission to Top MBA Programs?
The first business schools that come to mind when you think of "best MBA programs" for PE are probably the notoriously selective Harvard Business School, Wharton School of Business, and Columbia Business School.
If you want to tap into the connections and resources on offer at these MBA programs, you'll need to know what working for a private equity firm does for your chances of admission—both in positive and negative terms.
Why do Top Business Schools like Private Equity Candidates?
Many business schools will see inherent value in an applicant working at one of the established private equity firms. That's because private equity professionals:
Will have been through several highly selective screening processes
Will most likely have attended a highly selective undergraduate institution, gone through investment bank recruitment, and finally private equity recruitment
Will possess advanced analytical skills
Will have impressive professional accomplishments
MBA programs are also aware that employees at top private equity firms are likely to earn a competitive salary, which means they are more likely to donate money back to the business school as a graduate.
For the private equity applicant, these traits are all positive—but what about the downsides of applying with a private equity background?
Hear from a Successful Private Equity Applicant
Yawer faced a number of challenges in applying to the highly competitive US MBA programs. Menlo Coaching helped him present the best case for admission, and by the end of the process, his somewhat-standard private equity profile and international upbringing became crucial focal points of his application.
Find out how Yawer transitioned from middle market Private Equity to Harvard Business School.
What Challenges do Private Equity Applicants Face When Applying to Business School?
For private equity applicants, there is one major drawback during the MBA admissions process: competition is fierce.
Due to all the impressive candidates working in private equity & venture capital, Admissions Committees will need to hear compelling reasons why they should admit you.
Remember that professionals from rival PE firms—or even your own firm—are just as qualified and talented as you are, with similar credentials and similar achievements. Standing out compared to these applicants is a difficult challenge to overcome in your MBA application.
For example, as a private equity applicant, your GMAT will come under extra scrutiny: MBA students from private equity backgrounds regularly have GMAT scores as high as 760 and 770, and you'll need to score in a similar range to stay in the running.
Likewise, other candidates from a private equity or venture capital background are going to have impressive resumes—and the single biggest mistake you can make as a PE candidate is to think that your credentials are enough to get you in the door.
The Ultimate
MBA Admissions Checklist
Our free, comprehensive checklist covers everything you need to shop for an MBA admissions consultant.
Our free, comprehensive checklist covers everything you need to shop for an MBA admissions consultant.
✓ Compare pricing across 35+ MBA admissions consulting firms
✓ Learn why "success rates" are not to be trusted
✓ Find the right service model for your needs
✓ Prep for your consultation calls
✓ Compare pricing across 35+ MBA admissions consulting firms
✓ Learn why "success rates"
are not to be trusted
✓ Find the right service model
for your needs
✓ Prep for your consultation calls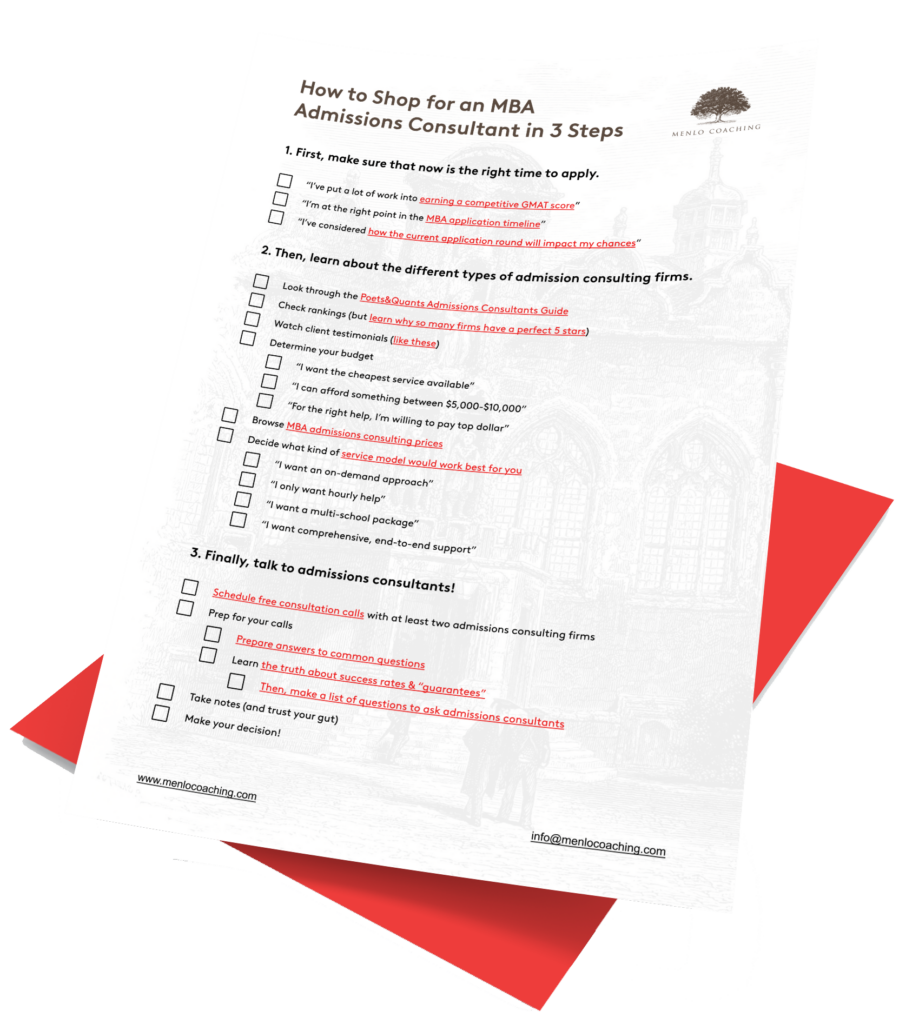 How to Differentiate Yourself from Other PE Applicants?
There are a few ways to personalize your MBA application with the help of our MBA applications and admission guide and differentiate it from other private equity applicants.
In order to stand out from other highly-qualified applicants, work hard on storytelling through your personal essay to express the qualities that make you unique.
Top Business Schools Want Storytelling
Talk about where you are today and the journey you took to get here: who helped you along the way? What did you learn about yourself?
You should work hard to highlight the personality behind the "number-cruncher" or other job stereotypes that define your industry. Your unique story is more interesting than the explicit details of hedge funds.
That's not to say that you should shy away from your professional achievements. For example, you should definitely mention how many deals you've closed at your private equity firm and any other facts that set you apart from your private equity peers. Just know that your professional experiences alone won't be enough to set you apart—the personal story will reign supreme for private equity candidates.
The Best Move for Your Career in Private Equity
While the cost of an MBA is high, the pros outweigh the cons by far: in many ways, the degree will pay for itself over time thanks to the improved leadership skills, enhanced network, and improved chances of working at one of the world's top private equity firms.
Just remember to show your personality in the application to distinguish yourself from equally-talented peers by mixing in professional achievements with personal storytelling!
If that sounds difficult (especially given the demands private equity firms put on your schedule), consider hiring professional help. At Menlo Coaching, we regularly work with PE & venture capital candidates to help them find their story.