What You Need to Know about the NYU Stern MBA Program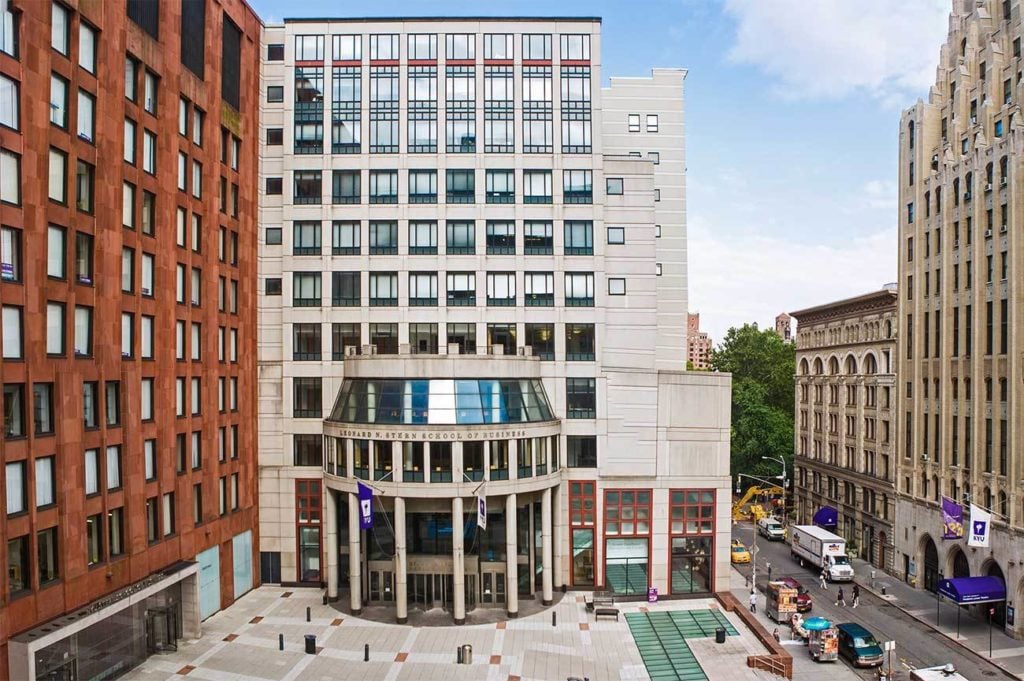 One of NYU Stern's highlights is beyond doubt its downtown location in New York City — it even outshines Columbia in this regard. A major benefit of the NYC location for the Stern School of Business is its strong relationship with industries in the luxury retail sector. The Council of Fashion Designers of America and the Doing Business in Italy experiential learning programs, combined with the Luxury and Retail and Graduate Marketing Association clubs on campus, are reflective of Stern's dominance in this area.
In addition to its focus on luxury retail, NYU Stern also has a strong placement in the consulting and investment banking sectors, with over 37% of its graduating class going into consulting and over 22% into investment banking. If you're considering this path, you will also benefit from being able to network and learn about the culture at the firm's New York City offices.
Finally, NYU Stern has extensive part-time and executive MBA programs, which is a great network for full-time MBAs to tap into. Many finance professionals who work long hours choose the NYU Stern part-time and executive programs as the only ones that fit their schedule. NYU Stern's executive MBA program also has a Washington DC location, which further broadens its network and reach in the Northeast.
NYU Stern MBA Class Profile
Acceptance rate

28.7%

GMAT
Median:

720


Range (mid 80%): Does not disclose
GRE
Does not disclose
GPA
Average:

3.6


Range: Does not disclose
Age/Experience
Age:

28 years


Work Experience:

5.2 years

Diversity
Women:

43%


International:

32%

Pre-MBA Industries

Nonprofit/Arts/Education:

8%

Show all

Collapse all

Consumer Products/Retail:

7%

Advertising/Public Relations:

4%

Healthcare/Pharmaceuticals:

4%

Manufacturing/Import/Export Trade:

2%

Undergraduate Majors

Social Science/Humanities/Arts/Other:

34%

Engineering/Math/Science:

23%
The data above is from 2019 and represents the NYU Stern MBA class of 2021.*
See the full report: NYU Stern MBA Class Profile
Student Experiences
NYU Stern MBA Employment Report & Careers
Offers & Compensation

Average Salary + Signing bonus:

$173,513

% Offers upon Graduation:

90%

% Offers at 3 months:

95.3%

Post-MBA Industries

Consumer Packaged Goods:

5.6%

Financial Services:

29.4%

Show all

Collapse all

Diversified Financial Services:

1.8%

Investment Banking:

22.6%

Healthcare / Pharmaceuticals / Biotech:

2.1%

Entertainment / Media / Sports:

2.1%

Transportation & Logistics Services:

<1%

Post-MBA Locations
Post-MBA Companies

Show all

Collapse all

Barclays Capital Group:

4

Samsung Electronics America:

3

Career Development Resources
NYU Stern Office of Career Development
The data above is from 2020 and represents the career statistics for the NYU Stern MBA class of 2022.*
See the full report: NYU Stern MBA Employment Report
NYU Stern MBA Academic Programs
MBA Curriculum
NYU Stern's two-year MBA curriculum offers students a large degree of flexibility in their course selection. Only two of the core courses you will take in the first year of the program are required, while the rest of the class selection is customizable to varying degrees. In the first year of the MBA, students complete seven classes as part of the core curriculum. Two of the seven courses, Financial Accounting and Reporting and Statistics and Data Analysis are required. The remaining five core courses are selected out of a group of seven classes. Students begin taking electives during the second year of the program. NYU Stern offers an array of over 200 electives, some of which cover topics such as Digital Strategy, Healthcare Markets, Investor Relations Strategy, Programming in Python, and Advertising.
See the full offering of courses: NYU Stern MBA Course Index
Majors
While NYU Stern does not require a major as part of the MBA, students can elect to specialize in up to three of 20 subject areas, including Real Estate, FinTech, Entertainment and Media, and Corporate Finance.
Experiential Learning Programs
At NYU Stern, students can gain hands-on experience through one of three channels. By participating in various courses and projects, such as the NYU Stern Consulting Corps, students can practically apply the business skills gained in the classroom. Students can also get involved in live investment funds or apply to a fellowship program to create their own summer internship experience.
Research Centers
NYU Stern hosts a total of 15 research centers and initiatives. In addition, students can take advantage of the 10 academic departments within the school of business.
MBA International Study Programs
NYU Stern offers the international study experience both through intensive one to two-week long courses in countries like Argentina and India, as well as semester-long exchanges. The academic and community clubs on campus also organize a spring break trip to various international locations.
Video Resources on NYU Stern Academics
NYU Stern MBA Application
The latest application requirements set by the NYU Stern MBA admissions office are described below.
Essays
Here are the prompts for NYU Stern 2020-2021 application:
Essay 1: Professional Aspirations. What are your short and long-term career goals? How will the MBA help you achieve them? (500 word maximum)
Essay 2: Personal Expression (a.k.a. "Pick Six"). Describe yourself to the Admissions Committee and to your future classmates using six images and corresponding captions. Your uploaded PDF should contain all of the following elements: 1. A brief introduction or overview of your "Pick Six" (no more than 3 sentences). 2. Six images that help illustrate who you are. 3. A one-sentence caption for each of the six images that helps explain why they were selected and are significant to you. (PDF file)
Optional Essay: Additional Information. Please provide any additional information that you would like to bring to the attention of the Admissions Committee. This may include current or past gaps in employment, further explanation of your undergraduate record or self-reported academic transcript(s), plans to retake the GMAT, GRE, EA, IELTS or TOEFL, or any other relevant information. (250 word maximum)
Letters of Recommendation
The 2020-2021 NYU Stern recommender questions are as follows:
Please provide a brief description of your interaction with the applicant and, if applicable, the applicant's role in your organization. (no word limit)
How does the applicant's performance compare to that of other well-qualified individuals in similar roles (if applicable)? Please provide specific examples. (E.g. what are the applicant's principal strengths?) (no word limit)
Describe the most important piece of constructive feedback you have given the applicant. Please detail the circumstances and the applicant's response. (no word limit)
Please provide one specific and compelling example to demonstrate the applicant's emotional intelligence. (no word limit)
(Optional) Is there anything else we should know? (no word limit)
Video Resources on NYU Stern Admissions
NYU Stern MBA Admissions Interviews
Interviews for NYU Stern can be conducted through video call or phone or in person at the NYC or Shanghai campuses. Your interview will be conducted by an admissions officer, who will have read your application before the interview. Final decisions are made within three weeks of the interview.
NYU Stern Useful Links
What Makes NYU Stern Unique?
NYU places a high emphasis on EQ, the Emotional Quotient. They look for strong interpersonal skills in their applicants, which ensures that you will find students with a high EQ in the Stern community.
Stern's support for entrepreneurship is vast and growing. With NYC at their disposal for experiential learning, MBA students interested in Entrepreneurship and Innovation will find plenty of resources at NYU Stern.
Stern's MBA salaries are on the rise; the median MBA earnings are currently at an all time high of $140,000.
NYU Stern has excellent job placements into consulting and investment banking. 37% of Stern MBA graduates go into consulting and 22% into investment banking.
*All data retrieved from the NYU Stern MBA Program webpages, unless otherwise stated.