Northwestern Kellogg MBA Interview – Preparation Guide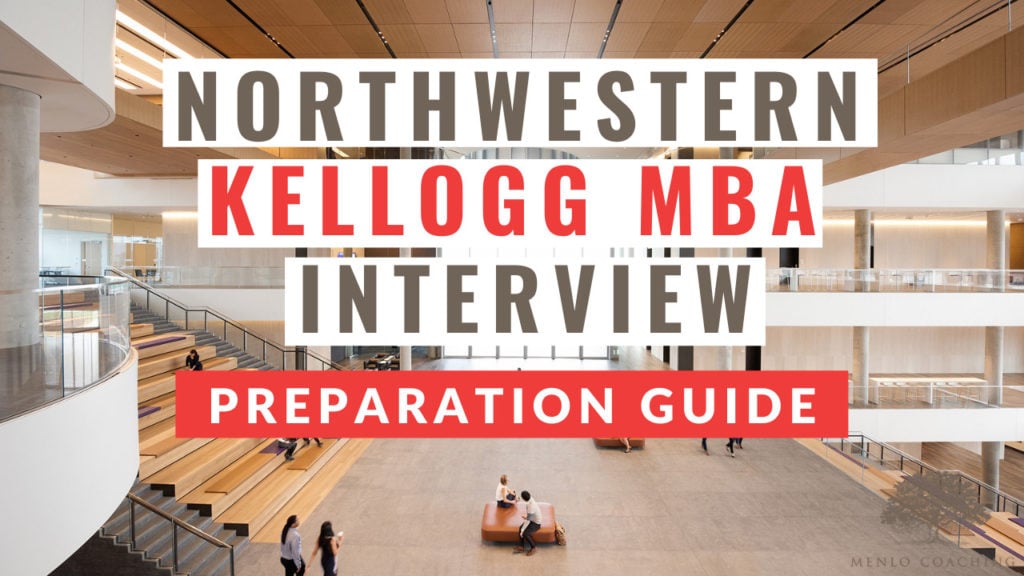 Quick Facts
Who does Kellogg interview?
Northwestern's Kellogg School of Management invites all MBA applicants to interview–candidates must schedule their own interview, within six weeks of the application deadline.
Who conducts Kellogg's MBA interview?
Kellogg alumni do the vast majority of off-campus interviews—including virtual interviews in the most recent cycle. When possible, Kellogg admissions staffers and current students do most of the on-campus interviews. Jump ahead to read more about Kellogg's interviewers.
How long is Kellogg's interview?
Interviews typically last 30-45 minutes. But jump ahead to read about possible exceptions.
Where is the interview held?
Under normal circumstances, all applicants are asked to indicate their preference for an interview at Northwestern University on-campus, or an interview off-campus. For the most recent application cycle, all interviews are being conducted virtually. Jump ahead to find out more about Kellogg interview locations.
What is the format?
Kellogg's approach is blind. Interviewers are typically given your resume immediately before the interview. The interviewer will not have seen your full application. Jump ahead to read more on the format.
Deadlines and Decision Schedule
| | | |
| --- | --- | --- |
| | App Submission | Decision |
| Round 1 | September 13, 2023 | December 13, 2023 |
| Round 2 | January 10, 2024 | March 27, 2024 |
| Round 3 | April 03, 2024 | May 08, 2024 |
More information available on Kellogg's deadlines page.
Kellogg Video Essays
In addition to the live interview, Kellogg requires applicants to answer a series of questions while being recorded. Once a question is posed, the applicant will have 20 seconds to think about the question and up to one minute to give a response. Kellogg estimates that the video essays typically take 20-25 minutes to complete.
Detailed Overview
Drawing from Menlo Coaching's extensive client database of first-hand interview reports, this section offers the most up-to-date information on Northwestern Kellogg's interview process.
Interviewer profile
Kellogg's MBA interviews are typically conducted by alumni or by admissions officers, depending on the location of the interview. Due to the coronavirus, however, interviews for the most recent application cycle were entirely virtual, so Kellogg alumni represent the majority of recent interviewers.
In terms of the alumni interviewer's graduation years, data from the previous application cycle shows a wide range, with interviewers being conducted by graduates from the class of 1991 to the upcoming graduating class (yes, students about to graduate!).
As alumni, Kellogg's interviewers have a personal history with the program, and thus are able to share their own thoughts and experiences on receiving an MBA from Kellogg. For example, in one recent Kellogg interview, a client reported that the interviewer spent the first 40 minutes (the typical duration of the formal conversation) asking questions, while the remainder was spent talking about the interviewer's own experiences in the program.
Another client reported that their alumnus interviewer was able to offer specific and up-to-date insight on Kellogg courses, professors, and the culture of the school.
With all this in mind, it may be wise to prepare a question or two regarding the interviewer's time at Kellogg (see more on interview questions below), allowing you to take advantage of their first-hand knowledge and to demonstrate your continued curiosity about the program.
Length
MBA interviews at Kellogg typically fall between 30-45 minutes, though based on interview reports from the most recent application cycle, the duration is highly variable.
For example, some clients have experienced a 30-minute interview that extended to 45 minutes with informal chatting; a 45-minute session that was extended to 70 minutes; and an interview that lasted for a full hour.
The most common reason for these extensions comes down to the personalities of the interviewers: Kellogg interviewers are passionate about the program and enjoy sharing their own feelings about the Kellogg MBA.
Location
With the disruptions brought on by the global pandemic, the most recent application cycle's interviews for Kellogg School of Management were conducted virtually.
In some ways, this makes the logistics of the interview easier. No travel is required, and applicants have complete control over their interview environment.
As with any virtual business engagement, applicants should make sure that they have a high-speed wired Internet connection, good lighting, and that they point their computer camera at eye level.
Format
The format of the Kellogg MBA is "blind," meaning the interviewer does not receive a copy of the candidate's application. They will, however, receive a copy of the candidate's resume, and this document will often be the first subject of the interview (see more on the MBA interview questions below).
Our interview reports show that the Kellogg approach is typically conversational, laid back, and friendly. One interviewee reported that the introductions were very brief, and the interview moved quickly into the first set of questions.
Another common theme comes in the follow-up. After asking a general question about one of the more common interview topics, the interviewer will typically follow up each question with 2-3 detailed prompts, looking for more detail and information from the candidate.
Interview Prep with Menlo Coaching
If you're interested in prepping for your MBA interview with the Menlo Coaching team, reach out today! We offer mock interviews and school-specific training for HBS, Wharton, Sloan and more!
Kellogg MBA Interview Sample Questions
This section follows the Kellogg MBA interview "question-by-question," or in rough chronological order. Like the details in the section above, these interview questions are sourced from Menlo Coaching's client database of first-hand interview reports.
You can use the questions below to conduct mock interviews that mimic an actual conversation with a Kellogg alumnus, current student, or admissions officer.
For best results, however, consider seeking expert help via our comprehensive interview prep service.
The Kellogg MBA interview, question-by-question
Introduce Yourself, or Walk Me Through Your Resume
Walk Me Through Your Biggest, Proudest Accomplishment (At Work)
Diverse Team Experiences
Teammate Feedback
Conflict or Challenges in a Group Setting
Receiving and Responding to Constructive Feedback
Why an MBA? Why Now?
Tell Me About Your Weaknesses and Strengths
Tell Me About Your Short and Long Term Career Goals
How Will You Get Involved, and Participate, at Kellogg?
Why Kellogg?
Questions for the Interviewer
Anything Else You Want to Mention?
If you're looking for guidance on how to answer questions like these with confidence, you can find detailed breakdowns for MBA interview questions here.