Applying for a Kellogg MBA? Here are the Basics.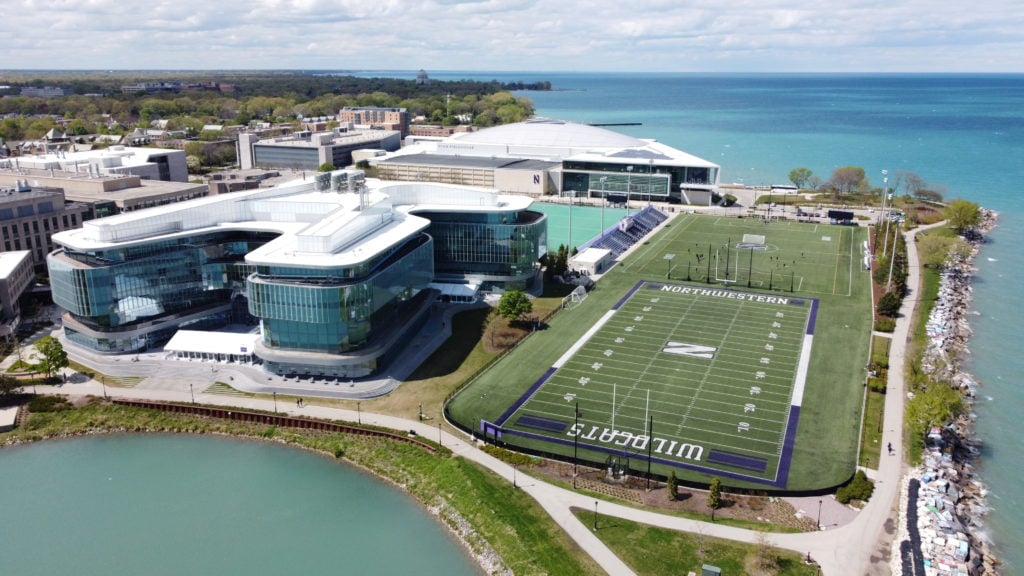 From its ancient roots as a "marketing school", Kellogg has grown to become a leading business school with amazing programs in many areas. Kellogg has excellent placement in consulting (averaging 30% of the class) and technology (averaging 25% of the class). For the Class of 2019, there was a surge in financial services placement to 19%, from 14% the year before, driven by strong placement in the private equity industry.
Kellogg, like Wharton, even offers students the chance to spend time at a San Francisco campus. Other standout resources include new venture incubation through the NUvention program, and programming (hosted jointly with Booth) about Entrepreneurship Through Acquisition, a.k.a. search funds.
Kellogg's beautiful Global Hub opened in 2017, and the building offers space for any conceivable activity, whether it's lectures and conferences, studying, getting a workout at the gym, or even dropping off your kids for Kellogg-provided babysitting as you attend the "TG" party to celebrate the end of the week. The Global Hub is located in Evanston, which has a pleasant college town atmosphere, while being close enough to Chicago and its two international airports to connect you to any other resources you might desire.
Finally, don't attend Kellogg unless you REALLY enjoy working in teams. All MBA programs involve teamwork, of course, but Kellogg students report that the program is so centered around teamwork that you can "get tired of working in teams." It's good preparation for a corporate career where you'll be doing everything in teams, but is not for the lone wolf students who prefer to work independently.
This profile lays out the basic facts about Kellogg and the resources you'll need to further research the program. (For an even quicker overview on Kellogg admissions, check out our article: Your Odds at Kellogg: Acceptance Rate and Other Factors)
Kellogg MBA Class Profile
Class Size
529
Acceptance Rate
Does not disclose
GMAT Average
731
GPA Average
3.7
Average Age
Does not disclose
Avg. Years Work Experience
5
Diversity Women
48
Diversity Intl.
39
Pre-MBA Industries
Consulting: 26%
Technology: 19%
Financial Services: 19%
Healthcare / Biopharma: 8%
Consumer Products: 5%
Media & Entertainment: 4%
Gov't / Edu / Nonprofit: 4%
Military: 3%
Manufacturing: 3%
Energy: 1%
Other: 9%
Undergraduate Majors
Economics / Business: 50%
STEM: 38%
Humanities: 25%
The data above is from 2023 and represents the Kellogg MBA class of 2025.
See the full report: Kellogg MBA Class Profile
Student Experiences
Kellogg MBA Employment Report & Careers
Salary Average
$193,163.00
Offers Upon Graduation
94
Offers At 3 Mos.
98
Post-MBA Industries
Consulting: 38%
Technology: 24%
Financial Services: 17%
Consumer Packaged Goods: 8%
Healthcare: 4%
Manufacturing: 2%
Real Estate: 2%
Retail: 2%
Media/Entertainment:1%
Nonprofit: 1%
Energy: 0.49%
Post-MBA Locations
United States: 94.50%
Mid-Atlantic: 4.12%
Midwest: 29.04%
Northeast: 17.53%
South: 4.30%
Southwest: 6.53%
West: 32.99%
International: 5.50%
Asia: 2.75%
Central America and the Caribbean: 0.52%
Europe-Free Trade Zone: 0.52%
Middle East and North Africa: 0.34%
North America (Non-US States): 0.34%
South America: 1.03%
Post-MBA Companies

McKinsey & Company: 68
The Boston Consulting Group: 64
Bain & Company: 51
Amazon: 48
Google : 13
Nike, Inc.: 11
PwC Strategy&: 10
Adobe Systems: 8
Meta: 7
EY-Parthenon: 6
J.P. Morgan: 6
Lincoln International LLC: 6
L.E.K. Consulting: 5
VISA Inc.: 5
Wayfair: 5
Apple Inc.: 4
C3.ai: 4
Cisco Systems: 4
Intuit Inc.: 4
Microsoft Corporation: 4
Deloitte Consulting LLP: 4
PepsiCo, Inc.: 4
Bank of America: 4
Optum: 4
Danaher Corporation: 4
Kearney: 3
The Kraft Heinz Company: 3
Procter & Gamble: 3
Tyson Foods: 3
Capital One Financial Corporation: 3
JPMorgan Chase & Co.: 3
Periscope Equity LLC: 3
Oak Street Health: 3
Walmart, Inc.: 3

Career Development Resources
Kellogg Career Development
The data above is from 2022 and represents the career statistics for the Kellogg MBA class of 2022.
See the full report: Kellogg MBA Employment Report
Kellogg MBA Academic Programs
MBA Curriculum
The Kellogg MBA curriculum spans across two years, where the classes are spread out over the fall, winter, and spring quarters of each year. Students take an average of four courses per quarter over six quarters. Kellogg also offers a One-Year MBA option, where students take minimal core classes and engage with a rigorous, tailored curriculum that enables them to advance their career and return to work after a shorter period of time. The Kellogg MBA core curriculum consists of nine courses including Finance, Marketing Management, Business Strategy, and Microeconomic Analysis. Students are also required to complete one half-credit course, Leadership and Crisis Management, during the pre-term orientation of year two. Kellogg's elective curriculum allows students to choose from over 52 courses in areas such as Innovation and Entrepreneurship, Management and Organizations, Marketing, and Strategy. These courses are taken during the second year of the program.
See the full offering of courses: Kellogg MBA course catalog
Majors
Students can elect to pursue a major as part of their Kellogg MBA. Although choosing a major is not required, there are seven optional MBA majors available in the program. Additionally, students can opt to pursue one of the 10 pathways, which are designed with a focus on a particular skill set or industry. These pathways cover topics like asset management, data analytics, real estate, and social impact.
Experiential Learning Programs
You have the flexibility to select from eight courses in Kellogg's Experiential Learning program.
Asset Management Practicum
Private Equity
Venture Labs
NUvention
New Ventures
Analytical Consulting Lab
Risk Lab
Global Lab
Kellogg Board Fellows Program
Research Centers
Kellogg has 18 research centers that extend over a breadth of topics. Some of the research centers include Center for Nonprofit Management, Center for Executive Women, Center for Research in Technology and Innovation, and the Guthrie Center for Real Estate Research.
MBA International Study Programs
There are a wide variety of Kellogg international study programs to choose from. For instance, Kellogg offers a full-time study abroad exchange program, which is available over six continents. Students can also decide to participate in the Global Initiatives in Management program, where you can experience an international market by spending part of the class in a foreign country. Other options include Kellogg's Global Lab and worldwide trips.
Video Resources on Kellogg Academics
Kellogg MBA Application
After a year of hard work on their candidacy and their applications, Hayley and Harry were faced with a happy dilemma: choosing between Northwestern Kellogg + $80,000, Chicago Booth + $80,000, Berkeley Haas + $80,000, and Duke Fuqua + $280,000.
Hear how they navigated the MBA application process and ultimately won a spot in the Kellogg MBA Class of 2022.
Applying for a Kellogg MBA has a lot to do with cultural fit. Of course, like any top business school, candidates must show excellent academic aptitude and career success; but Kellogg is equally interested in knowing you'll be a collaborative classmate who works well with others. Check out our article, Kellogg MBA Admissions, for more insight into the admissions process–including tips for the infamous Kellogg video essay!
The latest application requirements set by the Kellogg MBA admissions office are described below.
Essays
Here are the prompts for Kellogg's 2023-2024 application:
The Behavioral Essay
Kellogg Leaders are primed to tackle today's pressing concerns everywhere, from the boardroom to their neighborhoods. Tell us about a time in your life where you've needed a combination of skills to solve a problem or overcome a challenge. Which skills did you use? What did you accomplish? (450 words)
The Personal Statement Essay
At Kellogg, our values are based on research that concludes organizations comprised of leaders with varied backgrounds and perspectives outperform homogeneous ones. How do you believe your personal and professional experiences to date will help to enrich the Kellogg community? (450 words)
Optional Video Essay
You'll complete video essays after you submit your application and payment. This is a great opportunity to tell us more about you and explain why Kellogg is the right place for you.
The video portion of the applications will include three questions, each designed to help you showcase your personality and share some of the experiences that brought you to where you are today.
Please note, video essays are due 96 hours after the application deadline.
Video Resources on Kellogg Admissions
Kellogg MBA Admissions Interviews
Kellogg MBA admissions interviews are conducted by alumni, admissions officers, and, occasionally, students. Kellogg offers an open interview policy, meaning that every applicant is eligible to be interviewed without waiting for a selective invitation.
For more on Northwestern Kellogg's MBA interview, check out our preparation guide.
Kellogg Useful Links
What Makes Kellogg Unique?
The Kellogg Global Hub: Located along the shores of Lake Michigan, the 415,000-square-foot building has a distinctive two-atrium design and features a variety of signature learning and convening spaces: Collaboration Plaza, Faculty Summit, White Auditorium, Flexible Classrooms and Galvin Family Design Wing and Conference Center. Hear more about the Global Hub in our video interview with Kate Smith, Kellogg's Assistant Dean of Admissions and Financial Aid.
MMM Program: An immersive dual-degree program; MMM graduates receive an MBA from Kellogg and an M.S. in Design Innovation from the Segal Design Institute at the McCormick School of Engineering and Applied Science.
Nearing Gender Parity in its Class Profile: Kellogg recently admitted its highest number of women into its full-time MBA cohort: 46% for the class of 2020.
*All data retrieved from the Kellogg Business School MBA Program webpages, unless otherwise stated.