Should You Trust the Businessweek MBA Rankings?
Keep in mind that, while MBA rankings can be useful in your initial MBA research, you have to approach them with skepticism and caution. MBA rankings can give you a start on generating a list of target schools, but you should certainly not rely on them to make any final conclusions or decisions. For this reason, our directory of top MBA programs doesn't focus on a ranking formula, but on the curriculum, class profile, employment report and culture of each MBA program.
This year, Bloomberg Businessweek returned to their usual approach (after adjusting their methodology due to COVID-19). However, this year for the first time, their MBA ranking included a Diversity Index that measures U.S. schools on race, ethnicity, and gender in their classes. This page examines the 2021-2022 list, identifying concerns in methodology and approach.
How Businessweek Creates Their MBA Ranking
For their 2021 ranking, Businessweek surveyed almost 20,000 students and over 3,000 companies that recruit at business schools. These students, alumni, and recruiters graded MBA programs on five major categories and assigned weights for each. In doing so, Businessweek hoped to create a ranking that measured what the stakeholders, i.e. the students and the recruiters, found most important. This approach resulted in the following five categories and associated weights:
Compensation – 35.7%
Networking – 17.8%
Learning – 25.8%
Entrepreneurship – 12%
Diversity – 8.6%
75% of the Compensation category is based on actual data such as salaries, bonuses, and employments rates, whereas the remaining 25% is, like the other three categories, based on a survey. This means that the ranking is mostly (about 70%) based on qualitative data and only about 30% on quantitative data.
General Observations
Unlike other major rankings, the Businessweek MBA rankings are created by using mostly qualitative data. Bloomberg Businessweek is not very open about how the list is constructed beyond this general point. Granted, the weights of the four categories are publicly available, but no information is given as to what kinds of questions are asked in the survey itself. This means it is hard to definitively say why certain schools rank higher than other schools in each of the categories. The qualitative data and the lack of transparency in scoring makes for a shady ranking. Who is to say that Businessweek doesn't play with the results to create more tantalizing headlines?
Although Businessweek does not specify how each of the five sub-rankings are formed, it does include some metrics that other rankings do not. Examples include the high score for Tuck in Networking, recognizing that Tuck has a very responsive alumni network, as well as Darden's high rank in Learning.
The last observation that can be made concerns the student survey. In theory, asking the students to score their school makes sense; after all, who is better equipped to review a school than its students? But consider this: when asking students to rank their school, they will have nothing to compare their school against. After all, they are not attending multiple programs at once! And not only are they unable to grade their program via an actual comparison, but their feedback is also relative to their expectations. A student at a top 5 school, for example, expects an amazing experience based on the prestige of the program. If their experience turns out to be "great" instead of amazing, the student might give their school a lower score than someone who expects a "good" experience but receives a great one.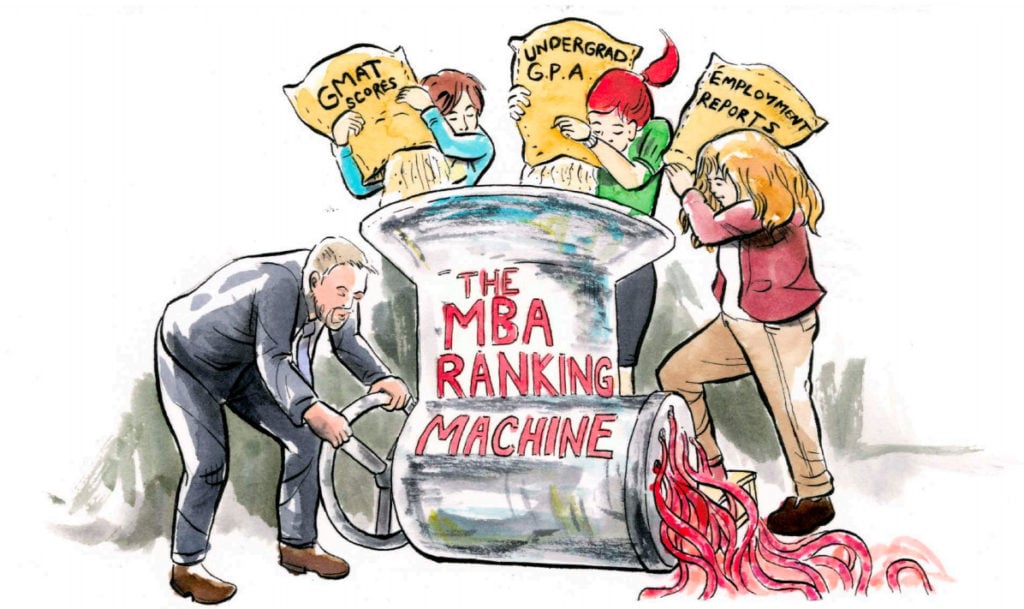 Businessweek MBA Rankings, 2021-2022
| | |
| --- | --- |
| 1. | Stanford |
| 2. | Tuck |
| 3. | Harvard |
| 4. | Booth |
| 5. | Kellogg |
| 6. | Columbia |
| 7. | Haas |
| 7. | MIT |
| 9. | Wharton |
| 10. | Darden |
| 11. | Stern |
| 12. | Yale |
| 13. | Ross |
| 14. | Marshall |
| 15. | Fuqua |
| 16. | UCLA |
| 17. | McDonough |
| 18. | Goizueta |
| 19. | Tepper |
| 20. | Cornell |
| 21. | McCombs |
| 22. | Jones |
| 23. | Howard |
| 24. | Vanderbilt Owen |
| 25. | Rochester |
Businessweek vs. US News
When consulting rankings, the potential MBA applicant may be struck by the dramatic differences between each list. How can a school rise and fall so markedly across rankings that are presumably measuring the same thing?
By analyzing specific entries from different rankings, we see how these lists do not measure the same thing at all: wildly inconsistent methodologies lead to wildly inconsistent results. We also begin to see how, for each ranking, the arbitrary decision to highlight one aspect of the MBA experience will favor certain programs and penalize others.
One of the most well-regarded MBA rankings is that of US News, and it is often compared with Businessweek. The methodology they employ can be found on our US News MBA ranking page. In summary, US News ranks business schools on many different qualities, including salary, educational scores, and a peer assessment by deans of other business schools.
We know that both Businessweek and US News rankings take compensation into account and survey recruiters. But that is where the similarities end. For example, US News surveys the deans of the business schools, but does not survey the students. US News also takes average GMAT and GRE scores into account, as well as average undergraduate GPAs, where Businessweek does not.
This difference in approach has led to some very interesting discrepancies, which are highlighted in the table below:
| | Businessweek ranking | US News ranking |
| --- | --- | --- |
| Tuck | 2nd | 11th |
| Kellogg | 5th | 3rd |
| Darden | 10th | 14th |
| Yale | 11th | 7th |
| Fuqua | 15th | 12th |
For the most part, these differences can be explained by the varied criteria that Businessweek uses. Tuck, for example, ranks sixth on Networking and second on Compensation, and therefore, second in the overall ranking. However, even though Tuck ranks high on Compensation, which is also a component of the US News ranking, it is only averagely placed in the other categories assigned by US News, keeping it from the US News top 10.
Kellogg scores very well (2nd) on Networking, but as they place 25th and 23rd in Learning and Entrepreneurship respectively, Kellogg ends up two places lower than they do on the US News ranking. Fuqua's 59th and 65th places in Learning and Entrepreneurship respectively mean that Fuqua is also down three places compared to the US News ranking.
Yale, usually a top 10 business school, does not score particularly well on any of the sub-rankings created by Businessweek and is therefore ranked (only) 12th. Yale loses out here because the Businessweek ranking does not account for the factor that helps Yale rank well with US News: the Yale brand. Yale's reputation makes it score well among peer schools and recruiters, but this is a quality that is not tracked by the four sub-rankings employed by Businessweek.
Businessweek vs. Forbes
Reading through another US-focused ranking, that of Forbes, the same question arises: how can the Businessweek and Forbes rankings vary so widely? The methodology used by Forbes can be found on our Forbes MBA ranking page. In summary, Forbes only takes into account how much is gained (financially) by attending an MBA.
The most significant differences between the two rankings are presented here:
Businessweek
ranking
Forbes
ranking
Darden
10th
13th
Kellogg
5th
3rd
NYU Stern
11th
20th
McDonough
17th
31st
The Compensation category of the Businessweek ranking matches the Forbes ranking quite well, but because Forbes does not use any of the other categories that Businessweek does, the rankings differ significantly.
Darden ranks 10th on Compensation, which matches the Forbes ranking relatively closely. However, a second place in Learning and a fourth place in Networking mean that Darden ranks highly on the Businessweek ranking and not on the Forbes list.
Wharton ranks 8th on Compensation in the Businessweek ranking, but its low score in Learning keeps it subdued in 9th place overall, compared to its comfortable spot in the 5th position of the Forbes ranking.
What's interesting to see is that NYU Stern ranks 10th on Compensation but is ranked 20th overall by Forbes. This could be due to the five year delay inherent to the Forbes ranking—if the average compensation of NYU graduates has gone up in the past five years, it would take some time before this is apparent on the Forbes ranking, but it would already be visible on the Businessweek list.
Businessweek MBA Rankings: Key Takeaways
The Businessweek MBA Ranking attempts to measure the opinion of key stakeholders–students and recruiters–more accurately than any other listing. Unfortunately, their approach eschews quantitative data, and a lack of transparency makes it difficult to fully gauge the reliability of their rankings. Nonetheless, it might be useful for certain applicants to dig deeper into their Networking category, a feature unique to Businessweek but important to all MBA candidates.
So How Can You Find the Best MBA Program (Without Rankings)?
Once you determine roughly which schools you are qualified to attend–and the rankings can definitely factor into this initial list–we encourage you to leave the rankings behind and instead focus on the practical questions that will help you figure out which MBA program will provide value to your career. These are simple, practical questions:
Does the school have relationships with your target employers?
Is the alumni network interesting for your post-MBA career field and location?
Is the curriculum, both inside and outside the academic classroom, going to fill the gaps in your skills and experiences?
Are the faculty and research centers relevant to your interests?
Will you fit in culturally at the school?
Answering these questions will help you find an MBA program that can enhance your career.