3 Reasons to Hire a College Admissions Consultant
Wondering how to get into college? No doubt you've realized it isn't as simple as A to B. We wouldn't blame you for being overwhelmed by the looming heap of essays, activities, campus visits, interviews, deadlines, and decisions. It might feel like you've got 99 problems… and applying to college is every single one of them.
If you're here, you've heard the soothing promises of Admissions Consulting companies with starry-eyed words like "Ivy" and "Prep" in their names. You may have been impressed by the school shortlists they tote, and you know enough to steer clear of those who dangle hints about college admissions being akin to insider trading (care to comment, FBI?).
And if you've heard of College Admissions Consultants, you've also heard that their services are far from cheap. Plenty of kids get into college without them–so what's the big deal?
In asking that question, you're ahead of the curve. Healthy skepticism is a hallmark of a successful college student. We've put a lot of thought into this same question: it's core to the work we love. And, leaving existentialism at the door, we've come up with some thoughts worth sharing.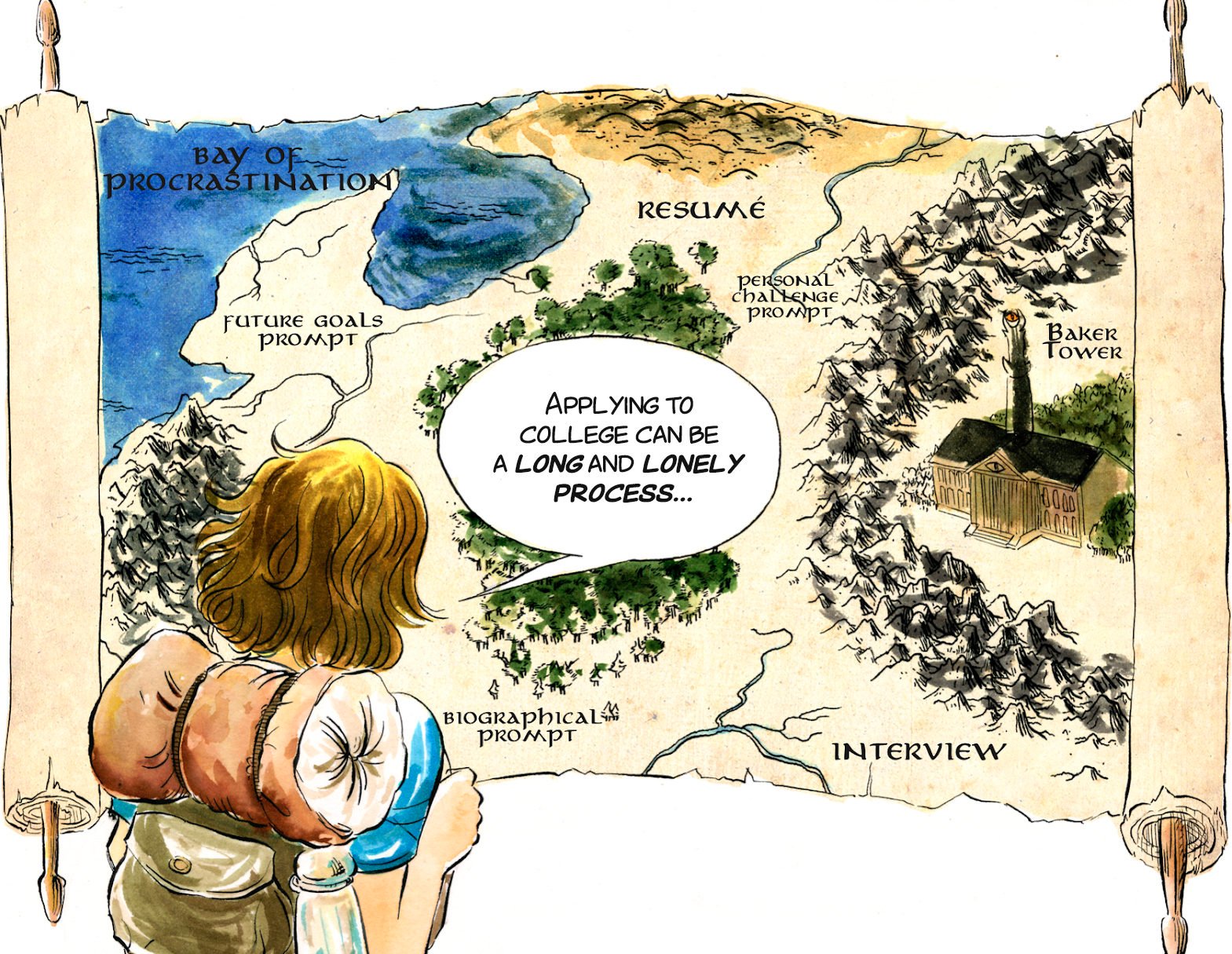 The first–not to mention the most important, and most obvious–is that Admissions Consulting isn't for everyone. There are countless factors, both practical and emotional, that drive a family toward or away from hiring a college admissions consultant.
This article breaks down these factors, and reveals what College Admissions Consultants should be promising–as well as what they shouldn't be. By the time you finish reading, we hope you'll feel fully equipped to sort through the static and set the right expectations for the college admissions assistance you deserve.
1. Relieve the College Application Stress
No sane parent wants to play helicopter for months on end, nagging resentful offspring about essays and test scores. On the flipside, most high school students cringe at the prospect of researching, planning, and handling every detail of the daunting application process solo. Adding gas to the fire, school counseling offices intended to help students are often overloaded and understaffed.
So families turn to outside help. Easy, right? Ms. or Mr. Consultant, step up and whack-a-mole those anxieties away.
Not quite. Work is called work for a reason, and college application done right requires a healthy balance of stress and composure. While we view "positive" stress as an indication that someone is serious about achieving their ambitions, the drastic downsides of negative stress (the generic, crippling variety) are obvious.
When mulling over whether to hire an Admissions Consultant in order to relieve stress, here's what to expect, and what not to expect:
Expect:
To have streamlined, facilitated communication. The best College Admissions Consultants work to gain a thoughtful understanding of both the student and the family from the start. They are crystal clear on the frequency and format with which they will communicate with both parties. They have robust systems to ensure that any hiccup in the process is identified early and tackled collaboratively. Above all, they avoid confusion like the plague, and they never make you ask for information you should already have.

To offload scheduling and planning. Deadlines become much less scary when you hit them two weeks early. A good Admissions Consultant establishes a clear timeline from the outset. When should they take their standardized tests, and when should they dive headfirst into their extracurriculars? The plan may shift, and a Consultant should be adaptable, ready to pivot if faced with a roadblock (like, say, a global pandemic). But it's crucial for the consultant to assume responsibility for roadmapping each step in the process – and it's something you absolutely deserve to expect.

Together, these two expectations ensure consistency and execution. With admissions assistance built on detailed planning and regular communication, you should never be worried about falling behind.
Don't Expect:
To avoid 100% of all apprehension. The distasteful truth about competitive admissions is that there is a certain element of chance. When the average number of applicants to an Ivy League school (many of whom don't even have the lowest acceptance rates) is just under 40,000, countless outstanding students must be rejected. Does this mean you won't get into a great school you're excited to attend? Absolutely not. But does it mean that you'll spend some time waiting anxiously for news? Probably, and an admissions consultant who tells you otherwise is lying. Lean on your consultant when you need a reality check – but don't expect them to sing lullabies.

To have a buddy, or have a taskmaster. A consultant's role is that of a mentor, guide, or coach. Each consultant will have their own approach within these bounds, but they should be clear that they're not there to crack jokes, nor to crack whips. A consultant who spends time and energy trying to make you feel good about yourself, or chastising you for every little slip-up, is not doing their job.

To completely ignore the process. Hiring a consultant is a commitment not only of money but of energy. No matter how busy your schedule may be, it's important that you expect to invest real time and thought into the weighty, complex decisions of the college application process.

2. Develop a Strategy for Tackling the Undergraduate Admissions Process
Did you hear that the Harvard and MIT acceptance rates increased for the class of 2024? Can you capitalize on competitive Early Decision acceptance rates being 10-15% higher than those for Regular Decision? And what does the trend toward Restrictive Early Action mean for applicants?
The funny thing about college admissions is that, while a family may endure the process several times, the vast majority of high school students go through it just once. And though no high school student has time to become a full-fledged admissions expert, rumors and legends abound. You probably heard about the alumna from your high school who ranked fifth in her graduating class but got into MIT and Yale, or the boy who went to Brown despite failing chemistry. Parents and peers have whispered about how they gamed the system, and how you could, too.

But now, as the world and Higher Education reel from COVID, it's more vital than ever to avoid rumor. The rules are changing, fast. When seeking college admissions assistance, you want someone who can think from both your perspective and the perspective of an Admissions Committee – no matter the crisis at hand.
Expect:
To understand each side of the process and timeline. Simply put, a college admissions consultant answers your questions – even the thorny ones. They are the steady captains navigating the sea of hearsay. Of course, not every honest answer will be a satisfying one (Will I get into Stanford if I apply REA? Probably not). Ask detailed questions early, and pay careful attention to the authenticity of the replies, which ought to be delivered in an even-keeled manner devoid of salesmanship.

To select a balanced school list. You've heard the terms "safety," "reach," and "target." Hopefully you're not intending to apply to 20 colleges. But how many do you pick, and how many ought to be dream schools with sub-20% acceptance rates? An admissions consultant should not only carefully assess your application, but launch an ongoing conversation about what you actually want out of college. They should help you:

– Cover the most ground, literally and figuratively, when arranging campus visits
– Nail down the essential questions you need answered about each school
– Find ways to have candid conversations with people who know the school
– Help you process your experiences after visits and conversations

Finally, they should think broadly at first and be ready to narrow as transcripts, test scores, awards and activities flow in. Only then will they be able to streamline the right list for you come deadline season.
To build a robust profile over time. Psst, a secret: the earlier you hire, the better. In fact, the ideal time to seek out assistance is before the 10th-11th grade summer. Why? Well, college admissions consultants ought to be fully invested in helping you explore or create passions, and seize opportunities to build them. They should help you capitalize on your summer to get that short story published, land that lab research internship, or accomplish any other achievable goal you set your sights on. Given time to know you well, the best admissions consultants will eagerly help you craft each facet of your profile.

To apply to the right schools at the right times. There's been a trend toward squeezing out as many Early Action applications as you can muster. But some competitive schools are wary of overcommitting: Admissions Officers may suspect that a top student wants back-burner options going into Spring, or they may simply be faced with a higher-grade early applicant pool. Some defer hard decisions to Regular Decision – others issue rejections. This is one of countless challenges that factor into quality college admissions assistance. A consultant ought to balance pragmatism, hope, and industry insight when working with a family toward a strategic timeline.
(By the way: if you're interested in an honest assessment of your profile, consider submitting your details through our People-Powered College Admissions Calculator. After you fill in the form, your responses will be shot over to an expert College Admissions consultant for careful review, and they'll bet back to you promptly with a personalized video review and some helpful notes on your profile).
Don't Expect:
To apply to schools based solely upon their rankings or names. Here's a common scenario in college admissions counseling: an applicant is considering different schools, but a wise relative is convinced that a spot at UChicago is their destiny. When asked why, this extended family member mentions another great kid who went there, or regurgitates marketing copy on the virtues of a vibrant community and small class sizes. Your college consultant should have both your success and your happiness as their top priorities – they should respect influential opinions, but remain unswayed by convictions strongly held and weakly informed. And they should never, ever pick a school list designed to pad their own resume.

To stubbornly pursue a narrow set of interests or goals. College is built on the idea of risk and reward. Beyond the financial investment, the first years of college constitute a giant leap toward independence and self-management – a leap during which too many fall. A college-ready student must be bold enough to make the right hard choice. An artist might register for AP Chemistry, while a coder might apply to a public speaking bootcamp. Getting into college is a far cry from climbing the corporate ladder, because there's no clear progression to the tippity top. If a teenager's head moves only on the X axis, a consultant will rightfully question their ability to rise to challenges, and will pick schools that pose none.
3. Tell the Right Story in Each Application
As more universities go test-optional, and top schools extend supplemental essays to obscene lengths, crafting a cohesive personal narrative has become increasingly essential. In many ways, this goes hand-in-hand with developing a strategy: to know where you're going, you ought to know where you've been.
One intriguing new wrench in college application storytelling is the fact that stories may now be found whether students like it or not. In a world where teenage TikTok accounts preempt White House press releases, is it so surprising that Admissions Officers are taking to the internet to bolster their scouting?
Yet, though social media and technology are providing more and more avenues of attack for storytelling, they have not yet supplanted traditional methods like the Personal Statement. To create a compelling portrait, college admissions consultants must help a student discover the experiences and values most meaningful to them, then communicate these with gripping authenticity.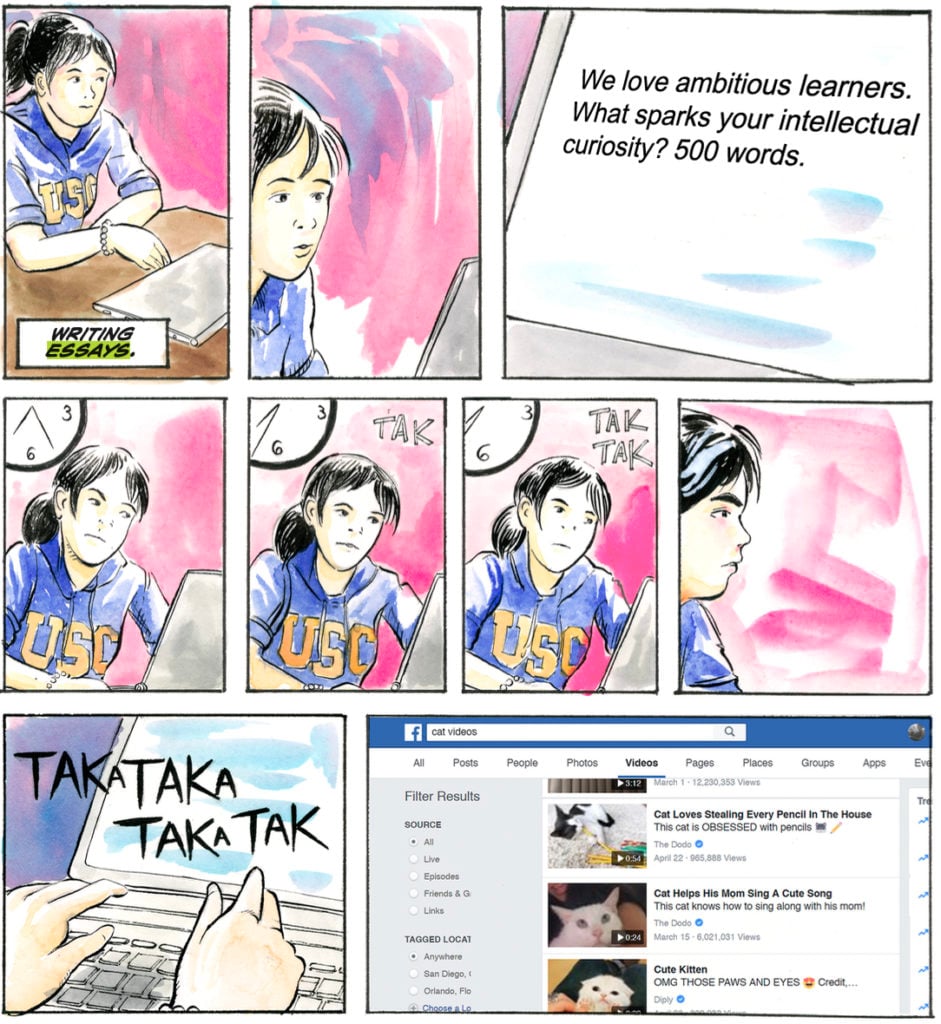 Expect:
To use new, challenging questions to reflect and brainstorm. The seven Common App personal statement prompts are thoughtful and broad. Yet they're stuffed animals: they look friendly, but they don't talk back. A college admissions consultant must help students give voice to these topics and others, moving deeper into questions that reveal maturity and growth. Over time, by speaking openly about the lighthearted and the profound, a student's story should crystalize organically. They should realize that moments of triumph are tied to embarrassments, and that the things they do to procrastinate may be grounded in passions they've yet to explore. They should feel comfortable telling their consultant about anything and everything that comes to mind, no matter how murky or disconcerting. Only after this trust is achieved can you and your consultant roll up your sleeves to structure and verbalize the episodes that have made you who you are.

To work closely on constructing a cohesive, compelling narrative. If you start early, and we hope you do, then your consultant's role is not just in processing experiences, but in creating them. They should take an active interest in your life outside of school, and coach you through how to best spend free time in pursuit of noteworthy, fulfilling moments. They should not seek to overload you or push you toward accolades that hold no appeal, though they might help you find some appeal you've overlooked.

To rehearse and refine the telling of your story aloud and in writing. There's a good reason we at Menlo emphasize giving our clients an edge with their communication skills. There's nothing more suspicious for an admissions officer or alumni interviewer than reading a striking Personal Statement only to meet a kid who speaks in five-word mumbles. A college consultant coaches you through practicing punchy answers to not only the standard interview questions, but to curveballs, too. They push you for examples that illustrate your claims. They help you get in front of multiple personalities, because you don't know if your eventual interviewer will resemble your older brother, or your grandma. Most crucially, they help you become a conversationalist adults will remember: someone who asks thoughtful questions, owns a natural sense of humor, and gets to the point.
Don't Expect:
To have your story built and written for you. No one else can do your introspection – memories are not organs to be surgically removed. Yes, a college consultant worth their salt can write masterpiece essays, but a college consultant willing to do so is not one to be trusted. Own the fun and the strain of soul-searching, and you'll reap its bona fide rewards. Outsource it to someone else, and you become a fraud.

To rush reflection. Writing a Personal Statement, and even writing certain supplemental essays, may feel circuitous. Many of our students go through dozens of drafts on five or more concepts, and we evaluate each with tender ruthlessness until we find its core potential, or lack thereof. A college admissions consultant should keep you from latching onto the first idea that sticks, and should make the drawing board exciting, not disheartening.

To tell the story you think the Admissions committee wants to hear. Many top students relentlessly compare themselves to others, and have no trouble finding "model" essays posted online by Ivy acceptees. The danger in reading others' personal statements is that you may end up mimicking their ideas without fully realizing it, which boils down to an evil instinct: to write primarily for your reader. While it's true that you don't want to come across as a jerk or an infant, mimicry will play worse than either. Do not expect your admissions consultant to jam your memories into a bulletproof framework guaranteed to wow any Admissions veteran.

So, what's the takeaway?
Our aim is that this article helps readers make two distinct decisions:
1. Whether to hire a college admissions consultant.
Did one or more of the reasons outlined above resonate with you? Is your family in a position to devote time and money to this crucial step toward your future?

If not, you may be content with the resources already at your disposal, or the programs well within your reach. We're happy you're covered.

If yes, you're ready to find yourself the right college admissions assistance. Which leads to decision two…
2. Which consultant to hire.
Most consultants (read: all good consultants) offer initial consultations for free. They might frame these conversations as an assessment of your background and goals, but they're also a chance for you to grill the person on the other end of the phone or table.
Use this article to ask punchy questions that matter. Do their answers hold up to scrutiny? Do they dodge hard truths? What can you learn about their process, not just their success stories?
---
Did you know….
The Menlo Coaching team includes people who have taught at UC Berkeley, Stanford and Cambridge and know a lot about top undergraduate programs. They bring their expertise into our signature approach, combining a suite of proven techniques with fresh insight into the college admissions process to provide a select cohort of students with exceptional coaching.
Get an Honest Assessment of Your Profile
With the Menlo Coaching College Admissions Calculator, you'll get robust, personal, and honest feedback on your profile, based on analysis by an expert college admission coach. You'll learn whether your target schools are realistic and whether they are well-aligned with your interests and ambitions. You'll also get some high-level ideas about how you can improve your candidacy on your own terms.
Ready to jump in?
If you want to work with a dedicated consultant who's proud to deliver the best sides of college admissions assistance for every family, get in touch. We're excited to meet you, swap stories with you, and guide you through a transformation. To save your spot, contact us today at [email protected] or for more information see our best Menlo Coaching College Admissions Consultant.