A Guide to the UVA Darden MBA Program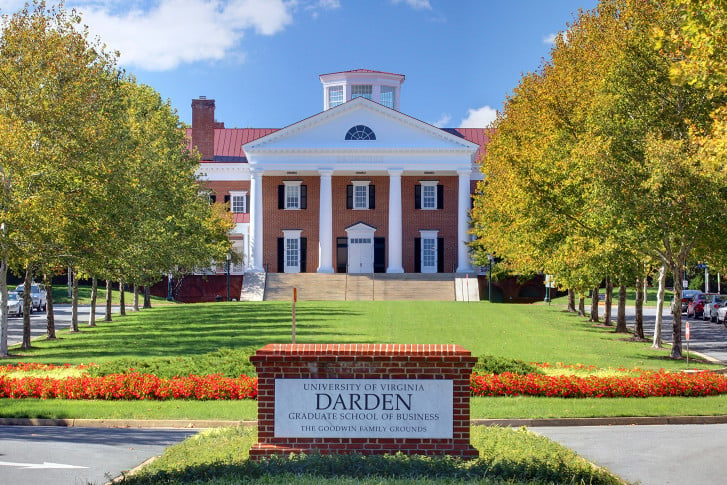 The Darden Graduate School of Business at University of Virginia , like HBS, uses a case method teaching approach, and frequently wins high ratings for professor and teaching quality in publications including The Princeton Review and Bloomberg. Because of the intense academic curriculum, the MBA program is sometimes lovingly referred to as a "bootcamp" by current and former students. In turn, this helps the school to place graduates successfully in fields that appreciate hard work, including management consulting and investment banking.
The limited class size of just over 330 students, secluded location in Charlottesville, Virginia, and the community rituals including First Coffee–a gathering in which the entire school community meets each morning–mean that you'll get to know nearly every other classmate in this program.
Darden is also committed to offering international education to the entire student body; through a generous donation, the Darden Worldwide Scholarship Program provides funding for every full-time MBA student to undertake an international opportunity as a part of their Darden business school experience.
UVA Darden MBA Class Profile
| | |
| --- | --- |
| Acceptance Rate | 36% |
| Class Size | 404 |
| GMAT Average | 703 |
| GPA Average | 3.50 |
| Average Age | 27 |
| Avg. Years Work Experience | 5.0 years |
| Diversity Women | 39% |
| Diversity Intl. | 24% |
| Pre-MBA Industries | Does not disclose |
| Undergraduate Majors | Does not disclose |
The data above is from 2020 and represents the UVA Darden MBA class of 2022.* ((Note: Acceptance rate is an estimate.)
See the full report: UVA Darden MBA Class Profile
Student Experiences
UVA Darden MBA Employment Report & Careers
Salary Average
$173,211.00
Offers Upon Graduation
94%
Offers At 3 Mos.
93%
Post-MBA Industries
Consulting: 41%
Technology: 20%
Financial Services: 19%
Other: 20%
Post-MBA Locations
Mid-Atlantic: 23%
Midwest: 5%
Northeast: 30%
South: 13%
Southwest: 15%
West:15%
Post-MBA Companies

Boston Consulting Group: 25
Bain: 17
McKinsey: 17
EY: 15
Amazon: 11
Dell Technologies: 8
Deloitte Consulting: 8
Wayfair: 8
Accenture: 7
Google: 7
Microsoft: 7
Capital One: 6

Career Development Resources
The data above is from 2020 and represents the career statistics for the UVA Darden class of 2020.* (Note: Salary Average is a total of Salary + Signing Bonus.)
See the full report: UVA Darden MBA Employment Report
UVA Darden MBA Academic Programs
MBA Curriculum
UVA Darden's MBA curriculum focuses on equipping their students with practical problem-solving abilities throughout the two years of the program. Year one has a strong emphasis on the case method, and in year two, you will continue to gain a hands-on academic experience by taking a range of elective courses. Students complete 10 courses over the first three quarters of their MBA as part of the core curriculum. Some of the topics covered in these courses are Decision Analytics, Strategic Thinking and Action, and Leadership Communication. Students complete these courses together with the "learning team" they are assigned to in their first year. At Darden, you can choose from over a 100 electives in a wide range of subjects to shape their academic experience. These electives fall under areas of study such as Communication, Ethics, and Sustainability.
See the full offering of courses: Darden MBA Course Catalog
Majors
Darden does not offer official majors as part of the MBA; however, the program does offer career track concentrations and specializations. The Management Science Specialization at Darden is a designated STEM specialization, which allows students to develop their analytical skills. Moreover, students can also select one or more of the following concentrations:
Asset Management / Sales and Trading
Business Analytics
Business Development and Growth
Corporate Finance / Investment Banking
Corporate Innovation
Entrepreneurship
Global Business
Innovation for Sustainability
Marketing
Strategy Consulting
Supply Chain Management
Experiential Learning Programs
Darden integrates the experiential learning component of the MBA throughout its curriculum. In addition to the program's emphasis on the case method, students also participate in consulting projects and live action cases as part of their coursework. The practical aspects of these classes are also complemented by global and domestic learning opportunities.
Research Centers
With nine research centers and initiatives, students at UVA Darden can find a rich community to further build on their academics. Among these initiatives are the Global Water Initiative and the Business Innovation and Climate Change Initiative.
MBA International Study Programs
As part of the full-time MBA international experience, students can elect to complete a global consulting project, a worldwide course, or an exchange program. The Batten Worldwide Scholarship at UVA Darden also covers the course fee for one worldwide course for all full-time MBA students.
Video Resources on UVA Darden Academics
UVA Darden MBA Application
The latest application requirements set by the Darden MBA admissions office are described below.
Essays
Here are the prompts for Darden 2020-2021 application:
Essay 1: Darden strives to identify and cultivate responsible leaders who follow their purpose. Please provide an example of a situation in which you have made a meaningful impact. (200 words)
Essay 2: Diversity and inclusion are critical to our mission, and they work best when they are an integral and celebrated part of our community. Read University of Virginia's Diversity & Inclusion Vision Statement (https://provost.virginia.edu/diversity). Share a time in which you engaged with a perspective, identity, community or experience that was different from your own and how it impacted your worldview. (200 words)
Essay 3: Tell us what you would want your learning team to know about you – personal, professional or both. (100 words)
Essay 4: What is your short-term, post-MBA goal and why? (150 words)
Additional Comments: If there is further information you believe would be helpful to the Admission Committee, please provide it. (250 words)
Letters of Recommendation
The 2020-2021 Darden recommender questions are as follows:
Please provide a brief description of your interaction with the applicant and, if applicable, the applicant's role in your organization. (50 words)
How does the performance of the applicant compare to that of other well-qualified individuals in similar roles? (E.g. what are the applicant's principal strengths?) (500 words)
Describe the most important piece of constructive feedback you have given the applicant. Please detail the circumstances and the applicant's response. (recommended word count: 500 words)
(Optional) Is there anything else we should know?
Video Resources on UVA Darden Admissions
UVA Darden MBA Admissions Interviews
Darden interviews are conducted by either admissions committee members, students, or alumni who will be looking for you to demonstrate soft business skills like communication and interpersonal skills.
For more on this, see our UVA Darden MBA Interview Guide.
UVA Darden Useful Links
What Makes UVA Darden Unique?
First Coffee: Students and faculty meet for daily coffee at 9am. Starting in 1955 at the school's founding, this intimate and friendly tradition allows the Darden community to connect outside of class.
Dual Degrees: MSDS+ MBA: These joint degree programs are designed to enhance the educational experience beyond what could be achieved if the two degrees were pursued independently. This program is similar to the Fuqua MSTEM program.
Jefferson Fellowship: If you submit a high GMAT score to Darden early on (through the official GMAT score reporting), they may invite you to apply for this full-tuition scholarship. Only a few applicants will win the scholarship, but a larger number of finalists will be awarded ordinary admission.
Darden Worldwide Scholarship Program: "With this scholarship, students can choose from courses based in more than two dozen countries on five continents, and the course fee will be covered by the Batten Foundation Darden Worldwide Scholarship." (At most programs, students pay extra to join the international programs.)
*All data retrieved from the UVA Darden MBA Program webpages, unless otherwise stated.