MBA Interview Prep: Top Tips and Mistakes to Avoid
Preparing for your MBA interview can be a daunting task. Researching MBA interview sample questions is an important and worthwhile task, but without understanding what the admissions committee is looking for, the format of the MBA interview, and how best to present yourself, it can only get you so far.
This is why we asked Sr. Admissions Consultant and MBA interview expert Obinna Arizor for his top MBA Interview tips. Read on to hear Obinna's tips for acing your MBA interview, as well as the mistakes you should avoid.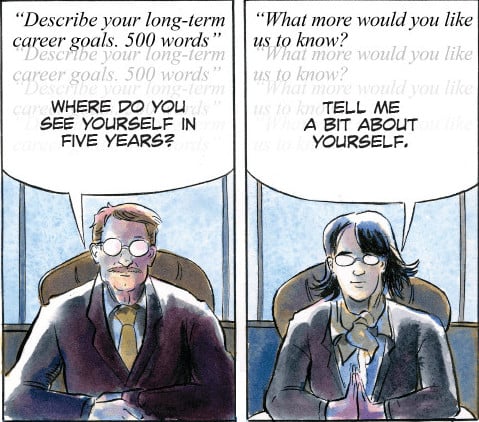 Jump to MBA Interview Mistakes
Top MBA Interview Tips
Tip #1. Compile a "Story Bank"
When applicants come to me, planning on applying to business school in a few years, I advise them to immediately begin using a diary to detail their experiences and check in and reflect on at least a quarterly basis. Also, take a look at our MBA applications and admissions guide.
If you haven't kept a diary, take the time to reflect on your professional experiences. As you complete this mental exercise, think through all of the scenarios that address each of the thematic areas likely to come up in the interview, and keep a running list to help organize your thoughts. I recommend thinking of stories first (macro prep) then thinking of which types of question the story can answer (micro prep). This is a better strategy than trying to prepare by simply rehearsing specific questions from the web, as you'll be prepared even for surprises.
We cover frequently asked interview questions in detail in our article, The Most Common MBA Interview Questions. You can also find program-specific details in our MBA Interview guides.
Tip #2. Research Frameworks
Most interviewees are familiar with the STAR (Situation, Task, Action, Result) framework for answering behavioral questions. It is the most widely used framework for good reason.
However, another favorite framework of mine is CARL. CARL organically encourages reflection on what one has learned, which can be especially helpful to round out a response. Remember that interviewers are not only concerned with what you did, but also how and why you did it.
STAR Framework for Interview Preparation
STAR
framework allows you to structure your thoughts and deliver an answer to the interviewer in a digestible way.
STAR
stands for:
Situation: Set the scene and give the necessary details of your example.
Task: Describe what your responsibility was in that situation.
Action: Explain the steps you took to address it.
Result: Share what outcomes your actions achieved.
According to the
Muse
,
STAR
format works well for answering behavioral questions with openings such as:
Tell me about a time when…
What do you do when…
Have you ever…
Give me an example of…
Describe…
CARL Framework for Interview Preparation
Another favorite framework of mine is
CARL
. CARL organically encourages reflection on what one has learned, which can be especially helpful to round out a response. Remember that interviewers are not only concerned with
what
you did, but also
how
and
why
you did it.
According to the University of Edinburgh
, this model can easily be used to guide your reflective process on experiences and deliver a compelling MBA admissions interview.
CARL stands for:
Context:

Briefly describe the context of your experience.

Action:

Explain what actions you took.

Results: Explain what happened as a result of your actions.
Learning:

Identify the lessons learned.
Aside from tackling each of the elements in either STAR or CARL, you'll want to make sure you are providing the optimal amount of detail for each part. For example, if you've spent 50-60 seconds detailing the situation or context, but only 5-10 seconds detailing what you did and the associated result, you likely missed the mark for the question by glossing over your value-add.
I recommend practicing with an expert coach or a trusted friend with professional experience to ensure you use framework effectively in conjunction with strong content.
Tip #3. Prepare Questions
At the end of almost every interview for MBA admissions, the interviewer will ask if you have any questions for them. They might not be evaluating your questions per se; but if you have nothing to say, or you ask basic questions, it will reflect poorly on you.
As you get ready for your interview, you should not only be thinking about how to answer questions. You should also develop some reflective questions that you can pose to the interviewer(s).
Remember: be flexible. For example, if the interviewer is an alumnus, you can tailor your question to their background as a former student of the program. Likewise, you should be asking questions specific to the program for which you are interviewing. This is a skill that often requires expert guidance and in-depth knowledge of the top business schools and their MBA program offerings.
You should have at least 3-4 meaningful questions to ask the MBA admissions committee during your interview–and if you have to adjust them on-the-fly, you should still aim to ask at least 3 questions before the interview is over.
Questions to Ask an MBA Interviewer
I've heard students/alumni describe the culture here to be XYZ. Would you say this is accurate per your experience so far?


In what direction is the program headed?


What kind of changes can be expected in the next 5 years?


Based on what you know about my profile, what advice would you give me if accepted into your program?
What Are the Most Common MBA Interview Mistakes?
Mistake #1: Lacking Concision
One of the biggest mistakes that business school applicants make during their MBA interview is lacking concision. Most MBA interviews last less than an hour, and interviewers will have you answer tough questions. Spending too much time on one MBA interview question will cost you precious time later in the interview.
Answering ten MBA interview questions very well but failing to give adequate answers to six will negatively affect your interview score. MBA interview questions are tailored to determine whether you possess certain traits the business school wants in an applicant. It's important to practice succinct responses, responding directly to the question and giving specific examples.
Admissions offers will likely submit a write-up summarizing your interview. Lacking concision will cost you in the post-interview reflection statement.
Mistake #2: Forgetting to Prepare
Not preparing for the MBA interview is a common application misstep. All MBA programs are unique, but there is a set of common questions that you should strongly prepare for. Some common MBA interview questions include: Why did you pick our MBA program? Why are you choosing to pursue an MBA degree? What are your short-term and long-term career goals?
Many of these could be questions you've already answered in you application essays, but verbalizing your responses while highlighting your key selling points to an admissions officer is an entirely different experience. Interview practice is essential to perfecting your answers and passing the MBA interview.
Further, depending on your schools, you could be subject to a blind interview. In this circumstance, the interviewer will have no prior knowledge of your resume, career goals, the extra-curriculars you're interested in, test scores, or employment history.
Interview Prep with Menlo Coaching
If you're interested in prepping for your MBA interview with Obinna and the Menlo Coaching team, reach out today! We offer mock interviews and school-specific training for HBS, Wharton, and Sloan.
Mistake #3: Mixing Up your Business Schools
MBA applicants usually apply to more than one business school, which can lead to some mix-ups. Citing an academic center, extracurricular activity, or class offered by Harvard Business School while interviewing at Wharton is not going to go over well! This common mistake is easily avoidable through careful preparation, thorough research, and organization.
If you choose to bring up a school-specific resource in conversation, make sure to use the correct terminology. Again, this will allow you to illustrate your genuine interest to the interviewer and boost your odds with the admissions staff.
Final Steps
Your goal in any business school interview is to show yourself in good lighting. Using the tips and avoiding the mistakes we've outlined should allow you to do just that. Some aspects of the interview are difficult to account for, but effective preparation is your best bet!