A Guide to the Tuck MBA Program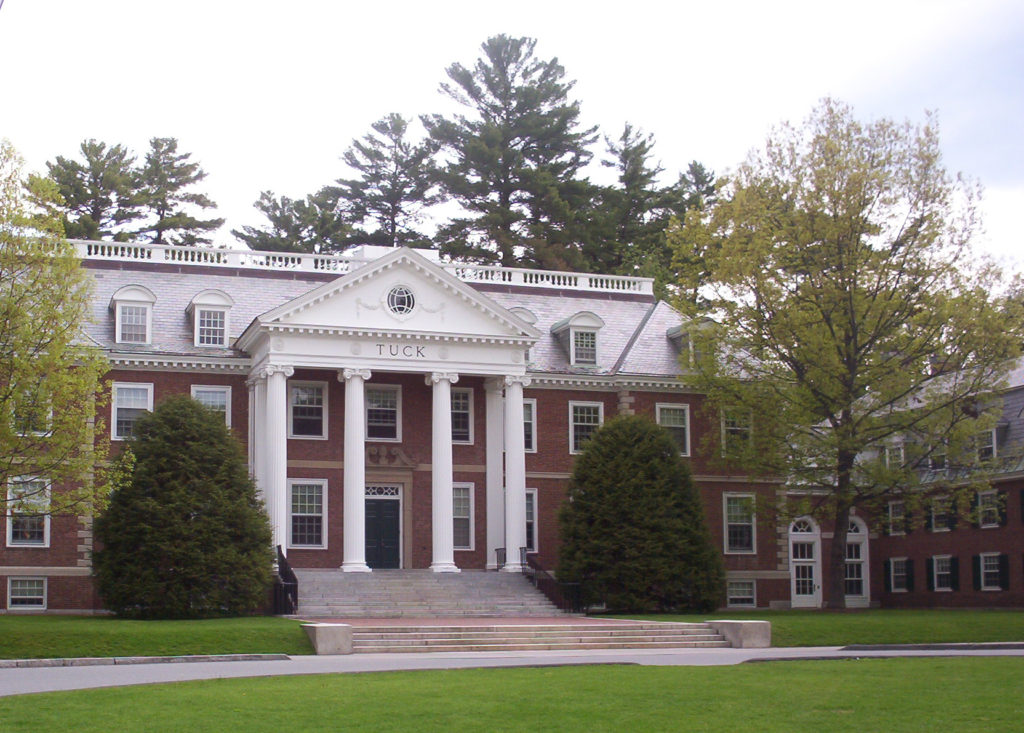 Many business schools talk about their "tight-knit community", but Tuck really delivers. Between the small class size, the remote location, and Tuck's focus on admitting "nice" students, you'll make a number of very close friends during the program.
Nearly every MBA program we visited told us a variation on the story of "our community is so tight that students competing for the same job will help each other with interview prep. Can you believe it?"
But the strength of Tuck's community is proven out by hard facts, like the ~70% alumni financial contribution rate, more than double that of most other top MBA programs. We've also heard cases of students attending multi-school recruiting events, and meeting some of their classmates there for the first time ever — a total impossibility at Tuck, where you can expect to literally know every other student.
This is not just a "nice-to-have" feature, but a real career advantage. Alumni are more likely to take your call and provide you with genuine help, whether on a job search or another request.
Tuck's location and small student community also offer the chance to form closer connections with professors, who have no teaching commitments related to part-time, executive or Ph.D. students, and can focus fully on full-time MBA students. It is not uncommon to have dinner at your professor's house.
Despite the remote location, Tuck's many career treks to NYC, the SF Bay Area, and other locations, in combination with the TuckGO program of international experiences, ensures that you'll never be limited by the location.
For fast facts on getting into the Tuck MBA program see, Your Chances at Tuck: Acceptance Rate & Other Factors.
Dartmouth Tuck MBA Class Profile
Class Size
287
Acceptance Rate
Does not disclose
GMAT Average
726
GPA Average
3.52
Average Age
Does not disclose
Avg. Years Work Experience
5.6 years
Diversity Women
45%
Diversity Intl.
43%
Pre-MBA Industries
Financial Services: 24%
Consulting: 23%
Nonprofit, Government: 11%
Health Care, Pharma, Biotech: 10%
Technology: 10%
Other: 7%
Consumer Goods, Retail: 6%
Energy: 3%
Media, Entertainment: 3%
Manufacturing: 3%

Undergraduate Majors
Arts/Humanities/Social Sciences: 41%
STEM: 30%
Business: 28%
The data above is from 2022 and represents the Dartmouth Tuck class of 2024.
See the full report: Dartmouth Tuck MBA Class Profile
Watch Admissions Director Luke Peña describe Tuck's ideal student: Tuck's MBA Admissions Criteria
Student Experiences
The Tuck Experience, as told by Admissions Director Luke Peña: Tuck MBA Student Experience
Dartmouth Tuck MBA Employment Report & Careers
Salary Average
$176,464.00
Offers Upon Graduation
Does not disclose
Offers At 3 Mos.
98%
Pre-MBA Industries
Consulting: 25%
Financial Services: 20%
Technology: 14%
Nonprofit/Government: 9%
Consumer Goods/Retail: 8%
Health Care/Pharma/Biotech: 6%
Energy: 5%
Media/Entertainment: 3%
Manufacturing: 2%
Other: 7%
Post-MBA Locations
United States: 97%
Mid-Atlantic: 8%
Midwest: 7%
Northeast: 53%
South: 3%
Southwest: 5%
West: 20%
Non-US: 3%
Post-MBA Companies
Career Development Resources
The data above is from 2021 and represents the career statistics for the Dartmouth Tuck class of 2021.*
See the full report: Dartmouth Tuck MBA Employment Report
Dartmouth Tuck MBA Academic Programs
MBA Curriculum
The Tuck MBA curriculum is spread out over eight terms in the two years of the program. This means that before beginning their summer internship, students will have a large number of courses under their belt. In addition, there are a number of activities scheduled before the start of each fall term. Tuck's core curriculum includes foundational courses in topics such as analytics, marketing, and operations management. Throughout the first year of the program, students take 13 core courses distributed over the fall, winter, and spring terms. Students also complete a project in the spring term of their first year. Tuck's elective curriculum consists of over 100 courses that cover topics such as accounting, finance, health care and ethics and social responsibility. Some courses within these topics include Managerial Accounting, Investments, Health Economics, Business of Health Care, Business and Climate Change, and Ethical Decision-Making. At Tuck, it is also common for students to complete an independent study supervised by two faculty members in their second year.
See the full offering of courses: Dartmouth Tuck MBA Course Catalog
Majors
Tuck does not offer official majors as part of its academic program. However, you may select electives that match your interests, and develop a deeper understanding of a particular topic by completing several electives in that area.
Experiential Learning Programs
The academic curriculum at Tuck places a strong emphasis on experiential learning. For instance, as part of the required first-year project, students must address real-world challenges faced by clients. Moreover, through the Center for Private Equity and Entrepreneurship and the Center for Business and Society, students can practically apply the theoretical knowledge gained in the classroom.
Research Centers
There are six research centers within the Tuck School of Business: the Center for Business, Government and Society, the Center for Digital Strategies, the Center for Entrepreneurship, the Center for Private Equity and Venture Capital, the Center for Health Care, and the Revers Center for Energy. Each of these centers provide students with a wide range of opportunities, events, and services.
MBA International Study Programs
The Tuck MBA offers its students the option to spend a term abroad at one of their 23 partner institutions. Additionally, you can choose to participate in the OnSite Global Consulting course where they provide consulting services to clients outside the United States. You may also opt to go on a faculty-led trek through the Global Insight Expeditions program.
Video Resources on Dartmouth Tuck Academics
Dartmouth Tuck MBA Application
The latest application requirements set by the Tuck MBA admissions office are described below.
Essays
Here are the prompts for Tuck's 2022-2023 application:
Career Goals (Short-term)
Share your short term goals. * (text box, 50 words)
Career Goals (Long-term)
Share your long term goals. * (text box, 50 words)
Career Goals
Tuck students can articulate how the distinctive Tuck MBA will advance their aspirations. Why are you pursuing an MBA and why Tuck? * (text box, 300 words)
Tuck "Fabric"
Tuck students recognize how their individuality adds to the fabric of Tuck. Tell us who you are. * (text box, 300 words)
Meaningful experience
Tuck students are encouraging, collaborative, and empathetic, even when it is not convenient or easy. Describe a meaningful experience in which you exemplified one or more of these attributes. * (text box, 300 words)
Optional Essay
Optional. Please provide any additional insight or information that you have not addressed elsewhere (e.g., atypical choice of evaluators, factors affecting academic performance, unexplained job gaps or changes). Complete this question only if you feel your candidacy is not fully represented by this application. (text box, 300 words)
Reapplicant Essay
How have you strengthened your candidacy since you last applied? Please reflect on how you have grown personally and professionally. (text box, 300 words)
Read more: Dartmouth Tuck MBA Essays: Tips for the 2022 Admissions Cycle
Letters of Recommendation
Tuck has adopted the essay questions posed by the Graduate Management Admission Council (GMAC) Common Letter of Recommendation. Please respond to the following questions in the space below. (text box, no word limit)
Interaction with the applicant — Please provide a brief description of your interaction with the applicant and, if applicable, the applicant's role in your organization. (Text box)
Performance Comparison — How does the performance of the applicant compare to that of other well-qualified individuals in similar roles? (E.g. what are the applicant's principal strengths?) (Text box)
Constructive Feedback — Describe the most important piece of constructive feedback you have given the applicant. Please detail the circumstances and the applicant's response. (Text box)
More to Know — Is there anything else we should know? (Text box)
Video Resources on Dartmouth Tuck Admissions
Dartmouth Tuck MBA Admissions Interviews
The Tuck MBA interview is typically 30-45 minutes and is usually conducted by Tuck Admissions Associates (TAAs)–trained second-year students who, following the interview, make recommendations on your candidacy to the admissions committee. Tuck interviewers are looking for you to demonstrate the school's four criteria: smart, accomplished, aware, and nice.
Dartmouth Tuck Useful Links
What Makes Dartmouth Tuck Unique?
*All data retrieved from the Dartmouth Tuck MBA Program webpages, unless otherwise stated.