Stanford GSB MBA Employment Report: Updated for 2022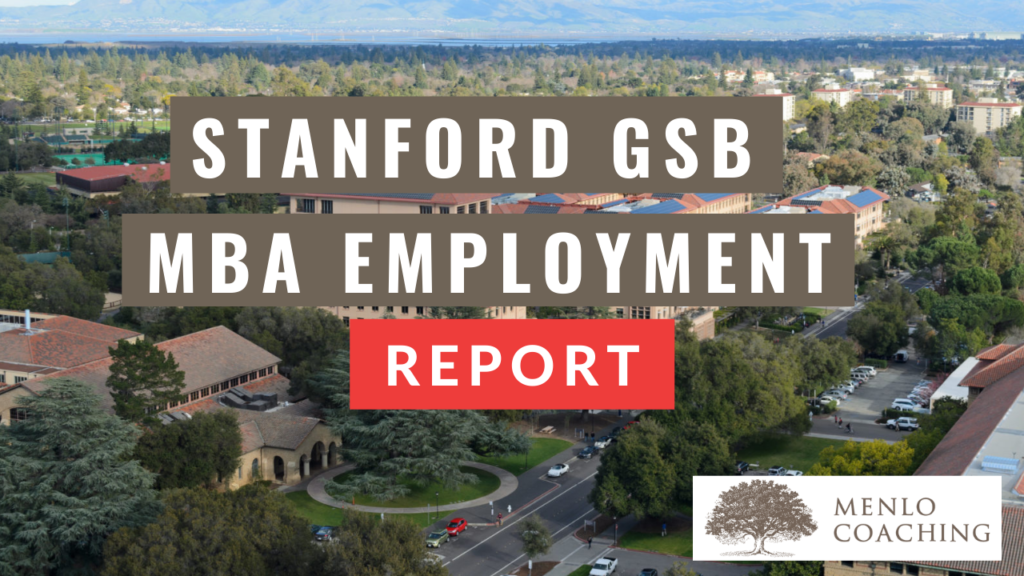 Stanford Graduate School of Business is one of the first schools that come to mind when you think of applying to business school. Known for its world-class professors, connections with influential alumni, and selective admissions, it's no surprise that the Stanford MBA class consistently re-enters the workforce as highly competitive applicants.
Though it ranks lower than Harvard Business School in endowment size, Stanford admits fewer students (7% as opposed to Harvard's 12%). A human-centered approach to business, focusing on emotional connections and the social impact its graduates can produce, is instilled within the Stanford MBA class. On this page, we'll provide an MBA employment report on the Stanford MBA class of 2021, including top industries, job locations, post-MBA employers, and average Stanford MBA salary.
Stanford GSB MBA Employment Report and Careers
Salary Average
$190,979.00
Offers Upon Graduation
82
Offers At 3 Mos.
96
Post-MBA Industries
Finance: 33%
Investment Management: 4%
Private Equity: 15%
Venture Capital: 11%
Other: 4%
Technology: 29%
Consumer: 14%
Enterprise: 6%
Other: 8%
Consulting: 18%
Healthcare: 5%
Media/Entertainment: 4%
Consumer Products: 2%
Real Estate: 2%
Agriculture: 1%
Education: 1%
Energy: 1%
Hospitality/Travel: 1%
Manufacturing: 1%
Transportation & Logistics: 1%
Other: 1%
Post-MBA Locations
United States (North America): 93%
Mid-Atlantic: 4%
Midwest: 7%
Northeast: 22%
South: 2%
Southwest: 2%
West: 56%
Non-US: 4%
Europe: 3%
Asia: 1%
Africa: 0%
Latin America & The Caribbean: 0%
Post-MBA Companies

Does not disclose

Career Development Resources
The data above is from 2021 and represents the career statistics for the Stanford MBA class of 2021.*
See the full report: Stanford GSB MBA Employment Report
Stanford GSB MBAs from the class of 2021 set a new record for graduate salaries for the seventh consecutive year, with an average Stanford MBA salary of $161,831, up $2,287 from the average starting base salary of 2020. Stanford GSB has also performed well in terms of average sign-on bonuses, which was $29,148, and average expected performance bonus, which was $78,373.
In the class of 2021, 96% of Stanford MBA graduates received employment offers within three months of graduation, up from 91% the previous year. 91% of Stanford MBAs accepted job offers within three months of graduation, up 6% from 2020.
In 2021, finance was the most common career path for Stanford MBAs, with 33% choosing this path. Stanford grads value the return on investment afforded by finance occupations, as evidenced by this high proportion. Stanford graduates remained focused on technology and consulting in 2021: the second and third most popular paths among Stanford MBA grads, respectively. In 2020, 29% of Stanford MBAs went into technology, up 1% from the previous year, while 18% went into consulting, up 3% from the previous year.
93% of the Stanford GSB MBA class found work in the United States (North America). The West attracted 56% of new Stanford GSB alumni, while the Northeast attracted 22%. The Midwest received 7% of Stanford GSB graduates, while the Mid-Atlantic received 4% of Stanford GSB grads. 2% of Stanford MBAs went to the South and Southwest. For their post-MBA jobs, 3% went to Europe and 1% went to Asia.
If you're thinking about changing careers, a Stanford MBA is a great place to start. There is a host of successful companies hiring Stanford MBAs, and you'll meet some of the top employers for the business school at company networking events, with the possibility of landing summer internships or post-MBA job.
Stanford GSB Career Management Center
The Stanford GSB career management center assists you in connecting with Center advisors and other career education professionals to construct a tailored career plan, improve your personal and professional skills, make strategic decisions, and achieve your objectives. This help won't stop once you graduate: you'll have access to Stanford GSB professional resources for the rest of your life. Not to mention the strong job market available to you as Stanford MBA graduate.
Consider the Career Management Center as a resource in your job search, both while you're a student and after you graduate. At every stage of your search, from deciding on exactly the job for you to receiving your job offer, the CMC centre can assist you by connecting you with a useful network, providing career resources, and providing one-on-one advising.