Prepare for your MBA interviews with mock sessions and personalized communications training. Learn More.
Ace Your UVA Darden MBA Interview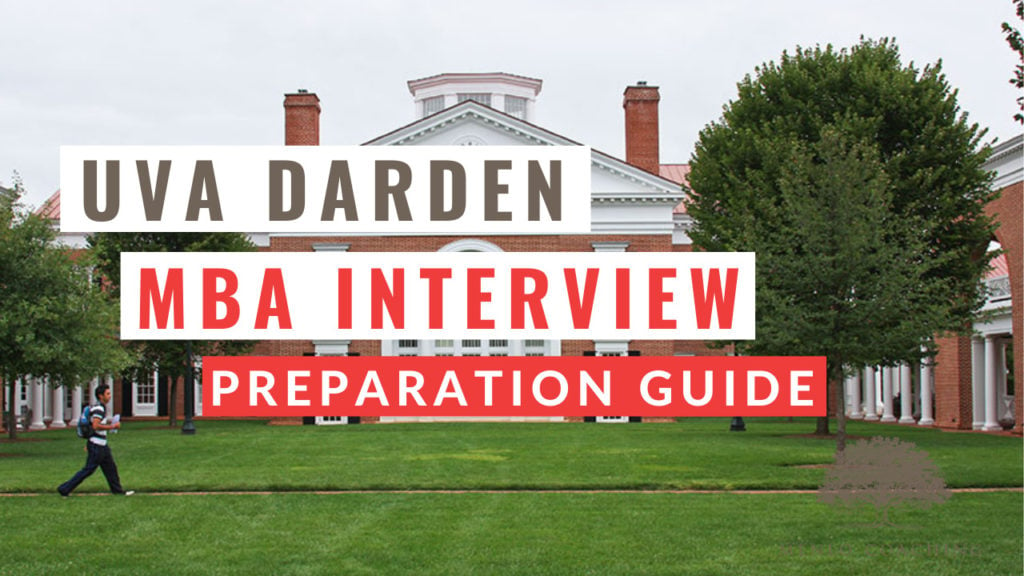 Quick Facts
Who does Darden interview?
Interviews are conducted by invitation only, though Early Action applicants can self-schedule guaranteed interviews.
Who conducts the Darden interview?
The interview is conducted by either a member of the admissions staff or the Student Admissions Committee. Jump ahead to read more about Darden's interviewers.
How long is the Darden interview?
Expect the interview to last 30 to 45 minutes. Jump ahead to find out more on the interview length.
Where is the interview held?
In-person interviews were previously mandatory for American students but are currently on hold for the 2022/2023 admissions cycle due to the COVID-19 pandemic. Interviews are now held remotely via Zoom. Jump ahead to read more on the interview location.
What is the format?
The Darden interview is blind and is designed to be a conversation about the background, goals, and interests of the applicant. Jump ahead to learn more about the format.
Deadlines and Decision Schedule
The Darden admissions committee sends interview invitations on a rolling basis up to the decision date.
Video Essays
Darden does not have a video essay component.
Detailed Overview
Drawing from Menlo Coaching's extensive client database of first-hand interview reports, this section offers the most up-to-date information on Darden's interview process.
Interviewer profile
For the most part our clients had their interviews with members of the admissions committee, although it is possible to have the interview with a student. Interviews are described as pressure-free and casual with the goal of having the applicant share their background and explain why they are choosing Darden. Interviewers may not know anything about the applicant other than their name, so applicants should be prepared to go into detail about themselves.
Some of our clients had behavioral questions, some did not. The interviewer will expect the applicant to do most of the talking and may only contribute a few sentences after each question before moving on to the next one. There may be some unexpected questions, but the questions themselves are straightforward and are not a "stress test." One client noted that going into the interview with a healthy attitude helped immensely.
Questions focus on both work/academic performance and community/extracurricular experience. Interviewers may also ask about the childhood or other earlier experiences of the applicant. For example, one client often moved internationally and the interviewer asked them how that impacted their worldview. Should a client have a unique background or life experience this would be an excellent opportunity to showcase it. One client stated that he was asked an unexpected question about college sports, but he was able to recover and answer the question without difficulty. Nonetheless—be ready for curveballs.
Length
With one exception, our clients report that the interviews lasted between 30 and 45 minutes.
Location
Although in person interviews on campus were previously mandatory, for the 2022/2023 admissions cycle Darden has canceled in-person interviews. For the time being an applicant should prepare for a video interview. As with any virtual business engagement, applicants should make sure that they have a high-speed wired Internet connection, good lighting, and that they point their computer camera at eye level.
Format
The interview is a basic question-and-answer session. The average interview has around 7 questions. Virtually all of our clients report that the questions were open. They noted that they needed to take the lead with open-ended questions and provide examples/anecdotes to illustrate achievements and highlight strengths.
The interview may end with the applicant being asked if they have any questions of their own. One of our clients pointed out that this was an excellent opportunity to add interactivity to the interview. They mentioned that this part of the interview added an element of communication that was lacking in the previous questions.
UVA Darden MBA Interview Sample Questions
This section lists a number of possible Darden questions. Like the details in the section above, these questions are sourced from Menlo Coaching's client database of first-hand interview reports.
You can use the questions below to conduct mock interviews that mimic an actual conversation. For best results, however, consider seeking expert help via Menlo Coaching's interview prep service.
The Darden interview, sample questions
Tell Me About Yourself
Why an MBA? Why Darden?
What is Your Leadership Style and How do You Apply it?
How Would Your Colleagues Describe You?
Tell Me About Your Childhood and College Experiences
What Clubs or Activities Would You Join at UVA?
What do You do Outside of Work? What Community Activities do You Participate In?
UVA Uses the Case Study Method. How do you See Yourself in that Environment and How Would You Learn and Contribute to it?
What Are Your Short and Long Term Goals?
Tell Me About Your Company and Your Role There
Questions for the Interviewer
If you're looking for guidance on how to answer questions like these with confidence, you can find detailed breakdowns for MBA interview questions here.