The Duke Fuqua MBA Interview Preparation Guide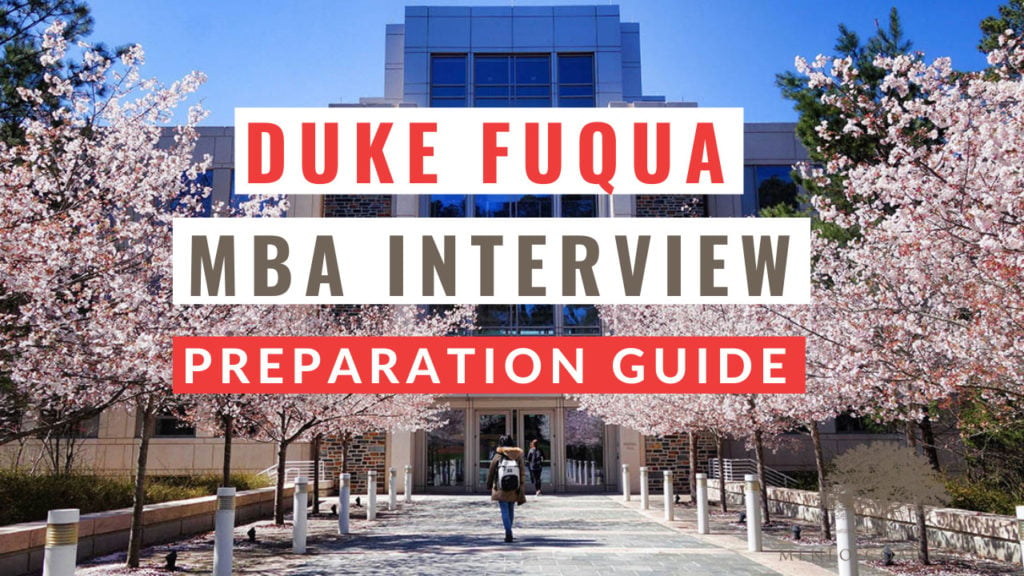 Quick Facts
Who does Fuqua interview?
Fuqua interviews are conducted by invitation only. However, there is an Open Interview Period wherein all early applicants will be guaranteed an interview. A completed application is not required to interview during the Open Interview Period, but you must have started an application and have completed the biographical information section.
Who conducts the Fuqua interview?
The interview may be conducted by either a staff member, current student, or alum. Jump ahead to read more about Fuqua's interviewers.
How long is the Fuqua interview?
The estimated time given by Fuqua is 30-45 minutes. Jump ahead to find out more on the interview length.
Where is the interview held?
For the 2022/2023 admissions cycle interviews will be held remotely due to the pandemic. Jump ahead to read more on the interview location.
What is the format?
Questions will be behavioral in nature and the interview will be blind. Jump ahead to learn more about the format.
Deadlines and Decision Schedule
| | | |
| --- | --- | --- |
| | Interview Deadline | Decision Deadline |
| Early Action | September 21, 2023 | October 19, 2023 |
| Round 1 | October 26, 2023 | December 08, 2023 |
| Round 2 | February 02, 2024 | March 12, 2024 |
| Round 3 | March 13, 2024 | April 05, 2024 |
More information available on Fuqua's Application Deadline Page
Video Essays
Fuqua does not ask for a video essay.
Detailed Overview
Drawing from Menlo Coaching's extensive client database of first-hand interview reports, this section offers the most up-to-date information on Fuqua's interview process.
Interviewer profile
The majority of our clients report having an interview with a second year student but one had their interview with an alum. Interviews are designed to give the applicant the opportunity to explain their resumes through relaxed conversation. The interviewer will have the applicant's resume but may not have read through it yet.
Interviews are described as being straightforward for the most part, although it is possible to receive an unexpected question or two. Most of our clients, however, had no surprise questions. The tone of the interview is conversational and informal.
Questions are heavily oriented towards workplace experience and management style. They range from open ended inquiries about leadership style to specific questions regarding career trajectory. The interviewer will also want to discuss why the applicant has chosen Fuqua for their MBA and what they can bring to the program.
Length
Although the given time for the interviews is between 30 and 45 minutes, our clients report that the remote interviews tend to run long. Expect to speak for around an hour.
Location
For the 2022/2023 admissions cycle Fuqua has suspended in-person interviews. For the time being an applicant should prepare for a virtual interview. As with any virtual business engagement, applicants should make sure that they have a high-speed wired Internet connection, good lighting, and that they point their computer camera at eye level.
Format
The Fuqua interview has a straightforward question and answer format. Applicants should expect about 12 questions/prompts that begin with a resume walkthrough. The interviewer may take notes.
At the end the interviewer will ask if the applicant has any questions for them. Since our clients tell us that Fuqua is interested in why the applicant wishes to attend their program, this would be an excellent opportunity for an applicant to demonstrate their genuine interest and curiosity about the Fuqua MBA.
Duke Fuqua MBA Interview Sample Questions
This section lists a number of possible Fuqua questions. Like the details in the section above, these questions are sourced from Menlo Coaching's client database of first-hand interview reports.
You can use the questions below to conduct mock interviews that mimic an actual conversation. For best results, however, consider seeking expert help via Menlo Coaching's interview prep service.
The Fuqua interview, sample questions
Walk Me Through Your Resume
Why an MBA? Why Fuqua?
What is Your Leadership Style?
How Do You Feel About Working in a Diverse Team?
Tell Me About a Successful Project You Worked on and How Did You Contribute to it?
Describe a Manager/Leader You Admired and What Did You Learn From Them?
What is Your Motivation Behind Your Career Goals?
Describe a Time Success Depended on Good Communication Skills
What Will You Add to the Class?
How Will You Choose Between Schools?
What Does "Team Fuqua" Mean to You?
Questions for The Interviewer
If you're looking for guidance on how to answer questions like these with confidence, you can find detailed breakdowns for MBA interview questions here.