What You Need to Know about UCLA Anderson's MBA Program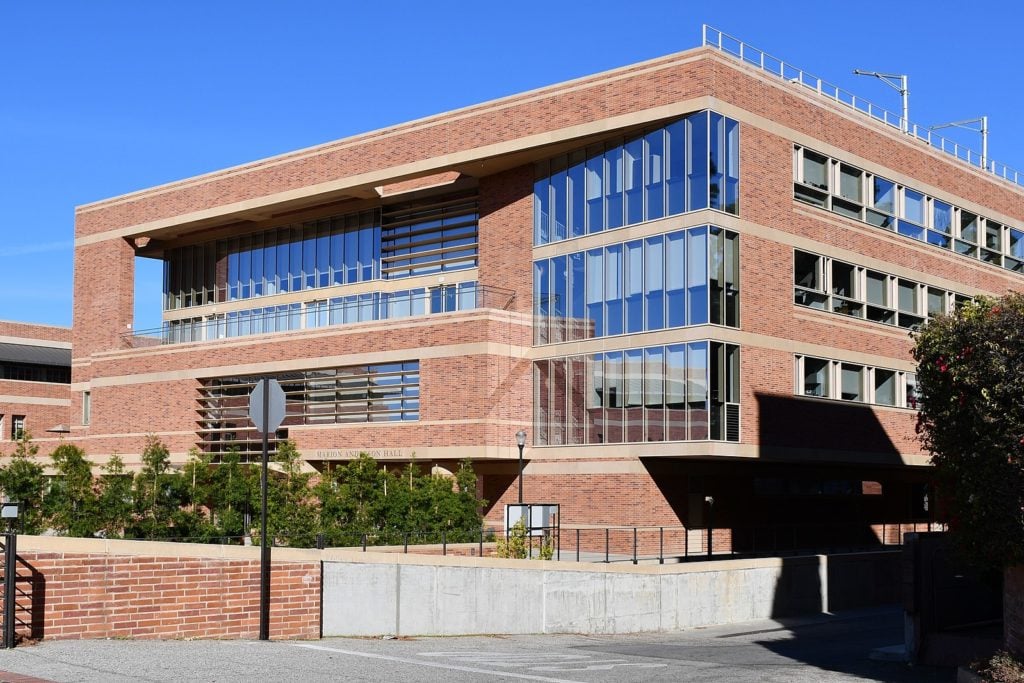 UCLA Anderson is the leading business school in Los Angeles, and it has excellent placement in the LA offices of McKinsey, BCG, and Bain, as well as top investment banks. The LA location also has an advantage if you're considering a career in tech post-MBA. LA ranks #3 in the tech job market in the country, after the San Francisco Bay Area and New York City, and this advantage is visible from the 30% placement of graduates into the tech industry.
We've also heard excellent things about the career development opportunities at Anderson. The Parker Career Center has received stunningly positive reviews from former Menlo Coaching clients. The center is also consistently ranked highly by The Economist and Bloomberg Businessweek.
You would be a good fit at Anderson if the business school's personal values of "share success", "think fearlessly", and "drive change" resonate with you. Anderson believes in a value-based approach to leadership and a collective approach to success. Moreover, Anderson is committed to fostering diversity in their program, which is bolstered by the variety of cultures present in Los Angeles, and UCLA's support for the Riordan Programs Alumni Association's Saturday Business Academy, which brings business education to inner city youth.
UCLA Anderson MBA Class Profile
Acceptance Rate
35%
Class Size
360
GMAT Average
706
GMAT Minimum
660
GMAT Maximum
740
GPA Average
Does not disclose
Average Age
Does not disclose
Avg. Years Work Experience
4.5 years
Diversity Women
40%
Diversity Intl.
36%
Pre-MBA Industries
High Tech: 26%
Finance: 22%
Consulting: 15%
Consumer Goods: 10%
Public/Nonprofit: 10%
Health Care/Biotech: 6%
Real Estate: 6%
Entertainment/Media: 5%
Undergraduate Majors
Business/Economics: 38%
Engineering/Math/Science: 32%
Humanities: 17%
Other: 13%
The data above is from 2020 and represents the UCLA Anderson class of 2022.*
See the full report: UCLA Anderson MBA Class Profile
Student Experiences
UCLA Anderson MBA Employment Report & Careers
Salary Average
$163,699.00
Offers Upon Graduation
Does not disclose
Offers At 3 Mos.
Does not disclose
Post-MBA Industries
Technology: 31.8%
Consulting: 25.4%
Consumer Products: 6.4%
Real Estate: 6.4%
Entertainment/Media: 5.5%
Investment Banking: 5.1%
Healthcare: 4.7%
Investment Management: 4.7%
Financial Services – Other: 4.7%
Non-Profit/Education/Gov't: 2.1%
Energy/Utilities: 1.3%
Transportation & Logistics: 0.8%
Other (includes Legal Services, Retail): 1.2%
Post-MBA Locations
Does not disclose
Post-MBA Companies

Does not disclose

Career Development Resources
The data above is from 2021 and represents the career statistics of the UCLA Anderson class of 2020.*
See the full report: UCLA Anderson MBA Employment Report
UCLA Anderson MBA Academic Programs
MBA Curriculum
UCLA Anderson's MBA curriculum is spread out across seven quarters over two years. Students take classes for four quarters in the first year and for the fall, winter, and spring quarters of the second year. The core curriculum at Anderson comprises nine foundation courses. Some of these courses include Data and Decisions, Business Strategy, Financial Accounting, and Operations Technology Management. Students begin taking elective courses starting the winter quarter of their first year. Some of the program's more popular classes are Technology Analytics, FinTech, and Digital Marketing Strategy.
See the full offering of courses: UCLA Anderson MBA Course Catalog
Majors
Students are not required to select a major as part of their MBA at UCLA Anderson. Instead, the program offers the option of specializing in one of the 15 available business areas. These areas cover aspects of business such as accounting, consulting, social impact, and real estate.
Experiential Learning Programs
As part of their degree requirement, students must complete a capstone project, which focuses on real world business challenges. Students can fulfil this requirement through Applied Management Research, the Business Creation Option, the Student Investment Fund, the Anderson Strategy Group, or the NAIOP Real Estate Case Competition.
Research Centers
Anderson is home to eight academic centers. These centers provide students with a community around their research interests in areas ranging from Finance and Investments to Marketing Studies and Data Analytics.
MBA International Study Programs
Students enrolled in UCLA Anderson all participate in international study programs in order to complete a global degree requirement. This requirement can be met in one of three ways. Students can complete a global immersion course, an international Applied Management Research Field Study Project, or an on-campus global management elective course.
Video Resources on UCLA Anderson Academics
UCLA Anderson MBA Application
The latest application requirements set by the UCLA Anderson admissions office are described below.
Essays
Here are the prompts for Anderson's 2021-2022 application:
Your Impact

How have recent events influenced the impact you would like to make in your community, career, or both? (text box, 250 words maximum)

Your Impact

(Optional) How have recent events influenced the impact you would like to make in your community, career, or both? (text box, 250 words maximum)

Career Goals

Describe your short-term and long-term post-MBA career goals. (text box, 600 characters)

UCLA & Your Goals

How can UCLA Anderson help you achieve your career and/or personal goals? (text box, 1000 characters)
Letters of Recommendation
The 2021-2022 Anderson recommender questions are as follows:
Interaction with the applicant — Please provide a brief description of your interaction with the applicant and, if applicable, the applicant's role in your organization. (Text box, 50 words)
Constructive feedback and the applicant's response — Describe the most important piece of constructive feedback you have given the applicant. Please detail the circumstances and the applicant's response. (Text box, 300 words)
Performance comparison — How does the performance of the applicant compare to that of other well-qualified individuals in similar roles? e.g., what are the applicant's principal strengths? (Text box, 300 words)
Optional — Is there anything else we should know? (Text box)
(Optional) Comment — Is there anything about your competency ratings on which you would like to comment? (optional) (Short answer)
Video Resources on UCLA Anderson Admissions
UCLA Anderson MBA Admissions Interviews
UCLA Anderson's interviews are typically 30 mins long, and take place either in person or via Skype. All interviews are conducted by second year MBA students, who receive your resume before the interview, but not your application.
For more on this, see our UCLA Anderson MBA Interview Guide.
UCLA Anderson Useful Links
What Makes UCLA Anderson Unique?
Parker Career Management Center: The career center is consistently top-ranked for student satisfaction. There is a 100% placement rate among students seeking an internship.
Fully Employed MBA: This three-year program boasts a strong ROI, with a reported 137% increase is salary 6-8 years post-MBA and a 23% — 34% salary increase during the MBA. The program also has three flexible schedule options, with classes all day on Saturdays, Tuesday and Thursday evening classes, and a hybrid schedule between the two.
*All data retrieved from the UCLA Anderson MBA Program webpages, unless otherwise stated.