Ace Your MBA Interview at the Tuck School of Business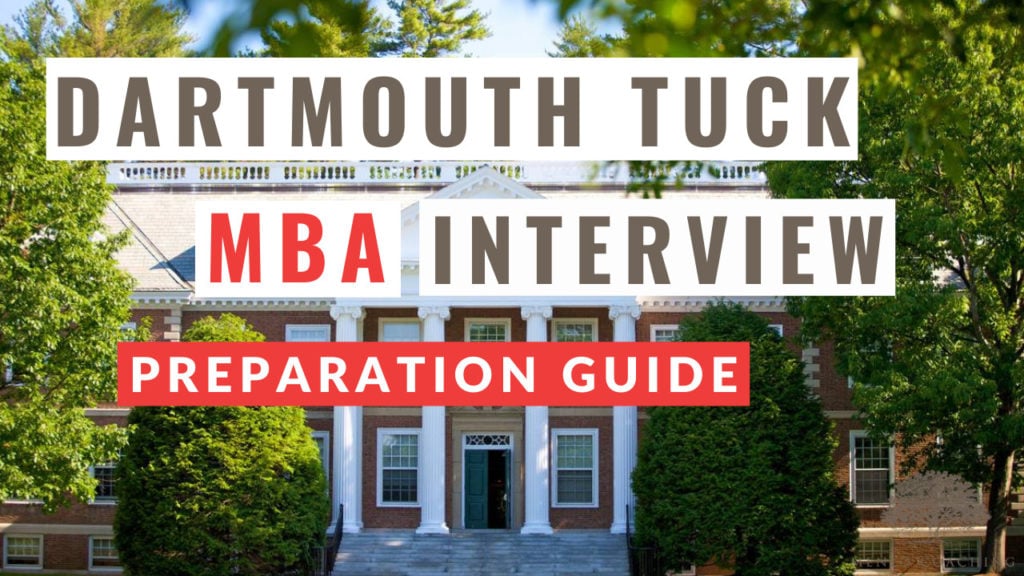 Quick Facts
Who does Tuck invite for interviews?
All applicants who submit a complete application, including Letters of Reference, by September 1, 2021 (or October 1, 2021 if applying to Tuck through the Consortium) are guaranteed an admissions interview.
For applicants who submit their application after September 1, 2021 (or after October 1, 2021 if applying through the Consortium), interviews are offered by invitation only.
Who conducts the Tuck interview?
Most interviews are conducted by a select group of trained second-year students. Jump ahead to find out more about the Tuck interviewers.
How long is the Tuck MBA interview?
30 – 45 minutes. Jump ahead to find out more on the interview length.
Where is the interview held?
In the past, Tuck has allowed for applicant-initiated interviews on-campus as well as invitation-only interviews on- or off-campus or virtually. For the 2021-2022 app cycle, all interviews are being conducted virtually. Jump ahead to read more on the interview location.
What is Tuck's MBA interview format?
Tuck conducts a blind, one-on-one interview where the interviewer has access only to your resume. The interview questions can be best described as behavioral. Jump ahead to learn more about the format.
Deadlines and Decision Schedule
Invitations to interview are released on a rolling basis. It is possible to receive an invitation to interview in the days prior to the decision notification date. The timing of an interview invitation does not reflect the committee's level of interest in an application.
| | | |
| --- | --- | --- |
| Application Round | Invitations to interviewsent beginning | Invitations to interviewsent until |
| Round 1 | Mid-August, 2021 | Early December, 2021 |
| Round 2 | Early December, 2021 | Mid-March, 2022 |
| Round 3 | Mid-March, 2022 | Late April, 2022 |
| Round 4 | Late April, 2022 | Late June, 2022 |
| Round 1 Consortium | Early October, 2021 | Early December, 2021 |
| Round 2 Consortium | Early January, 2022 | Mid-March, 2022 |
More information is available on Tuck's interview page.
Detailed Overview
This section is written by Obinna Arizor, a Tuck alumnus ('19) and former Tuck Admissions Associate.
What Makes Tuck's Interview Process Unique?
Tuck's culture is known to be friendly and collegial, and their interview process is no different. Tuck's interview process is often cited as one of the friendliest amongst all top-tier business schools. The interview typically focuses on three areas:
An understanding of the applicant's background and goals
An explanation of how they behaved in situations that arose in their professional and/or extracurricular environment
The applicant's understanding of how the program specifically complements their background and will position them for success
Tuck trains second-year students (referred to as Tuck Admissions Associates (TAAs)) to conduct the majority of admissions interviews. There may, however, be instances where an applicant interviews with a member of the Admissions Committee.
Length
The length of the Tuck interview is set at a half hour, but actual experience may vary. Interviews as long as an hour have been reported. In general, interview length seems to be determined by the personality of the interviewer (i.e. whether they spend more time on introductory remarks) or by the amount of questions the interviewee has for the interviewer.
Location
Before COVID, Tuck's goal was for applicants to self-initiate an interview and visit Hanover, New Hampshire. However, for those who were unable to do so, the Admissions Committee might have extended an invitation to interview in-person in Hanover, or even to interview virtually. This last option was especially common for international applications, but in the current pandemic, virtual interviews have become the new standard for all applicants. As already mentioned, Tuck is likely to revert back to its pre-COVID approach when normal business resumes.
Typical Tuck Interview Format
Again, the interviewer is focused on understanding the three areas listed above in a (roughly) 30-minute timeframe. The sequence of questions in the interview may vary by interviewer. Some interviewers may ask the applicant to detail their interest in an MBA at the onset and work backwards to detailing his/her professional experience/life, while others might start from an applicant's journey in the years preceding and work forward to the present day. Questions will largely be probing by nature, so one should not expect yes/no type questions or questions that do not require thought or further explanation. The interviewer will also allocate time toward the end of the discussion for Q&A.
Tuck MBA Interview Sample Questions
This section follows the Tuck MBA interview "question-by-question," or in rough chronological order. Like the details in the section above, these questions are sourced from Menlo Coaching's client database of first-hand interview reports.
You can use the questions below to conduct mock interviews that mimic an actual conversation with a Tuck TAA interviewer or a member of the AdCom.
For best results, however, consider seeking expert help via Menlo Coaching's interview prep service.
The Tuck MBA interview, question-by-question
Walk me through your resume.
Why MBA and Why Tuck specifically?
What project are you most proud of?
Describe your leadership style & give examples of when you demonstrated it.
Describe your strengths and weaknesses.
What is something you want the admissions committee to know about you?
Questions for the interviewer.