Get to Know the Indiana Kelley MBA Program: A Total Guide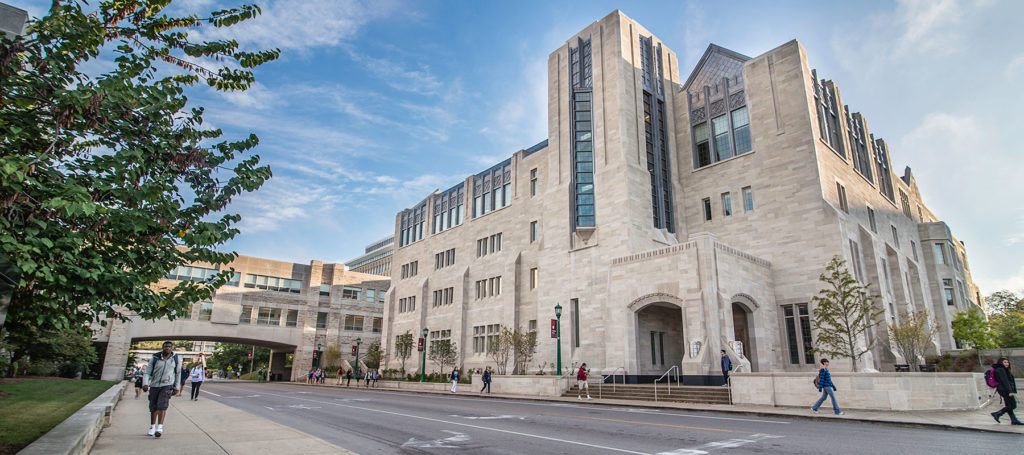 Indiana University's Kelley School of Business makes it a priority that you get the best return on investment on your MBA. To ensure that you make the most out of the program, Kelley's admissions staff will give you the guidance you need even before you arrive on campus. You will also receive professional career development resources at Kelley to help you find your personal brand and advance your career.
At Indiana Kelley, you will get the opportunity to participate in a five-day immersion program in Washington DC. This program focuses on the intersection between government and business, and will allow you to gain valuable experiences such as participating in congressional hearings and meeting students from other top MBA programs also in attendance.
Kelley's location in Bloomington, Indiana fosters a sense of community among students. Bloomington is a lively, diverse, bicycle-friendly college town, and although Indiana may be a conservative state, the city of Bloomington stands out as different by being both queer and vegetarian friendly.
Indiana Kelley MBA Class Profile
Acceptance Rate
43%
Class Size
92
GMAT Average
652
GPA Average
3.32
Average Age
29
Avg. Years Work Experience
5.5 years
Diversity Women
35%
Diversity Intl.
23%
Pre-MBA Industries
Does not disclose
Undergraduate Majors
Business Administration: 37%
Social Science and Humanities: 30%
Science and Engineering: 28%
Other: 4%
The data above is from 2020 and represents the Indiana Kelley class of 2022.*
See the full report: Indiana Kelley MBA Class Profile
Student Experiences
Indiana Kelley MBA Employment Report & Careers
Salary Median
$144,000.00
Post-MBA Industries
Technology: 21%
Consulting: 20%
Financial Services: 15%
Healthcare: 11%
Consumer Packaged Goods: 10%
Manufacturing: 9%
Retail: 7%
Energy: 1%
Media/Entertainment: 1%
Transportation Logistic Services: 1%
Other Services: 5%
Post-MBA Locations
United States: 98%
Mid-Atlantic: 7%
Midwest: 46%
Northeast: 12%
South: 7%
Southwest: 9%
West: 17%
Non-US: 3%
Post-MBA Companies

Does not disclose

Career Development Resources
The data above is from 2020 and represents the career statistics of the Indiana Kelley class of 2020.* (Note: Salary Median is a total of Salary + Signing Bonus.)
See the full report: Indiana Kelley MBA Employment Report
Indiana Kelley MBA Academic Programs
MBA Curriculum
Indiana Kelley's curriculum is distributed across four semesters over the two years of the MBA. In addition, students participate in a two week-long intensive team-building and career development program before they begin their first official semester. Students complete an integrated core component that comprises a variety of business fundamentals during their first semester. Alongside this integrated core program, you will also choose a first year academy in one of six areas: Business Marketing, Capital Markets, Consulting, Consumer Marketing, Strategic Finance, and Supply Chain and Digital Enterprise. The second year of the program has a strong emphasis on electives. A wide variety of electives that span across a diverse range of subjects are available to choose from. Some of the subject areas covered in the elective curriculum are Business Analytics, Management, and Marketing.
See the full offering of courses: Kelley Course Catalog
Majors
Students at Indiana Kelley can choose their major or minor from seven areas of focus. Each student must complete a major in one of the following subjects.
Business Analytics
Entrepreneurship and Corporate Innovation
Finance
Management
Marketing
Strategic Analysis of Accounting
Supply Chain and Operations
Experiential Learning Programs
There are three distinct ways in which Indiana Kelley offers experiential learning as part of the MBA. Students can elect to get involved in consulting projects, participate in brand management for nationally distributed products, or complete an intensive week of networking and education in Washington DC.
Research Centers
While at Kelley, students can take advantage of 14 established research centers and institutes. These include the Center for Excellence in Manufacturing, the Johnson Center for Entrepreneurship and Innovation, the Center for Real Estate Studies, and the Center for the Business of Life Sciences.
MBA International Study Programs
In addition to study abroad, students can choose to participate in Kelley's Global Business and Social Enterprise program to gain international exposure during the MBA. This project focuses on the intersection between business and global development in Southeast Asia, Latin America, and Africa. As part of the program, students work with a client throughout the semester, and spend a week at the client's home country.
Video Resources on Indiana Kelley Academics
Indiana Kelley MBA Application
The latest application requirements set by the Indiana Kelley MBA admissions office are described below.
Essays
Here are the prompts for Indiana Kelley 2020-2021 application:
Essay 1: Discuss your immediate post-MBA professional goals. How will your professional experience, when combined with a Kelley MBA degree, allow you to achieve these goals? Should the short-term goals you have identified not materialize, what alternate career paths might you consider? (500 words)
Essay 2: Respond to one of the following short essay prompts. (300 words) a. My greatest memory is… b. I'm most afraid of… c. My greatest challenge has been… d. I'm most proud of…
Essay 3: Share a brief fact about yourself that your classmates would find interesting, surprising, or noteworthy. (25 words)
Optional Essay: Is there anything else that you think we should know as we evaluate your application? If you believe your credentials and essays represent you fairly, you shouldn't feel obligated to answer this question. (300 words)
Letters of Recommendation
The 2020-2021 Indiana Kelley recommender questions are as follows:
How well and in what capacity do you know the applicant? (500 characters)
Does the applicant have potential as a leader and a manager? What have you observed that leads you to think the applicant will be successful? (500 characters)
Are there areas where the applicant can improve his or her potential for graduate study and a managerial career? If so, what are those areas? (500 characters)
Video Resources on Indiana Kelley Admissions
Indiana Kelley MBA Admissions Interviews
As part of the application process to Indiana Kelley, you may choose to schedule an open interview before you submit your application. Once your application is submitted, interviews are offered on an invitation-only basis. Interviews are offered on-campus in Bloomington, Indiana, and if possible, at various locations throughout the US.
Indiana Kelley Useful Links
What Makes Indiana Kelley Unique?
Largest Business School alumni network worldwide with over 117,000 alumni across six continents.
Me, Inc: Through this innovative Kelley career development program, you will explore your skills and goals as part of your personal brand, and how you can best use this knowledge to make the most out of your Kelley MBA.
Washington Campus Educational Consortium: Students can participate in an intense five-day program with immersion courses in Washington DC. Through this program, you can connect with legislators and business executives, and partake in congressional hearings to gain a deeper understanding of current affairs.
*All data retrieved from the Indiana Kelley MBA Program webpages, unless otherwise stated.