Ace Your Berkeley Haas MBA Interview!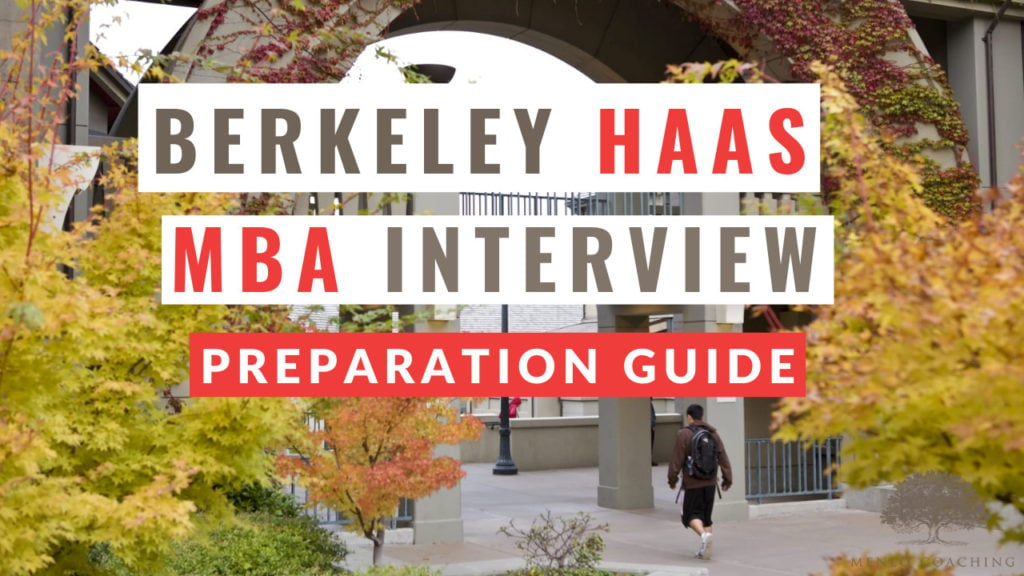 Quick Facts
Who does Berkeley Haas interview?
Berkley Haas will invite an applicant for an interview at their discretion. Do not contact Berkeley Haas for an interview. However, should an applicant receive an invitation, they can be assured of the admissions committee's interest.
Who conducts the Berkeley Haas interview?
Interviews are done at the preference of the applicant with either a current student or with one of the many alumni worldwide. Jump ahead to read more about the Berkeley Haas interviewer.
How long is the Berkeley Haas interview?
Expect the interview to last thirty to forty minutes. Jump ahead to read more about the interview length.
Where is the interview held?
As of August 7th, 2022, no updates have been released to suggest that interviews will take place in person this year. However, with campuses opening up again, it's quite likely that interviews won't have to take place online. Either way, we will update this page as soon as we know for sure. Jump ahead to read more about the Berkeley Haas MBA interview location.
What is the format?
Berkeley Haas uses blind interviews. Jump ahead to read more on the format.
Video Essays
There is no video essay at Berkeley Haas.
Haas Deadlines and Decision Schedule
Berkeley Haas has three application rounds for its MBA admissions cycle each year. Deadlines can be found on Berkeley Haas's Admissions Page.
Interview invitations for MBA applicants are extended 4 weeks after the application deadline, and continue on a rolling basis until the deadline for your application round. You will be notified by email if you are invited to interview. Remember, an interview will only be offered by Berkeley Haas if they feel that you are a strong candidate after your application has been reviewed.
Detailed Overview
Drawing from Menlo Coaching's extensive client database of first-hand interview reports, this section offers the most up-to-date information on Berkeley Haas's interview process.
Interviewer profile
Interviewers are either current students or alumni. Our clients report an even split between first and second year students from the two-year program. An alum could range from a recent graduate to a graduate from ten years ago. Alumni generally are more focused and to the point than current students, but both tend to take a friendly approach to the interview.
For the most part, interviews with both students and alumni are described as relaxed, informal, and even enjoyable. If you get the chance to interview, you can expect typical questions about workplace experience. There is also a strong emphasis on diversity and inclusion. Virtually all interviews had a question regarding experience with diversity and/or inclusion either in a workplace setting or outside of it.
One client was surprised at the lack of emphasis on professional goals in the interview, as the interviewer was concerned more with personal growth and values. Another client commented that there were not any "gotcha" style questions. Interviews appear oriented towards the personality and collaborative capabilities of applicants.
Length
The average duration of the interview is around 30 to 40 minutes, although the interview may go over an hour depending on how you and your interviewer engage with each other. This flexibility reflects the casual tone of the interview.
Some clients report that the interviewers read off a list of prepared questions, and their adherence to this list can lengthen the interview process. After the prepared questions, there is time given for you to ask some questions. Interviewers are more than willing to answer these questions in detail, which may cause the interview to go over the allotted time slot.
Location
Due to the ongoing pandemic, interviews with current students will be conducted remotely, as visitors are not allowed on campus. Interviews with alumni will also be subject to COVID-19 restrictions. Interviews on campus may resume after the pandemic.
For the time being it would be prudent to prepare for a video interview. As with any virtual business engagement, applicants should make sure that they have a high-speed wired Internet connection, good lighting, and that they point their computer camera at eye level.
Format
The interview will likely begin with the interviewer introducing themselves, perhaps some small talk, and then a list of questions that has most likely been provided by the admissions committee. After introductions, expect around 6 or 7 questions, during which the interviewer may take notes.
After these inquiries it is time for you to ask your own questions of the interviewer. One of our clients also used this remaining time to add some information about their experiences that wasn't covered by the questions. Virtually all of our clients describe their interviews with Berkeley Haas as informal and friendly, so you should be ready to talk about yourself and engage in conversation.
Berkeley Haas Interview Sample Questions
This section lists a number of possible Berkeley Haas MBA interview questions. Like the details in the section above, these questions are sourced from Menlo Coaching's client database of first-hand interview reports.
You can use the questions below to conduct mock interviews that mimic an actual conversation. For best results, however, consider seeking expert help via Menlo Coaching's interview prep service.
The Berkeley Haas interview, sample questions
Walk Me Through Your Resume/Tell Me About Yourself.
Why Go Back to School?
Tell Me About A Challenge That You've Faced and What Lesson(s) You Learned from It.
What Clubs and Activities Would You Get Involved With?
How Do You Show Humility in Your Work?
Tell Me About A Time You Used Data to Persuade Others Or Inform A Path Forward.
What Would You Bring to The Haas Community?
How Do You Manage Conflict or Difficult People At Work?
Provide an Example Of Fostering DEI At Work Or In The Community.
How Would Your Coworkers Describe You?
Questions for The Interviewer