Michigan Ross MBA Program – Everything You Need to Know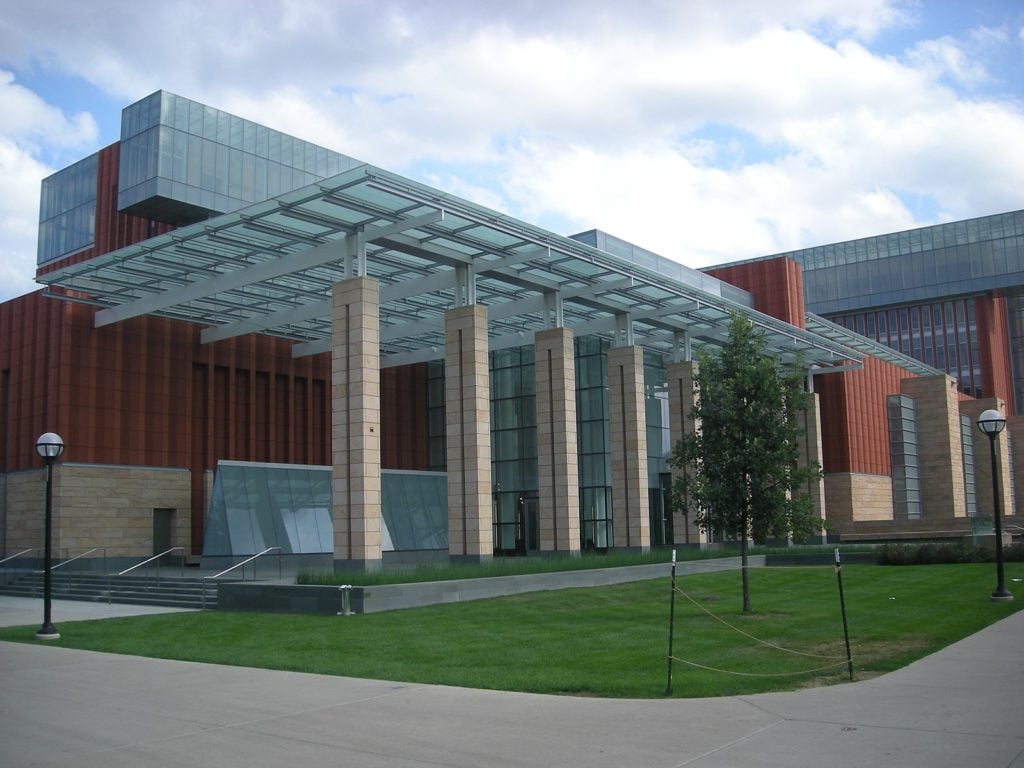 The University of Michigan, Ross MBA program puts a premium on hands-on experiential learning opportunities through its REAL programs, which offer students the chance to work on consulting projects for major companies, to make live real estate investments from a pool of student-run capital, or to work on an entrepreneurial venture.
The second most important factor about Ross is that it's connected to the overall University of Michigan and its immense alumni network. "Go Blue, Go Anywhere," as they say when referencing the school's trademark blue color, and there is a lot of truth in the claim that you'll find Michigan alumni in any major company or city.
The school also takes pains to recruit a class that will fit well into this network, using a fun group interview format in which the prospective students in a recent year had to tell a business story using buzzwords written on cards that were randomly selected.
Although Ross itself is situated in the beautiful Midwestern town of Ann Arbor, Michigan, most graduates don't stay there. Around 2/3rds of the graduates take jobs outside the Midwest, including 40% who move to either the Northeast or the West Coast.
The Ross admissions team takes care to put out a lot of information about the program, including the videos from Admissions Director Soojin Kwon featured below. If you're considering Ross, you owe it to yourself to learn a bit more about the program.
Learn more about Ross from our interview with Admissions Director, Soojin Kwon:
For fast facts on getting into the Ross MBA program see, Your Chances at Ross: Acceptance Rate & Other Factors.
Michigan Ross MBA Class Profile
Class Size
380
Acceptance Rate
28%
GMAT Average
720
GPA Average
3.50
Average Age
Does not disclose
Avg. Years Work Experience
5.6 years
Diversity Women
42%
Diversity Intl.
36%
Pre-MBA Industries
Consulting: 19%
Health: 14%
Finance: 14%
Education/Non-Profit/Government: 11%
Tech: 11%
Other: 11%
Military: 7%
Consumer Packaged Goods: 4%
Media/Hospitality/Sports: 3%
Engineering/Manufacturing: 3%
Energy: 3%
Undergraduate Majors
STEM: 40%
Business: 38%
Humanities: 22%
The data above is from 2022 and represents the Michigan Ross class of 2024.
See the full report: Michigan Ross MBA Class Profile
Student Experiences
Michigan Ross MBA Employment Report & Careers
In addition to the information below, learn more about the Ross MBA Employment Outcomes and Alumni Network from our interview with the Admissions Director.
Salary Average
$174,232.00
Offers Upon Graduation
90%
Offers At 3 Mos.
98%
Post-MBA Industries
Consulting: 35.1%
Technology: 24.9%
Financial Services: 15.5%
Consumer Packaged Goods: 7.9%
Healthcare (products and services): 5.6%
Manufacturing: 2.9%
Retail: 1.8%
Energy: 1.5%
Other: 5.0%
Post-MBA Locations
United States: 96.4%
Mid-Atlantic: 6.1%
Midwest: 29.2%
Northeast: 20.8%
South: 2.6%
Southwest: 8.5%
West: 29.2%
Non-US: 3.5%
Post-MBA Companies

McKinsey & Co.: 26
Amazon: 25
Boston Consulting Group: 19
Deloitte: 16
EY/Parthenon: 15
Bain & Co. Inc.: 9
PepsiCo Inc.: 8
Google Inc.: 7
Citi: 7
Microsoft Corp.: 7
PwC Strategy&: 6
Dell Technologies: 6
Bank of America Merrill Lynch: 6
Zillow: 5
Cisco Systems Inc.: 5
AlixPartners LLC: 5
Barclays PLC: 4
Accenture Strategy: 4
Visa Inc.: 4
Intuit Inc.: 3
West Monroe Partners: 3
Danone North America: 3
Guggenheim Partners: 3
Cummins Inc.: 2
American Express Co.: 2
Facebook Inc.: 2
Ford Motor Co.: 2
Optum Inc.: 2
Target Corp.: 2
Johnson & Johnson: 1



Career Development Resources
The data above is from 2021 and represents the career statistics for the Michigan Ross class of 2021.*
See the full report: Michigan Ross MBA Employment Report
Michigan Ross MBA Academic Programs
MBA Curriculum
Ross's MBA curriculum is spread out over the Fall A and B and Winter A and B quarters of years one and two. The second winter quarter of year one is dedicated to the Multidisciplinary Action Projects, which are field studies where students analyze multidisciplinary problems. The Ross core curriculum comprises nine required courses that are taken over the first three quarters of the MBA. Students must also complete two additional degree requirement courses: Competing in the Global Business Environment and one approved course in Business Law. The degree requirements can be completed either in year one or year two. At the end of year one, students at Ross bid on one of the several Multidisciplinary Action Projects available. These projects will help you decide on the selection of electives in year two. Some of the most popular electives at Ross include Entrepreneurial Turnaround Management and Integrated Product Development.
See the full offering of courses: Michigan Ross MBA Course Catalog.
Majors
While University of Michigan, Ross does not offer official majors as part of the MBA, you can choose to deepen your level of expertise by taking courses in one or more of nine academic areas:
Accounting
Business Communications
Business Economics and Public Policy
Business Law
Finance
Management and Organizations
Marketing
Strategy
Technology and Operations
Learn more about the Ross MBA Curriculum from our interview with the Admissions Director.
Experiential Learning Programs
University of Michigan, Ross provides you with several opportunities to experience action-based learning through a wide selection of courses. These courses focuses on four aspects of business: starting or launching a business idea, advising organizations on strategic issues, managing investments, and leading or operating an existing business unit.
Research Centers
Michigan Ross has six established research centers and institutes, where you can further engage with your studies: the Sanger Leadership Center, the Center for Positive Organizations, the Institute for Entrepreneurial Studies, the Erb Institute for impact and engagement, the William Davidson Institute, which is a non-profit research and educational organization, and the Tauber Center for Global Operations.
MBA International Study Programs
You can add a global component to your Ross MBA by participating in one of several internationally-oriented programs. These programs include a short-term global visit or a more in-depth semester-long exchange. Ross also provides the opportunity to apply for a global fellowship to allow students to develop their projects abroad. In addition, students can apply to complete a global internship with the Tata Group in India.
Video Resources on Michigan Ross Academics
Michigan Ross MBA Application
We interviewed Soojin Kwon, the admissions director at Ross, about what they seek in MBA candidates. Learn more at A Chat with Ross MBA Admissions Director and The Ideal Candidate at Ross.
The latest application requirements set by the Michigan Ross MBA admissions office are described below.
Essays
Here are the prompts for Ross's 2022-2023 MBA application:
Personal Reflection Essays

Select one prompt from each group of the two groups below. Respond to each selected prompt in 100 words or less. (200 words total)

Group 1


I want people to know that I:
I made a difference when I:
I was aware that I was different when:

Group 2


I am out of my comfort zone when:
I was humbled when:
I was challenged when:

Career Goals (Short-term)

What is your short-term goal? (25 words)

Why is this the right short-term career goal for you? (150 words)


One thing from your resume

Pick one thing from your resume and tell us more. (100 words)
Read more: Michigan Ross MBA Essays: Tips for 2022-2023
Letters of Recommendation
The 2022-2023 Ross recommender questions were as follows:
Relationship — Please provide a brief description of your interaction with the applicant and, if applicable, the applicant's role in your organization. (text box, 50 words) (Text box, 50 words)
Compare to other well-qualified individuals — How does the performance of the applicant compare to that of other well-qualified individuals in similar roles? Please provide specific examples. (E.g. what are the applicant's principal strengths? (text box, 500 words) (Text box, 500 words)
Constructive Feedback — Describe the most important piece of constructive feedback you have given the applicant. Please detail the circumstances and the applicant's response. (text box, 500 words) (Text box, 500 words)
Optional — Is there anything else we should know? (text box, no word limit) (Text box)
Video Resources on Michigan Ross Admissions
Michigan Ross MBA Admissions Interviews
The Ross MBA interview is a one-on-one behavioral interview, in which the interviewer only sees your resume. Since they will not see the rest of your application materials, the way you perform is critical. While giving tips for the Ross interview, the school's website states that "…there are only three questions you can be sure to be asked: (1) Why MBA? (2) Why Ross? (3) What are your post-MBA career goals? The rest may vary from interviewer to interviewer, but they will focus on your work experience and understanding your work style."
For more on this, see our Michigan Ross MBA Interview Guide.
Michigan Ross Useful Links
What Makes Michigan Ross Unique?
Ross Experiences in Action-Based Learning: REAL
REAL START – Develop, launch, and scale your original new business idea.
REAL ADVISE – Consult with real-world organizations on strategic issues, providing substantive analysis and recommendations.
REAL INVEST – Manage a student-run investment fund in all aspects of its operations.
REAL LEAD – Help operate an ongoing business unit with a corporate partner; lead your peers.
"Go Blue": "Go Blue, Go Anywhere"
With more than 50,000 Ross alumni in 108 countries, there will be opportunities everywhere. Being an alumni from Ross also gives access to the overall University of Michigan network globally; although this is true of every MBA program, the Michigan network is larger and more energetic than the networks of most host universities.
*All data retrieved from the Michigan Ross MBA Program webpages, unless otherwise stated.