2022-2023 MBA Essays: Tips for MIT Sloan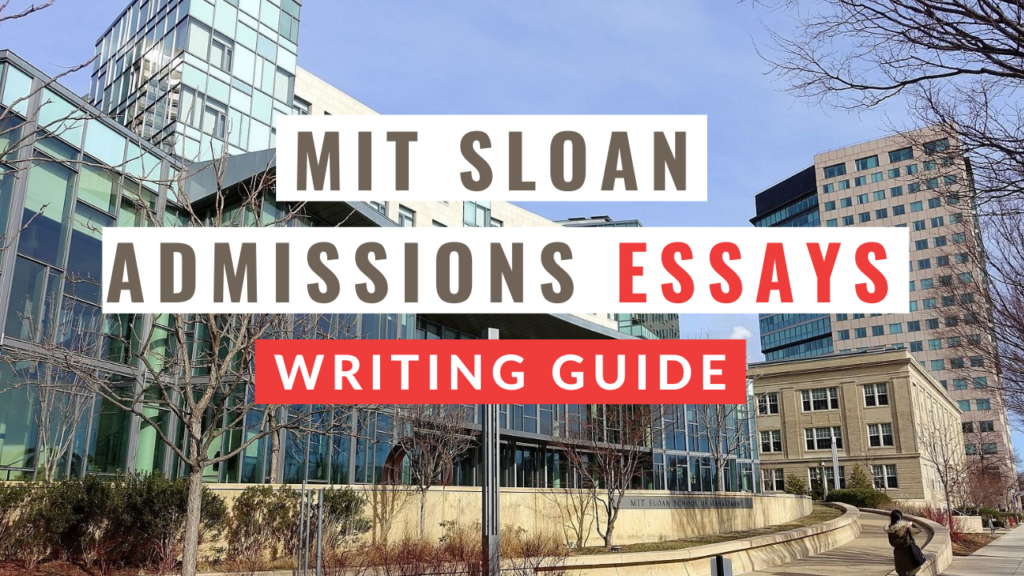 This year's MBA application prompts aren't out yet, but it never hurts to start brainstorming what your topics will be. Wondering where to start, what to write? No worries, we have all the tips you need to get a nice start on writing a quality essay for MIT Sloan.  
Sloan emphasizes impact – how their students and school community as a whole can impact the world. This is accomplished through research and global, innovative ideas brought forth by both students and faculty. Through the story you relate in your essay, the admissions council is looking to see if you reflect the same values that the school does. MIT Sloan is looking for students who are problem-solvers, practical, and excited to engage with the world. The best way to represent that you possess those qualities is through the type of essay you choose to write.
It's crucial to pick the right experience to discuss in your essay, and the different types of prompts help narrow that down for you. Keep reading for a closer look at the different types of essays, and how best to utilize them in order to write a stand-out essay for MIT Sloan.
The Personal Essay
Like we touched on earlier, schools are looking for the right fit for their campus community, just as you are searching for the school that aligns best with your goals. In the personal essay, this is your chance to show MIT Sloan the values that drive you both as a person and as a student. These values tell the admissions council what you prioritize, the moral code you live by, and, most importantly, who you are as a person.
In these essays, you can talk about almost anything; typically, applicants will write about relationships in their lives, or times when there was a hardship they had to overcome. Be warned, though: there are some topics to avoid, and we have outlined a few things to watch out for in this article.
Video Introduction

Introduce yourself to your future classmates. Here's your chance to put a face with a name, let your personality shine through, be conversational, be yourself. We can't wait to meet you!


Videos should adhere to the following guidelines:


No more than 1 minute (60 seconds) in length
Single take (no editing)
Speaking directly to the camera
Do not include background music or subtitles

Note: While we ask you to introduce yourself to your future classmates in this video, the video will not be shared and is for use in the application process only.
The Behavioral Essay
To make it simple: the behavioral essay is meant to show MIT Sloan that you have developed some sort of leadership skills, what your values are as a leader, and how you are going to most benefit from their development programs.
The admissions committee is looking for applicants that are self-reflective. Whether it's through a setback you've experienced, or how you dealt with situations that have gone awry, the school is looking for students who are resilient and able to learn from their mistakes.
Do not overexaggerate (or underexaggerate!) the situations you decide to write about. Be honest about what happened; MIT Sloan is looking for genuine people to join their campus community, and they are less likely to admit an applicant who has overinflated their prior experiences.
Last but not least, make sure to describe what you learned and how you implemented this in a subsequent situation. This is an expected element of the behavioral essay, even if it's not directly written in the prompt. The Admissions Team is looking for MBA essays that show you are a considerate leader who will make the best of their time in the program. The school "demand[s] integrity and respect[s] passion." Prompts that deal with these topics can be daunting, especially when they require you to write about a weakness you have or a failure you've experienced.
Cover Letter

MIT Sloan seeks students whose personal characteristics demonstrate that they will make the most of the incredible opportunities at MIT, both academic and non-academic. We are on a quest to find those whose presence will enhance the experience of other students. We seek thoughtful leaders with exceptional intellectual abilities and the drive and determination to put their stamp on the world. We welcome people who are independent, authentic, and fearlessly creative — true doers. We want people who can redefine solutions to conventional problems, and strive to preempt unconventional dilemmas with cutting-edge ideas. We demand integrity and respect passion. Please visit the website for frequently asked questions.


Taking the above into consideration, please submit a cover letter seeking a place in the MIT Sloan MBA program. Your letter should conform to a standard business correspondence, include one or more professional examples that illustrate why you meet the desired criteria above, and be addressed to the Admissions Committee (300 words or fewer, excluding address and salutation).
Upload a Word or PDF document.
Conclusion
Writing strong, coherent, genuine stories is an essential part of your MBA application. These essays are meant to help you stand out among many other applicants, so it is worth your time to do the work and write about situations unique to your life and that you truly learned from. Visit our process page to understand how Menlo Coaching can help you with your MBA essays for MIT Sloan.