Michigan Ross MBA Interview Preparation Guide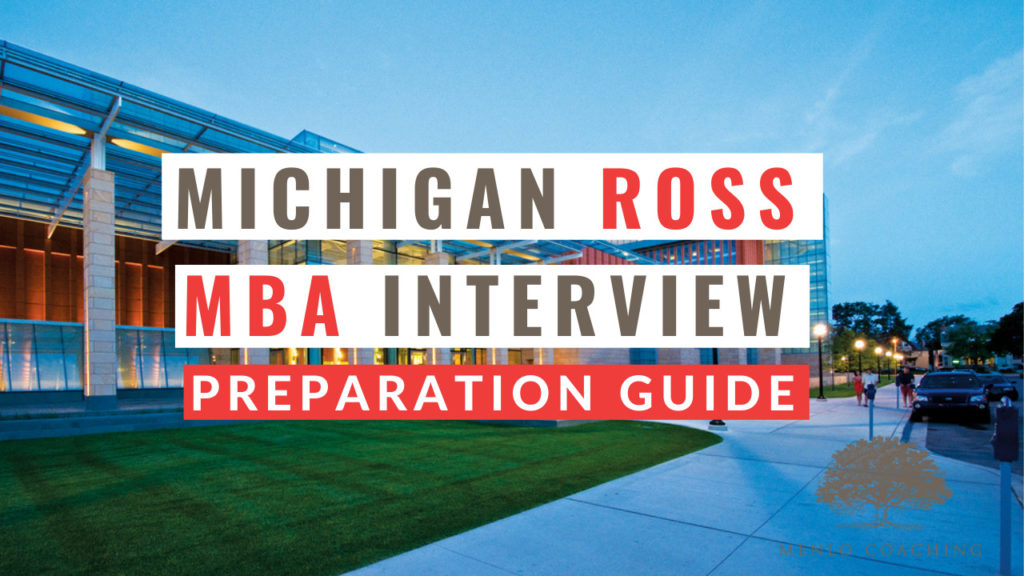 Quick Facts
Who does Ross interview?
Ross interviews are conducted by invitation only based on an evaluation of the submitted application.
Who conducts the Ross interview?
The one-on-one interview is conducted by either a student or an alum. There may also be a group activity if the interview is held in-person, although this is not an option for the 2022/2023 admissions cycle due to COVID-19. Jump ahead to read more about Ross's interviewers.
How long is the Ross interview?
On average an interview will last 30 to 45 minutes. Jump ahead to find out more on the interview length.
Where is the interview held?
In-person interviews are currently suspended for the 2022/2023 admissions cycle due to the COVID-19 pandemic. Interviews will be conducted remotely. Jump ahead to read more on the interview location.
What is the format?
Ross holds blind and behavioral interviews. While the interviewer will have read an applicant's resume, they will not have read the application itself. Jump ahead to learn more about the format.
Deadlines and Decision Schedule
The Ross admissions committee sends interview invitations on a rolling basis up to the decision date.
Video Essays
There is no video essay at Ross.
Detailed Overview
Drawing from Menlo Coaching's extensive client database of first-hand interview reports, this section offers the most up-to-date information on Ross's interview process.
Interviewer profile
Most of our clients report second year student interviewers, although there is also the possibility of having the interview conducted by a recent alum. Feedback from clients describe the students and alumni as "Midwest friendly" and report that the tone of the interview was relaxed and informal. One of our clients remarked that the student interview felt perhaps too casual.
Clients do not report any unexpected topics and describe the questions as generic. Interviews are conversational and seem to place emphasis on the work experience of the applicant. Applicants should be prepared to give examples of how they perform in the workplace, particularly in regards to conflict and teamwork.
Virtually all of our clients tell us that they had a relaxed and friendly interview, and in the case of group exercises, a fun experience. Applicants point out that because Ross highlights real-world experience in their program, the interview process is oriented to how an applicant will use their skills in a real-world setting.
Length
The average duration of the interview is around 35 to 45 minutes, although interviews in the 2022/2023 application cycle may last a little longer in order to make up for the lost group activity. Due to the informal and conversational style of the interviews, an applicant can also ask the interviewer about their experiences in the program, which can push the interview past the 45-minute mark.
Location
For the 2022/2023 admissions cycle, Ross suspended in-person interviews as well as group exercises. It is not yet known when in-person interview activities will start again. For the time being an applicant should prepare for a virtual interview. As with any virtual business engagement, applicants should make sure that they have a high-speed wired Internet connection, good lighting, and that they point their computer camera at eye level.
Format
After introductions the applicant will be asked around 7 or 8 questions, not including follow-ups.
The majority of interviews end with an opportunity for the interviewee to ask questions. Due to the conversational nature of the Ross interview, an applicant should be ready to both talk about their own experiences and listen to those of the interviewer.
Michigan Ross MBA Interview Sample Questions
This section lists a number of possible Ross questions. Like the details in the section above, these questions are sourced from Menlo Coaching's client database of first-hand interview reports.
You can use the questions below to conduct mock interviews that mimic an actual conversation. For best results, however, consider seeking expert help via Menlo Coaching's interview prep service.
The Ross interview, sample questions
Walk Me Through Your Resume/Tell Me About Yourself.
Why an MBA? Why Ross?
What are Your Career Goals?
Tell Me About a Time You Had to Change Directions on Something.
Tell Me About a Time You Mentored Someone.
How Do You Handle Difficult Feedback?
Tell Me About a Failure and How You Recovered From It and The Lesson You Learned?
If You Don't Get Into Business School What is Your Plan B and How Will You Achieve It?
What are You Most Proud of In Your Career?
Tell Me About a Time You Had To Work On Something You Didn't Want to?
Questions for The Interviewer
If you're looking for guidance on how to answer questions like these with confidence, you can find detailed breakdowns for MBA interview questions here.