A Guide to UW Foster's MBA Program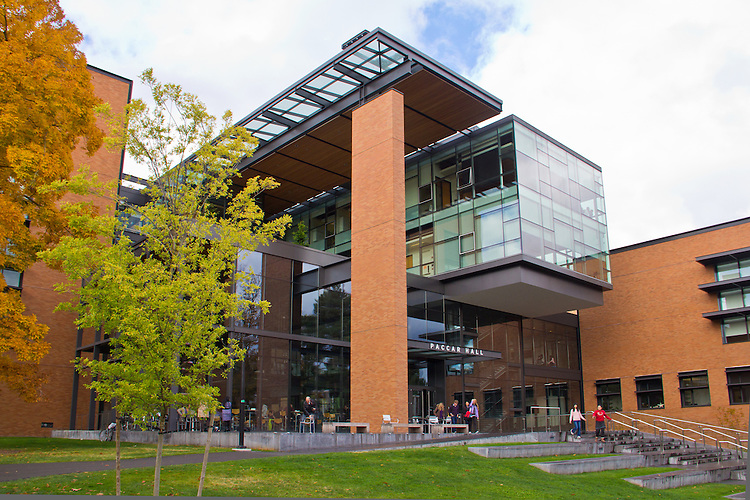 The University of Washington, Foster School of Business has the highest percentage of tech placement of any MBA program–it places a whopping 44% of its graduates into the technology industry! This high rate is driven by recruiting into large companies like Amazon and Microsoft's Seattle offices. The program also has a strong placement rate in general; 99% of graduates accepted an offer within 3 months of graduation.
The class sizes at Foster are small, with approximately 117 students enrolling into the program each year. The small class sizes will be beneficial to you in your career development and making the most out of your MBA. You will also benefit from Foster's mentorship program, which currently boasts a total of 80 participating executive mentors.
About 80% of Foster's graduates find employment within Washington state. The school's location in Seattle and its firm ties with the local business community is certainly an attractive aspect of the program. You will also get to enjoy the city's trendy neighborhoods and outdoor lifestyle. UW Foster is a great choice especially if Washington state is on your list of top locations.
UW Foster MBA Class Profile
Acceptance Rate
41%
Class Size
110
GMAT Average
692
GMAT Minimum
650
GMAT Maximum
730
GPA Average
3.37
Average Age
29
Avg. Years Work Experience
6.0 years
Diversity Women
37%
Diversity Intl.
24%
Pre-MBA Industries
Does not disclose
Undergraduate Majors
Engineering/Math & Science/Computer Sci.: 36%
Business/Economics: 35%
Social Sciences/Humanities: 29%
The data above is from 2020 and represents the UW Foster class of 2022.*
See the full report: UW Foster MBA Class Profile
Student Experiences
UW Foster MBA Employment Report & Careers
Salary Average
$161,854.00
Post-MBA Industries
Technology: 53%
Consulting: 19%
Financial Services: 8%
Consumer Packaged Goods: 7%
Other: 13%
Post-MBA Locations
Washington State: 69%
Other Washington States: 30%
Non-U.S.: 1%
Post-MBA Companies
Career Development Resources
The data above is from 2021 and represents the career statistics of the UW Foster class of 2020.* (Note: Salary Average is a total of Salary + Signing Bonus.)
See the full report: UW Foster MBA Employment Report
UW Foster MBA Academic Programs
MBA Curriculum
The University of Washington, Foster MBA curriculum is spread out over the Autumn, Winter, Spring, and Summer quarters of year one and the Autumn, Winter, and Spring quarters of year two. The core and elective coursework are interspersed throughout the two years of the program. Foster's core curriculum spans across the two years of the MBA. During the first year, students are required to complete a sequence of three intensive core courses that are subdivided into classes on a wide variety of business areas. Some of these classes cover topics in Leadership Development, Managerial Finance, Competitive and Corporate Strategy, and Operations and Supply Chain Management. Students complete Ethical Leadership and Decision Making and Analysis of Global Economic Conditions in year two. Foster offers a range of elective courses for you to choose from. The subject areas covered by the electives include Information Systems, Entrepreneurship, International Business, and Quantitative Methods. Students may also apply to take courses offered outside of the business school.
See the full offering of courses: Foster MBA Course Catalog
Majors
The University of Washington, Foster MBA does not provide official majors, tracks, or concentrations as part of the degree. However, students can choose to complete a certificate or specialization. Foster offers certificates in Entrepreneurship and Global Business and specializations in Marketing Analytics and Product Marketing.
Experiential Learning Programs
To add a practical learning component to their MBA, students can select from a wide variety of options within Foster's experiential learning program. Some of these options include joining a board of community directors, consulting for businesses and community organizations, and participating in case competitions required by the program. In addition, certain electives have project-based components where students engage with local businesses.
Research Centers
University of Washington, Foster is home to three research centers: the Center for Finance, the Center for Data Analytics, the Center for Management Innovation.
MBA International Study Programs
The Foster School of Business offers a certificate in Global Business. The coursework throughout the program also has a strong international emphasis, which is exemplified by the Global Business Forum MBA class. Professionals from various parts of the world come together in this course to discuss the advantages and challenges of doing business internationally.
Video Resources on UW Foster Academics
UW Foster MBA Application
The latest application requirements set by the UW Foster MBA admissions office are described below.
Essays
Here are the prompts for UW Foster 2020-2021 application:
Essay 1: Post-MBA Plans: Tell us your ideas about what lies ahead for you in your career. What are the gaps or deficiencies currently preventing you from pursuing these potential career paths? How do you plan to use your time in the Foster MBA program to fill these gaps and advance your career? (750 words maximum)
Essay 2: Inspiring Experience Essay: Tell us about an experience that inspired or confirmed your decision to pursue the MBA. (500 words maximum)
Optional Essay 1: Include this essay if you have additional information you believe would be helpful to the admissions committee in considering your application. (500 words maximum)
Optional Essay 2: Diversity, Equity & Inclusion essay: At the Foster School of Business, we embrace diversity as one of the foundations of both successful business strategy and a world-class educational experience. We share the University's dedication to promoting the understanding and appreciation of human differences, and the constructive expression of ideas. We welcome you to share some of the ways you have practiced inclusion, promoted equity or supported the advancement of underrepresented groups. (500 words maximum)
Letters of Recommendation
The 2020-2021 UW Foster recommender questions are as follows:
How long have you known this applicant and in what capacity? (300 characters)
In making this evaluation, what group are you using as a basis for comparison? (300 characters)
Video Resources on UW Foster Admissions
UW Foster MBA Admissions Interviews
The MBA Interviews for University of Washington, Foster are conducted either on-campus, off-campus, or virtually via Skype or Zoom meeting. Each interview is conducted by a member of the Foster MBA Admissions team. Your off-campus admissions interview will likely be conducted at a hotel.
UW Foster Useful Links
What Makes UW Foster Unique?
The Seattle location is excellent to network with tech companies in the area, as evident by the school's high placement of 44% in the tech industry.
University of Washington, Foster has a great return on investment and is ranked #1 by U.S. News & World Report 2019 for salary-to-debt ratio. The school also has a high overall job placement with 99% of graduates employed within three months after graduation.
Foster's MBA Mentor Program: Foster has strong relationships with top companies in the area who serve as MBA coaches to help guide students in their careers. The program currently has 80 executive mentors, which is especially high given Foster's small class size of about 117 students.
*All data retrieved from the UW Foster MBA Program webpages, unless otherwise stated.