2022-2023 MBA Essays: Tips for Northwestern University, Kellogg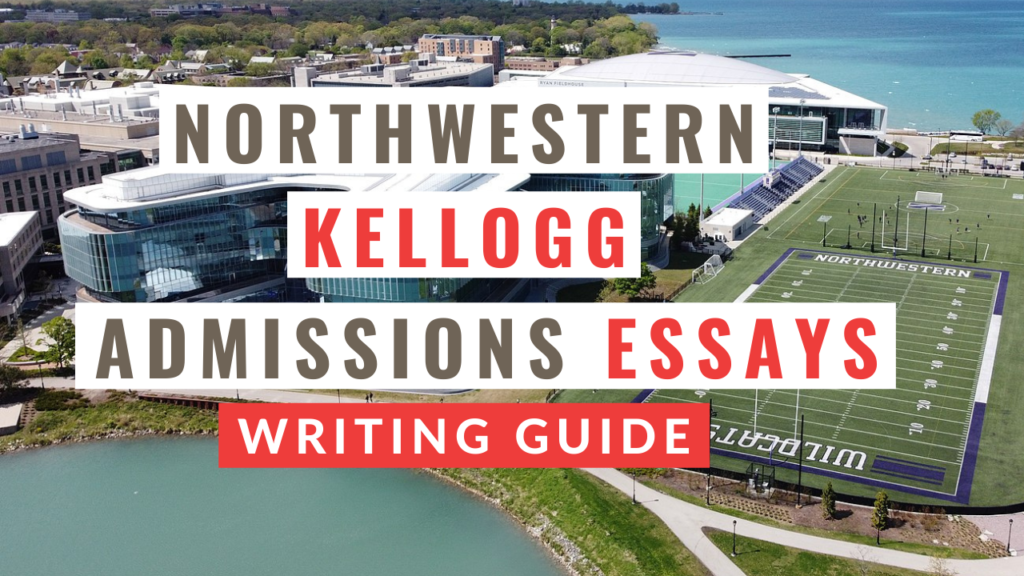 This year's MBA application prompts aren't out just yet, but it's a good idea to start brainstorming what your topics will be. Wondering where to start, what to write? No worries, we have all the tips you need to get a nice start on writing a quality essay for the Kellogg School of Management.
Student life at Kellogg is very active in the surrounding Evanston area, and the school frequently participates in philanthropic events, such as the Charity Auction Ball held in the winter, for example. Through the story you relate in your essay, the admissions council is looking to see if you reflect the same values that the school does. Kellogg is looking for students who are ready to be fully immersed in the programs, eager for group study spaces, and excited to collaborate with their fellow students. The best way to represent that you possess those qualities is through the type of essay you choose to write.
It's crucial to pick the right experience to discuss in your essay, and the different types of prompts help narrow that down for you. Keep reading for a closer look at the different types of essays, and how best to utilize them in order to write a stand-out essay for Northwestern Kellogg.
The Personal Statement Essay
Like we touched on earlier, schools are looking for the right fit for their campus community, just as you are searching for the school that aligns best with your goals. In the personal essay, this is your chance to show Kellogg the values that drive you both as a person and as a student. These values tell the admissions council what you prioritize, the moral code you live by, and, most importantly, who you are as a person.
Kellogg is looking for applicants who are willing to be vulnerable. Doing this allows you to more fully understand the concepts you are learning, especially when the lessons deal with situations in your real life. Being vulnerable also enables students to relate to one another, thus creating a comfortable, encouraging learning environment.
In these essays, you can talk about almost anything; typically, applicants will write about relationships in their lives, or times when there was a hardship they had to overcome. Be warned, though: there are some topics to avoid, and we have outlined a few things to watch out for in this article.
The Behavioral Essay
To make it simple: the behavioral essay is meant to show the Kellogg admissions team that you have developed some sort of leadership skills, what your values are as a leader, and how you are going to most benefit from their development programs.
The admissions committee is looking for applicants that are self-reflective. Whether it's through a setback you've experienced, or how you dealt with situations that have gone awry, the school is looking for students who are resilient and able to learn from their mistakes.
Do not overexaggerate (or underexaggerate!) the situations you decide to write about. Be honest about what happened; Kellogg is looking for genuine people to join their campus community, and they are less likely to admit an applicant who has overinflated their prior experiences.
Last but not least, make sure to describe what you learned and how you implemented this in a subsequent situation. This is an expected element of the behavioral essay, even if it's not directly written in the prompt. Kellogg utilizes case studies and experiential activities to help leaders realize their full potential, and they want to see that you have that ability already within you. Prompts that deal with these topics can be daunting, especially when they require you to write about a weakness you have or a failure you've experienced.
Leadership

Kellogg's purpose is to educate, equip and inspire brave leaders who create lasting value. Provide a recent example where you have demonstrated leadership and created value. What challenges did you face and what did you learn? (text box, 450 words) (text box allows 480 words)
Conclusion
Writing strong, coherent, genuine stories is an essential part of your MBA application. These essays are meant to help you stand out among many other applicants, so it is worth your time to do the work and write about situations unique to your life and that you truly learned from. Visit our process page to understand how Menlo Coaching can help you with your MBA essays for the Kellogg School of Management.