The Rice Jones MBA Program – What to Know as an Applicant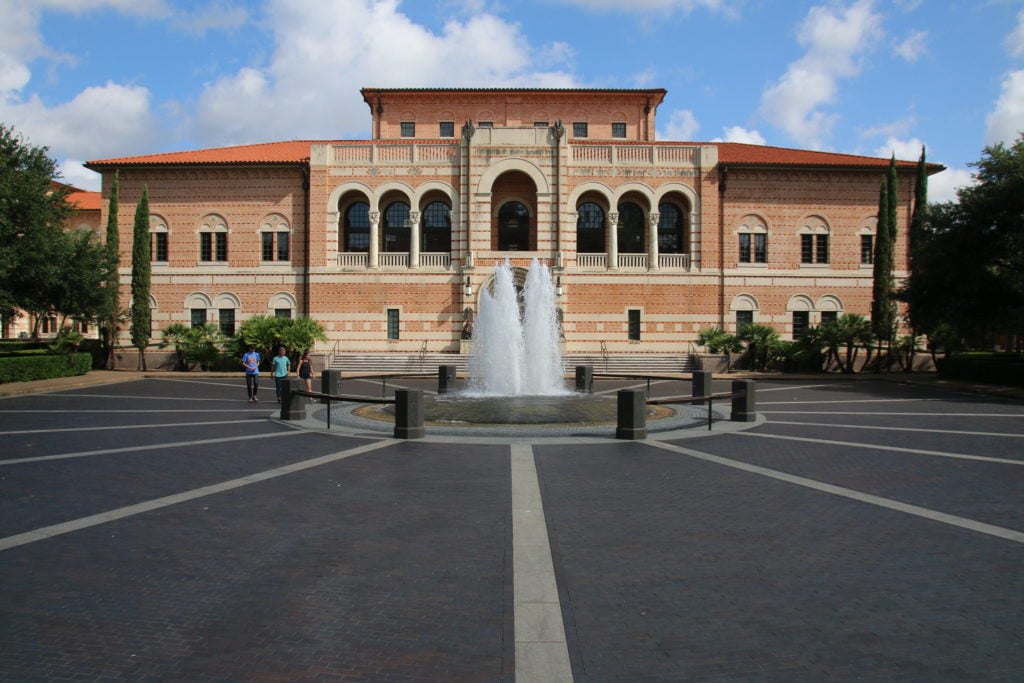 One of the top features of the Rice Jones MBA is that its location in Houston makes it ideal for those of you interested in the energy industry. In Houston, you will find companies in both the traditional oil and gas sector, as well as the renewable energy sector. The city is also home to 20 Fortune 500 headquarters.
Even though Jones has great connections in Houston, about a quarter of the students find employment outside of Texas. And energy is not the only sector in which Jones has a strong placement record — approximately 30% of graduates go into consulting and another 21% into finance. About 7% of graduates are also placed into real estate.
At Jones, you will also find that about 30% of the students in the program are international. This means that your global experience begins right in the classroom from day one. You will also find that your class sizes are small, with an average of only 40 students per class. You can definitely expect that the instructors will know your name at Rice Jones!
Rice Jones MBA Class Profile
| | |
| --- | --- |
| Class Size | 160 |
| Acceptance Rate | Does not disclose |
| GMAT Average | 702 |
| GPA Average | 3.43 |
| Average Age | Does not disclose |
| Avg. Years Work Experience | 5 |
| Diversity Women | 39 |
| Diversity Intl. | 42 |
| Pre-MBA Industries | Does not disclose |
| Undergraduate Majors | Does not disclose |
The data above is from 2022 and represents the Rice Jones class of 2024.
See the full report: Rice Jones MBA Class Profile.
Student Experiences
Rice Jones MBA Employment Report & Careers
Salary Average
$161,384.00
Offers Upon Graduation
Does not disclose
Offers At 3 Mos.
97
Post-MBA Industries
Consulting: 32.04%
Financial Services: 21.76%
Petroleum/Energy: 16.67%
Technology: 14.07%
Manufacturing: 6.39%
Pharma/Biotech/Healthcare: 2.59%
Consumer products: 1.30%
Media/Entertainment: 1.30%
Non-Profit: 1.30%
Real Estate: 1.30%
Other: 1.30%
Post-MBA Locations
United States: 98.7%
Mid-Atlantic: 4.1%
Midwest: 1.4%
Northeast: 4.1%
South: 1.4%
Southwest: 72.6%
West: 15.1%
Non-US: 1.3%
Post-MBA Companies

Does not disclose

Career Development Resources
Rice Jones Career Development Office
The data above is from 2021 and represents the career statistics of the Rice Jones class of 2021.*
See the full report: Rice Jones MBA Employment Report
Rice Jones MBA Academic Programs
MBA Curriculum
The Rice Jones MBA curriculum spans across the fall and spring semesters of the two years of the program. Classes may be spread out over a quarter or an entire semester. At Jones, students spend the majority of their first year taking core classes in topics such as Negotiating, Marketing, and Operations. Students also complete the Global Field Experience requirement at the end of their first year as part of the core curriculum. The curriculum makes room for elective coursework starting the spring semester of the first year. There are over a hundred electives available for students to choose from, including courses in Corporate Real Estate, Applied Risk Management, and Government Relations.
See the full offering of courses: Jones MBA Course Catalog
Majors
Rice Jones offers nine concentrations or majors. Students can complete an individual major or two majors in combination. The following majors are offered by the program.
Accounting
Energy
Entrepreneurship
Finance
Health Care
Marketing
Operations Management
Real Estate
Strategic Management
Experiential Learning Programs
The Rice Jones experiential learning curriculum consists of several programs that add a practical component to the MBA. Students may choose to complete an Action Learning Project elective, which gives them hands-on consulting experience. Through the Rice Business Board Fellows, students can spend a year serving on the board of a non-profit as a non-voting member. The program also offers the opportunity to participate in student-managed funds and the Leadership and Team Coaching program.
Research Centers
While Jones does not have any official research centers, the areas of interest of the faculty members are diverse. There are seven broad academic subjects that are covered by Jones's research focus: Accounting, Communication, Entrepreneurship, Finance, Marketing, Organizational Behavior, and Strategy and Environment.
MBA International Study Programs
As a requirement of the degree, all students must complete the Global Field Experience program. In this program, students participate in projects in diverse community settings, where they exercise their business skills on real problems.
Other MBA Formats
In addition to the full-time MBA, the Rice Jones offers multiple MBA programs, professional, executive, and online.
Video Resources on Rice Jones Academics
Rice Jones MBA Application
The latest application requirements set by the Rice Jones MBA admissions office are described below.
Essays
Here are the prompts for Rice Jones's 2023-2024 application:
Career Goals Essays
In 100 words or less, please share your short-term career goals. (text box, 100 words)
In 100 words or less, please share your long-term career goals. (text box, 100 words)
(These are not NOT meant to be traditional essays, rather, the purpose of this short answer response is to have a clear and direct understanding of your professional goals.)
Personal Statement Essay
Required Creative Essay: While we know a picture is worth 1000 words, in 500 words or less tell us the story of a photo of your choosing that has significant value in your life experiences. Please feel free to share your photo! You can complete this essay via a traditional written response (500-word limit) or via a video response (one to three-minute time limit).
Optional Essay
If you have any additional information for the admissions committee or if you wish to clarify any aspect of your application (including breaks in employment, your choice of recommendation providers, your past academic performance, etc.), you may submit an additional, optional essay.
For more information, go to Rice MBA Essays: Tips for 2023-2024.
Video Resources on Rice Jones Admissions
Rice Jones MBA Admissions Interviews
Interviews at Rice Jones are offered only by invitation. Each interview is conducted by a member of the Admissions Committee, and the interview may take place in person or virtually with no penalty to the applicant for choosing a web-based video interview.
Rice Jones Useful Links
What Makes Rice Jones Unique?
Liu Idea Lab for Innovation and Entrepreneurship: Rice is highly ranked for its entrepreneurship program (ranked #1 by Princeton Review and Entrepreneur Magazine). Students at Rice Jones can pursue an entrepreneurship concentration and take entrepreneurship labs through the Liu Idea Lab. Jones also offers several competitions in entrepreneurship, including the Napier Rice Launch Challenge that offers over $60,000 in monetary awards.
Houston houses the second largest concentration of Fortune 1000 companies in the US and largest medical complex in the world.
*All data retrieved from the Rice Jones MBA Program webpages, unless otherwise stated.