The Human-Powered MBA Admissions Calculator
Are you wondering whether you'd be accepted at your target business schools?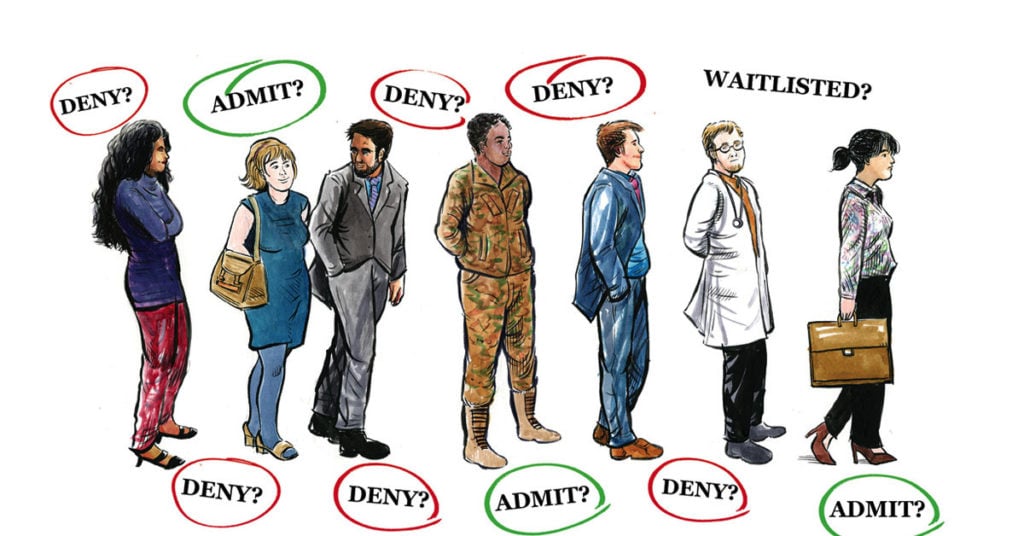 (For those of you who are impatient – skip to the calculator.)
Looking for an undergraduate admissions assessment? Check out our College Admissions Calculator.
Most "MBA admissions calculators" use rigid rules to predict your chances of success when applying to MBA programs. But in the end, the lengthy forms you fill out serve mainly to give the process a scientific appearance.
The guts of most MBA admissions calculators are actually quite simple. They are basically telling you:
Whether your GMAT and GPA are above or below school averages
Whether you went to a poor, OK, good, or great undergraduate institution and pre-MBA employer
Whether you are older or younger than the average admitted student
Round 1 generally has higher odds than Round 2 and Round 3
All other factors equal, men have lower odds than women because there are more men than women in the MBA applicant pool
It is no big surprise that predicted odds are higher for applicants who are applying in Round 1 with great stats, Ivy League undergraduate degrees and prestige employers.
If you are still at square one in planning your MBA, and didn't know how your GPA and GMAT compare to the averages at MBA programs, or which undergraduate institutions are highly represented in MBA classrooms, these calculators may be telling you some new information.
But most serious MBA applicants already knew that having a great GPA, GMAT and a successful career are major factors in MBA admissions decisions.
MBA Admissions is a Complicated, Holistic Process
In fact, predicting your odds of admission to an MBA program cannot be done accurately based on any simple data set.
We've seen many applicants with supposedly fatal flaws in their candidacy go on to be admitted to Top 10 or Top 20 MBA programs. We're talking about serious issues, like:
Criminal convictions. In the most extreme case, we saw one applicant convicted of a crime between receiving the admit letter and enrolling — and with the right mitigating measures, the school honored the admit and even the associated scholarship.
Unemployment. Even at the time the applicant submitted their MBA applications. Even when the applicant was dismissed for cause, or quit to travel the world.
Failing out of their Bachelor's degree, and not completing the degree until many years later.
It goes without saying that each of these applicants had many good qualities beyond these issues, but most calculators would have predicted that the applicants would have almost zero chances of being admitted.
On the other hand, we receive numerous requests from applicants to perform a "ding analysis" after they applied unsuccessfully without using our services. And among that pile, there are numerous applicants with great MBA profiles who were declined, sometimes for unrealistic career plans, other times for attitudinal factors, and other times for just failing to tell their story in a memorable way. Calculators would have told these applicants that they were a sure thing at every school.
Want to know a bit more about how to assess your own odds before you fill out the calculator? Check out the video below.
The Human-Powered MBA Admissions Calculator
When you fill out the form below, the expert coaches at Menlo Coaching will assess your chances of getting into your target business schools.
We'll do it without the false precision of calculators that tell you that you have a "37% chance at Wharton." Instead, you can expect us to tell you whether your target schools are:
Highly unlikely
A reach — might happen with great execution and a bit of luck
On target — you look a lot like most admitted students
Safe — you should be admitted with a good application, and some effort spent convincing them that you truly want to enroll
Practically guaranteed
Not only this, we will provide you with a few free educational materials that go beyond predicting your odds, and help you to understand how you can actually improve your odds of MBA admissions by taking the right steps (sample: 4 Secrets to Know Before Hiring an MBA Admissions Consultant).
We are most familiar with MBA programs at the following business schools:
European MBA Programs
IMD
HEC Paris
Oxford Saïd
Cambridge Judge
The Calculator
Fill out the form below and we'll reply to you within a couple of days with our expert advice, provided directly by our coaches.
Because MBA admissions is a holistic process, we do need to ask a few questions that go beyond your basic stats. The more detail you give us, the better we can assess and advise you.
When you submit this form, we will email you with our feedback on your submission, plus educational content about MBA admissions and Menlo Coaching. This might include:
Explanations of how your GPA and GMAT impact your admissions chances
Feedback about how admissions committees see your career goals
Advice about when to apply
Etc.
We never share your email address.
We regret that we cannot provide feedback on incomplete submissions. Giving quality advice requires detailed input about your background.
---