The Best Application Guide to The Columbia MBA Program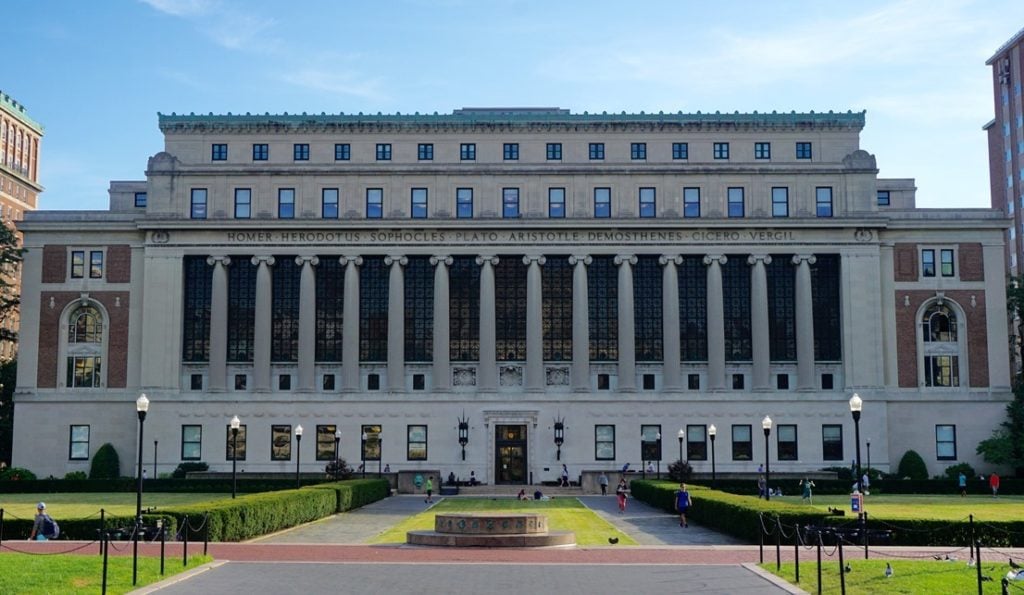 The #1 reason to attend Columbia is to take advantage of its NYC location. Although you might briefly question whether the neighborhood of Morningside Heights is truly the "very center of business," Columbia makes excellent use of its location.
First, Columbia brings in NYC-area executives as adjunct faculty and as Entrepreneurs in Residence. This gives you a chance to interact with senior industry professionals who could otherwise be very hard to reach, and when you approach these relationships in a patient, long-term way, they can make a huge difference to your career advancement.
Second, Columbia facilitates contact with local companies through their Master Classes, in which a company will bring a live problem to campus for student teams to work on, and their Immersion Seminars, in which students visit top executives in their NYC offices for candid discussions.
Finally, many Columbia students pursue in-semester internships with NYC-area companies. The low commitment of an internship like this makes it easy for a company to say "yes" even if you don't fit the traditional criteria for the role. Thus, it's a chance for you to gain broader experiences than what you might get during a full summer internship or a full-time job search.
Columbia also has a great brand in China, and its Greater China Society is one of the most active clubs on campus. So, whether you simply want to learn about doing business in China, or expect to actually move to China for your post-MBA career, Columbia can help.
This profile lays out the basic facts about Columbia and the resources you'll need to further research the full-time MBA program.
(Looking for information on the EMBA program? Check out our Guide to the Columbia EMBA.)
Columbia Business School MBA Class Profile
Acceptance rate

16.2%

Class size

782

GMAT
Average:

726


Range :

580-780

GRE
Does not disclose
GPA
Average:

3.6


Range: Does not disclose
Age/Experience
Age:

28 years


Work Experience:

5 years

Diversity
Women:

40%


International:

44%

Pre-MBA Industries

Show all

Collapse all

Undergraduate Majors

Engineering/Sciences/Technology:

27%

Social Sciences/Humanities:

22%
The data* above is from 2020 and represents the Columbia MBA class of 2022. (Note: Acceptance rate is an estimate.)
See the full report: Columbia MBA Class Profile
Student Experiences
Columbia Business School MBA Employment Report & Careers
Offers & Compensation

Median Salary + Signing bonus:

$

% Offers upon Graduation: Does not disclose

% Offers at 3 months:

90%

Post-MBA Industries

Strategic/Management:

32.8%

Financial Services:

33.2%

Commercial/Consumer Banking/Credit Cards:

<1%

Post-MBA Locations
Does not disclose
Post-MBA Companies

Boston Consulting Group, The:

30

Show all

Collapse all

J.P. Morgan Chase & Co.:

6

Estée Lauder Companies, The:

4

Optum (United Healthcare):

3

PwCStrategy& Middle East:

3

Career Development Resources
The data above is from 2020 and represents the career statistics for the Columbia MBA class of 2020.*
See the full report: Columbia MBA Employment Report
Columbia Business School MBA Academic Programs
MBA Curriculum
Columbia's MBA curriculum spans across four terms over two years. Applicants can either choose a fall entry date or a January, J-term, entry date for the program. Unlike the two-year MBA beginning in the fall, the J-term program does not include the possibility of a summer internship. Students take classes from the core curriculum during the first year of the program. During the first term of the MBA, students are required to complete eight half-term and two full-term courses including Managerial Statistics, Strategy Formulation, and Corporate Finance. Columbia offers over 325 courses as part of their elective curriculum. Some of the electives popular with MBA students are Applied Value Investing, Family Business Management, Global Immersion, and Managerial Negotiations. Students may also select from any of Columbia University's graduate level classes.
See the full offering of courses: Columbia MBA Course Catalog
Majors
Columbia's MBA program does not offer official majors or concentrations. However, students can choose to pursue an in-depth study of one of Columbia Business School's 15 academic divisions. These academic fields include Accounting, Private Equity, Value Investing, and Social Enterprise, and others, with research centers, programs, and student clubs associated with each field.
Experiential Learning Programs
The experiential learning component at Columbia is closely tied to the program's Tamer Center for Social Enterprise. Through the center, students can take part in initiatives such as the International Development Consulting Project Fund or the Nonprofit Board Leadership program.
Research Centers
Columbia has a wide variety of research centers, programs, and institutions that are part of the business school. The centers range from the Program for Financial Studies to the Initiative for Policy Dialogue.
MBA International Study Programs
The Chazen Institute for Global Business is the center for Columbia's international study program. Students can experience a global business perspective through the Chazen Global Study Tours. Additionally, the Global Immersion Program allows students to engage in the business practices of a foreign country.
Video Resources on Columbia Academics
Columbia Business School MBA Application
Essays
Here are the prompts for Columbia's 2020-2021 application:
Essay 1: Through your resume and recommendations, we have a clear sense of your professional path to date. What are your career goals over the next 3-5 years and what, in your imagination, would be your long-term dream job? (500 words)
Essay 2: Why do you feel that Columbia Business School is a good fit for you? (250 words)
Essay 3: Tell us about your favorite book, movie or song and why it resonates with you. (250 words)
Optional Essay: Is there any further information that you wish to provide the Admissions Committee? If so, use this space to provide an explanation of any areas of concern in your academic record or your personal history. This does not need to be a formal essay. You may submit bullet points. (500 words)
Letters of Recommendation
The recommender questions in the 2020-2021 Columbia Application are as follows:
How do the candidate's performance, potential, background, or personal qualities compare to those of other well-qualified individuals in similar roles? Please provide specific examples. (500 words)
Please describe the most important piece of constructive feedback you have given the applicant. Please detail the circumstances and the applicant's response. (500 words)
Video Resources on Columbia Admissions
Columbia Business School MBA Admissions Interviews
Columbia's MBA admissions interviews are conducted by alumni ambassadors. Columbia's admissions office aims to complete the evaluation process for each application within 10 weeks. Often, you can receive an admissions decision within a few days or a week of conducting your interview.
For more on this, see our Columbia MBA Interview Guide.
Columbia Business School Useful Links
What Makes Columbia Business School Unique?
J- Term: January entry for the full-time MBA. You study through the summer and complete the degree in a shorter time period, making this a great fit for sponsored students, who want to return quickly to their firm, and for family business candidates who do not need an internship. Also, winning admission to this program is generally easier than the August entry program.
Value Investing Program: This program is selective and you must apply once you're already a student.
Early Decision Program: This gives some advantage over Regular Decision, but you have to put down a $6,000 non-refundable deposit on short notice once offered admission.
The Tamer Centre for Social Enterprise
The NYC Location: Facilitates getting great adjunct faculty into the classroom and provides unique opportunities through programs such as:
Master Classes offer hands-on, project-based electives for second-year MBA students.
Immersion Seminars bring students to the offices of local companies for candid discussions with senior executives. Industries covered have included finance, consulting, luxury retail, technology, and more.
In-Semester Internships allow students to gain work experience with NYC-area companies during the semester and are offered to both full-time and J-Term students. These are especially useful to students who plan to enter fields in which they have no experience — it's much easier for a company to say "yes" to a short internship placement than a months-long summer internship or a full-time role, and good performance in a short internship can lead to a larger role later.
*All data retrieved from the Columbia Business School MBA Program webpages, unless otherwise stated.