The London Business School MBA Program: A Complete Guide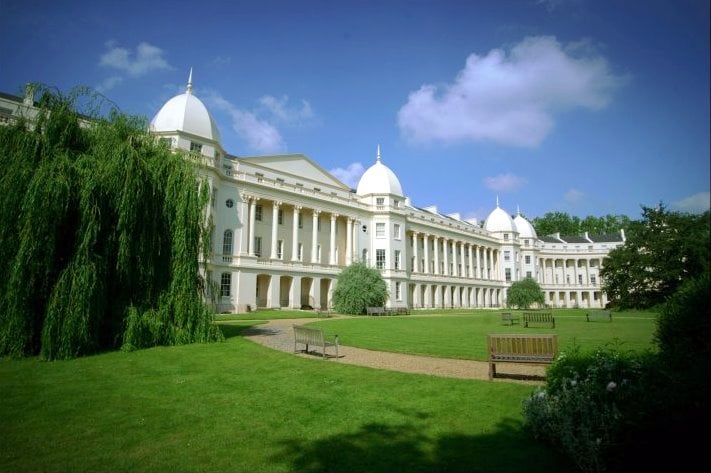 London Business School is the leading two-year MBA program in Europe. With 90% percent of each class coming from outside the UK, the school offers a truly international environment that cannot be matched by even the most international two-year MBA programs in the US.
LBS takes full advantage of the London location through programs like the LondonCAP, in which students work with London-based companies on live projects. Frequent project sponsors include tech companies like Google, retail stalwarts like Mulberry, and even government agencies, such as the UK Cabinet Office.
LBS is careful to admit students who have a good fit with the program, and two categories of applicants should be cautious:
Are you a US applicant who wants to live and work in the US after your MBA, but wants to relive the glory days of your college study abroad? You'll struggle to convince LBS that their program is the right fit, when you could attend a US program and study abroad through a shorter program. If you are invited to interview at LBS, you will have to answer a very specific question before the interview about what London Business School can do for you that other business schools cannot. Most successful applicants either wish to work in an international setting after they graduate, or at minimum, work in their home country while having extensive contact with international clients and suppliers.
Are you totally undecided between LBS and INSEAD? This is a dead giveaway that you care about rankings more than you care about your fit with the program, since a one-year and two-year program are so different from each other. (Even though LBS has started to offer a 15-month option.)
On the flip side, candidates who need a two-year business education and want to live and work in the UK or Europe are a great fit for this program.
LBS MBA Class Profile
Class Size
511
Acceptance Rate
Does not disclose
GMAT Average
Does not disclose
Average Age
Does not disclose
Avg. Years Work Experience
Does not disclose
Diversity Women
38%
Diversity Intl.
Does not disclose
Pre-MBA Industries
Consulting: 33%
Finance/Accounting: 26%
IT&T/Electronics: 7%
FMCG/Retail/Luxury Goods/E-commerce: 6%
Energy/Power Generation: 5%
Healthcare/Pharmaceuticals/Biotechnology: 4%
Manufacturing/Engineering: 4%
Public sector/Not for Profit/Education: 4%
Marketing/Publishing/Media: 3%
Other: 8%
Undergraduate Majors
Does not disclose
The data above is from 2021 and represents the LBS MBA class of 2023.*
See the full report: LBS MBA Class Profile
Student Experiences
LBS MBA Employment Report & Careers
Salary Average
$163,760.00
Offers Upon Graduation
Does not disclose
Offers At 3 Mos.
93%
Post-MBA Industries
Consulting: 38%

Finance: 26%
Private Equity: 8%
Investment Banking/Brokerage: 7%
Investment Management: 4%
Hedge Funds/Alternative Investments: 2%
Venture Capital: 2%
Private Wealth Management: 1%
Finance – Other: 2%

Technology: 26%
Internet/E-Commerce: 10%
Information Technology and Services: 6%
FinTech: 5%
Electronics: 1%
HealthTech: 1%
Media and Entertainment: 1%
Technology – Other: 2%

Diversified: 10%
Consumer and Retail: 3%
Industrials: 3%
Healthcare: 2%
Energy: 1%
Diversified – Other: 1%
Post-MBA Locations
United Kingdom: 52%
Asia: 13%
Europe (excl. UK): 10%
Latin America (incl. Caribbean): 9%
North America: 9%
Middle East/Africa: 5%
Oceania: 2%
Post-MBA Companies

McKinsey & Company: 56
Boston Consulting Group: 39
Bain & Company: 34
Amazon: 29
Kearney: 7
Deloitte Consulting: 5
Strategy&: 5
Credit Suisse: 5
Morgan Stanley: 5
Actis: 4
American Express: 4
Google: 4
L.E.K. Consulting: 3
Citi: 3
Goldman Sachs: 3
Stuart: 3
Accenture: 2
Plural Strategy: 2
Barclays: 2
Khwarizmi Ventures: 2
Partners Group: 2
PIMCO: 2
cargo.one: 2
Mastercard: 2
Meta: 2
Microsoft: 2
RVU: 2
Samsung Global Strategy Group: 2
TikTok: 2
Wipro: 2
AB InBev: 2
ConvaTec: 2
Johnson & Johnson: 2
Saudi Aramco: 2

Career Development Resources
The data above is from 2021 and represents the career statistics for the LBS MBA class of 2021.*
See the full report: LBS MBA Employment Report
LBS MBA Academic Programs
MBA Curriculum
The London Business School curriculum is spread out across the two years of the program, with the first year divided into three academic terms. Term one lasts from August to December, term two begins in January and ends in March, and term three is from April to June. The second year of the program is entirely customizable, right upto the exit date, which can mean that the program lasts anywhere between 15 to 21 months. The first year of the program is dedicated primarily to LBS's core coursework. Students take several classes in business fundamentals, including subjects such as strategy, marketing, and operations management. Some of the core components can be selected from a range of topics in the "tailored core" part of the curriculum. Topics that are part of the tailored core include Digital Strategy, Value Chain Management, Global Economic Analysis, and Business Analytics. As part of the LBS elective curriculum, students make their selection out of 80 available courses. You can take classes in subjects ranging from Accounting to Organisational Behavior.
See course offerings in more detail: LBS Course Descriptions
Majors
In lieu of majors, LBS offers elective concentrations. The current offerings include the following seven concentrations.
Change Management
Entrepreneurial Management
Finance
Marketing
Private Equity
Strategy
Economics
Experiential Learning Programs
LBS's experiential learning program consists of the following four components.
Research Centers
London Business School is home to six research centers and institutes: the AQR Asset Management Institute, the Center for Corporate Governance, the Institute of Innovation and Entrepreneurship, the Leadership Institute, Private Equity at LBS, and the Wheeler Institute for Business and Development.
MBA International Study Programs
Through the Global Business Experience Program, students at LBS can combine gaining real-world business experience with an international business component. Current locations available to students are South Africa, Israel, India, Hong Kong, Peru, Myanmar, and Brazil. During these one-week trips, you can participate in workshops, panels, and company visits.
Video Resources on LBS Academics
LBS MBA Application
Coming from a middle-office role in a local commercial bank, Shu Wing knew he was going up against some very stiff competition. He wanted to propel his career to a front-office role in investment banking, targeting an LBS MBA, and without a top employer or top school on his resume, he had to find a way to stand out against a very competitive pool of bankers from buy-side or front-office roles in large investment banks like Morgan Stanley or Goldman Sachs.
Hear how he navigated the MBA application process and ultimately won a spot in the LBS MBA Class of 2022.
The latest application requirements set by the LBS MBA admissions office are described below.
Essays
Here are the prompts for LBS's 2021-2022 application:
Essay 1: What are your post-MBA goals and how will your prior experience and the London Business School programme contribute towards these? (500 words)
Optional Essay: Is there any other information you believe the Admissions Committee should know about you and your application to London Business School? (500 words)
Additional information: Please tell us your most significant international experiences to date. (100 words max)
Additional information: Tell us about your main interests and activities in your free time. (400 words max)
Additional information: We encourage applicants to take into consideration the impact of study on family and friends. Who have you discussed your plans with and what was the response? (300 words max)
Additional information: If you know any London Business School Alumni or Students, please give their names, graduating class and tell us how you know them. (300 words max)
Current employment: (1) Tell us about your responsibilities. Describe your day-to-day role, details of any clients you work with/for, the level/title of the person you report to, the size of budget for which you are directly responsible and the number of people in your team. (400 words max) (2) Reason for taking on this role (no word limit)
Academic performance: Do you feel that your academic performance so far gives an accurate indication of your potential for success on the programme? If so, why? If not, why not? (no word limit)
Letters of Recommendation
The 2021-2022 LBS recommender questions are as follows:
How do you know the applicant? How long have you known them for? (500 words)
What would you say are the applicant's key strengths and talents? (500 words)
What would you say are the applicant's key weaknesses or areas for improvement? (500 words)
How do the applicant's performance, potential and personal qualities compare to those of other individuals in similar roles? (500 words)
What do you think this person might be doing in ten years' time? Why? (500 words)
Video Resources on LBS Admissions
LBS MBA Admissions Interviews
The LBS admissions interviews are by invite only and usually occur in the region which you are based. You will be interviewed by alumni or a member of the senior admissions staff.
LBS Useful Links
What Makes LBS Unique?
London Location: It's no surprise that LBS has strong ties to the city in which it originates. In addition to the emblematic British building situated in the heart of the city, the school fosters close relationships with local businesses–as well as the government–for projects and internships.
Diversity as a Cornerstone Value: Because 90% of the typical LBS MBA class hails from outside the UK, you can expect an inclusive and multiculturally rich environment with no dominant culture. Additionally, the school is committed to embracing "the many dimensions of diversity" and publishes an annual report documenting its progress and ongoing efforts to create an even more diverse community.
*All data retrieved from the London Business School MBA Program webpages and other sources.