The People-Powered College Admissions Calculator
The Calculator
Answer a few questions about your (or your child's) background, and you'll get a personal video response from expert coach Jason Milan with advice on how to achieve great college admissions results. Let's start with your name and email…
The Problem with College Admissions Calculators
It's the question on every college applicant's mind: what are the chances of getting into my dream school?
Our curiosity drives us to seek answers wherever we can find them. Yet online college admissions calculators–with their claims to calculate your chances with great accuracy–are usually designed only to tell you whether you meet the baseline criteria for acceptance to a school. They take statistics easy to quantify, like GPA, SAT or ACT scores, and number of extracurricular activities, and tell you if you meet a school's minimum expectations. They might tell you:
If your GPA and test scores compare favorably to those of others admitted to a school
Whether you have enough extracurricular activities
Which other colleges accept applicants with similar profiles
Early applicants generally have higher chances than Regular applicants
Students requiring financial aid have lower chances than full-pay students
Danger Zone: the "Threshold" Approach
The problem with this assessment is that it treats you like just another circle on the scatterplot. The end result is that you feel slightly more confident… or slightly less confident about your admissions chances. And for some, that type of college admissions calculator might be satisfying enough.
But you can find accepted student averages for colleges all over the internet, with massive charts reporting SAT scores, ACT scores, GPAs, and more.
Proof that your profile meets college admissions thresholds may be comforting, but it only captures the first phase of the college admissions decision-making process: the phase where they decide who doesn't get in, not who does. So, great. Now you know you're in the top 50% for a school that accepts <10% of applicants. That's hardly more helpful than your local rumor mill, because you already heard about the kids from your high school with perfect test scores who didn't get in.
The question is: why? What distinguishes one excellent applicant from another?
This is a question that pure data has trouble answering. Admissions statistics don't represent pure probabilities: you are not another jelly bean being picked out of a jar. And sometimes, the numbers cause more problems than they solve.
Focusing solely on stats may cause a student to neglect what they really care about, fail to understand why they're not hitting targets, or abandon their academic ethics. Desperation never leads to good decision-making. A college acceptance calculator should set realistic expectations, not provoke fear.
Thus, a true calculator of admissions chances must do its utmost to simulate the real admissions process. This means it relies on understanding candidates holistically, and knows if certain failings can be forgiven. In other words, it treats you like a person, because when it comes down to the hard decisions between two A-grade applicants, that's how the university must treat you, too.

College Admissions Decisions Rely on a Huge Variety of Factors
College Admissions Committees are seeking not only brilliance, but maturity, passion, and even pragmatism. They also, of course, value well-roundedness – both for individuals, and for incoming classes overall. Imagine if 80% of sophomores at any given school of Arts & Sciences were biologists – it would be a pretty one-dimensional place. The same if everyone was a poet.
Some crucial things a conventional admissions calculator can't tell you are:
Whether your coursework shows both ambitious breadth and specialized focus
How recommenders might frame your achievements and your disappointments
If your ambitions, academic and beyond, are distinctive and supported by your experiences
Whether your dedication to your extracurricular activities is convincing and demonstrable
What your neighborhood and school reflect about your advantages or disadvantages
If you can tell a cohesive story about who you are that integrates facets of your identity, principles, and dreams
Whether you reflect on hard moments and make the right decisions
If admission to your chosen major/college is highly competitive or less competitive at a given school
American ideals of education hinge on intellectual diversity, and modern campuses are shaped also by social, ethnic, and cultural diversity. Yet "diversity," just like character, is not established merely by ticking all the right boxes. You can't pretend to be someone you're not, and sometimes it's hard to own the person you are. Never is this truer than when confronting the challenge of getting into college.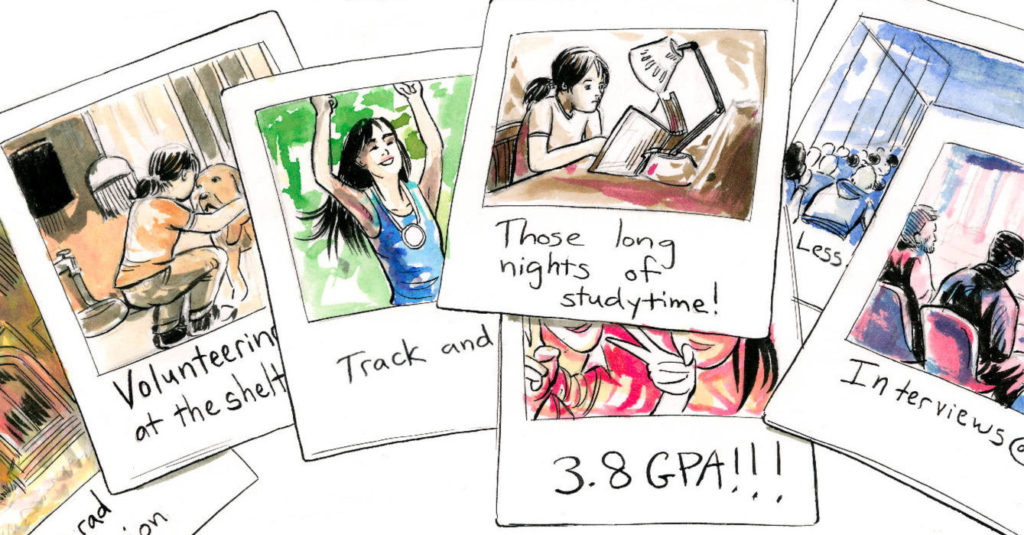 That's why our college acceptance calculator combines both a quantitative and qualitative assessment in the hopes of providing you tangible advice of real value. We want to help you evaluate yourself not only through criticism, but problem-solving: we believe shortcomings are battles to be won, not Achilles' heels.
The People-Powered College Admissions Calculator
After you fill in the form below, your responses will be shot over to an expert College Admissions consultant for careful review.
You won't receive a rating of 8.7/10 for getting into college or be told that you have a 23% shot at Harvard. Rather, we will tell you if your target colleges are:
Unrealistic, even with intensive preparation
A reach – maybe attainable through excellent performance, sincere dedication, and a dash of luck
On target – viable but not guaranteed, depending on strategic positioning
A safety – highly likely, as long as you play your cards right
Nearly a sure thing
We'll even provide some insight on whether colleges on your list are:
Well-aligned with your interests and ambitions
Likely or unlikely to forgive shortcomings in your profile
Historically attracted to certain traits and stories
And to wrap it up, we'll give some high-level ideas about how you can improve your candidacy on your own terms, through putting time and energy into the right endeavors (read a bit about our process in our post on the right expectations for College Admissions Assistance). None of these insights are possible when you provide only your ACT score, SAT score, and GPA.
Here are some colleges we know well, which we might use to place your profile in a certain context:
National Universities
Princeton University
Stanford University
University of Chicago
Harvard University
Yale University
See more
Cornell University
Columbia University
University of Pennsylvania
Dartmouth College
Brown University
Rice University
Washington University in St. Louis
Johns Hopkins University
Northwestern University
Duke University
Emory University
Vanderbilt University
UCLA
UC Berkeley
New York University
National Liberal Arts Colleges
Williams College
Bowdoin College
Amherst College
Swarthmore College
Middlebury College
See more
Pomona College
Claremont Mckenna College
Colby College
Bates College
Wellesley College
Carleton College
Hamilton College
Washington & Lee University
Wesleyan University
Grinnell College
Vassar College
Top Engineering Programs
MIT
California Institute of Technology
Georgia Tech
Olin College of Engineering
Carnegie Mellon University
See more
University of Illinois – Urbana Champaign
University of Michigan – Ann Arbor
Purdue University
University of Texas – Austin
Virginia Tech
Top Art Programs
Rhode Island School of Design (RISD)
Cooper Union
Tufts University + SMFA
Bard College
Rutgers University
See more
Pratt Institute
The Savannah College of Art and Design (SCAD)
Maryland Institute College of Art
California Institute of the Arts
Parsons School of Design
School of the Art Institute of Chicago
Ready to get the scoop?
Answer a few questions about your background, and you'll get a personal video response from expert coach Jason Milan with advice on how to achieve great college admissions results. Let's start with your name and email…
I Cant' Wait to Hear From You!
---
Did you know….
The Menlo Coaching team includes people who have taught at UC Berkeley, Stanford and Cambridge and know a lot about top undergraduate programs. They bring their expertise into our signature approach, combining a suite of proven techniques with fresh insight into the college admissions process to provide a select cohort of students with exceptional coaching.
Ready to jump in?
If you want to work with a dedicated consultant who's proud to deliver the best sides of college admissions assistance for every family, get in touch. We're excited to meet you, swap stories with you, and guide you through a transformation. To save your spot, contact us today at [email protected] or for more information see Menlo Coaching College Admissions.