The Benefits of an MBA for Consulting
Consulting is a popular career path post-MBA, and for good reason. The role requires technical skills, social adeptness, and creativity, making it a fulfilling profession for MBA graduates.
But do you need an MBA to break into consulting? Which business schools place the most graduates in top consulting companies? And how can consultants benefit from an MBA?
In this article, Senior Admissions Consultant, Danae Anderson will explore the ways in which an MBA can benefit aspiring management consultants—whether they are hoping to break into or advance within the industry—and provide guidance on selecting the most suitable MBA programs for your needs.
Skip ahead if you're already working in management consulting pre-MBA.
Breaking Into Management Consulting
The primary purpose of management consulting is to analyze an organization's structure, processes, and systems and to provide expert recommendations for improvement based on a specific business challenge or opportunity.
It's a challenging role involving many different responsibilities and requiring a multitude of skills, and yet—after the expansive category of financial services—consulting is the single most popular career path after graduation from a top MBA program.
The reasons for this are twofold:
Management consultants enjoy a high salary and a dynamic and varying role.
Consulting companies recruit directly from MBA programs—half of the consultants at McKinsey are in possession of an MBA, and this percentage increases with seniority.
As a result, early career professionals who want to pivot into a career in management consulting will often pursue an MBA program in order to develop the education, skills, and network necessary for a successful career in consulting.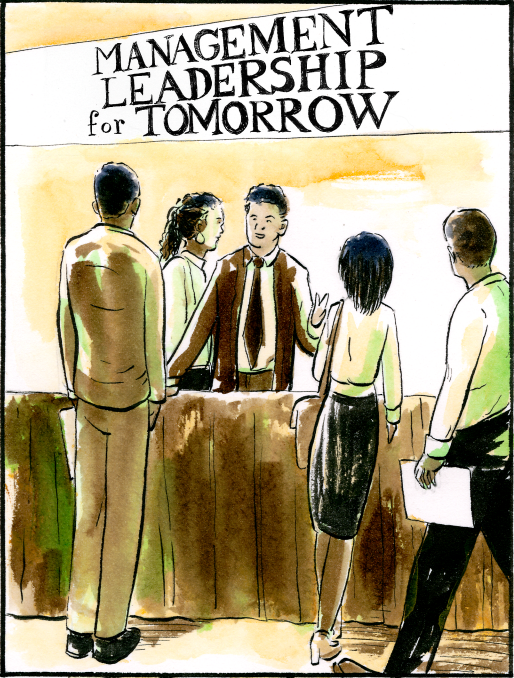 How Can an MBA Facilitate a Transition Into Management Consulting?
The most tangible way in which an MBA facilitates the transition into consulting is through on- and off-campus recruiting.
Many top consulting firms value an MBA very highly, and many firms even recruit at business school campuses. Interestingly, according to our research, a significant portion of 2020 MBB recruits at the Top US and European Business Schools are recruited without having worked at one of these firms in the past.
MBB, alongside other top consulting companies, understand the value of an MBA in a consultant's toolkit. Not only are management consultants engaged in various areas such as strategy, operations, finance, human resources, marketing, information technology, and organizational development, but the tasks involved in the role itself include:
Formulating and implementing strategic plans
Optimizing business processes
Identifying cost-saving measures
Conducting market research
Developing marketing strategies
Improving supply chain management
Enhancing employee performance and engagement
Facilitating organizational change
Building the foundation for such a variety of responsibilities is an arduous process, often requiring years of industry experience. However, the MBA program provides a thorough education on the business principles and skills necessary to succeed as a management consultant in just two years, all while allowing you to expand your professional network with your class cohort and your school's alumni.
During your MBA, you will undertake coursework and experiential learning opportunities to develop skills vital for a successful consulting career, including:
Collaboration
Communication
Creative problem solving
Adaptability
Digital literacy
So it's understandable that many people who are interested in breaking into consulting are looking to do an MBA to fill their skills gaps, and on the other side of the coin, people who are doing an MBA find a worthwhile and exciting opportunity to exercise their new skillset in consulting.
Climbing the Consulting Ladder
Leveraging an MBA to progress in the consulting industry is not uncommon—the majority of C-Suite executives in consulting firms will hold MBA degrees from some of the top business schools in the world.
With the expansion of core skills that comes with completing an MBA degree, business school graduates with prior consulting experience can look to senior positions, high salaries, and promising prospects for advancement in consulting companies post-MBA.
Consultants who obtain MBA degrees will also have greater opportunities to transition to different firms within the industry.
For example, an associate at a boutique firm could move into a similar—or even more senior—role at one of the Big Three with the right MBA degree.
Similarly, consultants who worked at MBB or similar firms pre-MBA could consider leveraging that experience to take on more senior roles at smaller firms upon graduation.
These transitions will be greatly aided by relevant experience throughout the MBA, such as through an internship, extracurricular activities, or consulting clubs.
What Post-MBA Consulting Jobs Can I Get?
The types of post-MBA jobs available to you post-MBA will depend on your pre-MBA experience as well as the experience you acquired during the degree.
Depending on how thoroughly you develop your skills, expand your network, and enhance your experience through your MBA, you could look to any number of the following positions, ranked in increasing order of seniority:
Analyst
Associate
Senior Associate
Manager
Director
Vice President
Partner
CMO/COO/CIO/CEO
Naturally, in order to become CEO (or similar) of a consulting company post-MBA, you will need to have a significant amount of industry and leadership experience before you undertake the MBA, in which case, it's possible an Executive MBA might be the right choice for you.
MBB Consulting Firms
Many MBA students aspire to work for the renowned "Big Three" consulting firms, namely McKinsey, Bain, and the Boston Consulting Group (BCG). Collectively known as MBB, these firms hire a significant number of MBA grads each year, both through summer internships and full-time positions. The compensation packages offered by these companies can be exceedingly attractive, and they provide excellent opportunities for career advancement.
Although Bain, BCG, and McKinsey recruit from a wide range of schools, the most highly ranked institutions typically place the largest number of students into MBB consulting roles. INSEAD leads in terms of the highest number of students placed into the Big Three, followed by: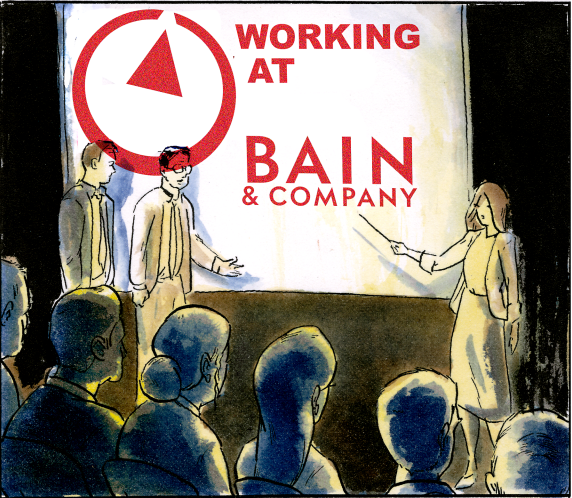 Boutique Consulting Firms
Opportunities also exist at boutique firms, which are smaller in size and often specialize in serving local clients or specific industries. These firms may focus on areas such as telecommunications, media, or artificial intelligence, allowing MBA graduates to specialize in their areas of interest or leverage their professional backgrounds.
Boutique consulting firms offer competitive starting salaries for MBA grads, often with six-figure base salaries accompanied by attractive signing bonuses. They provide an appealing option for those with a strong interest in consulting and a desire to specialize in a particular field.
What are the Benefits of an MBA for a Career in Consulting?
The benefits of an MBA for a career in consulting cannot be overstated, as the skills and education an MBA student picks up during their business degree are directly applicable to the day-to-day responsibilities of a management consultant.
Further, the opportunities that MBA grads have access to are greatly improved by their newfound network of students and alumni and the direct recruitment tracks that are in place at some MBA programs.
Throughout your MBA program, the coursework and curriculum, network, and recruitment opportunities will make your post-MBA goals in consulting more achievable.
MBA Courses and Curriculum
Consultants tend to have knowledge in many different areas of business, so the variety of courses offered at the best MBA programs provide candidates with a well-rounded combination of business knowledge and skills.
It is important to take into consideration your level of knowledge and experience in a given area, as professionals with strong foundations in operations, for example, could likely make better use of their MBA degree to diversify their skillset rather than further honing their operations knowledge. Similarly, an individual with a strong technical background but with little leadership experience could benefit from prioritizing experiential leadership opportunities over more technical coursework throughout their MBA.
That said, in order to understand the fundamentals of operating and managing a business, consider attending courses on all business functions such as:
Corporate Finance
Operations Management
Marketing Management
Human Resource Management
Additionally, keep an eye out for courses that develop skills relevant to professionals in consulting. For example, it might be useful to take a course in one or more of the following subjects:
Data Analysis and Decision Making
Management Communication
Leading Organizational Change
Strategy
Further, some business schools offer an MBA specialization in strategy, which is useful for aspiring consultants, encouraging them to develop an industry-specific skillset.
Before choosing which MBA program to join, it is important to do thorough research into what the curriculum of the program looks like, and what are the skills gaps that your profile may have that you are looking to fill.
MBA Summer Internship
Securing a summer internship in consulting during your MBA is an efficient and effective means of improving your hiring prospects post-MBA.
Internships will normally take place between your first and second years as an MBA student, although there are some exceptions. For part-time or one-year MBA programs, for example, it is not uncommon for the internship to begin towards the end of the degree.
As most internships take place over the summer, you should begin your search for interesting internship opportunities as soon as you enroll.
Many companies begin recruiting in January, although some firms hire as soon as they arrive on campus, so apply early for the best results!
Taking on an MBA internship gives you a valuable opportunity to develop your consulting knowledge and expertise while networking within a potential post-MBA employer. This will significantly improve your employment prospects upon graduation.
Networking
Most—if not all—top MBA programs will have Consulting Clubs, which are excellent resources for pivoting into consulting. Not only will they help with resume writing and interview prep, Consulting Clubs also offer excellent opportunities for networking through their annual events, such as:
Consulting Career Fairs
Speaker Series
Career Panels
Case Interview Workshops
Other opportunities for breaking into consulting include immersion programs. Some of these programs are offered by firms to MBA students—for instance, Deloitte offers an immersion program for MBA students. Others, such as Cornell, offer an immersion program for consultants as part of the MBA curriculum.
Finally, as a new member of an MBA program's alumni network, do not underestimate the potential for your connections to facilitate introductions with consulting companies you might otherwise have to approach cold.
Many of the top management consulting companies—including McKinsey, Bain, and BCG—have official and unofficial, incentivized referral programs which allow you, the applicant, to stand out from other aspiring consultants through endorsement from other employees.
Working alongside and meeting consultants already placed at these firms will allow you to take advantage of these referral channels and simplify your route into management consulting.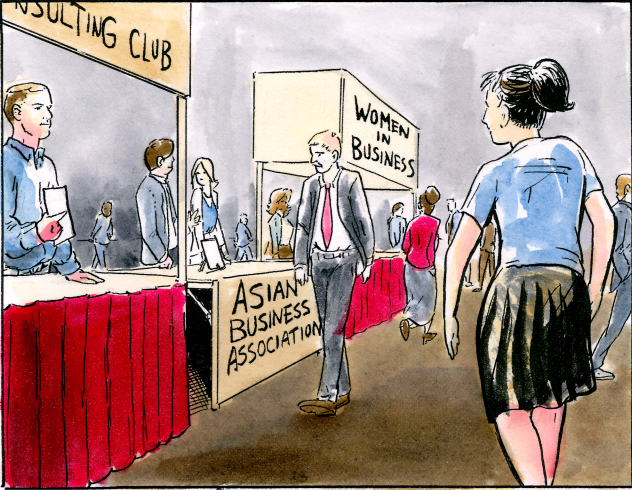 Recruitment
Unsurprisingly, all top MBA programs place students into consulting. However, there are schools that have higher numbers of placements, and one good way to identify these schools is through their employment reports.
Based on the most recent employment reports, INSEAD is the global leader for securing post-MBA positions at prestigious consulting firms, particularly McKinsey, Bain, and BCG.
In the United States, the University of Chicago Booth takes the top spot, with Northwestern Kellogg following closely in second place. Booth, Kellogg, and Tuck stand out as the top three schools with the highest percentage of students successfully placed into MBB, surpassing other schools by a significant margin.
When considering new consulting placements overall, Harvard Business School (HBS) and Stanford GSB claim the first and second positions respectively, in terms of the percentage of new MBB hires. MIT Sloan secures a strong third place, with an impressive 86% of all new consulting placements specifically in MBB, surpassing Wharton's 78% in the same category.
Two more notable mentions are London Business School and Columbia Business School, with 74% and 54% of new consulting placements respectively. Recruitment is a useful lens through which to consider your target school, and we encourage you to prioritize business schools with a clear focus on helping its students develop the skills necessary to land jobs in the field of consulting.
You can also take a look at our Post-MBA Job Placements in Management Consulting page for further information on each school's track record in consulting placements.
Best MBA Programs for Consulting
While any top MBA program will most likely improve your career prospects in consulting, we recommend considering the following schools as you draft your shortlist.
INSEAD
With its outstanding reputation and exceptional faculty, INSEAD has long been a major gateway to the consulting industry. The school is distinguished by its intensive 10-month MBA program, which makes it extremely popular for those who would like to return to the workforce sooner.
The primary recruiters at INSEAD are the MBB firms, with McKinsey leading the way in terms of the number of graduates hired. Additionally, INSEAD is Bain's top global recruiting school, attracting more global hires than any other program, whether at the MBA or undergraduate level, across multiple geographic locations.
Although INSEAD's shorter program is on many fronts considered an advantage, there is also a challenge in not following the standard two-year MBA cycle. With two start dates, the recruiting process, particularly for internships, may not align with the standard practices of consulting firms. This means that full-time recruiting becomes a pivotal opportunity, and it's crucial to prepare for a consulting career even before joining INSEAD.
Kellogg School of Management, Northwestern University
Kellogg's emphasis on teamwork, collaboration, leadership, and executive presence distinguishes it from other MBA programs.
Most projects and assignments are completed in teams at Kellogg School of Management, and students receive peer reviews to assess their strengths and weaknesses after each project. In the consulting field, where teamwork is of the utmost importance, Kellogg excels in developing the ability to work cohesively with a team more effectively than any other program on the list.
Beyond its focus on teamwork, Kellogg is renowned for its comprehensive training in problem-solving skills, and this is reflected by Kellogg's impressive post-MBA job placements. In the Class of 2019, an impressive 31% of graduates accepted offers in the consulting field, making Kellogg a highly sought-after recruiting destination for top firms, particularly BCG.
Notably, BCG hired an impressive 52 MBAs from the most recent Kellogg class, and while McKinsey hired over 215 Kellogg graduates in the last five years, they hired only 28 from the most recent class. In comparison, 21 graduates received offers from Bain, 15 from Deloitte, and an additional 8 joined PwC/Strategy&.
The average starting base salary for Kellogg graduates entering consulting in 2019 exceeded $150,000, with an average signing bonus of nearly $29,000. Notably, the highest signing bonus received by a Kellogg graduate in the past year was $70,000.
Kellogg has also placed a recent focus on recruiting more women into its program, resulting in women comprising 48% of the 503 candidates in the Class of 2024.
Booth School of Business, University of Chicago
While traditionally recognized for its strength in Finance, Chicago Booth has recently focused on providing a more comprehensive education by enhancing its general management curriculum. Booth takes pride in its faculty, which includes an impressive six Nobel Laureate professors—the highest number among all the schools on our list.
The business school boasts an extensive alumni network, with connections to almost every top consulting firm globally, contributing to its excellent reputation in the industry.
In 2021, Booth graduated 620 full-time students, and out of this cohort, 191 students (35.5%) entered the consulting field, leveraging the prestige of their alma mater and its connections to secure a median starting salary of $175,000.
Among these graduates, 61 accepted offers from McKinsey, 53 from BCG, 28 from Bain, 9 from PwC/Strategy&, 7 from Kearney, and 5 from Deloitte.
It is worth highlighting that the MBB firms (McKinsey, BCG, and Bain) were the most prominent recruiters on campus, with 23% of all Booth MBAs landing positions with one of these top consulting firms. Among the MBB firms, McKinsey historically hired the highest number of Booth graduates, with over 350 currently employed at McKinsey in various capacities.
Conclusion
There are many reasons why someone interested in becoming a successful consultant would consider getting an MBA degree, chief among which are the diversification and development of various consulting skills, increased opportunities for recruitment, and the potential for further career advancement within the industry.
Further, an MBA degree can increase your base salary, making business school an attractive stepping stone to becoming a consultant.
Most top MBA programs can help you land a lucrative position in the field of consulting through their education, network, and recruitment opportunities, although certain programs like INSEAD, Booth, and Kellogg distinguish themselves in terms of post-MBA consulting placements.
Finally, if you are already happy with your current consulting position, you should keep in mind that some employers offer MBA sponsorship which allows you to remain on the payroll while pursuing your MBA.