Advice (and Examples) for Your MBA Resume
Putting together your MBA application resume might seem like a routine task—after all, you've likely prepared a number of resumes before. But MBA programs take resumes seriously—and that means you should too.
This article will cover the most important points to keep in mind when writing your MBA resume, offering guidance on one of the most important elements to your MBA application.
We'll also show you some MBA resume samples to show you what to avoid and how to improve.
The Starting Point of Your Application
As David White, co-founder of Menlo Coaching, puts it, "nine times out of ten, admissions officers are going to pull your MBA resume from the file as the way to get oriented on who you are."
It is a natural starting point; with 20-30 pages of material in a complete application, the resume works as a one-page overview, with easy-to-scan bulleted items that cover all the pertinent information an MBA admissions committee might want to know about: your educational background, your professional experience, and your extracurricular activities.
As the centerpiece of your application and, likely, the first thing an admissions officer sees, your MBA resume needs to strike a balance between being informative and exhaustive:
It needs to cover the whole person. Your professional experience will be the single largest section, but unlike resumes for some job applications, it can never be the whole story.
It needs to be specific. Discussing concrete results you've achieved and how you did it will be more exciting than just describing the general nature of your duties. And in sections like education, go beyond your year and major to include what you did while you were there, such as NCAA athletics, leadership in clubs, or similar.
It needs to be targeted. Because this is an MBA resume, you will want to include your extracurriculars, especially volunteering and leadership experience.
MBA Resume Format
Even though it will be the first thing the admission committee reads, your MBA resume will be, in most cases, glanced over fairly quickly.
One material consequence of this is that you cannot afford to be creative with this document.
Use a conventional format; avoid colors and non-standard fonts; and in general, avoid any "bells or whistles."
Your name should be at the top.
Names of companies should go down the left-hand side, with corresponding dates on the right.
Make use of bullet points, and keep the resume sections clearly organized.
While it may seem like a creative, non-standard MBA resume will help you stand out and show your personality, what it will mostly do is keep the Admissions Committee from being able to quickly jump in and out as they go through the rest of your application. They will spend time searching for information that will end up making them more frustrated. You will stand out—but not in a good way.
The same goes for resume "tricks" or "hacks." If you fiddle with the margins or use 8.5 font, you can fit more content on the page… but that doesn't mean that the admissions officer will actually take the time to read it! Consider what business schools don't care about when you remove elements of your resume—and remember: achievements are better than responsibilities!
As a corollary to this, remember that every new thing you add will take time and attention away from something else. Don't allow your B+ results to dilute your A+ results in the eyes of your business school!
In most cases, the best MBA resumes will be around 600 words in length. Don't overstuff it.
The Audience for your MBA Resume
Central to writing a good MBA resume is keeping the audience in mind. We have already covered the fact that an admission officer's time is limited. But who are these admissions officers, anyway?
The Average Admissions Officer
A typical admissions officer is going to be smart and engaged, with general knowledge about the business world.
That said, they are not going to be specialists in your particular field. As a result, you should treat the MBA resume as an exercise in clear communication for a general audience. This will not only make it legible to admissions committees, it also demonstrates that you can effectively communicate specialized information in the MBA classroom (where your fellow students will come from fields different than your own).
The clarity of your MBA resume will be the first test of that ability. Avoid using industry jargon, e.g. "the yield curve shifted by 20 basis points" if you are in finance, or "push the repository to protection" for tech folks.
You also need to take account of what the admissions officer already knows.
For applicants in more standard career paths like banking or consulting, an admissions officer at a top MBA program will have seen hundreds, sometimes thousands of resumes in that field. They know all of the basics already, like the fact that investment banking analysts perform financial analysis on M&A transactions.
Don't repeat things they already know; focus instead on the parts of your accomplishments that are unique to you.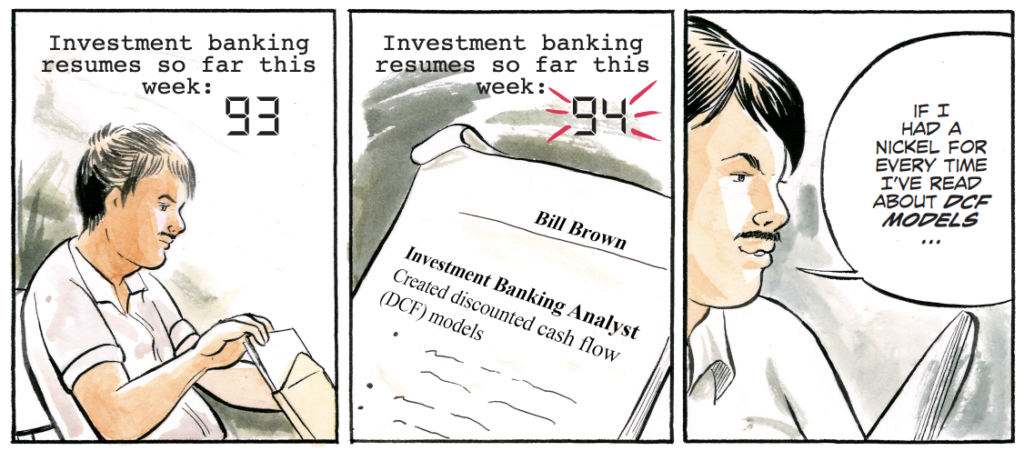 Your MBA Resume and Work Experience
As we said earlier, the work experience section of your resume will be the longest. Even so, you should treat it as more of a highlights reel.
A lot of detailed description about your daily tasks can go in the application form, and it's better for your MBA resume to focus on results, such as:
Times you won clients for your company.
Times you increased revenue.
Times you saved time and/or money through optimization.
You should also explain how you generated the results.
If you simply state that "Generated $X revenues for the company" without any backup details, the reader may wonder about your exact personal involvement in this achievement.
What If You Don't Have "Results-Oriented" Experience?
Of course, many of the positions held by MBA candidates are support roles, where you are subordinate to a more senior member of the firm.
Rather than try to take sole credit for accomplishments that were really the result of joint effort, try to demonstrate your success and value within the team, and how that value was rewarded by your employer.
For example, you can list:
An assignment that required lots of contact with a client's senior executives.
A time you received a highly selective award.
Any early promotions you received.
Your MBA Resume and Education
Information about your educational background should be short and to the point.
There is no need to include things like GPA, which is going to be listed elsewhere in the application.
Instead, this space should focus on what we discussed above: what you did in college apart from earning your degree.
Extracurricular activities are going to be useful, but you shouldn't try to inflate your accomplishments just to pad your resume.
In this case, padding means hyperbole—and this means less time and space for your actual accomplishments. If you just got started volunteering, for example, it shouldn't take up half of your education section.
What To Leave Out
Given that space is limited and you are trying to present as complete a picture of yourself as possible, there are some common items that your MBA resume ought not include.
Whenever we evaluate a resume here at Menlo Coaching, we cut out the majority of professional certifications.
There are a few exceptions to this—a CFA designation is useful to include because it is a selective process with rigorous exams.
Most other certifications (e.g. your Series 7 or Series 63 license or the fact that you know how to use a Bloomberg Terminal), are too narrow or too irrelevant for business school to include on an MBA resume. `
Main Takeaway
All in all, your business school resume should be tailored to your goal—getting you into your dream MBA program. That means it should consider its audience, think about the kinds of detail that are valuable in explaining your accomplishments, and stick to a format that is maximally legible, standard, and clear.