The Best GMAT Tutors: A Comparison
In the GMAT tutoring market, students who work with the following GMAT tutors tend to receive high GMAT scores and report high client satisfaction rates.
In this article, we will examine the pros and cons of some of the best GMAT tutoring services in the business and help you determine which GMAT tutor will work best for you.
The Best GMAT Tutors
Why Hire a GMAT Tutor?
Before you can identify the best GMAT tutors, you need to know why you are hiring a tutor in the first place. There are two main benefits to hiring a private GMAT tutor:
You can reach a higher GMAT score than you would with self study
You can reach that score faster
That second benefit is especially important to consider. During the MBA admissions process you will be under intense time pressure. You probably have a demanding job, participate in some volunteering activities outside of work, and have to save time for writing your MBA applications.

All of the time that you don't spend preparing for the GMAT can be reinvested in other essential MBA admissions activities, such as taking on a bigger leadership role at work, extracurricular activities, networking with your target business schools, or writing your MBA admissions essays.
From a time management perspective, hiring a tutor is a great investment.
What Does a GMAT Tutor Do?
You might imagine someone who will teach you everything you need to know, slowly and patiently. You sit down and the GMAT tutor will explain everything while you absorb it through sheer osmosis. At the end of the lesson, you know everything and will be ready to ace the GMAT exam. Unfortunately, as you may have guessed, it doesn't work this way.
So what does a GMAT tutor do? A good GMAT tutor is an expert in diagnosing your GMAT weaknesses and prescribing homework that will efficiently target those weaknesses. They will:
Assess which types of questions are your weak points. Whether it's sentence correction, data sufficiency, or critical reasoning, a tutor can help you pin this down.
Help you keep an error log which can then be broken down and analyzed.
Work with you to practice under time constraints similar to the real GMAT.
Help you build the habit of reading each GMAT question carefully before answering.
After the GMAT tutor diagnoses your weaknesses, they can then follow this up with homework that is targeted to your needs and helps you improve quickly, with minimal busywork. This is MUCH more efficient than just grinding through endless practice GMAT tests, or working through study materials from start to finish. With those methods, you'll end up spending a lot of time solving problems that are already easy for you, which is a waste of time.
Self-Practice
While online tutoring will undoubtedly improve your GMAT scores, it is important to remember that a GMAT tutor becomes infinitely more valuable when you also study and practice on your own. For every hour spent working with a tutor, you should expect to spend 5 to 10 hours doing homework that your tutor has assigned. Dedication and hard work is always part of the formula, but a GMAT tutor will help you avoid overworking to achieve high GMAT scores.
The Best GMAT Tutors
Menlo Coaching
We launched our GMAT tutoring service in 2020 by hiring Chris Kane, one of the most experienced GMAT instructors in the world. He has delivered more than 21,000 hours of GMAT tutoring since 2004.
Our GMAT tutoring is designed to help busy students like you to achieve a high GMAT score in the shortest possible time by:
Matching you to an experienced GMAT tutor with a 99th percentile score
Using your time efficiently by preparing in advance for each GMAT tutoring session
Assigning official GMAT problems as homework, which prepares you realistically for the official exam
Using practice tests to diagnose your weaknesses and the areas most likely to rapidly improve your score
Don't just take our word for it.
A Menlo Coaching GMAT Tutoring Client Who Got +80 Points in 10 Hours of Our Online GMAT Tutoring
vs.
A Frustrated Student Who Came to Us After Using a Big Test Prep Firm
I took ________'s course. It included practice exams and weekly online classes. I found it helpful to understand the basics but it was impersonal and deficient in helping me excel at the exam. I left the course lost on subjects like test strategy, test pacing, my weaknesses, and more. The tutoring quality was also poor. ________'s tutor came unprepared to each of our sessions and we'd spend much of our time waiting for him to fumble through the questions I had sent him in advance.
Kaplan
Kaplan has a high volume of both students and tutors. To run a business at this scale, they have different recruitment standards than we do. As of May 2021, their job listings for tutors state that "Teaching experience isn't required" and that a prospective tutor "should have scored in the 90th+ percentile—or retest to meet this requirement."

In comparison, our current GMAT tutors have between 5 and 20 years of tutoring experience and 99th percentile scores.
On the plus side, Kaplan may be able to quickly and cheaply match you up with a tutor, but you get what you pay for. Your tutor may be inexperienced, and will follow a prescribed, one-size-fits-all pedagogical method, and the tutor's GMAT score won't always translate into your success.
Manhattan Prep
Manhattan Prep is a step up from those like Kaplan. (Even though Kaplan acquired Manhattan, they still run it as a separate unit.)
The biggest issue with Manhattan Prep is one that we've hinted at above: effective test prep must be based on official materials. So what happens when companies whose business depends on selling proprietary books offer GMAT tutoring? It won't surprise you that those companies base their pedagogy on their own books.
As one GMAT Club review states:
Also you have to take their books, there is no option of not taking their books even if you have those already. The books for verbal section are very bad.
Because Manhattan Prep pays their tutors more than Kaplan, they are able to retain a higher quality of talent, and these more experienced tutors allow for a little bit more customization. Their job listings state that the rate is as high as $116/hour: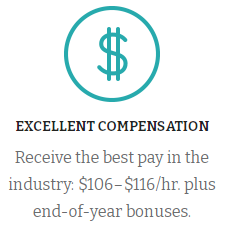 But is this really enough to retain the best tutors?
Actually, at this level, the best GMAT tutors have a financial incentive to leave the firm. When a tutor generates great results at a firm like Manhattan, they start to receive a growing stream of personal referrals from their satisfied clients. That stream of referrals creates the opportunity for the tutor to go independent and make more money, and many of the best tutors do exactly this.
In comparison, our GMAT tutor pay scale starts at $160/hour, which is enough to retain the best GMAT tutors.
Independent GMAT Tutors
Once GMAT tutors working at larger firms start to receive a lot of referrals from previous clients, it is usually in their best financial interest to go independent. As a result, many of the best tutors can be found working independently, or in tiny firms with a few other elite tutors. The best private GMAT tutoring is not always easy to find, since the best independent tutors tend to spend almost all of their time tutoring and very little time marketing themselves. (They don't have to because clients find them through referrals.)
GMAT Tutoring Rates
The best GMAT tutoring services aren't cheap; top GMAT tutors usually charge between $300 and $500 per hour. But if your budget allows it, getting a GMAT tutor can help you improve your score and cut down on the study time needed to do so.
---
Hear from Menlo Coaching GMAT Students