MBA Scholarships – All You Need to Know
MBA scholarships are highly elusive and highly coveted. If you're applying to an MBA program, chances are you're also hoping to get a nice financial aid package in the deal. MBA scholarships may seem impossible to secure, but we're here to assure you that it is doable! Prospective MBA students hoping to receive full scholarship funding or some form of financial support from their business school should focus on constructing a competitive application. Your chances of being admitted to an MBA program, as per our MBA applications and admissions guide, rely on the quality of your application, and your chances of acquiring an MBA scholarship depend on that same quality.
A college or university will award MBA scholarships and fellowships in order to encourage prospective MBA students to attend their business school. Business schools want great applicants to attend their programs, because it reflects well on them and their degree program, but also because you'll be a valuable asset to the MBA program as a whole. Business schools offer scholarship opportunities to students who demonstrate the qualities their MBA program values – students who exhibit exemplary leadership, academic excellence, outstanding business experience, or entrepreneurial spirit.
Every college or university offering scholarship opportunities will look to fund worthy students who will be involved, hardworking members of their school community, but for graduate students enrolled in top business schools, the pool of deserving business students is fiercely competitive.
With that in mind, here are some frequently asked questions about securing MBA scholarships for your degree program:
It All Starts With the GMAT
First and foremost: you need to acquire a high GMAT score. Merit scholarships are potentially one of the easiest ways for MBA candidates to receive financial support to help cover tuition fees. The GMAT score is one of the best indicators of MBA students' academic achievement and ability. Your performance on the GMAT correlates with your performance in the classroom, and MBA programs seek students who can manage the rigorous coursework they assign.
The other reason a school will look for high GMAT scores is the U.S. News MBA Ranking, where incoming students' GMAT scores play a role in the ranking process. As MBA rankings infer academic excellence from high GMAT scores, business schools look to admit high-scoring students in the hopes of either maintaining or increasing their ranking on the list. High rankings for schools on lists like this are always highly coveted, and schools use your data to help them achieve that. To persuade excellent graduate students to attend their school, graduate programs can offer MBA scholarships.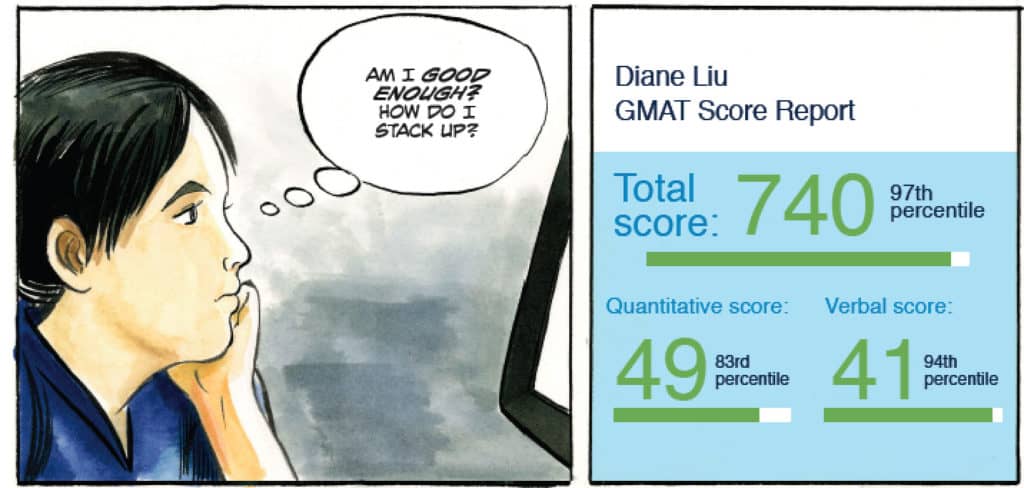 I Have A Good GMAT Score: What Should I Focus On Next?
As stated before, creating a stellar application is the best way to earn hefty MBA scholarships. Each applicant has their own qualities that make them stand out, and you have to highlight those in your application. If you don't make it clear what you, uniquely, can bring to the table, your prospective business school will have no other way of knowing what an asset you can be to their MBA program. In your application, for example, make sure to include what specific experience you have – in a business-related field or otherwise. MBA students with varied life experiences bring new, insightful conversations to the classroom and enrich discussions for themselves and their fellow MBA students.
MBA programs also seek out students pursuing careers they are likely to be successful in after they graduate; they anticipate that these students will be helpful, active members of their alumni networks upon graduation. Ideally, successful MBA graduates will repay their MBA scholarships in the form of networking opportunities and sizable donations to the school. Successful alums = future donors.
If you can clearly highlight your strengths in your application – through your experiences, your personal essays, and your performance in the interview – you will have a higher chance of securing an MBA scholarship.
What Else Should I Consider When Applying for a Scholarship?
Though you're able to control what the admissions committee sees in your application and GMAT score, you can't tailor every step of the scholarship program toward your success. Outside of the general MBA graduate scholarships business schools offer, another thing scholarship committees look for is your identity; there are a number of scholarship programs provided for students who are less likely to pursue MBA degrees. Schools are always looking to boost their demographics, and they use MBA scholarships to help them do so. For example, the American Association of University Women (AAUW) and the Forté Fellows program provide scholarships to women pursuing an MBA degree.
Another factor in deciding what MBA scholarships you are likely to receive is the level of the school itself. If you are applying to a lower-ranked business school, then you are likely to receive larger scholarships. Smaller or less prestigious business schools want to use the quality of their MBA students to boost their ranking, and so they are likely to offer more scholarship money to entice MBA candidates who will display excellence in terms of their academic achievement throughout business school and in terms of their professional development after they graduate. It's harder to be admitted into the best business schools' MBA programs. The same thing applies for other MBA scholarships at different school levels.
What Other Types of Scholarships Are Available?
Need-Based MBA Scholarships
At almost every business school, merit-based scholarships are available, but at Harvard Business School and Stanford Graduate School of Business, scholarships are awarded based on need-based criteria. Applicants must have proven financial need in order even to be considered for financial aid packages. Incoming MBA students still need great GMAT exam scores and competitive applications to be admitted to the program, but these factors have no effect on their chances of receiving a scholarship.
Minority MBA Scholarships
Some degree programs offer MBA scholarships to encourage students from underrepresented groups to apply to their MBA program. For example, the National Black MBA Association offers MBA scholarships – although they also provide scholarships to both undergraduate and graduate students enrolled at Historically Black colleges or universities. Scholarships are also available to MBA students with Latinx or Hispanic heritage, such as the Consortium for Graduate Study in Management and the Robert Toigo MBA Fellowship.
External MBA Scholarships
Another exception is external scholarships for MBA programs. These scholarships require a separate application to be filled out and turned in. These are merit-based scholarships that graduate students can apply for after gaining admission into the school. These applications require an extra personal essay explaining why you are a good fit for the school and the scholarship. For example, Stanford GSB's Knight-Hennessy Scholars program offers a full-tuition scholarship to a very limited number of extremely qualified MBA students.
How Do I Negotiate with Business Schools?
Yes, you read that right – you can negotiate your MBA scholarship with the school. The best way to do that is to secure financial aid packages or MBA scholarships from your top-school's peer competitors. These schools are competing for MBA applicants, and if you tell your top choice that another school has awarded you a better deal, chances are they will increase your package if they want to have you attend their school. (Spoiler: schools that offer you MBA scholarships definitely want you to attend.)
Key Points:
If nothing else, remember these three things if you hope to receive offers for MBA scholarships:
Maximize your GMAT score
Build a strong application
Negotiate your offers
Need Some Help?
Many of our clients at Menlo Coaching win MBA scholarships to their school of choice. We have helped numerous past clients secure full tuition fees through the MBA scholarships their school offers.
If you're interested in receiving coaching from leading MBA admissions experts, take a look at our service page to find out more!