MBA Application Timeline: What to Do and When to Do It
The MBA admissions timeline can be confusing, so we've created a clear and easy-to-follow "roadmap" to help you understand what to do and when to do it. Whether you're applying to one, three, or ten business schools, follow this timeline for efficient preparation and to ensure you are getting everything done in the optimal order! Roughly, here are the main groups of tasks:
Steps for the MBA Admissions Process
Profile Building: Extracurriculars and GMAT
School selection and networking
Written application items: Resume, career goals, personal story
Recommendation letters
School-specific essays and application forms
Interview preparation
---
Round 1 Application Timeline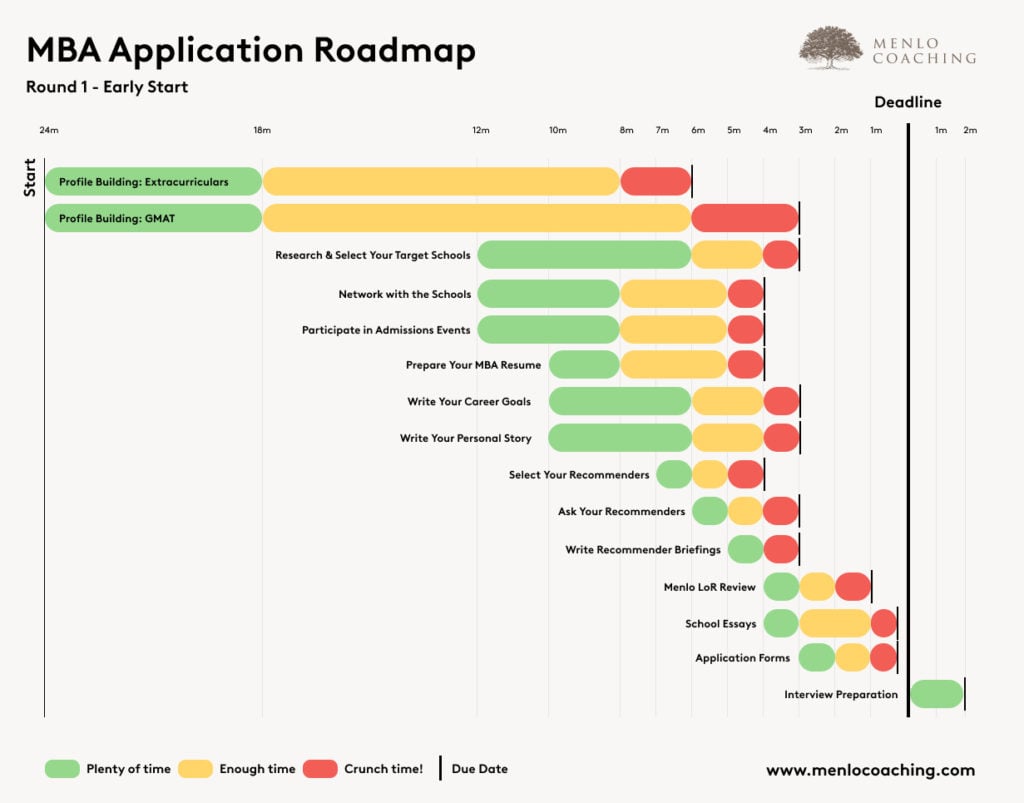 Round 2 Application Timeline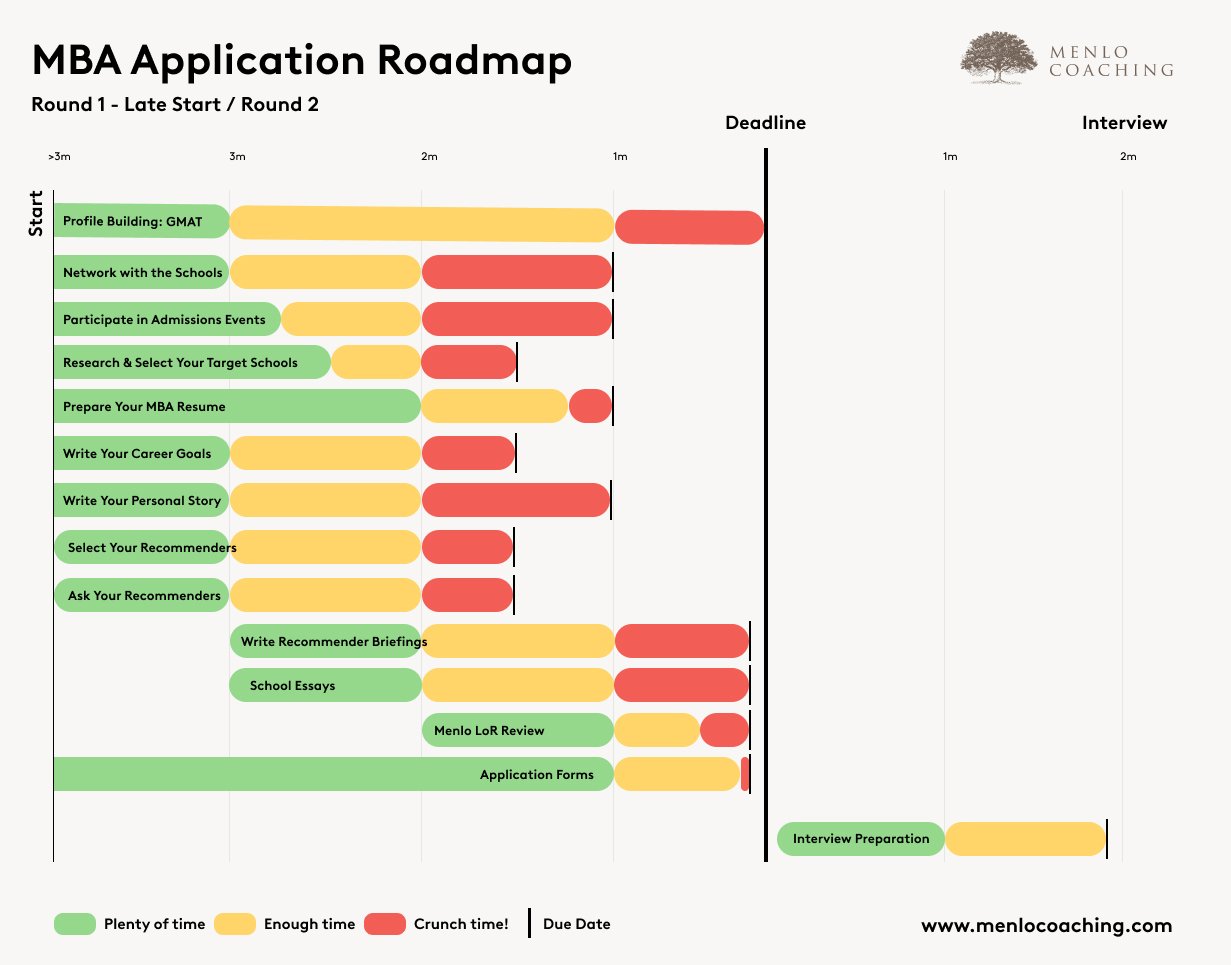 ---
Core MBA Application Timeline
The core application process should start in earnest about ten months before the application deadline. Our experience has shown that the MBA timeline presented above is a reliable benchmark for those applying to business school. Working backwards from the school-specific application deadline, you can plan out all the important steps and even determine specific dates for when to have those items complete. Please note: this is a general guideline and you must consider the application steps with your specific needs in mind.
Deadlines and Rounds
Before we break down the MBA application timeline and its tasks, let's have a quick look at the MBA application deadlines themselves and the various MBA application rounds. Deadlines are usually announced well in advance, but if a business school has yet to release deadlines for the current year, it is a reasonable assumption that they will be the same or similar to deadlines in years past.
There are usually three rounds of applications for MBA admissions, and generally, we advise applicants to apply in the first round. This is especially true if you are in an over-represented demographic. Some people think that the second and/or third rounds will be less stressful than the first, but this is not the case.
What Tasks to Do When
Early Preparation
Before you sit down to write your MBA applications and begin your business school admissions journey, it is beneficial if you take some preparatory steps. An MBA application can take years of effort when you consider all that comes into play: workplace experience, extracurriculars, networking, and more. On top of that, you need to secure a strong GMAT score, which can take many months (if not years) for some people. Our advice is to get tutoring or join a GMAT prep course as professional help is the most efficient way to improve your score!
Broadly speaking, MBA programs want applicants to have four or five years of work experience. This is to ensure a higher quality of education and help secure post-MBA job placement. However, this is not a firm rule and exceptions can be made.
Prior to applying you will need to have a good idea of which school(s) you wish to attend. Visit business schools and research their program offerings before applying. We've created a useful resource showcasing overviews of several top business schools to help you get started. If possible, network and participate in MBA admissions events at the school(s) you are interested in.
This is also an excellent time to identify people who can write letters of recommendation. Letters of recommendation can be tricky, and if you have fallen out of touch with a potential recommender you will need to reconnect with them sooner rather than later. While a business school application timeline is long, and it may be discouraging to realize how much work needs to be done before the core application can begin, having all these pieces in place will ease the way into an MBA program.
After these early preparation steps, then you need to develop your career goals, produce your MBA resume and other supporting documents, and write strong application essays. Let's dig into those.
Written Application Items
Essays & Resume
A crucial step in the core process will be to develop your personal story and career goals. It is very common for applicants to struggle with this step.
At this stage you will also create a resume specifically for your MBA application. This is good to have early on in the process and will help with networking or early interviews. This may seem like a quick and easy task, but since so much important information needs to be conveyed in such a short document this can take longer than expected.
Letters of Recommendation
During the personal development stage you will need to start identifying and cultivating your recommenders (if you have not already done so in the early MBA application process). As previously mentioned, this can be a tricky task. Recommenders are usually very busy people, and getting a recommendation letter in your hands before the deadline can be a challenge.
To this end, it is very important that you clearly communicate with your recommenders. Reaching out to a recommender well in advance can also give you the opportunity to strengthen your relationship with them. We recommend that you connect with your recommender at least six months before the school's deadline.
Once the application has been submitted you can then focus on preparing for the MBA interviews—you can read our MBA interview guides to get a sense of the questions you might encounter during your interviews. And of course, don't forget to factor in a little relaxation after all your hard work!
The MBA application process can be long and difficult, but the right plan of action can help you avoid unnecessary stress. Our timeline lays out all the steps for an MBA applicant to follow so that they know what needs to be done, when it needs to be done.
Menlo Coaching can help you stay on schedule through the admissions process
If you're interested in receiving personalized guidance through the MBA timeline, apply to work with Menlo Coaching.